Summer Roasted Veggie Pesto Pasta Salad with Burrata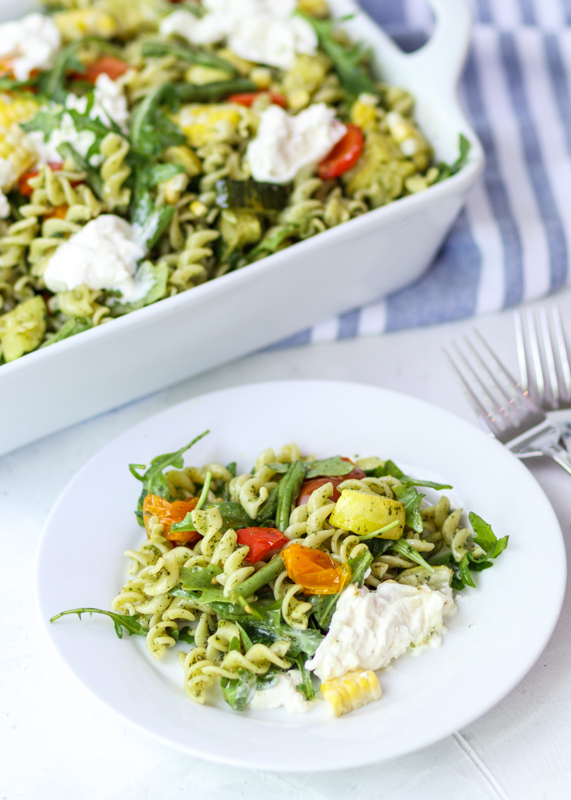 1 pound short pasta
1 red pepper
1 yellow squash
1 zucchini
1 cup grape or cherry tomatoes
1 cup halved green beans
1 ear corn
2 cups arugula
¾ cup pesto
⅓ cup olive oil
½ lemon, zested and juiced
¼ teaspoon salt
Fresh ground pepper
6 ounces burrata
Preheat the oven to 400 degrees F.
Prep the veggies. Cut the red pepper into a large dice. Cut thick rounds of the yellow squash and zucchini then quarter. Place the cut red pepper, cut yellow squash, cut zucchini, tomatoes and cut green beans on a full sheet pan (18"x 26") then lightly drizzle with olive oil. Toss to coat then season with salt and pepper. Spread out the veggies so they aren't overlapped or on top of each other. Remove the husk and silk from the ear of corn. Get a piece of aluminum foil large enough to wrap the corn in then place the ear of corn in the center slightly turning up the edges. Lightly drizzle with olive oil then season with salt and pepper. Tightly wrap the ear of corn. Place the baking sheet and the wrapped corn on the middle rack of your oven and let cook for 25 minutes, or until the veggies are nicely roasted. Set aside.
While the vegetables are roasted, boil the pasta to al dente according to the package instructions. Once cooked, rinse with cold water and strain. Once cooled slightly and dry, put in a large mixing bowl. When the cooked vegetables have slightly cooled add them to the mixing bowl, using a sharp knife to carefully cut the kernels of corn off the ear.
In a small bowl, whisk together together the pesto, olive oil, lemon zest and juice, salt and some fresh ground pepper. Pour over the pasta and the vegetables. Stir to combine. Taste and adjust salt and pepper according to taste. Place in the serving dish. Top with the burrata, breaking off chunks to spread on top.
Recipe by
Lemon & Mocha
at http://www.lemonandmocha.com/2018/06/18/summer-roasted-veggie-pesto-pasta-salad-with-burrata/