Red, White and Blue Angel Food Cake Platter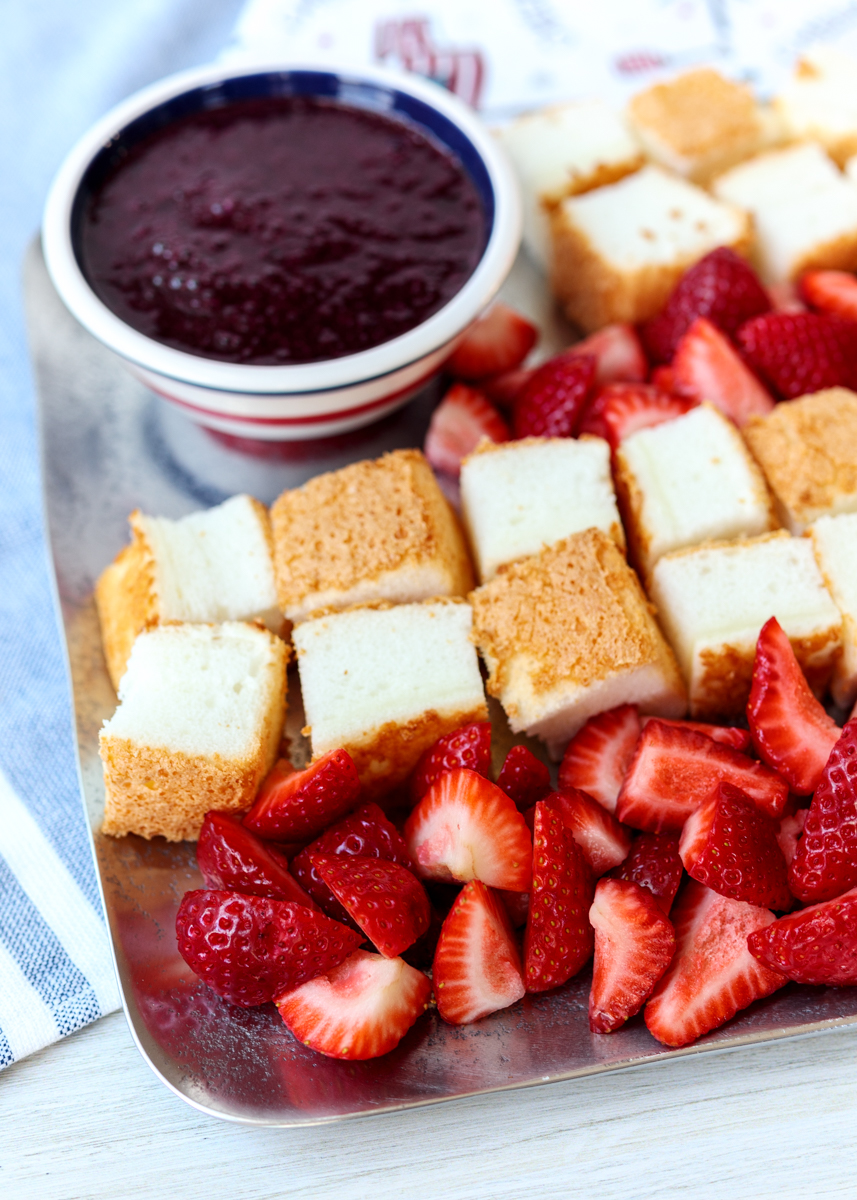 Yield:
1 platter; 2 cups blueberry sauce
1 angel food cake, cut into cubes
24 ounces strawberries, hulled and quartered
1 cup heavy cream, cold
2 tablespoons granulated sugar
1½ pints blueberries
½ cup sugar
1 teaspoon vanilla extract
1 tablespoon lemon juice
Arrange the cake cubes on the platter in stripes, leaving room for the strawberries and a bowl filled with blueberry sauce in the upper left corner. Place the strawberries on the platter right before serving.
In a cold metal bowl of a stand mixer or in a large cold metal mixing bowl with a hand mixer, use cold beaters to beat the heavy cream and sugar until stiff peaks form. Keep refrigerated until you're ready to serve it. You can make the whipped cream a day ahead, just store it in the fridge until you're ready to serve then lightly beat with a whisk.
In a medium saucepan, bring the blueberries, sugar, vanilla, lemon juice and ¼ cup water to a boil. Reduce to a simmer, cover and cook for 15-20 minutes. The sauce should be thickened. Remove from the heat and blend in a blender or with an immersion blender. Alternatively you could strain in a mesh strainer to remove the blueberry chunks. If you prefer the chunks of blueberries in the sauce then you can just leave it as is. Cool to room temperature then store in the fridge until ready to serve.
I used a box mix and baked it in two square baking pans. I lined the baking pans with parchment paper then made the angel food cake according to the package instructions, baking at 325 degrees (my pans were nonstick) for 35 minutes, or until the tops were dark golden. When they came out of the oven I leaned the pans on their sides and when they were mostly cool I took them out of the pans and cut them into cubes.
Recipe by
Lemon & Mocha
at http://www.lemonandmocha.com/2019/07/02/red-white-and-blue-angel-food-cake-platter/