Broccoli, Grape and Pecan Pasta Salad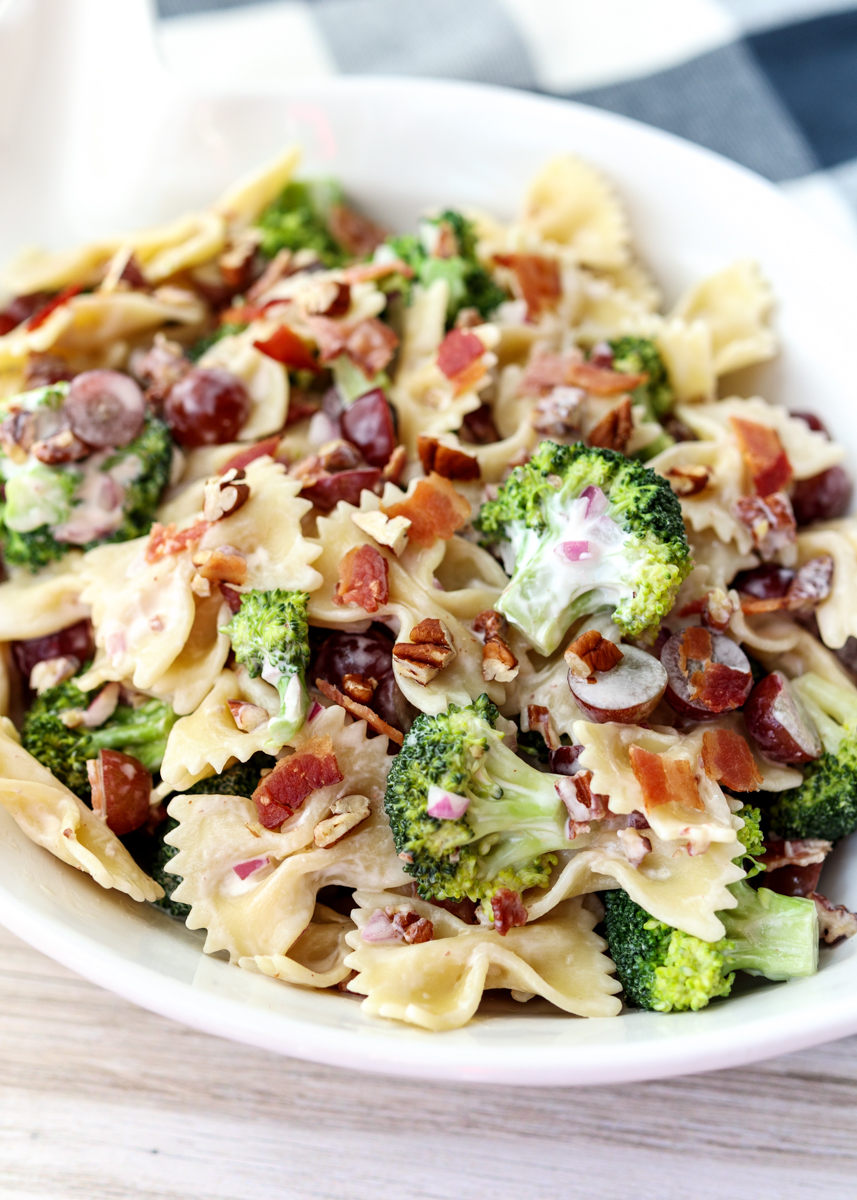 Happy Friday! We're only two weeks away from 4th of July, which is like the king of barbecue holidays, so I figured it was only fitting to share a backyard barbecue side dish. My pasta obsession I wrote about the other week also extends to pasta salad and it is an essentially part of a barbecue in my opinion. I have quite a few other pasta salad recipes posted on Lemon & Mocha and I will link to those at the bottom of the post.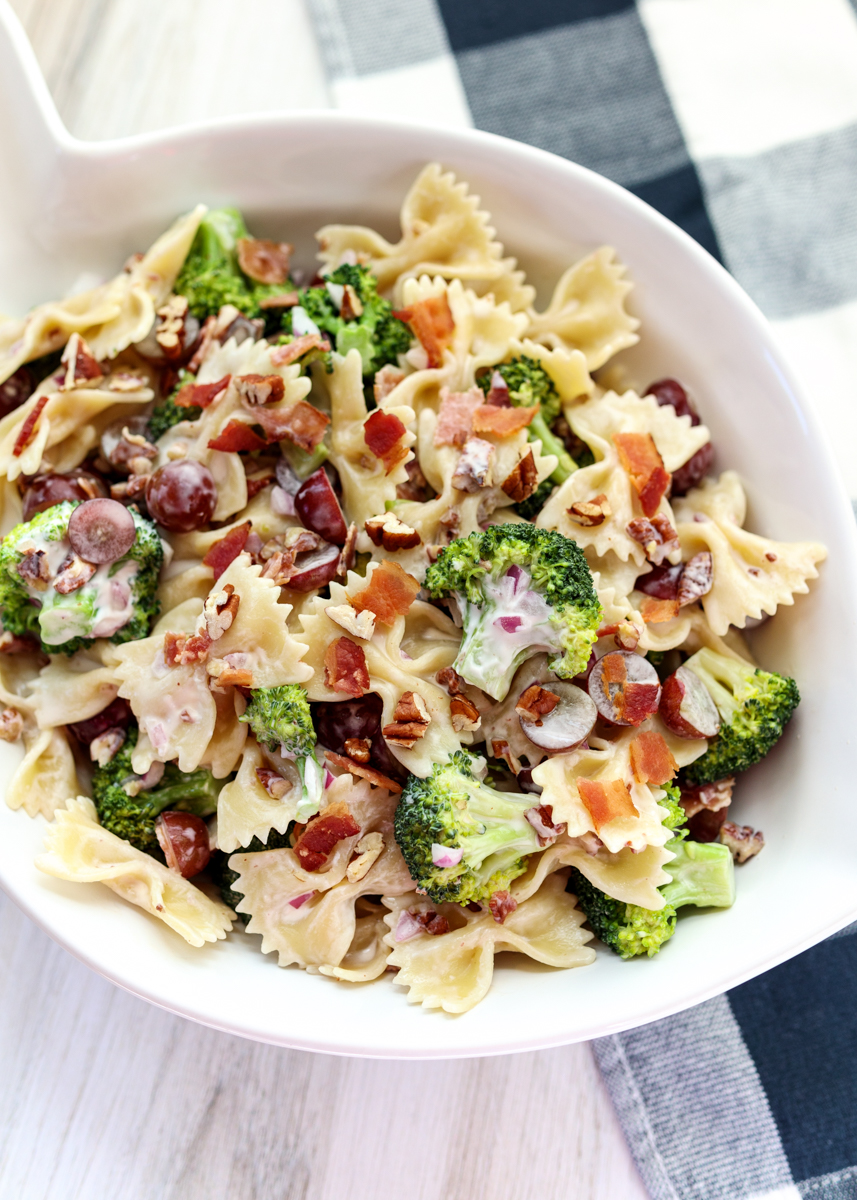 I don't know if I've discussed it here on the blog before, but I also love mayonnaise. Those of you who know me are probably nodding and rolling your eyes at that understatement since I actually more than love mayonnaise, but I won't get into that right now. The important thing to know is that Matt doesn't like mayonnaise so I'm always looking for ways to make dishes that are traditionally made with all mayo taste less mayo-y.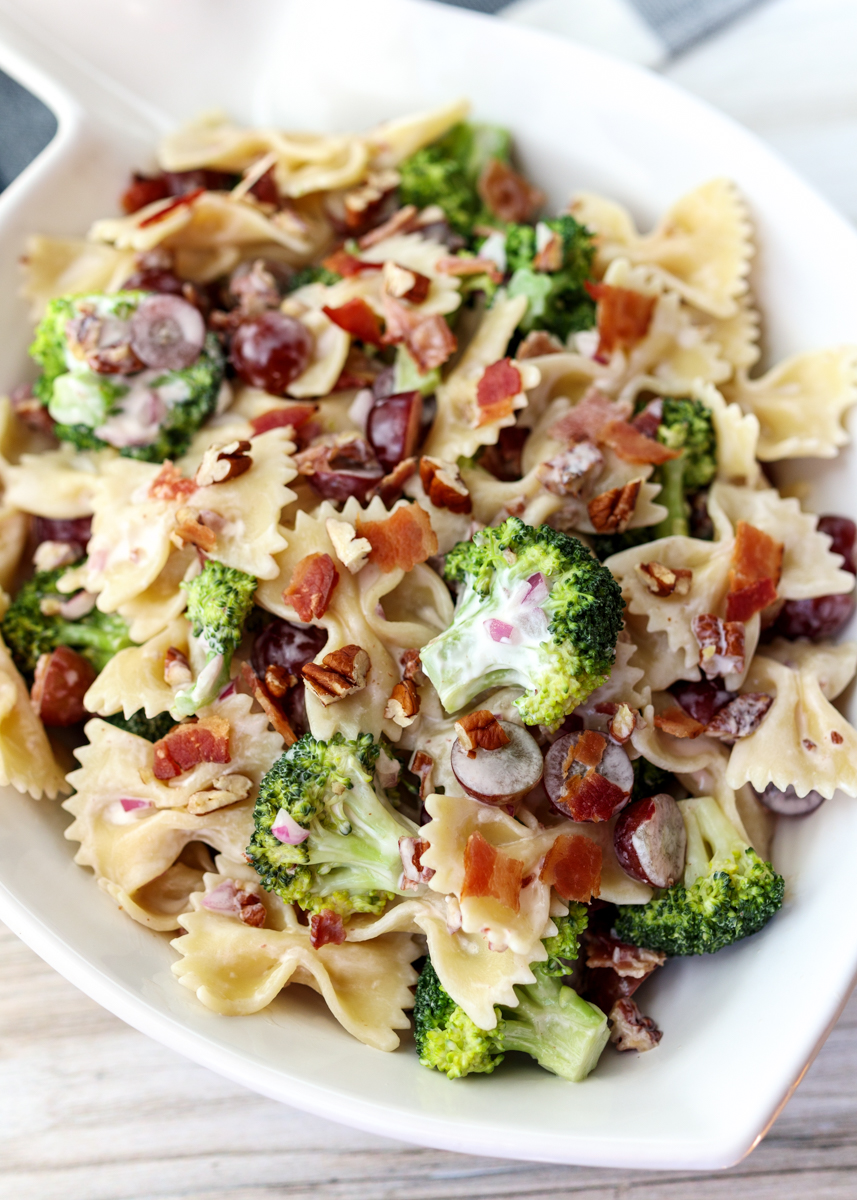 One of my favorite substitutions is to use nonfat plain Greek yogurt. It's still creamy and rich without the mayo flavor. For this Broccoli, Grape and Pecan Pasta Salad, I have a 50/50 combination of mayonnaise and plain Greek yogurt. It keeps the pasta salad from tasting too heavy, which means you will want to go in for seconds! This pasta salad variation with crisp broccoli, sweet grapes, toasted pecans and salty bacon is actually a very popular one, but if you've never had it before I could definitely see how it could seem like an odd pairing. However, it all just works!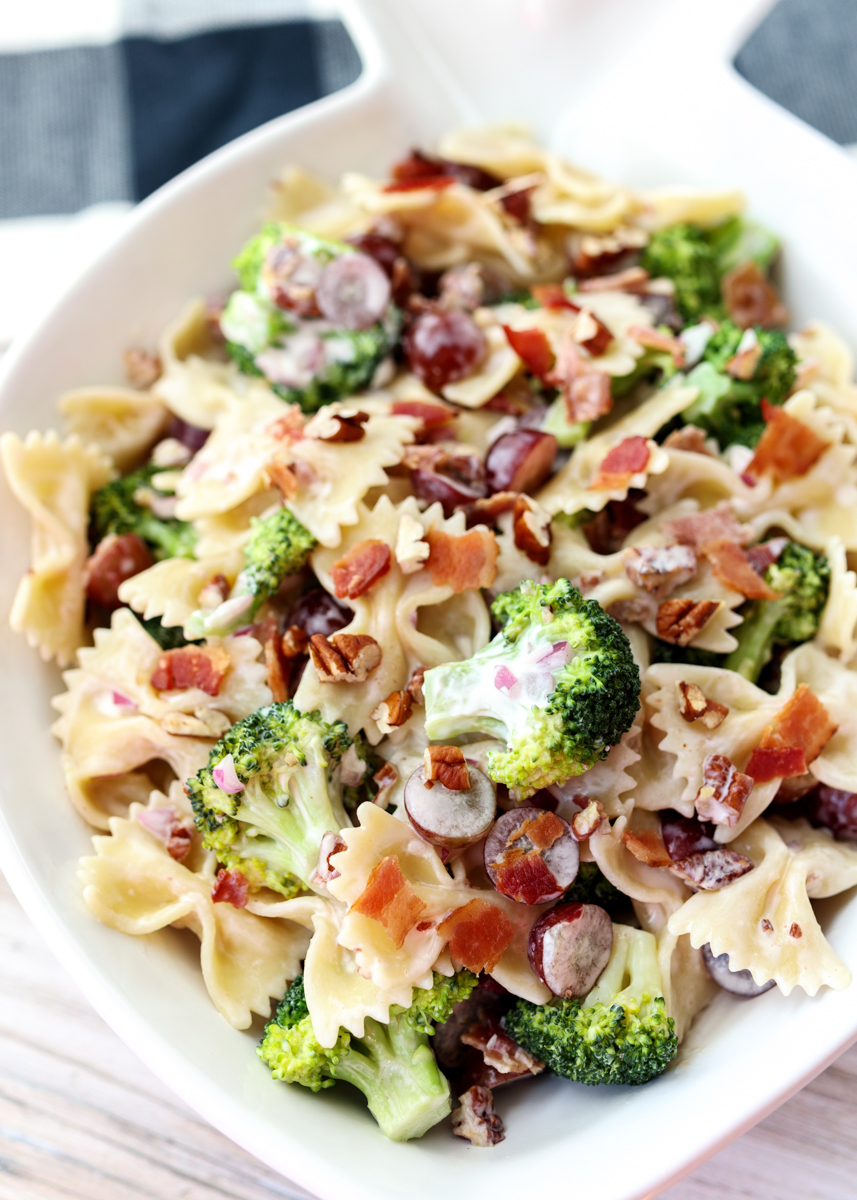 There's a great balance of creamy, salty, sweetness and acidity, also due to the red wine vinegar and agave in the recipe. Most recipes call for sugar, but I used agave instead, mostly because I like the taste and how the liquid form blends well with the other ingredients in the pasta salad.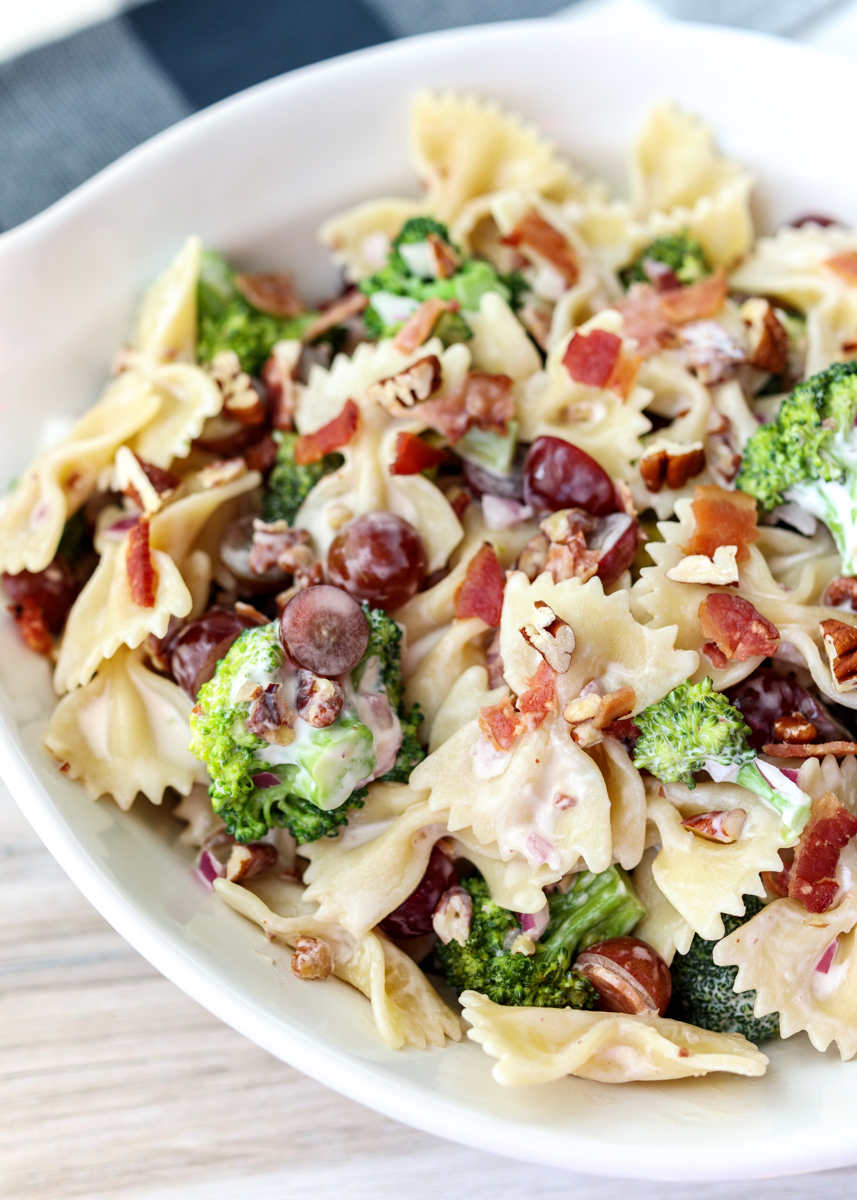 If you like broccoli salads I would recommend reducing the amount of farfalle pasta and increasing the amount of broccoli florets. That is how I'm going to make it next time; there's something about those tender-crisp broccoli florets covered in bacon crumbles and pecans that I can't get enough of! Enjoy your weekend, everyone!
Broccoli, Grape and Pecan Pasta Salad
Ingredients
1 cup chopped pecans
1 pound fresh broccoli florets
8 ounces farfalle pasta
½ cup mayonnaise
½ cup nonfat plain Greek yogurt
¼ cup agave (or sugar), see note
⅓ cup diced red onion
⅓ cup red wine vinegar
1 teaspoon salt
2 cups red grapes, halved
8 slices cooked bacon, crumbled
Directions
Preheat the oven to 350 degrees F. Toast the pecans by baking for 5 minutes, shaking the pan once while baking. Set aside to cool.
Bring a large pot of water to a boil. Meanwhile, fill a large mixing bowl with cold water and ice. Blanche the broccoli florets by boiling them for 30 seconds, removing the florets with a slotted spoon to the ice bath, then drain until completely dry. After removing the broccoli florets from the boiling water, add the farfalle pasta and cook until al dente. Drain until completely dry.
In a large mixing bowl or serving dish, combine the blanched and dry broccoli florets, the cooked and dry farfalle pasta, mayonnaise, Greek yogurt, sugar, red onion, red wine vinegar and salt. Let chill for at least 3 hours. When ready to serve, toss with the toasted pecans, grapes and crumbled bacon.
Notes
Start with ¼ cup then increase up to ⅓ cup depending on taste preference.