Strawberry Caprese Bites with Basil Vinaigrette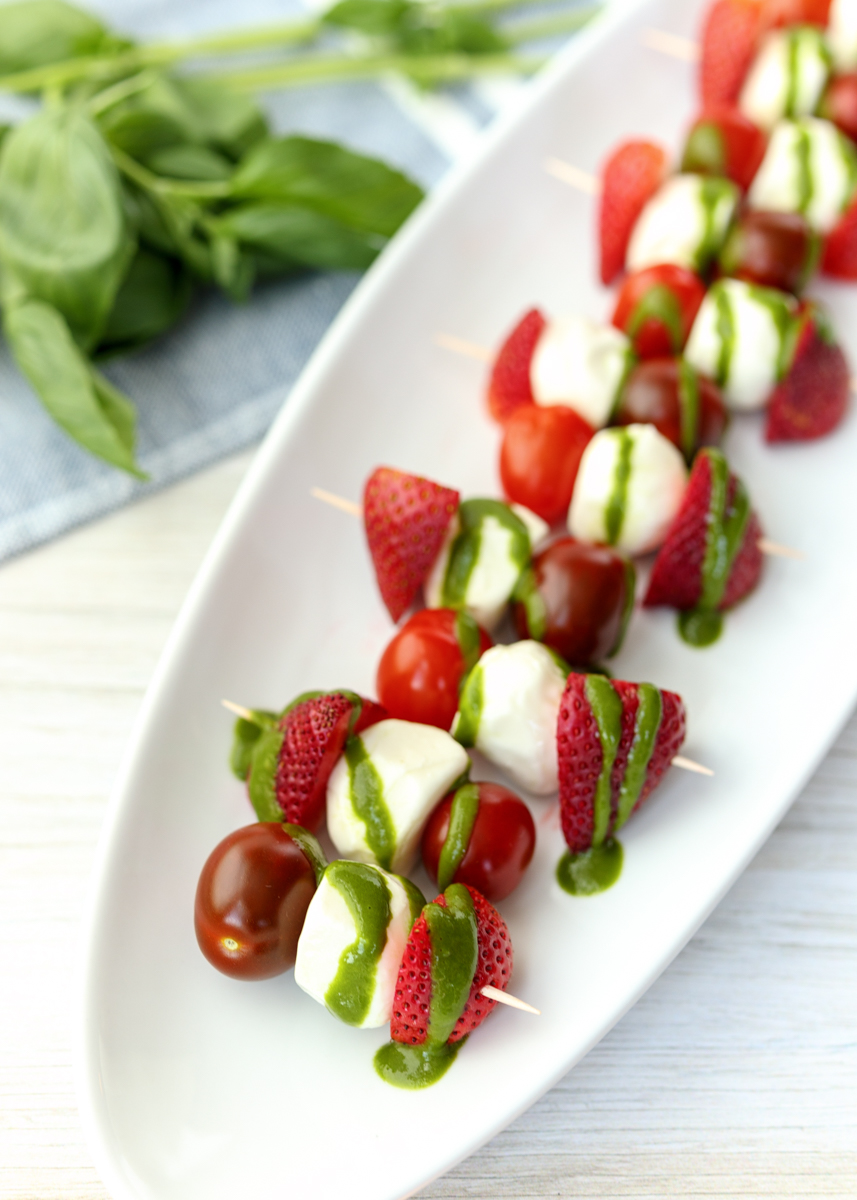 I know, another appetizer bite! I told you I'm all about them so here we are with another one that's just right for both caprese and strawberry season. There's nothing like a classic caprese salad with ripe tomatoes, fresh mozzarella, basil, a drizzle of olive oil and some salt.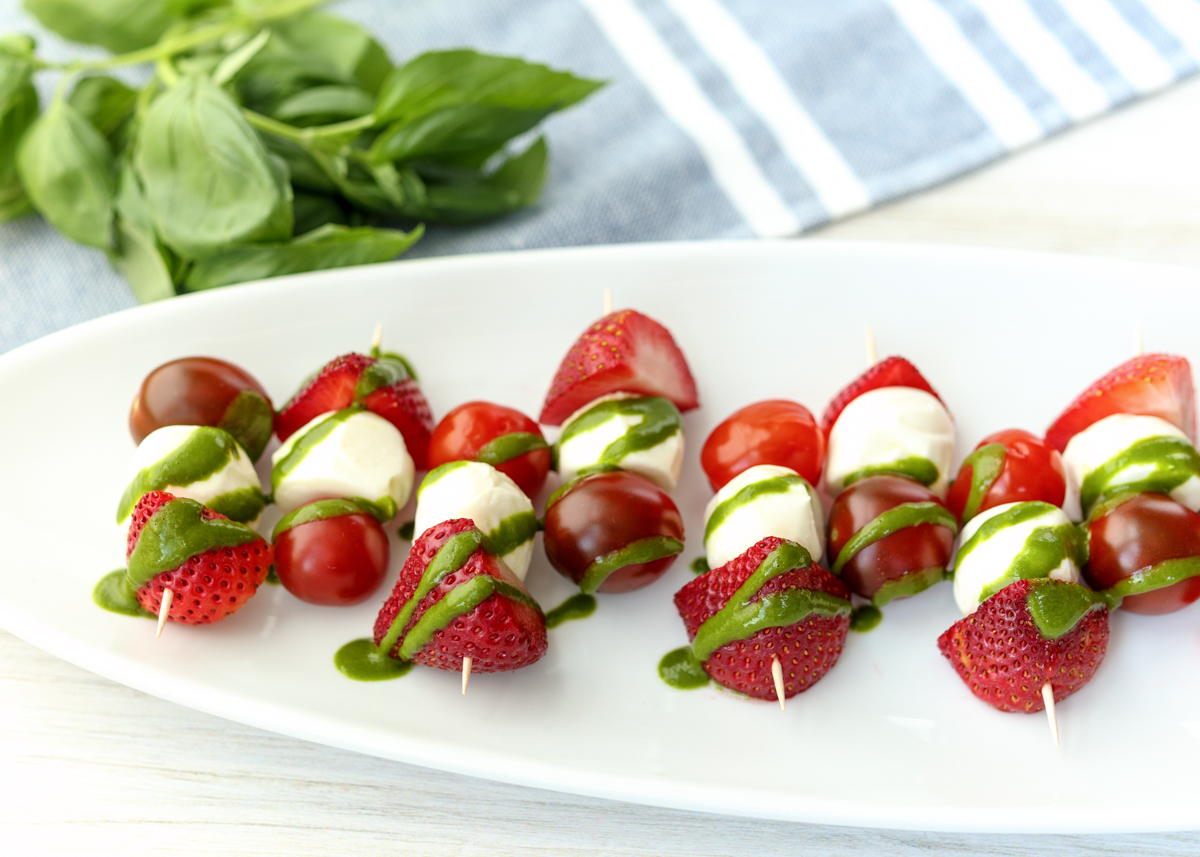 Sometimes, though, I like switching it up and one of my favorite ways is by adding fruit. The sweetness of fruit pairs so well with the saltiness of the cheese and the acidity of the tomatoes. Last summer I posted my Melon Prosciutto Mozzarella Skewers and the Watermelon Caprese Salad. These bites are simple recipes like those except we have mozzarella, cherry tomatoes and strawberries.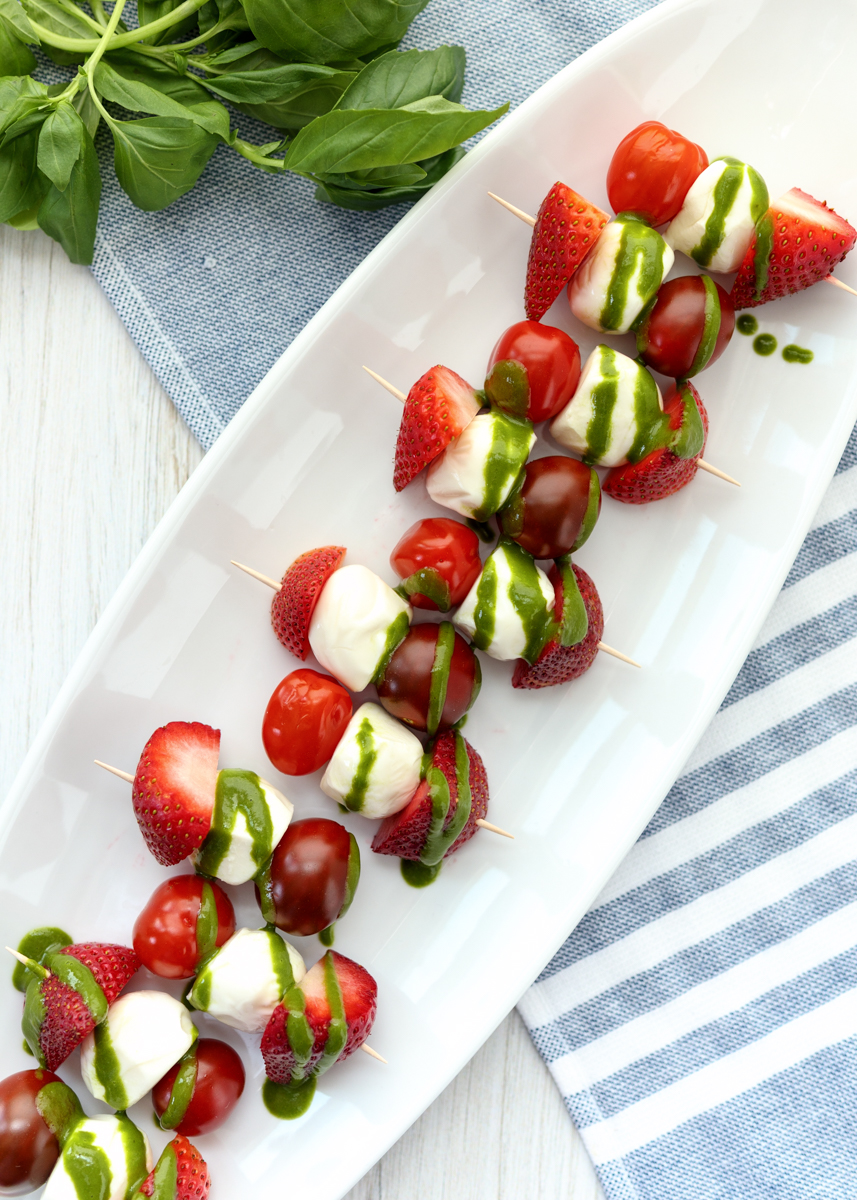 This was my first time having strawberries as part of a caprese salad. Unlike the cantaloupe and the watermelon, which I've had before at restaurants, I've never ordered a caprese salad with strawberries, although I'm sure there's some places out there with it on their menus. I wasn't sure how the flavors would all work together, but I was hooked after one bite. In fact, Matt and I downed this whole platter in about ten minutes immediately after I took these photos.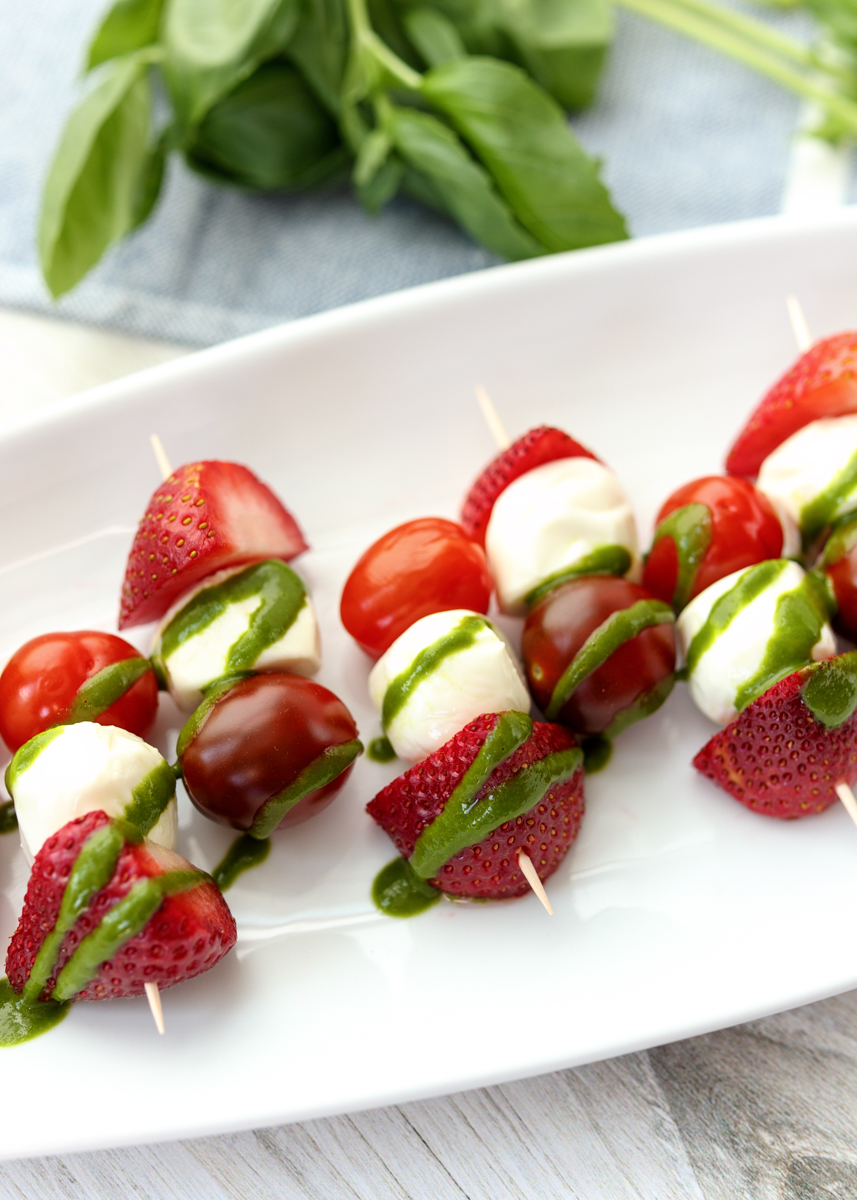 The sweetness of the ripe strawberries was exactly what I wanted with the mozzarella and tomato. What really ties it all together is the fresh and bright basil vinaigrette. I love basil in dishes, but sometimes I find myself wishing I could have the flavor of basil without all the big hunks of basil leaves. This easy vinaigrette can be whipped together in your blender or food processor and is concentrated with so much delicious basil flavor.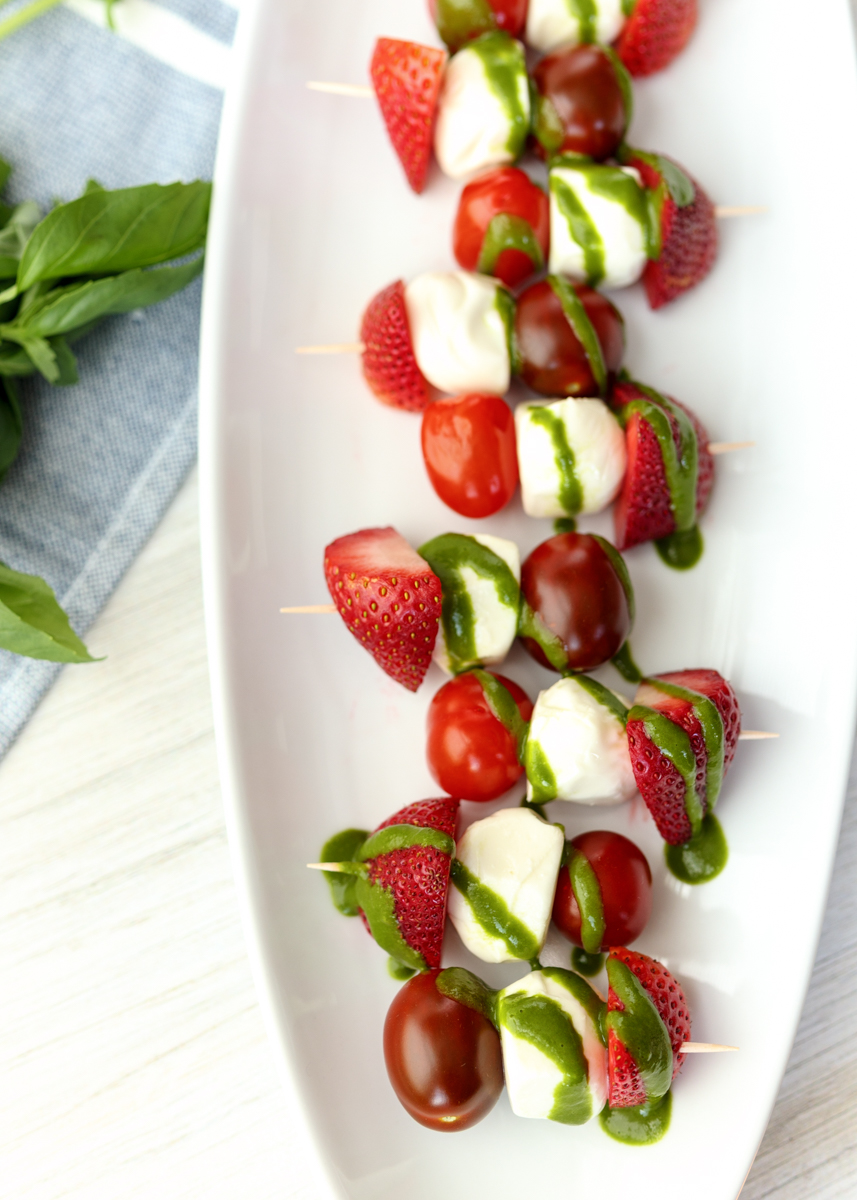 You will have leftover vinaigrette, unless you make more Strawberry Caprese Skewers, which is perfect for drizzling over chicken or topping salads. Or you could be like Matt and just dip some toasty bread in it – yum! Enjoy!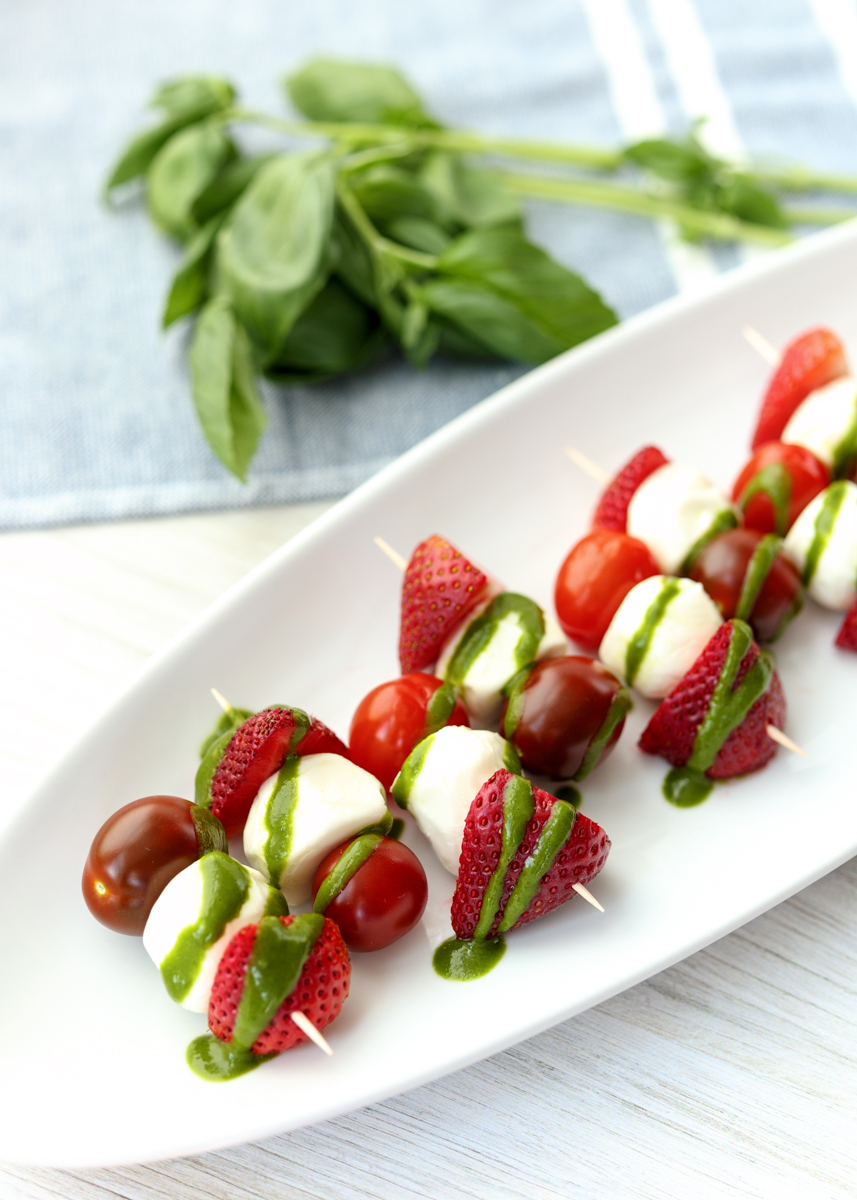 Strawberry Caprese Bites with Basil Vinaigrette
Ingredients
12 strawberries, hulled and halved
24 bocconcini mozzarella balls
24 grape or small cherry tomatoes
¼ cup olive oil
2 tablespoons red wine vinegar
3 cups fresh basil leaves
½ small shallot
1 clove garlic
¼ teaspoon salt
24 toothpicks
Directions
Make the caprese bites by first skewering a strawberry halve, a mozzarella ball then a tomato with a toothpick. Repeat for the remaining caprese bites.
In a high-speed blender, add the olive oil, red wine vinegar, basil leaves, shallot, garlic and salt. Blend until smooth. Drizzle over the caprese bites.