Melon Prosciutto Mozzarella Skewers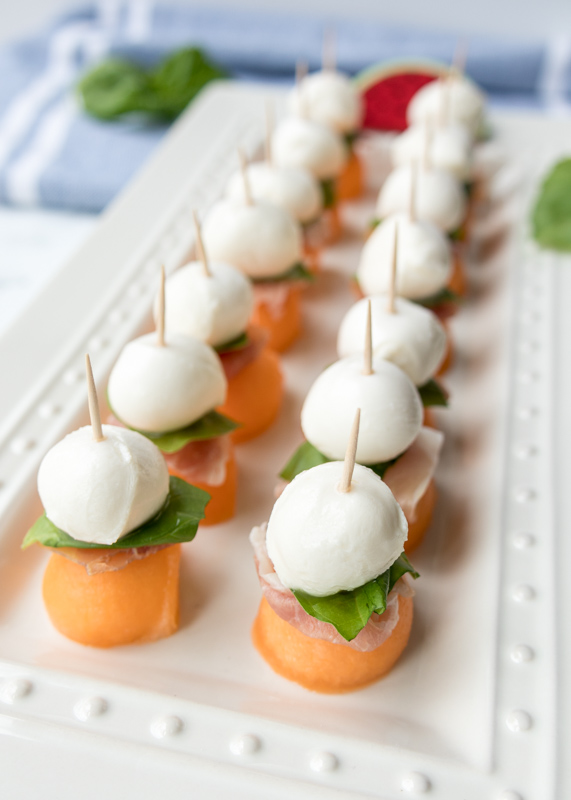 You know those foods that remind you of your childhood? The ones that when you eat them they're associated with such strong memories from being a kid that you can't help but be transported back to those moments? Sometimes it's something classic like spaghetti and meatballs. Other times it's something generational like Dunkaroos.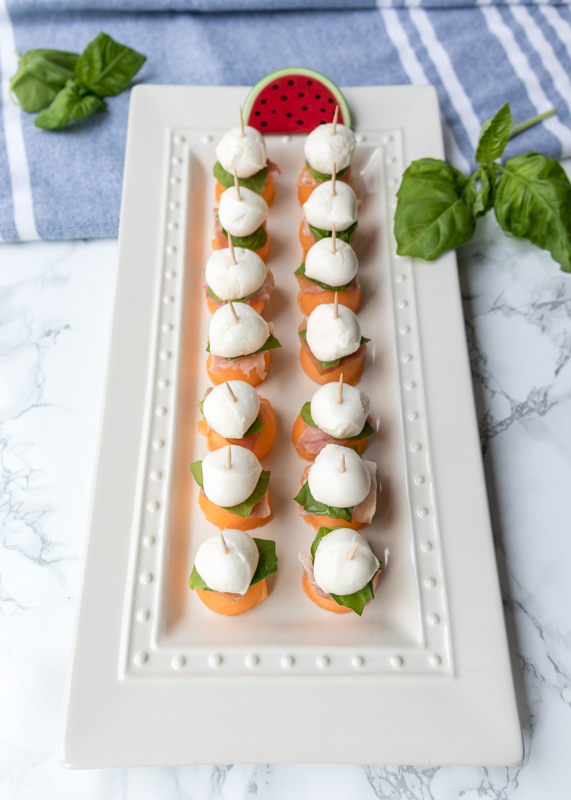 I've always been obsessed with food so I'm not sure if my volume of food memories is normal or not, but one food that will always remind me of being a kid is cantaloupe. Yes, cantaloupe. I know it is a strange pick for a food memory, but my brother and I loved cantaloupe growing up. My dad and Babu wouldn't melon-ball it; instead we would get thick wedges of the cantaloupe with the rind still on ready to be scooped out bite by bite.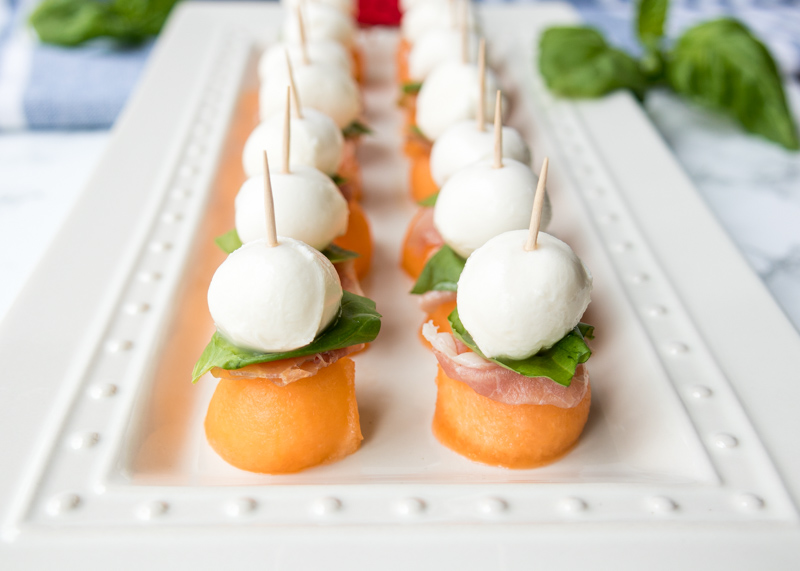 Babu used to tell me that her father would halve a cantaloupe, scoop out the seeds, then use it as a cereal bowl. He would pour in his cereal and milk then scrape pieces of cantaloupe up with each bite. My brother and I always thought this would make a super weird breakfast and I still don't know if I can wrap my head around the combination. This, on the other hand, is a perfect cantaloupe combination.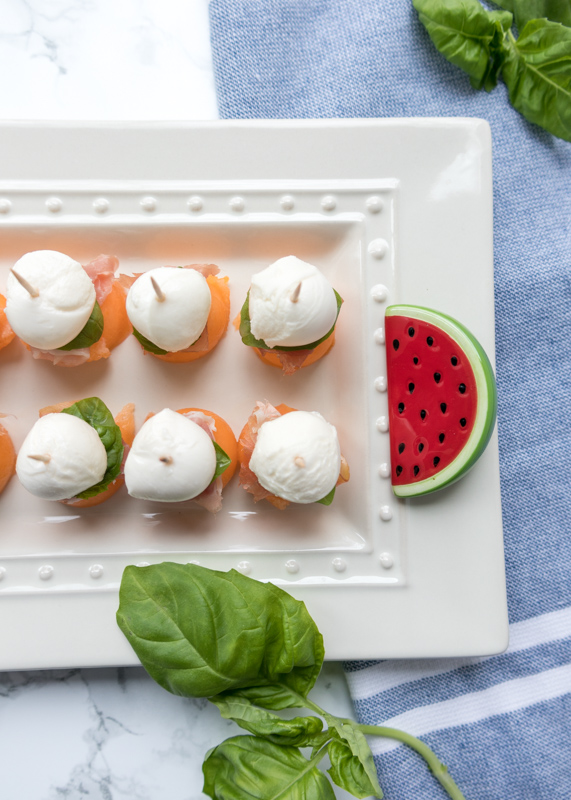 These Melon Prosciutto Mozzarella Skewers have quickly become my favorite easy party appetizer for spring and summer. Each skewer has a sweet cantaloupe ball, a delicate piece of prosciutto, a fresh basil leaf and a soft ball of mozzarella. You can eat them in one bite and they don't even need a sauce or dressing. These skewers are also incredibly simple and can be made ahead so it's one less thing to worry about when you're entertaining. I place them right on the serving platter when I'm skewering them and then cover with plastic wrap so they're all ready to go.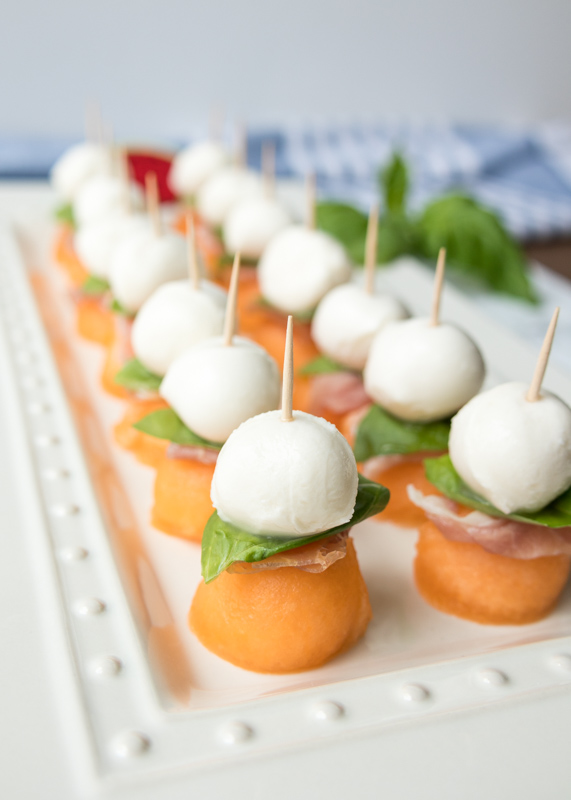 The recipe below makes 15 skewers. I usually plan on 3-4 pieces per person, but it depends on how many other appetizers you plan on having. Since Matt and I love eating the leftovers I typically make more and put them in a plastic container so if I need to put out more during the party I can. Fresh and light, these Melon Prosciutto Mozzarella Skewers are a refreshing summer bite!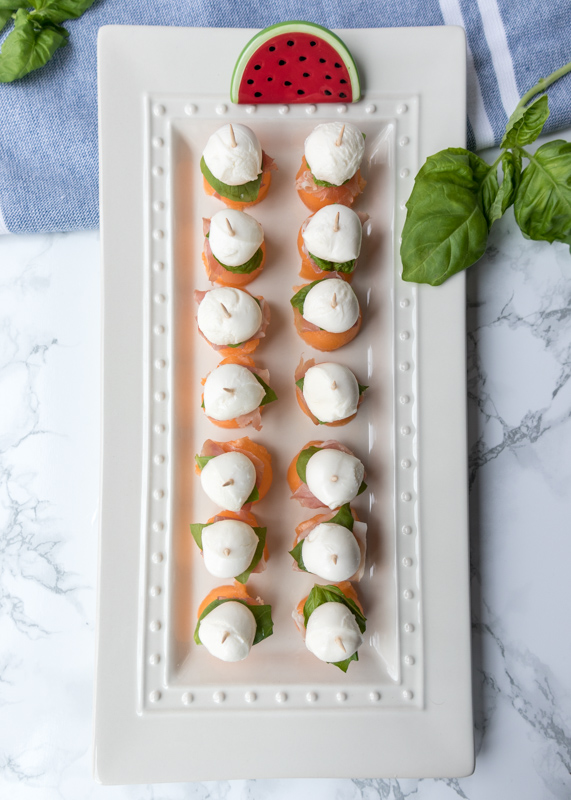 Melon Prosciutto Mozzarella Skewers
Ingredients
½ large ripe cantaloupe
2 slices prosciutto
Basil leaves, washed and dried (about 6-8 leaves, depending on how big they are)
15 mini mozzarella balls (ciliegine size)
Toothpicks
Directions
Wash the outside of the cantaloupe. Using a large sharp knife, cut the cantaloupe in half. Use a spoon to scrape out the seeds. Use a melon baller to scoop balls of cantaloupe out of the melon flesh. Set aside.
To make the skewers: place a melon ball on a cutting board or platter. Tear off a small piece of prosciutto and place on top of the melon ball. If the basil leaf is small place it on top of the prosciutto. If the leaf is bigger you can gently tear it in quarters then place a quarter piece of it on the prosciutto. Place the mini mozzarella ball on top and while holding it in place, skewer the whole thing from mozz ball right down through the cantaloupe with a toothpick. Repeat until you have your desired amount. I usually plan on 3-4 pieces per person, but it depends on how many other appetizers you are planning on having.