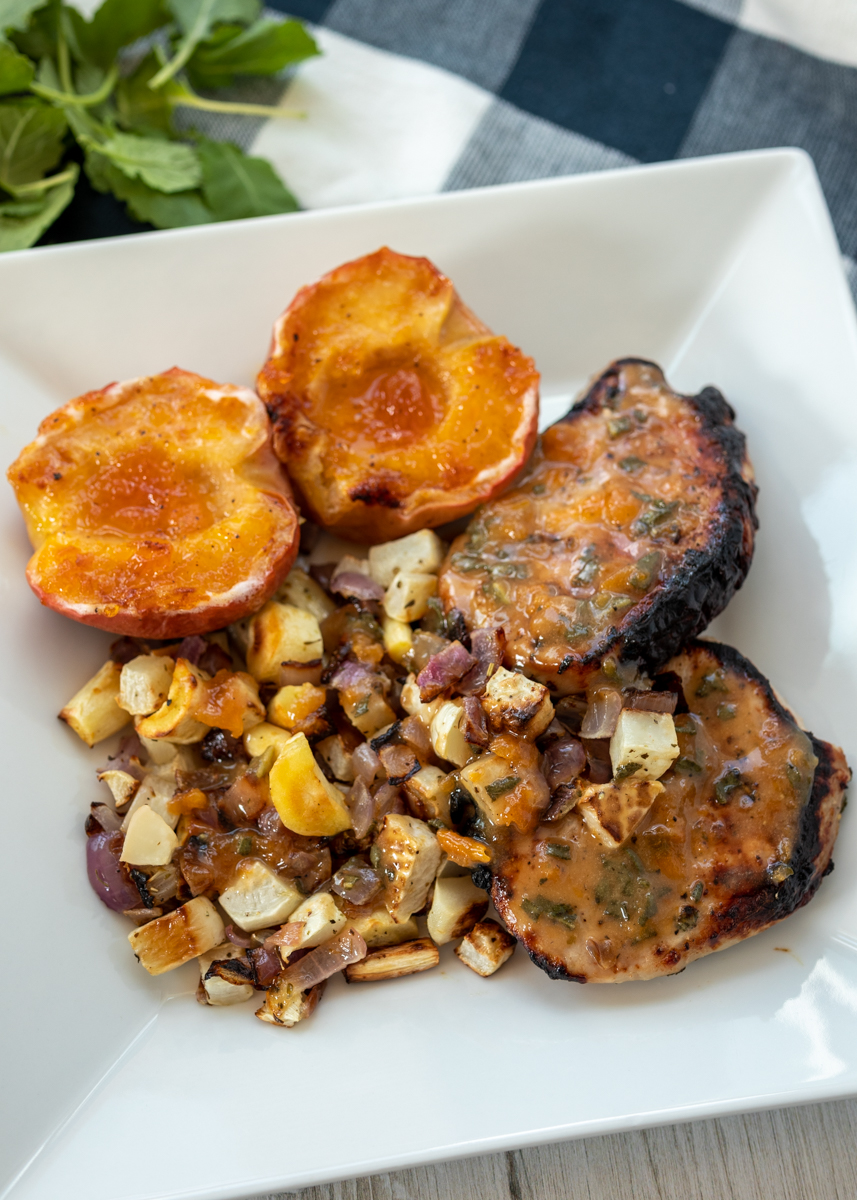 The concept of a "clean out the fridge" recipe is an interesting one because everyone has different items in their fridge. So, while this Pork Chops with Baked Apples, Parsnips and Turnips dish helped me clean out my fridge, it's so delicious that I think it deserves its own trip to the grocery store!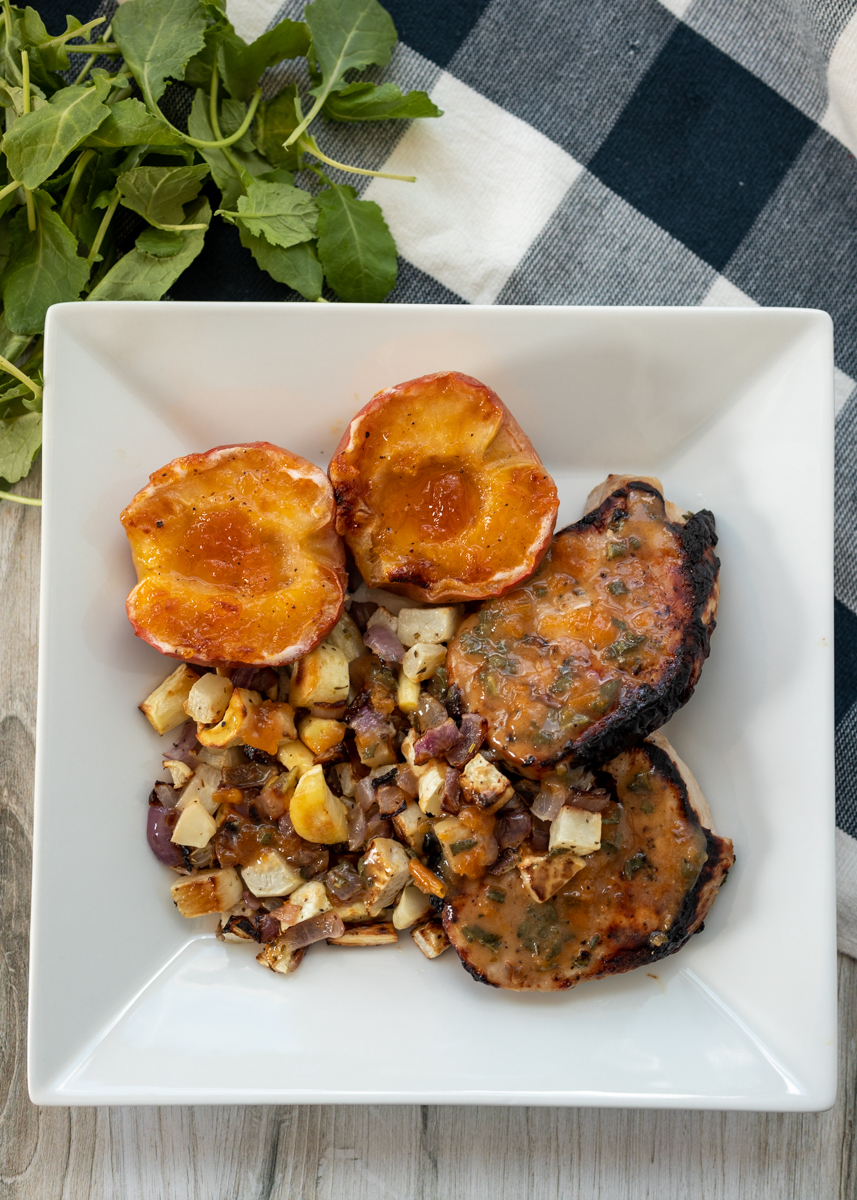 Right before Sam was born I was itching to try a new dinner recipe. I flipped through my recipe binders and came across this weeknight meal from the Food Network Magazine. I had bought pork chops with the intention of making the Skillet Balsamic Peach Pork Chops with Feta and Basil since Matt and I are obsessed, but this recipe for Pork Chops with Baked Apples, Parsnips and Turnips was much more seasonally appropriate. I also had leftover apricot preserves in the fridge from the Grilled Chicken with Apple and Mango Chutney and the Baked Brie Fruit and Nut Tartlets. The pork chops are marinated in the preserves, Worcestershire sauce and seasonings before being broiled.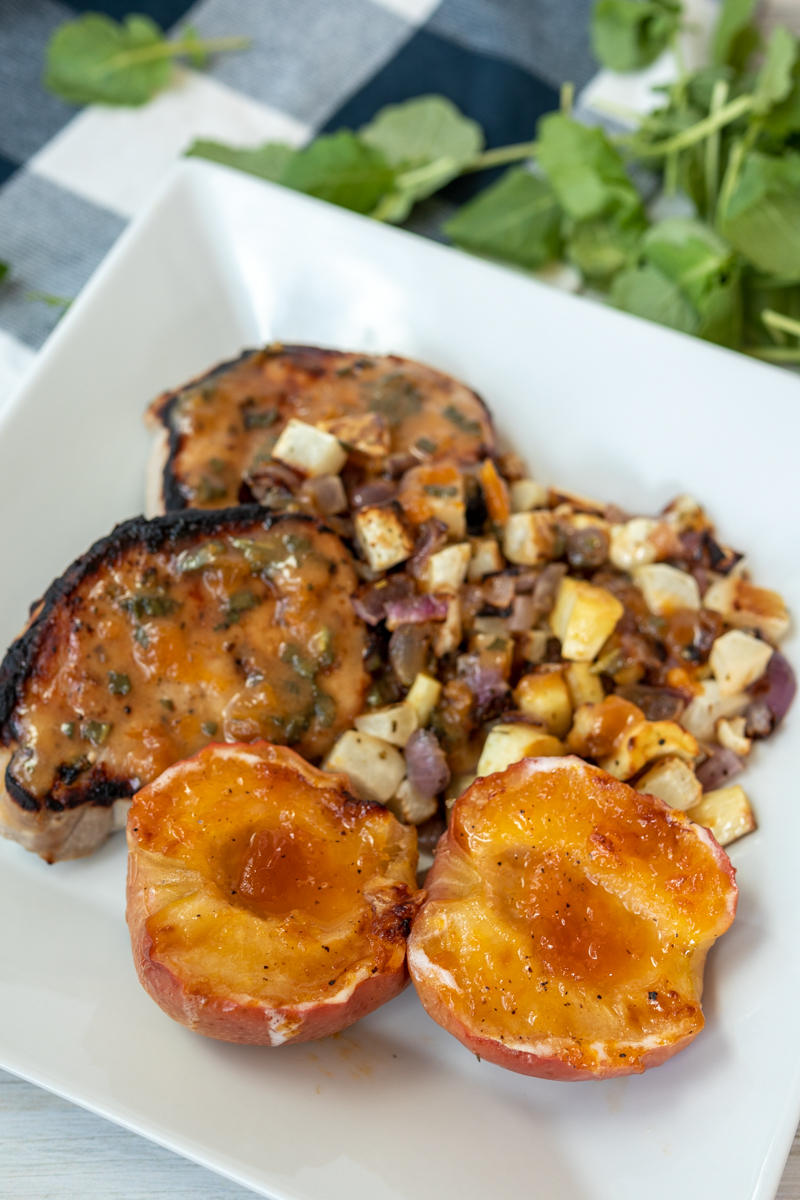 While the pork chops are flavorful and tender, the real standout are the baked apples slathered with apricot preserves and the roasted parsnip, turnip and red onion medley. I've baked apples into chips and I've baked them into dessert egg rolls, but I've never roasted whole apples. The apricot preserves brought a great brightness and sweetness to them that helped balance the savory flavors of the pork and root vegetables.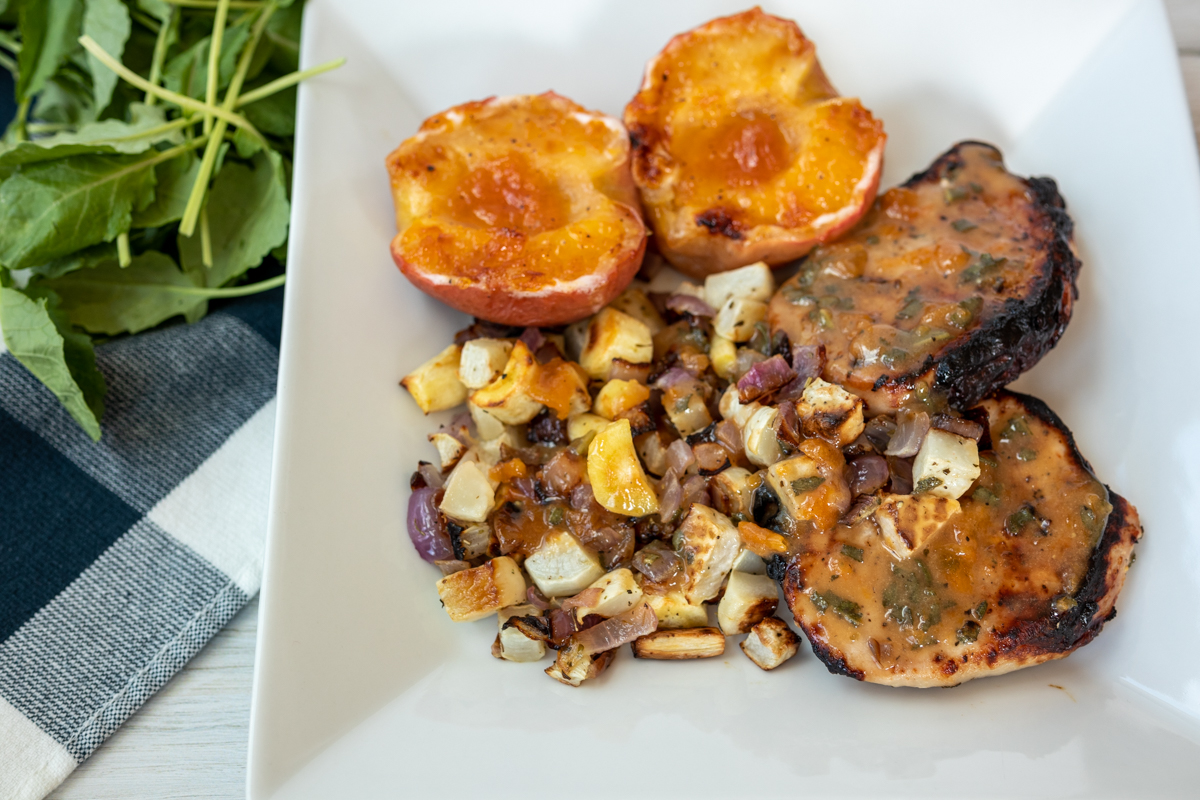 And those root vegetables! I love a good roasted veggie and these parsnips, turnips and red onion chunks just melt in your mouth!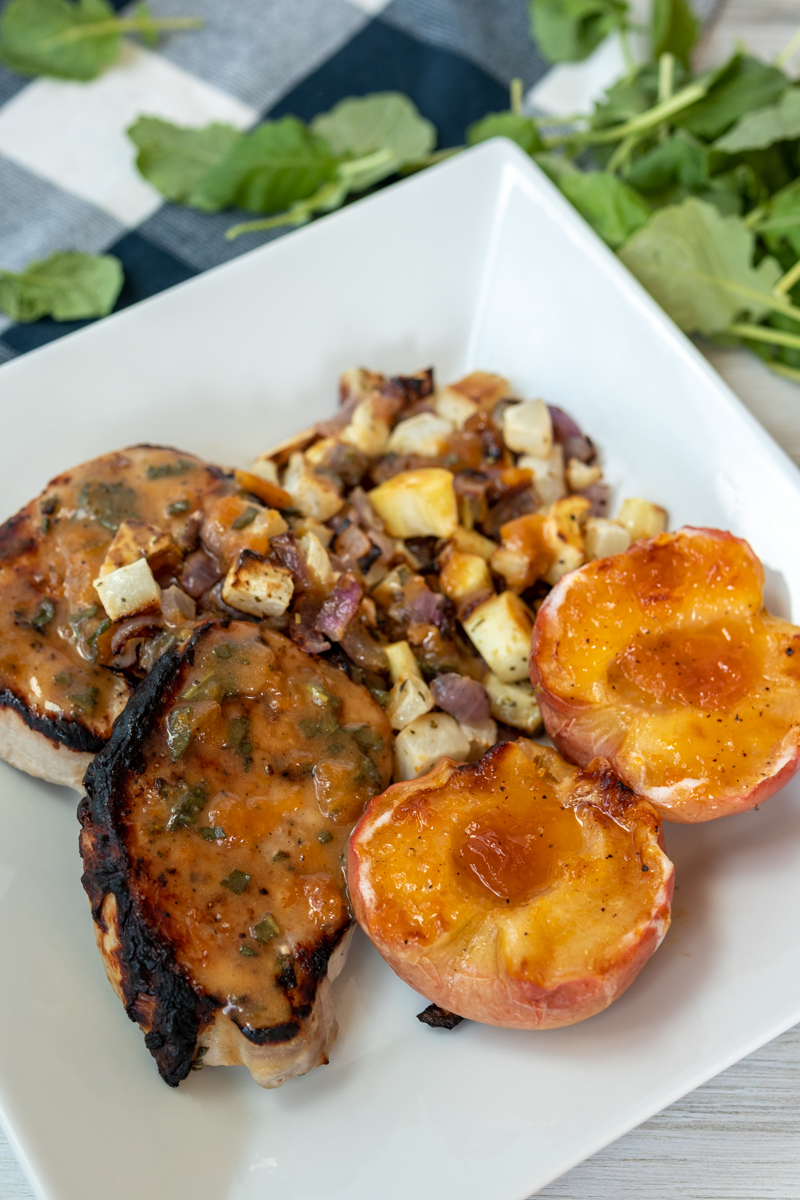 This is a quick and easy dinner recipe that I'll definitely be making all winter long. Enjoy!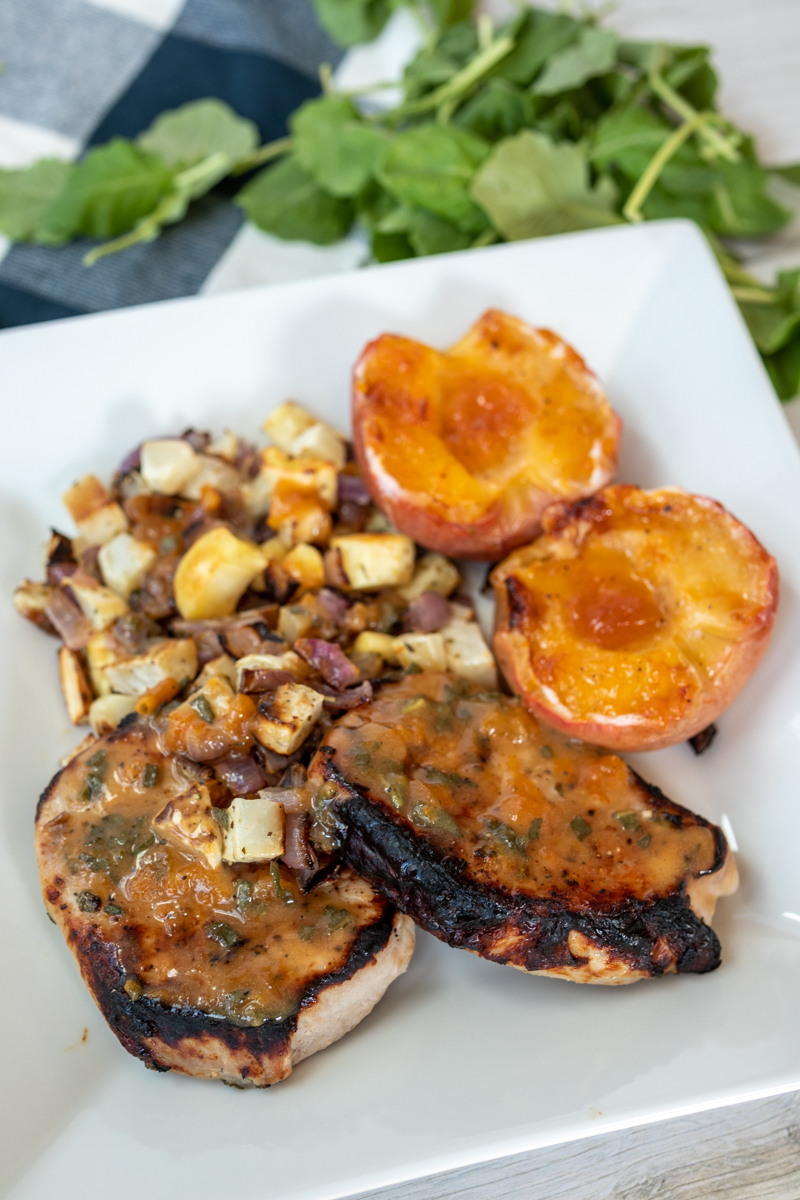 Pork Chops with Baked Apples, Parsnips and Turnips
Ingredients
2 medium parsnips, peeled and cut into ½-inch pieces
1 medium turnip, peeled and cut into ½-inch pieces
½ red onion, cut into ½-inch pieces
2 tablespoons olive oil
1 teaspoon dried rosemary
2 small apples, such as Gala, halved and seeded
¼ cup apricot preserves
1 teaspoon Worcestershire sauce
1 teaspoon chopped fresh sage
4 boneless pork loin chops, ½-inch thick
1 tablespoon unsalted butter
Salt and fresh ground black pepper
Directions
Preheat oven to 450 degrees F.
Line a baking sheet with nonstick aluminum foil and place the parsnips, turnips and onion on it. Drizzle with the olive oil, toss, then sprinkle with the rosemary and season generously with salt and pepper. Place the apple halves, cut side up, on the baking sheet nestled between the veggies. Divide 2 tablespoons of the apricot preserves between the apple halves and brush over top then season lightly with black pepper. Roast for 20 minutes, or until the vegetables are soft. Turn the oven to broil and broil for 5 minutes, or until everything is golden brown.
While the veggies are cooking, marinate the pork. In a shallow bowl or plastic container large enough to fit the pork, whisk together the remaining 2 tablespoons of apricot preserves, the Worcestershire sauce, sage and ½ cup water. Season with a little black pepper. Pierce the pork chips all over with a fork then add to the bowl and marinate for 10 minutes.
Set a wire cooling rack into a rimmed baking sheet and place the pork chops on top, reserving the marinade. Season the pork chops with salt and pepper. Broil the pork chops for 4-5 minutes per side, or until they reach an internal temperature of 145 degrees F. Remove from the oven and let the pork rest while you finish the sauce.
Pour the reserved marinade into a small saucepan and bring to a boil over medium-high heat. Continue to boil until thickened, about 3-4 minutes. Whisk in the tablespoon of butter until melted. Serve the pork alongside the vegetables and apples with the sauce drizzled over top.
 Recipe from January/February 2016 issue of Food Network Magazine
.
Some of the links above are affiliate links, which means I may receive a small commission for my referral. This does not affect the retail cost of the item. Thank you for supporting Lemon & Mocha!