Baked Apple Chips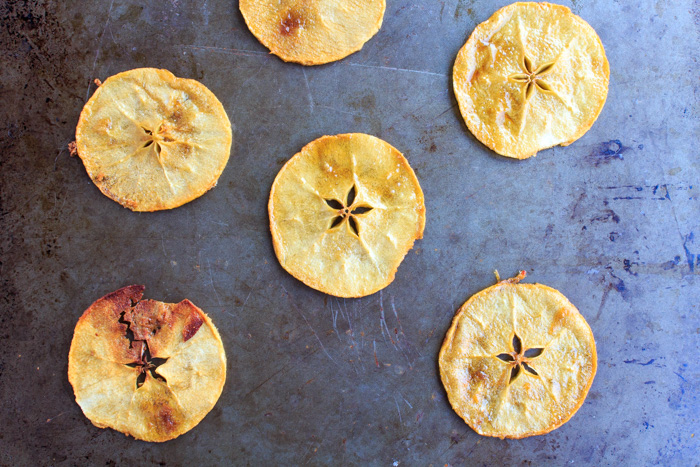 It's apple time again! After Tuesday's slightly involved, albeit delicious and deceptively easy, dish I wanted to share something that required minimal effort and ingredients. I'm talking three ingredients and three steps. Boom! How exciting is that? We could all use a few more minimal effort recipes in our lives.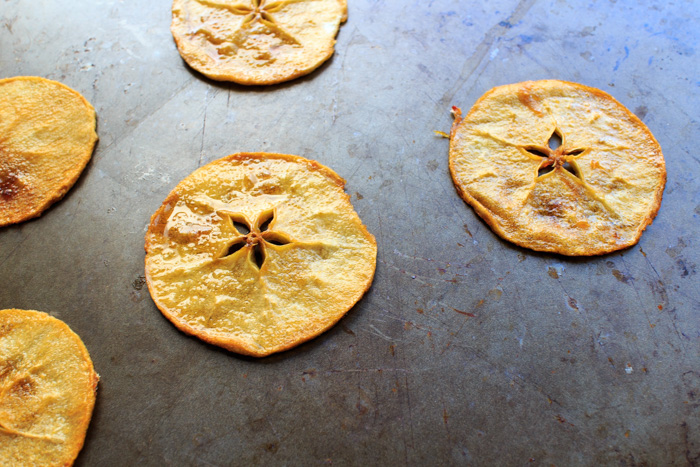 Homemade apple chips are a great on-the-go snack. They are also enjoyable on top of salads, in spiced sweet potato and apple soup, and by themselves for Netflix marathons. Thin apple slices are lightly coated with spiced sugar then left to bake in the oven. Staying in the oven for so long on a low temperature takes a lot of the moisture out of them leaving you with a nice crunchy chip-like texture. But, they still have the taste of apple. Thus apple chips. You probably got that by now, but I figured I would point it out anyways.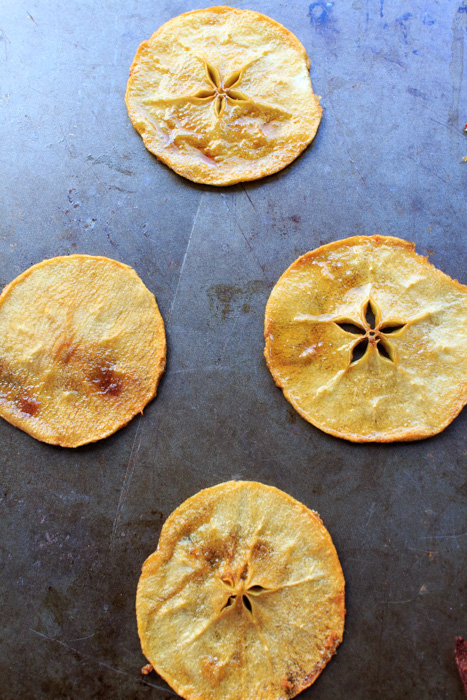 They are quite addictive. However, I must share one warning with all you soon-to-be-apple-chip-makers:  they sit in the oven for a long, long time. This is not a make it in 20 minutes kind of snack. We're talking almost 2 hours in the oven. So just make sure you read the recipe thoroughly, all four lines of it, long before you plan to actual create this treat so you aren't disappointed or late for your Netflix marathon.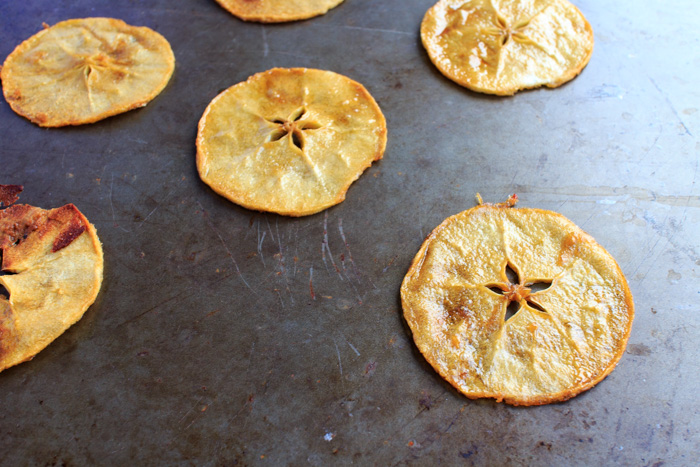 Baked Apple Chips
Ingredients
2 Pink Lady apples
1½ teaspoons sugar
½ teaspoon ground cinnamon
Directions
Preheat the oven to 250 degrees F. Line a large baking sheet with parchment paper and set aside.
Cut each apple in half (make one cut through the apple halfway between the bottom and the stem, do not cut from the stem downward). Thinly slice the apple using a mandolin. You can core the apple, but then you won't get the pretty stars in the middle.
Combine the sugar and cinnamon in a large bag. Add the apple slices and shake until they are completely coated. You may have to open the bag up to separate some of the slices. Lay the apple slices evenly on the prepared baking sheet then bake for one hour.
Remove from the oven, flip over, then bake for another hour. When the second hour is up, remove the pan from the oven then carefully move the apple chips to a cooling rack. The apple slices will continue to fully crisp while they are cooling.
Recipe adapted from All Recipes.