Spiced Sweet Potato & Apple Soup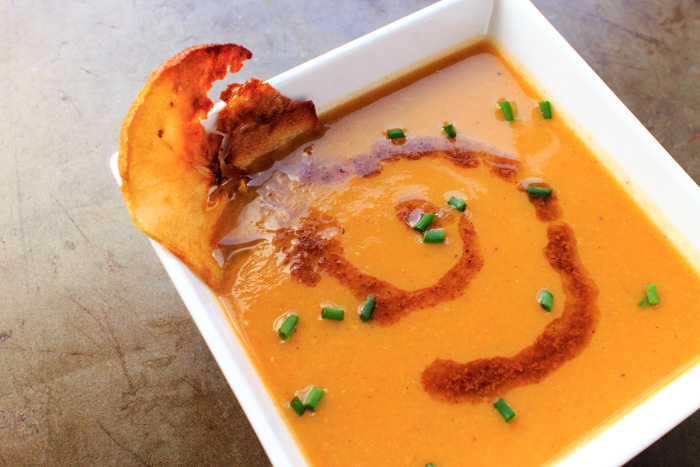 Five minutes into making this soup I knew I had a winner sitting on the stovetop in front of me. Intense smells swirled around me while the softening onions took on a rich color from all the spices. I don't get cravings for soups unless they pack a lot of flavor and this sweet potato and apple soup hits the mark so I am extremely pleased to be posting it for as the second post in my fall apple series.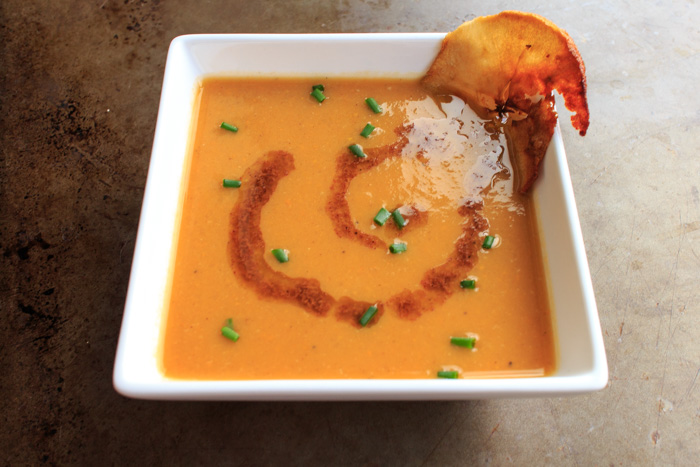 This soup does take a shortcut by using applesauce instead of whole fresh apples, but you could easily turn your apple picking finds into an impromptu applesauce by peeling, coring then crushing them. And then making this soup of course.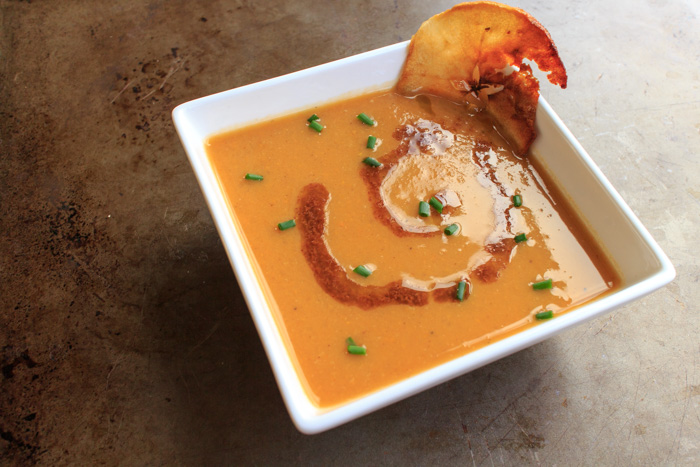 The original recipe uses curry powder, but since I didn't have any on hand I substituted with what was in my cabinet. Feel free to use my version or substitute with curry powder according to the notes in the recipe. The soup has that delicious warming quality that all fall soups should have as well as an exciting complexity of taste.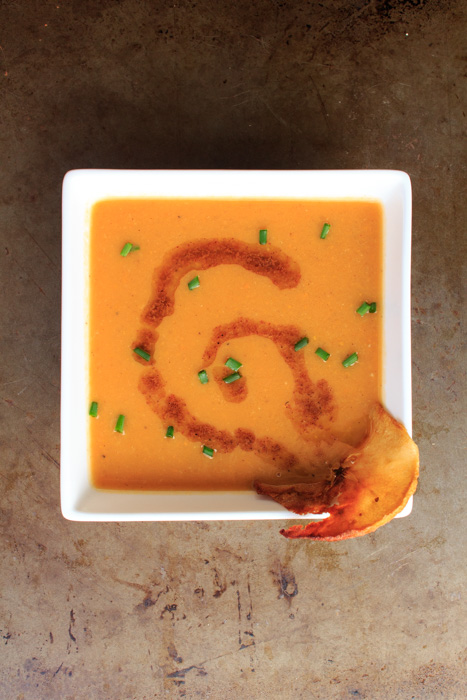 Finishing the soup with a splash of curry butter really deepens this complexity. You might think, "Oh, it's just a garnish, I'm going to skip the curry butter," but do not make this mistake my friends! Although it's just a simple concoction of butter, spices and apple cider vinegar, it adds a final richness and tang to the soup.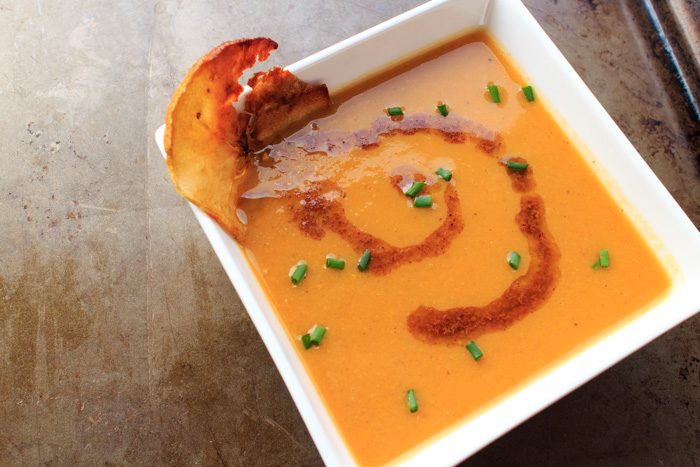 The apple chip pictured in the soup photos is the perfect crunchy texture addition and I'll be sharing the recipe later this week in my third apple post.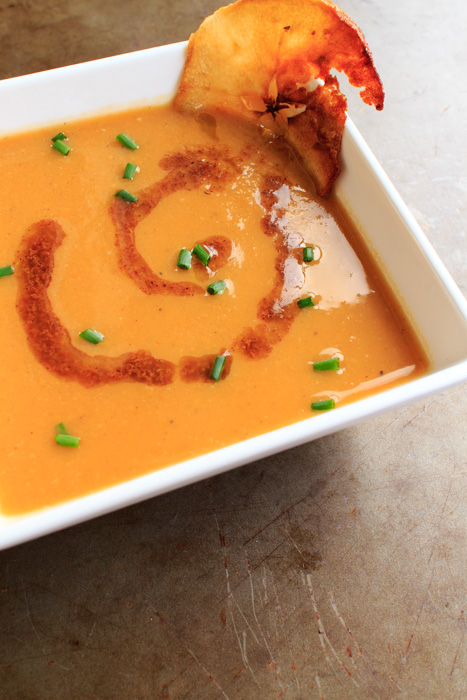 Spiced Sweet Potato & Apple Soup
Ingredients
½ teaspoon cumin powder
½ teaspoon ground coriander
¼ teaspoon nutmeg
⅛ teaspoon cinnamon
⅛ teaspoon salt
2 tablespoons olive oil
1 small yellow onion, chopped
2 cloves garlic, roughly chopped
1 2-inch piece of ginger, peeled and grated
¼ teaspoon nutmeg
3 medium sweet potatoes, peeled and diced
4 cups low-sodium vegetable broth
1¼ cups applesauce
1 tablespoon butter
1 tablespoon apple cider vinegar
Directions
Combine the first 5 ingredients in a small bowl then set aside.
Place the olive oil in a large pot over medium heat. Once warm add the onions and garlic then cook until the onions are soft, about 6 minutes.
Add the ginger, additional nutmeg and 1¼ teaspoons of the spice mixture that was set aside in the first step. Cook for 1 minute.
Add the sweet potatoes and vegetable broth then cover and bring the mixture to a boil over medium-high heat. Once boiling, reduce the heat to medium-low. Stir in the applesauce then let simmer, covered, on medium-low for 20 minutes.
When the potatoes are tender, puree the mixture until smooth with an immersion blender or food processor. Season with salt and pepper to taste. Keep warm while you prepare the spiced butter.
In a small skillet over medium heat melt the butter then add the remaining ¼ teaspoon of the spice mixture. Stir over the heat until browned, just a couple minutes, then remove from the heat. Mix in the apple cider vinegar then drizzle over each serving of soup.
Notes
If you are using curry powder instead, substitute 1.5 teaspoons curry powder for the first 5 ingredients.
Recipe adapted from September 2010 issue of Food Network Magazine.