New England Classic Quesadilla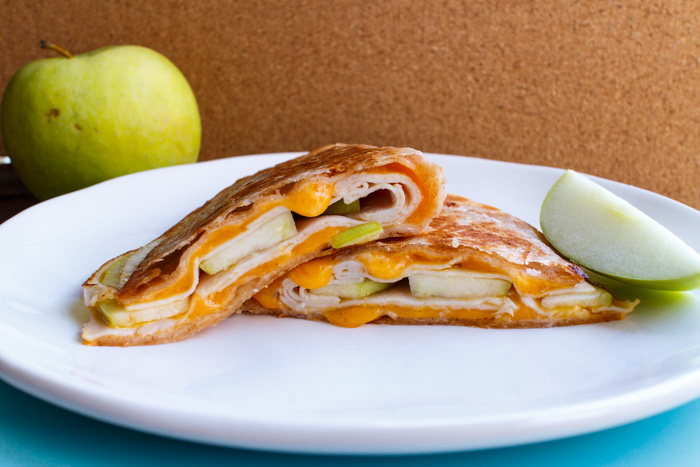 I'm going to jump right to the point here with this post. It is the last post in my apple series and I wanted a recipe that would blow your socks off. My alma mater, Boston College, has some unbelievable sandwiches. They spark constant debates, long lines and even extensive blog posts.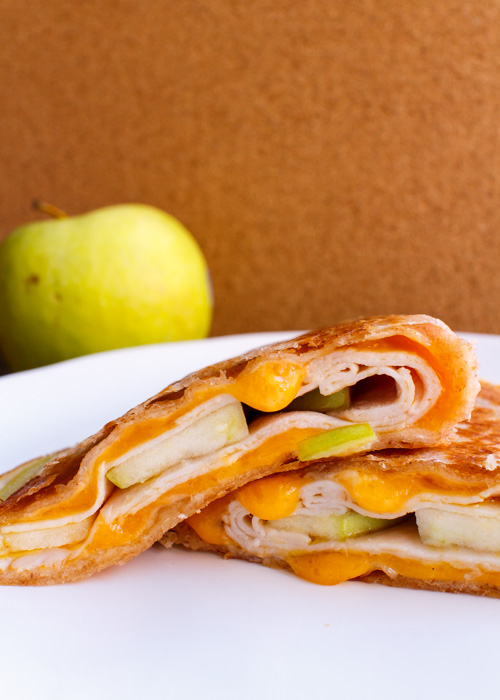 However, there is no denying that the New England Classic Panini is among the top contributions to society that this New England college has ever shared. Turkey breast, slices of Granny Smith apple, creamy honey mustard and sharp cheddar cheese come together in sandwich perfection. The sandwich is pressed until the cheese is gooey, which is of course the best way cheese can be consumed.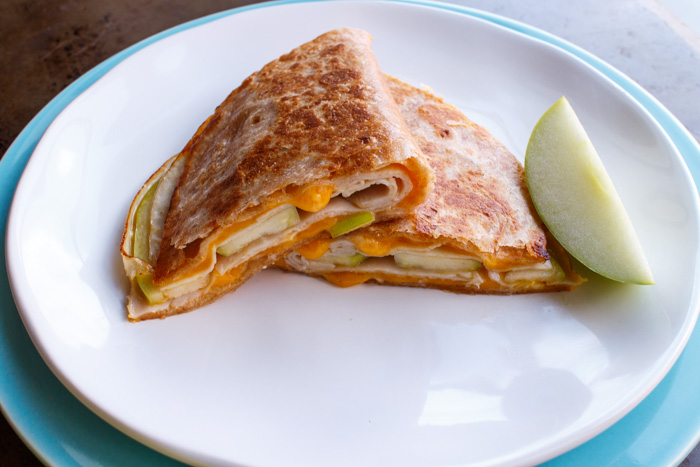 Boston College's version, and the reason it is so remarkable, is the special cranberry-apple bread they serve it on. I do not have their amazing bread so instead of trying to completely replicate the New England Classic I decided to make my own spin on it. This quesadilla brought me right back to the dining hall and I was so absorbed in how delicious it tasted I devoured it with unusual speed.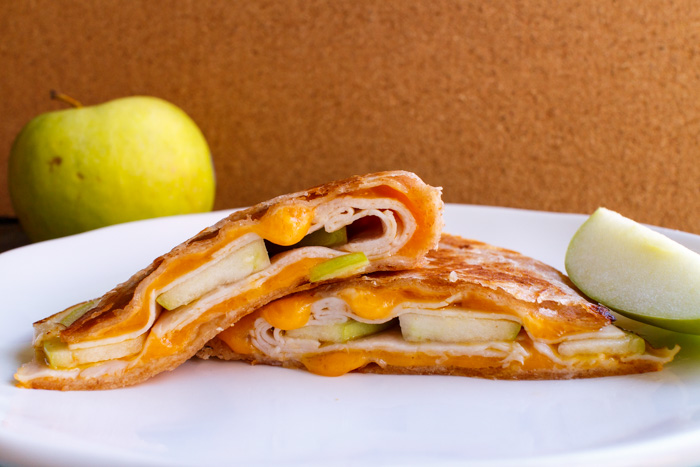 The crispy fried tortilla envelopes the turkey, apple, honey mustard and cheddar cheese perfectly. Tartness from the Granny Smith, saltiness from the cheddar and creaminess from the honey mustard come together in sweet lip-smackin' harmony. If you really want to get fancy with it you could grab some cranberry sauce for dipping. Okay fellow Eagles, it's your turn:  what do you crave the most from BC dining?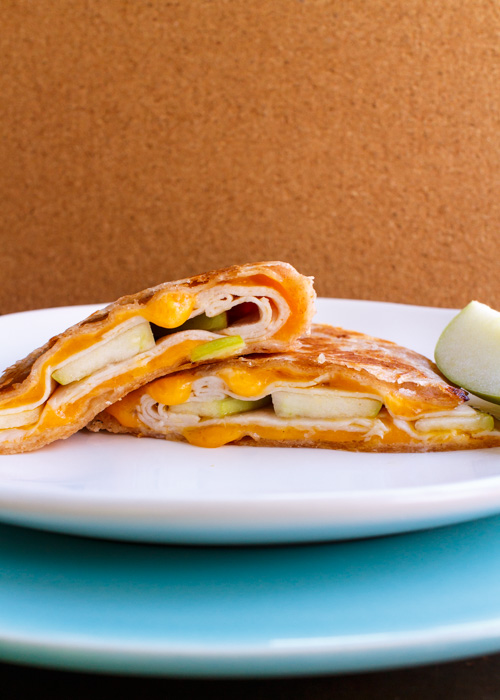 New England Classic Quesadilla
Ingredients
1 tablespoon vegetable oil
1 tortilla
1 tablespoon honey mustard, plus more if desired
⅓ cup shredded yellow extra sharp cheddar cheese
3 slices deli turkey
¼ Granny Smith Apple, peeled & thinly sliced
Directions
Heat the vegetable oil in a large skillet over medium to medium-low heat.
Spread the honey mustard all over one side of the tortilla then place in the skillet, honey mustard side up. Evenly sprinkle the cheese all over the honey mustard so it's completely covering the tortilla. Place a lid or splatter screen over the skillet to help the cheese melt.
Once the cheese is melted evenly place the turkey slices so they are covering the whole tortilla. Evenly place the apple slices on one half of the tortilla. Carefully use a spatula to fold the tortilla in half.
Turn the heat up to medium-high to crisp the exterior of the quesadilla. Watch carefully, this should only take a minute or two. Once browned, flip the quesadilla to crisp up the other side. When the quesadilla is browned on both sides remove from the heat. Let sit for a minute or two then cut into sections before serving.
Notes
To make your own honey mustard mix together 1 tablespoon honey, 3 tablespoons mayonnaise and 2 teaspoons dijon mustard. Adjust honey-mayo-mustard ratio according to taste.