Freezer Burritos #2: Slow Cooker Pork and Roasted Sweet Potato Freezer Burritos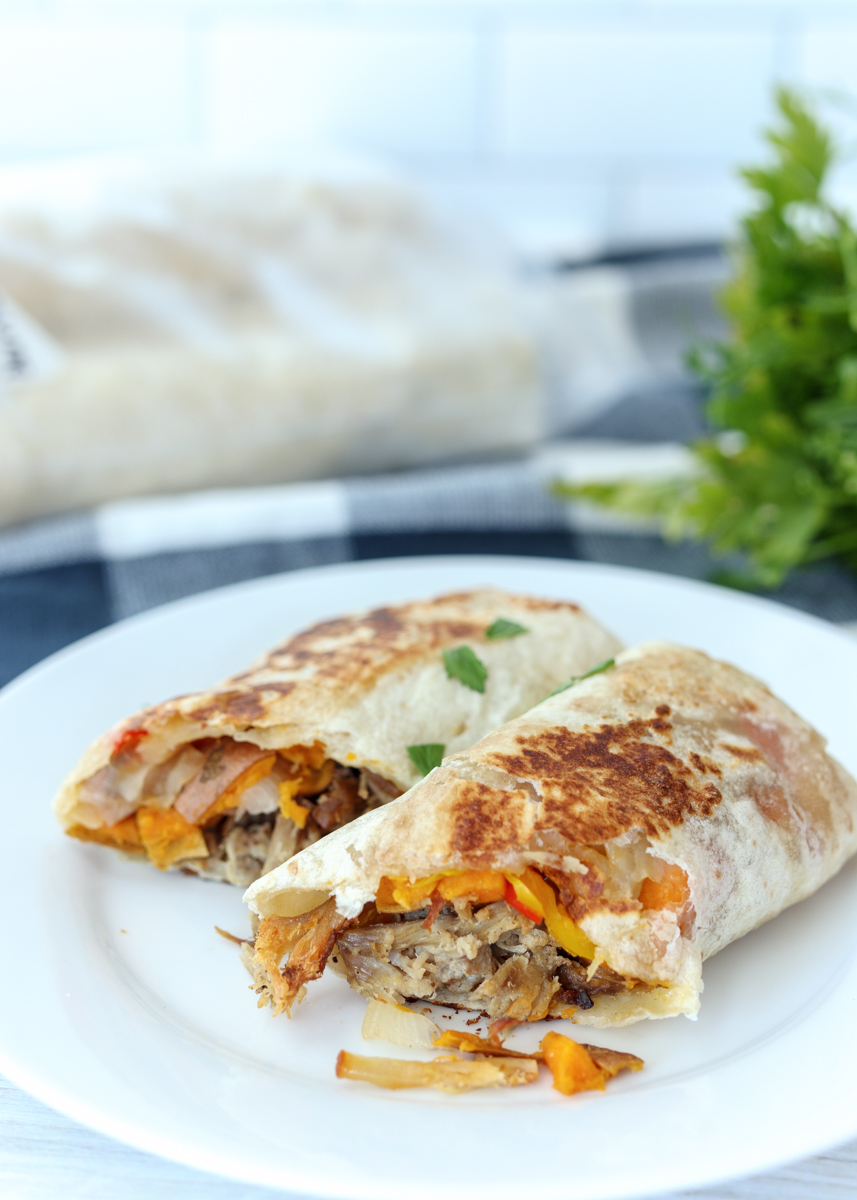 Yield:
8 burritos, plus extra shredded pork
2 pounds pork shoulder roast
2 onions
½ teaspoon dried oregano
2 large sweet potatoes, scrubbed clean
¼ teaspoon garlic powder
¼ teaspoon ground cumin
¼ teaspoon paprika
⅛ teaspoon chili powder
1 tablespoon olive oil
2 red bell peppers, stems removed
8 tortillas
⅓ cup shredded mozzarella or colby jack cheese, optional
Salt and pepper
Cooking spray
Salsa, for serving
Season the pork all over with salt and pepper. Add to the slow cooker. Chop one of the onions and add to the slow cooker, along with the dried oregano. Add 3 tablespoons water then slow cook on low for 8 hours or high for 4 hours. When the pork is done and cooked through, remove from the slow cooker to a cutting board. Leave the onion and juices behind, discard. When the pork is cool enough to handle, shred. Let cool completely or put in the fridge to use later. You will have leftover pork after making the burritos - eat or freeze in a freezer bag for later.
Roast the sweet potatoes. Preheat the oven to 425 degrees. Line a baking sheet with nonstick aluminum foil and set aside. You can peel the sweet potatoes if you prefer; I always leave them unpeeled. Cut the sweet potatoes into ½-inch rounds then cut each round into pieces so you have roughly ½-inch diced pieces. Place the sweet potato pieces on the prepared baking sheet in an even layer and spray with cooking spray. Sprinkle the garlic powder, ground cumin, paprika and chili powder over top. Season with salt and pepper and toss to coat. Bake until tender and slightly caramelized, about 28-35 minutes, tossing about every 15 minutes. Let cool completely or put in the fridge to use later.
Cut the remaining onion in half then cut into slices. Slice the bell peppers. Heat 1 tablespoon of the olive oil over medium-high heat in a large sauté pan. Add the sliced onions and peppers, season with salt and pepper. Sauté until soft and lightly charred, about 7-8 minutes. Remove from the heat and let cool completely or put in the fridge to use later.
When you're ready to make the burritos, make sure all your ingredients are room temperature or cold. Place the first tortilla on a plate. Add some shredded pork in a lengthwise strip towards the bottom of the tortilla closest to you. Top with some sweet potatoes and then some peppers and onions. Top with some cheese, if using. Fold in each side then take the bottom of the tortilla closest to you and tightly roll it up and over the filling. Continue to roll up the burrito, tightly, tucking in the sides additionally as needed. Wrap in plastic wrap or aluminum foil. Set aside and repeat for the remaining tortillas and fillings. Place all the rolled burritos in a labeled gallon freezer bag and place in the freezer.
To heat: Remove the burrito from the freezer. Remove and discard the plastic wrap or aluminum foil. Place the burrito on a microwave safe plate and microwave at 70% power for 3 minutes. Sear the burrito in a sauté pan lightly sprayed with cooking spray over medium-high heat for 1 minute on each side, until lightly browned. If you don't want to sear your burrito, microwave for a total of 5 minutes instead of 3. Serve with salsa.
Recipe by
Lemon & Mocha
at http://www.lemonandmocha.com/2019/09/30/freezer-burritos-2-slow-cooker-pork-and-roasted-sweet-potato-freezer-burritos/