Blue Cheese Crusted Steak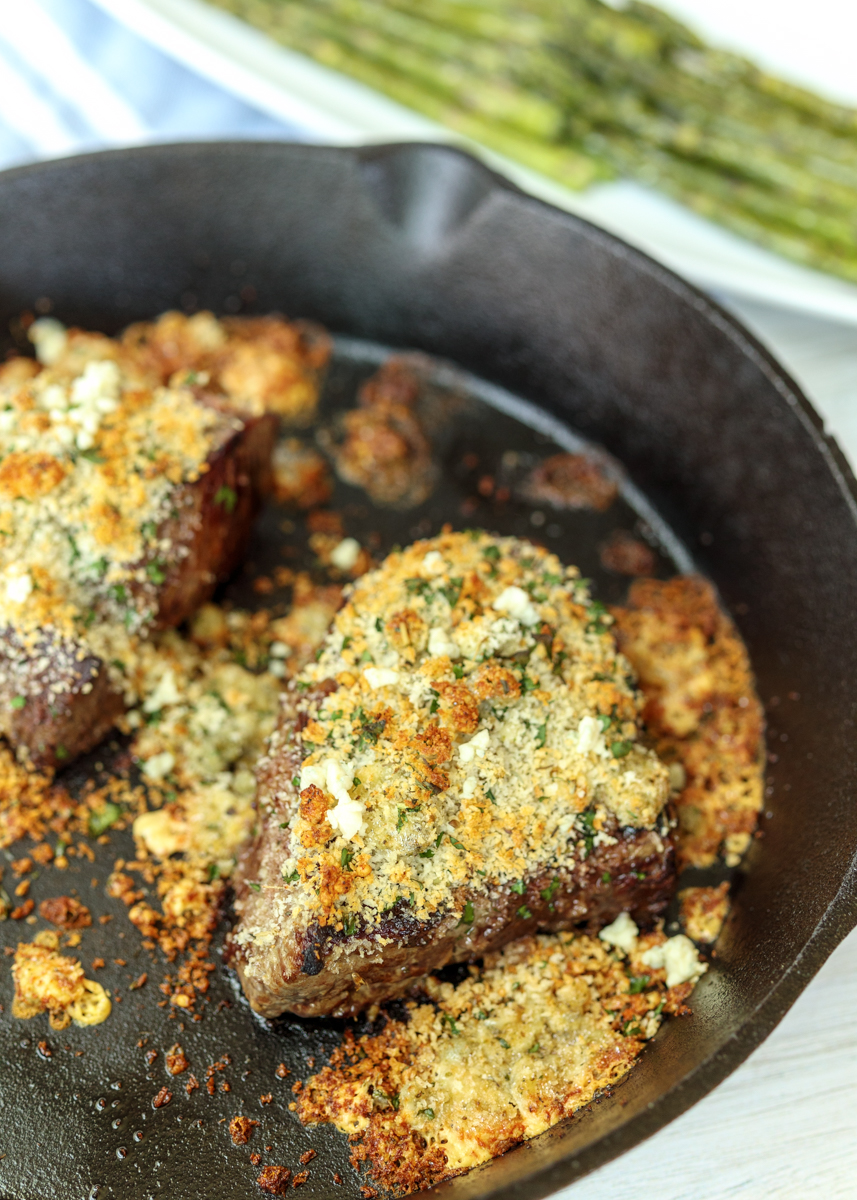 I still remember the day Matt and I bought our cast iron pan. Of course I do, it's a food-related memory! We were in our very first apartment right out of college and Matt had seen someone online make steak in a cast iron pan. They seared it on the stove-top then finished it off in the oven resulting in a charred outside and juicy, tender inside.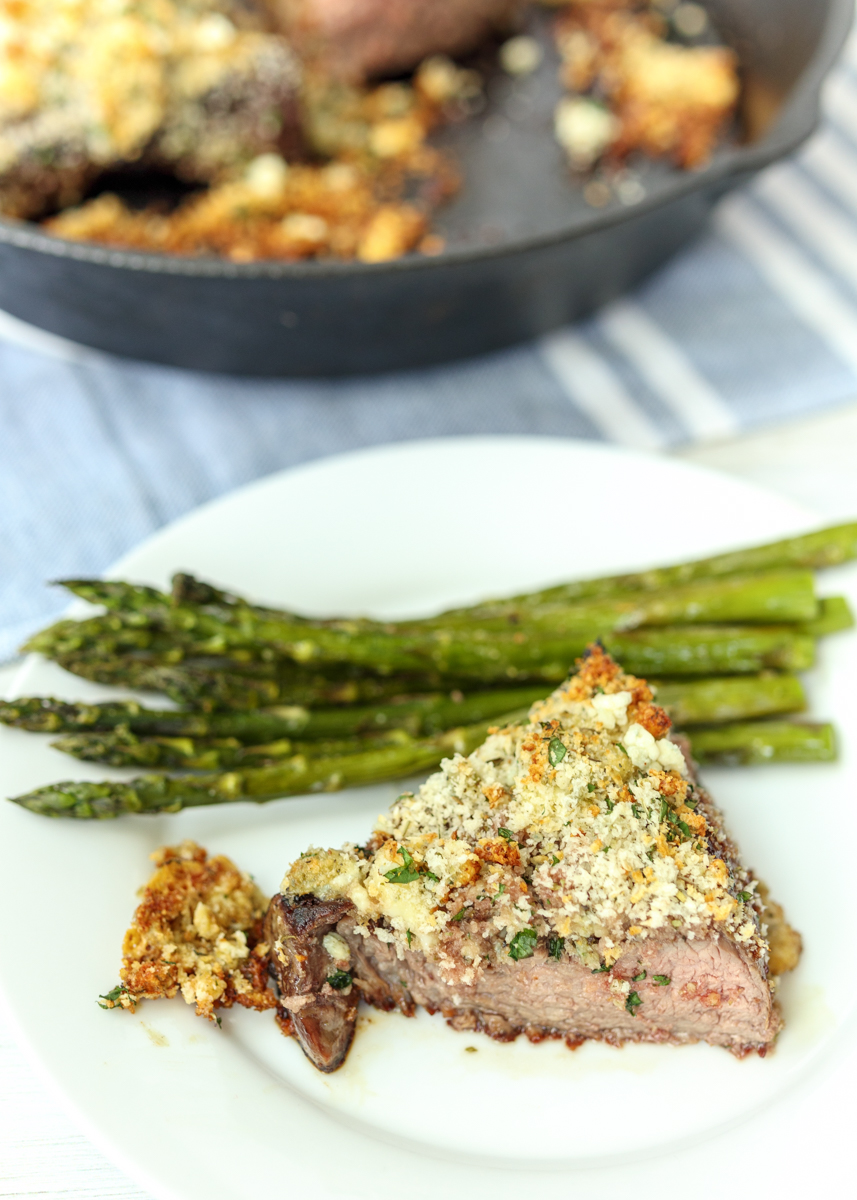 When Matt gets convinced he wants to make something it usually happens right away, much unlike my years and years worth of recipes piled up, so we walked to the nearest hardware store and bought the cast iron pan. Thankfully we didn't have to walk far because this thing is heavy! Matt cooked us up some steaks and they were pure perfection. All these years later we've gotten a little fancier with our cooking and now prefer to sous vide our steaks, but this recent recipe had me go back to our cast iron steak roots.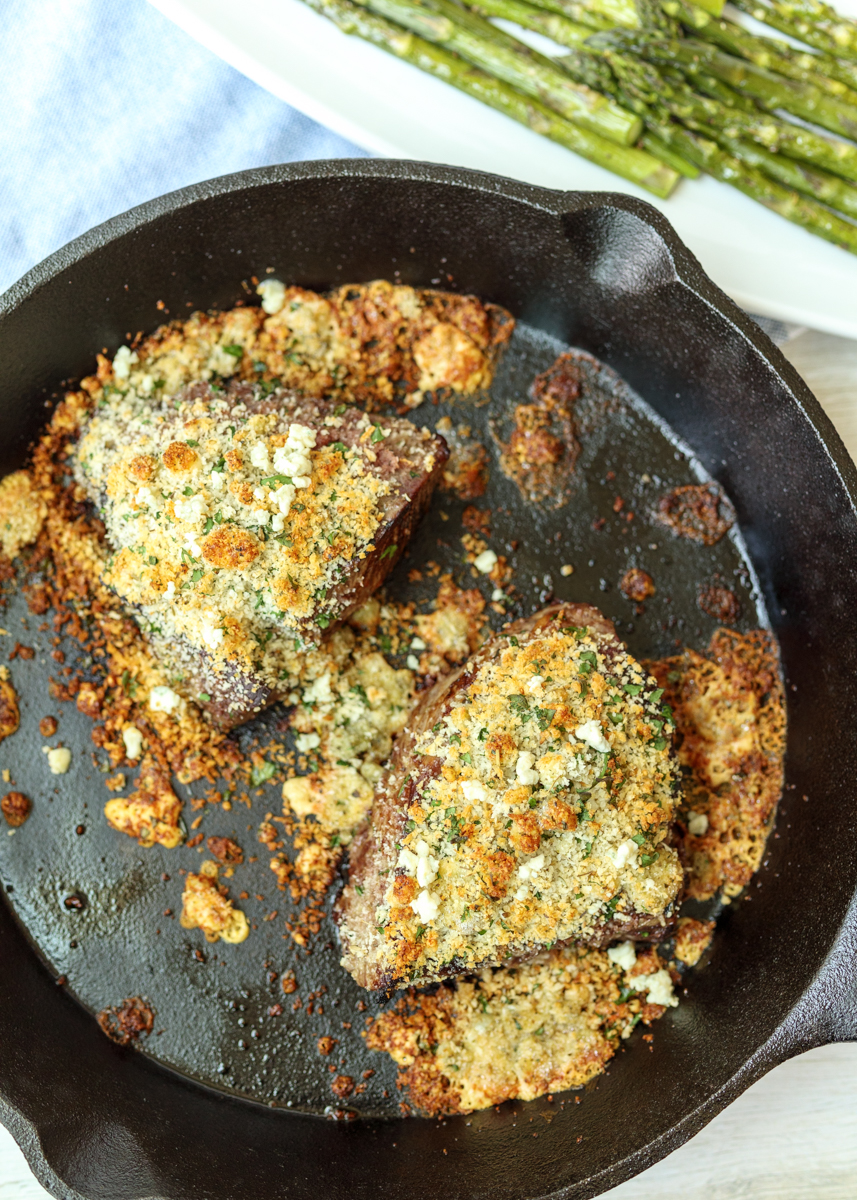 This recipe came from my favorite little cookbook, "Cook This, Not That!" and was one we hadn't tried before. It's incredibly simple: steak is cooked then topped with a panko breadcrumb and blue cheese mixture that gets crispy and bubbly in the oven.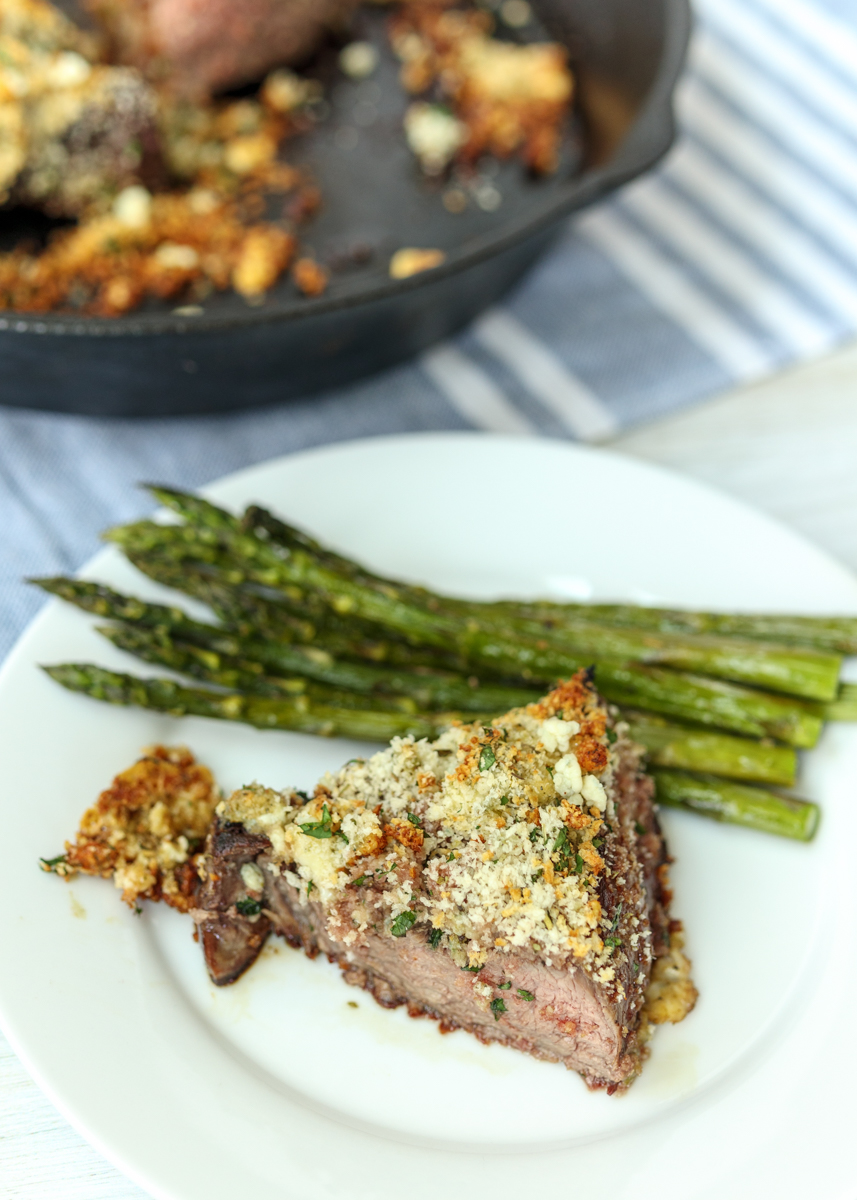 We already know blue cheese and steak is a winning combination from my Grilled Steak with Creamy Gorgonzola Sauce recipe and the crunch from the breadcrumbs adds great texture and flavor. Matt and I gobbled this down for dinner and even had the leftovers the next day for lunch – we couldn't wait for dinner. I told you we've been living the good life with our meals!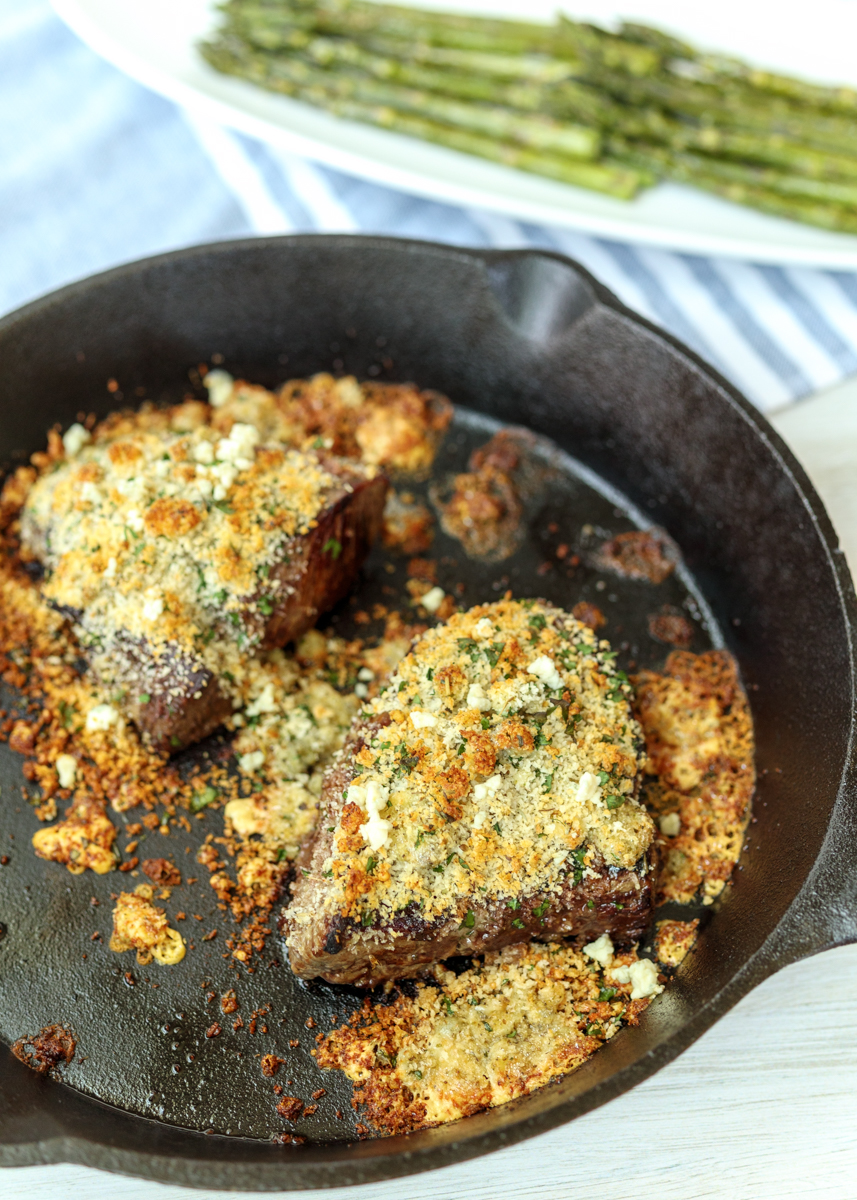 I have a delicious salad side that made a great meal alongside this steak and I'll share it with you all later this week. In the meantime, enjoy this recipe and the rest of your Monday!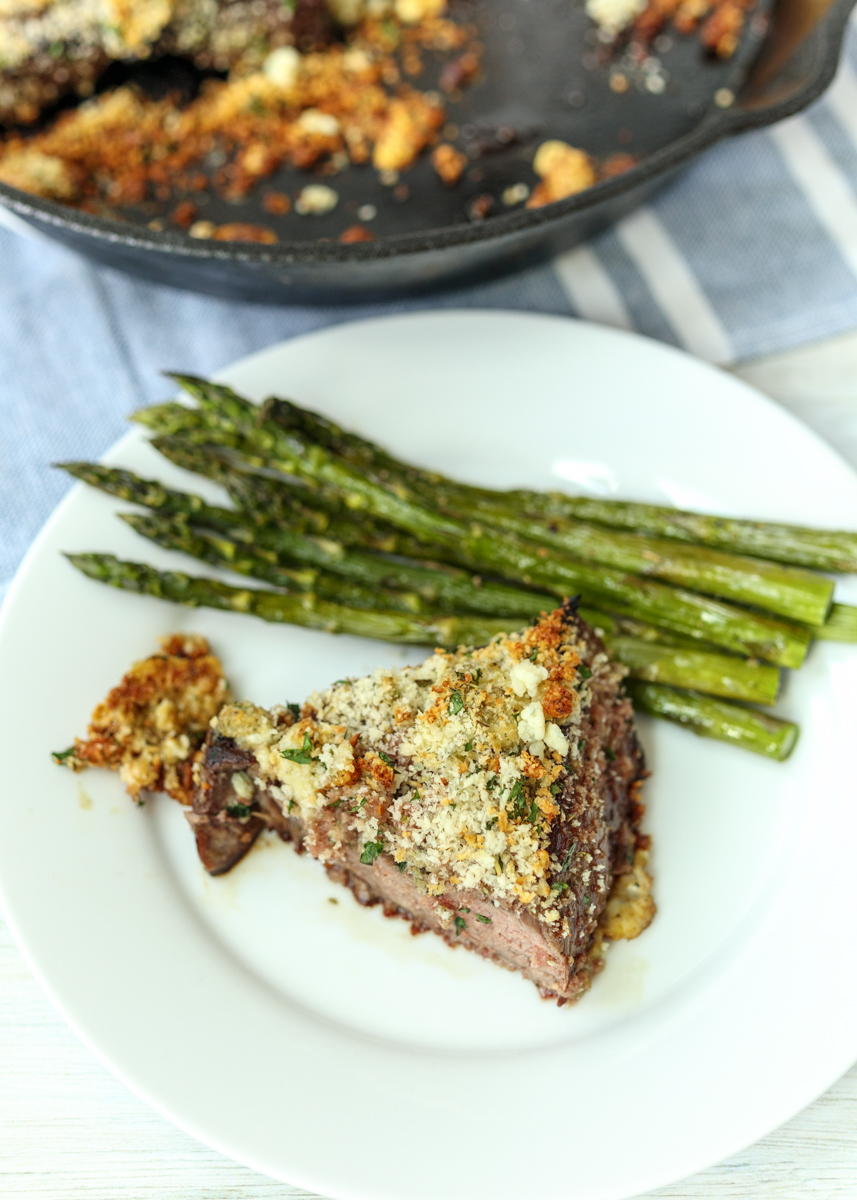 Blue Cheese Crusted Steak
Ingredients
½ cup panko breadcrumbs
¼ cup crumbled blue cheese
2 tablespoons chopped fresh parsley
¼ teaspoon Italian seasoning
1 tablespoon olive oil
4 sirloin or tenderloin steaks (4-6 ounces each)
Salt and pepper
Directions
Preheat oven to 450 degrees.
In a small bowl, combine the panko, blue cheese, parsley and Italian seasoning. Set aside.
In a large cast iron pan or oven safe pan (see note) heat the oil over medium-high heat. Season the steaks all over with salt and pepper then sear the meat for 2 minutes on each side. Remove the steaks from the heat and top with the panko mixture. Transfer the steaks to the oven to finish cooking, about 6 minutes. For medium, the internal temperature should be 140 degrees F. Let rest for at least 5 minutes before serving.
Notes
If you don't have an oven safe pan, cook on the stove-top in sauté pan then transfer to a baking sheet or baking dish for the oven step.
Recipe from

Cook This, Not That!

.
Some of the links above are affiliate links, which means I may receive a small commission for my referral. This does not affect the retail cost of the item. Thank you for supporting Lemon & Mocha!