Quinoa Spinach and Greens Salad with a Roasted Garlic Lemon Vinaigrette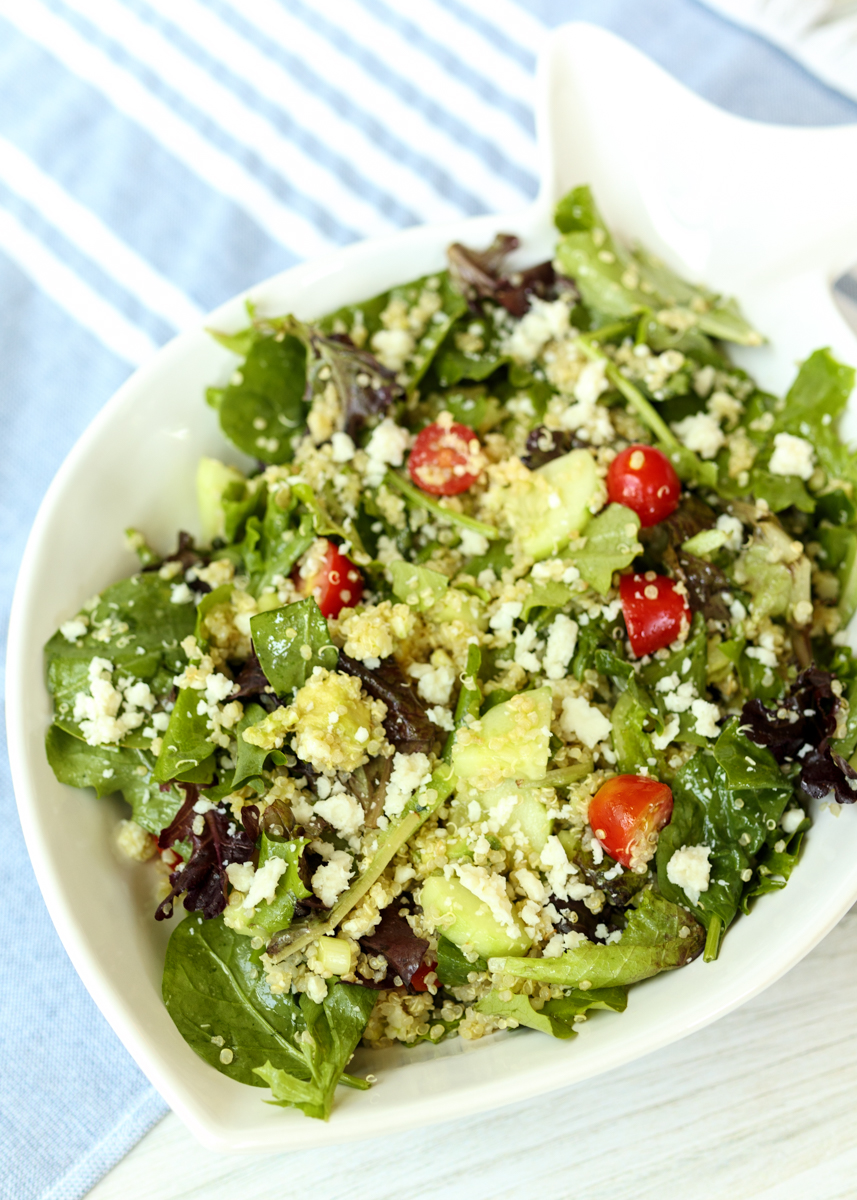 Do you ever eat something and immediately start craving it again after the meal is over? This happens to me often, but with a salad? Very unlike me, I know, but I got completely hooked on the fresh lightness of this Quinoa Spinach and Greens Salad with a Roasted Garlic Lemon Vinaigrette.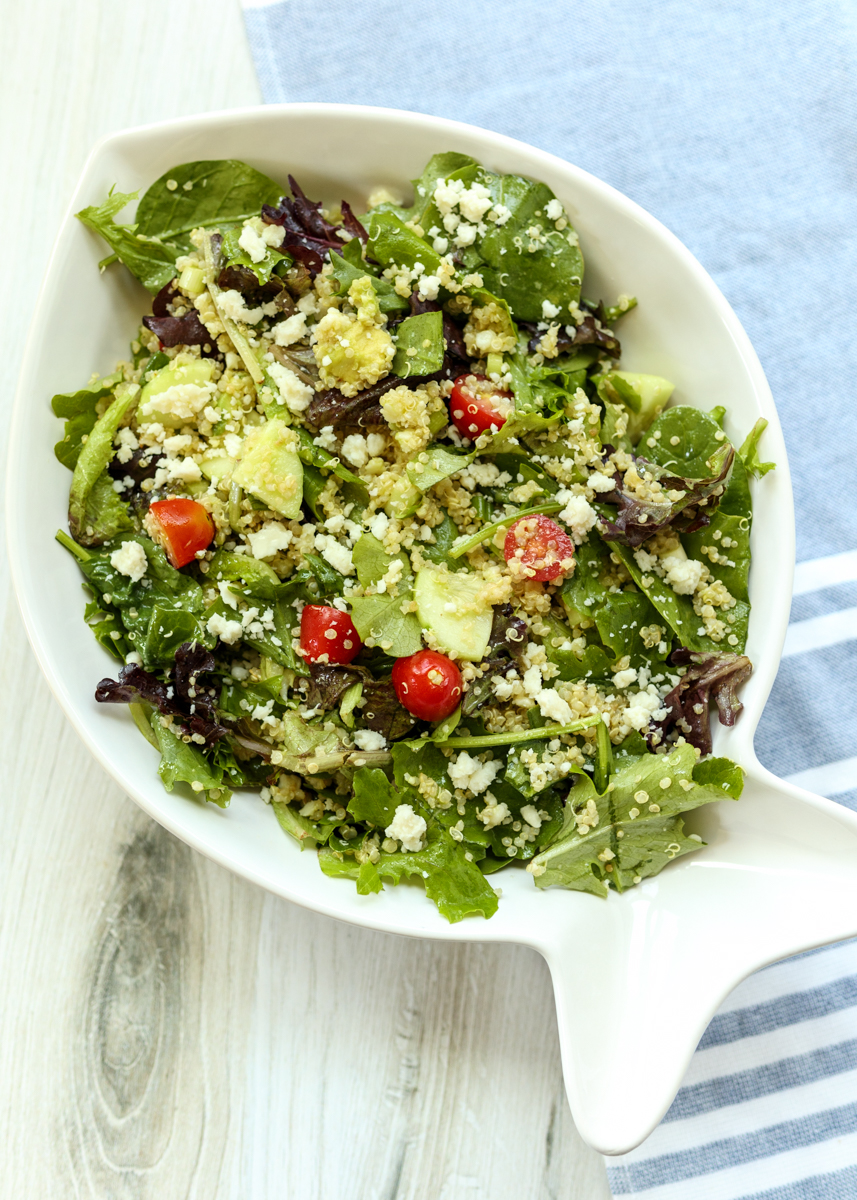 Diane made a version last summer for her mom's, my Nina's, birthday. We had a big cookout at Nina's house and for some reason I kept getting drawn to additional servings of Diane's salad. Maybe it was the zesty dressing, maybe it was the salty feta cheese or maybe it was just that it felt heartier than a normal, plain salad because of the quinoa. Either way, about a week later I set out to try and recreate my version of it. It's actually a fairly basic salad, but everything together makes for a satisfying summer side dish.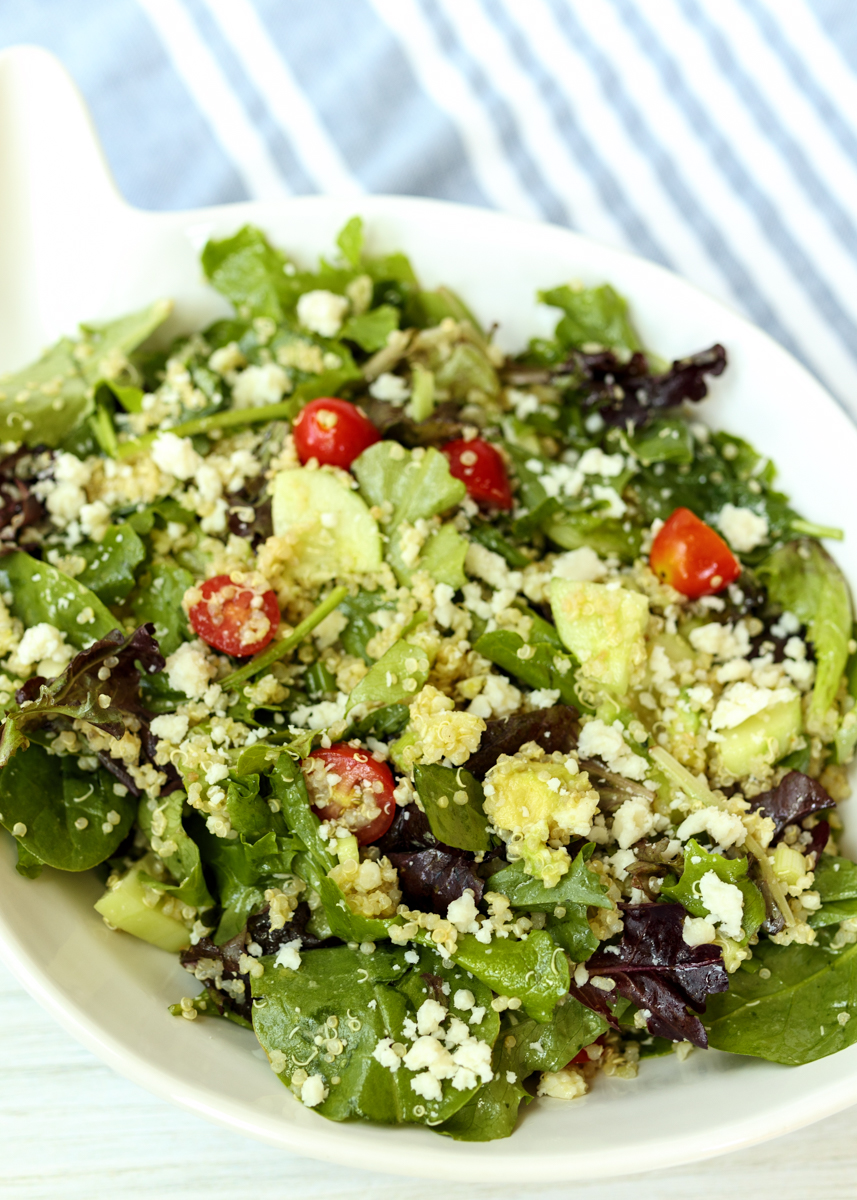 I like using a mix of spinach leaves and spring mix greens. You can usually buy this already combined in one package at the grocery store; my store calls it the 50/50 mix. Then we add on some quinoa, which adds protein and great texture. Tomatoes, cucumbers and scallions are next, along with some creamy avocado and crumbled feta cheese. Now, onto the simple roasted garlic and lemon vinaigrette. I say simple because it's just olive oil, roasted garlic, lemon juice, Dijon mustard and honey blended together.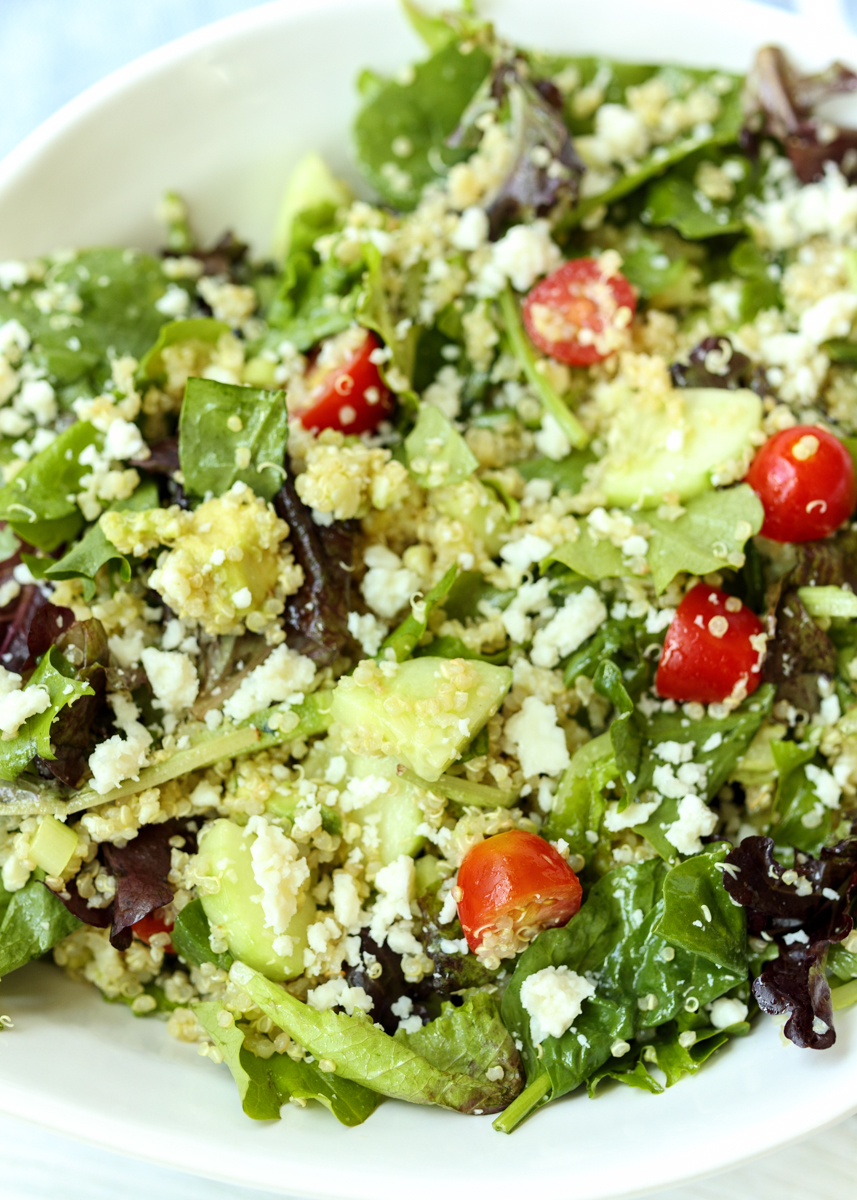 Although the recipe only calls for one clove of garlic, you have a couple options. You can follow the instructions below to just roast a single clove, which will do the trick for this recipe and take less time. But, if you have more time then you can follow the additional directions for a whole bulb of roasted garlic – perfect for slathering on warm, crusty bread or tossing into a pasta dish.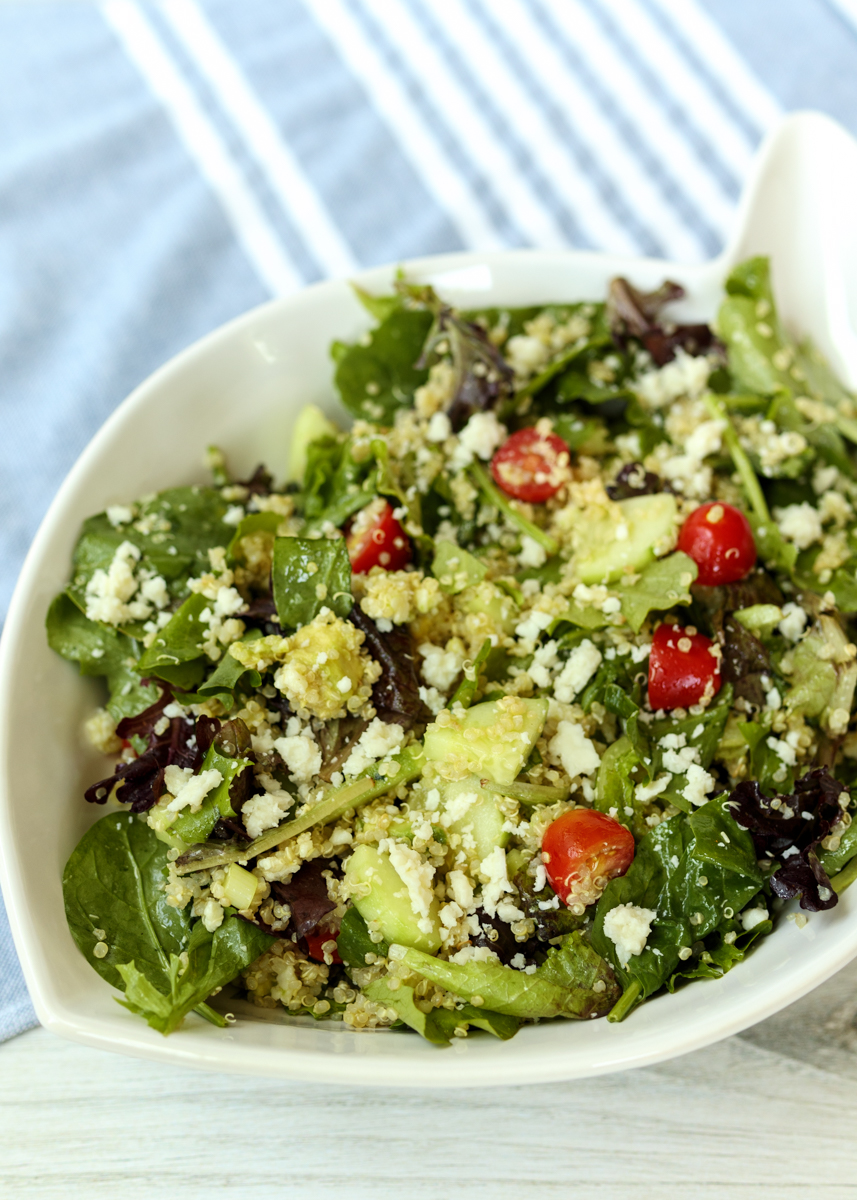 Vinaigrettes are especially easy to adjust to your personal preferences so feel free to play around with the lemon and garlic amounts until you find your perfect version. Enjoy!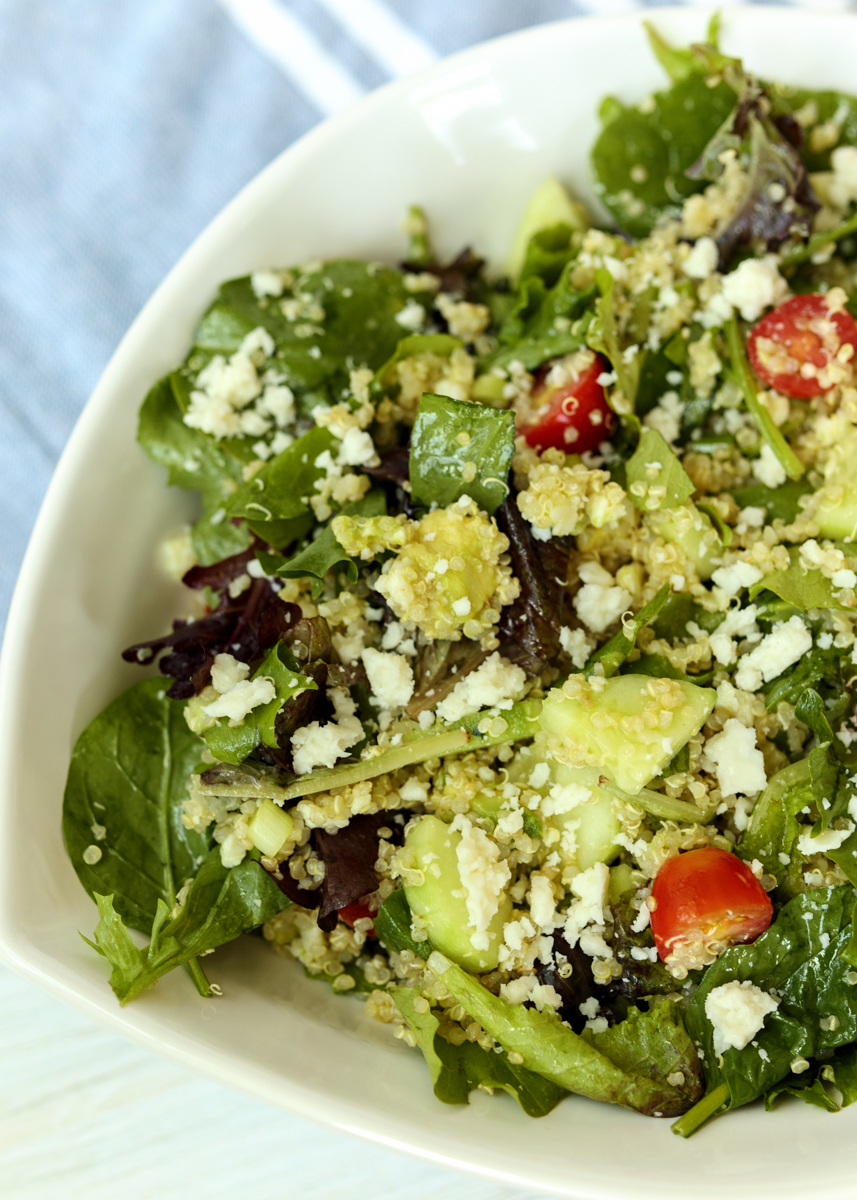 Quinoa Spinach and Greens Salad with a Roasted Garlic Lemon Vinaigrette
Ingredients
⅔ cup uncooked quinoa (or 2 cups cooked)
¼ cup olive oil
2 tablespoons lemon juice
1 teaspoon lemon zest, optional
1½ teaspoon Dijon mustard
1 teaspoon honey
1 clove garlic, roasted (see note)
6 cups spinach and spring mix (either 6 cups total of the 50/50 blend or 3 cups of each)
½ pint grape tomatoes, halved
½ cup cucumber, peeled and diced
1-2 scallions, sliced
½ avocado, diced
⅓ cup feta crumbles, plus more if desired
Salt and pepper
Directions
Combine ⅔ cup uncooked quinoa with 1⅓ cups water in a medium saucepan. Bring to a boil, cover and reduce to a simmer for 15 minutes. Remove from the heat and let cool; the quinoa should be cooked and the water should be absorbed.
In a liquid measuring cup, whisk together the olive oil, lemon juice, lemon zest, Dijon and honey. Mash and chop up the roasted garlic clove and whisk into the dressing. Alternatively, you could blend everything together in a blender. Season with salt and pepper.
In a mixing bowl, toss together the spinach and spring mix, cooked quinoa, tomatoes, cucumber and scallions. When ready to serve, add the avocado, feta, dressing and toss to combine. Add more feta on top if desired.
Notes
To roast 1 clove of garlic: Place unpeeled clove of garlic on a small square of aluminum foil. Lightly drizzle with olive oil then wrap up in the foil. Bake at 375 degrees for 10 minutes. Let cool then peel/pop out of the clove of garlic.
To roast a bulb of garlic: Cut the top off the head of garlic so that almost all the cloves are exposed. Place the head of garlic in a little square of aluminum foil and curve up the sides. Lightly drizzle the garlic with olive oil then season with salt and pepper. Seal up the foil to make a little packet. Roast for 35 minutes then let cool. Once it's cool enough to handle, squeeze out the roasted garlic cloves.