Grilled Avocado Stuffed with Mango Salsa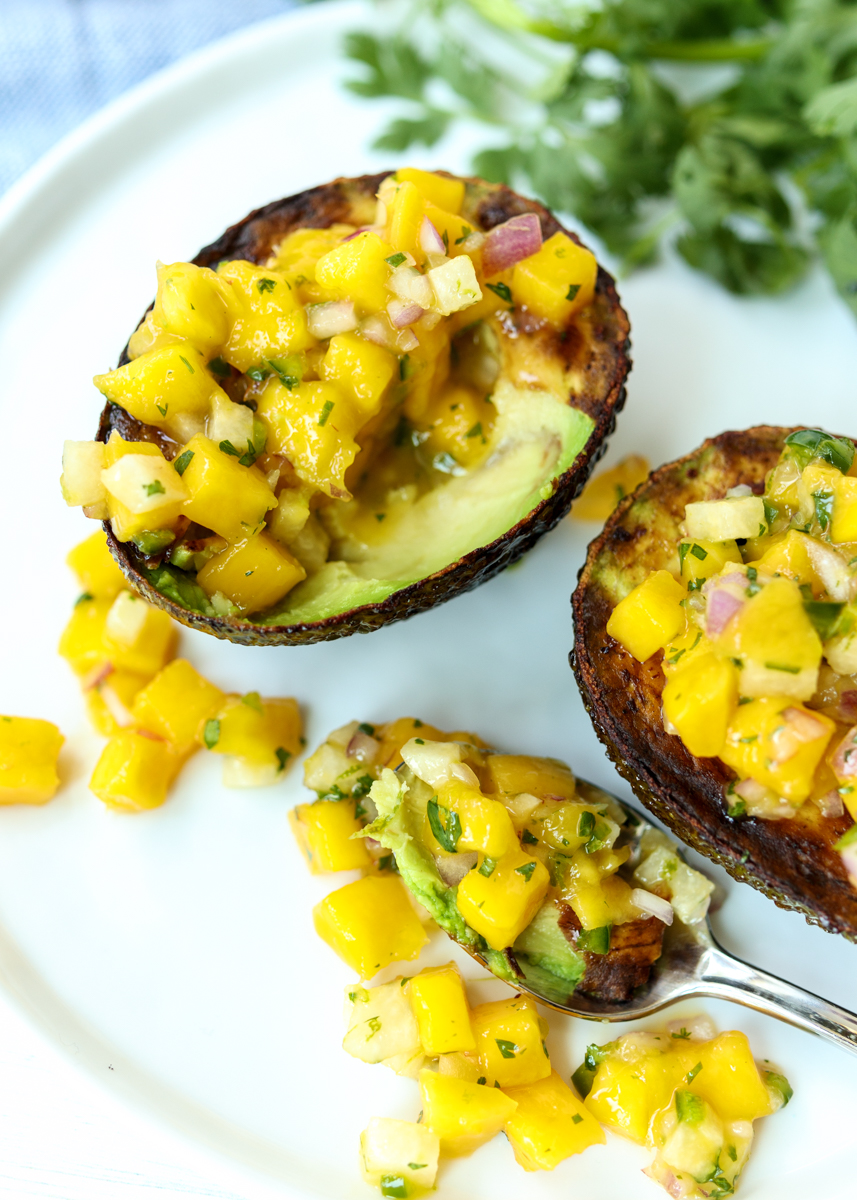 I never thought a warm avocado sounded appetizing, much less crave-worthy. Then a few years ago I got fish tacos at Border Cafe, which came served alongside a grilled avocado stuffed with mango salsa, and I was a complete convert. As in, every time we've gone to Border Cafe since, which is often, I get the same dish just so I can have the grilled avocado with mango salsa. Okay, okay, the fish tacos are really awesome as well, but the grilled avocado is the real draw.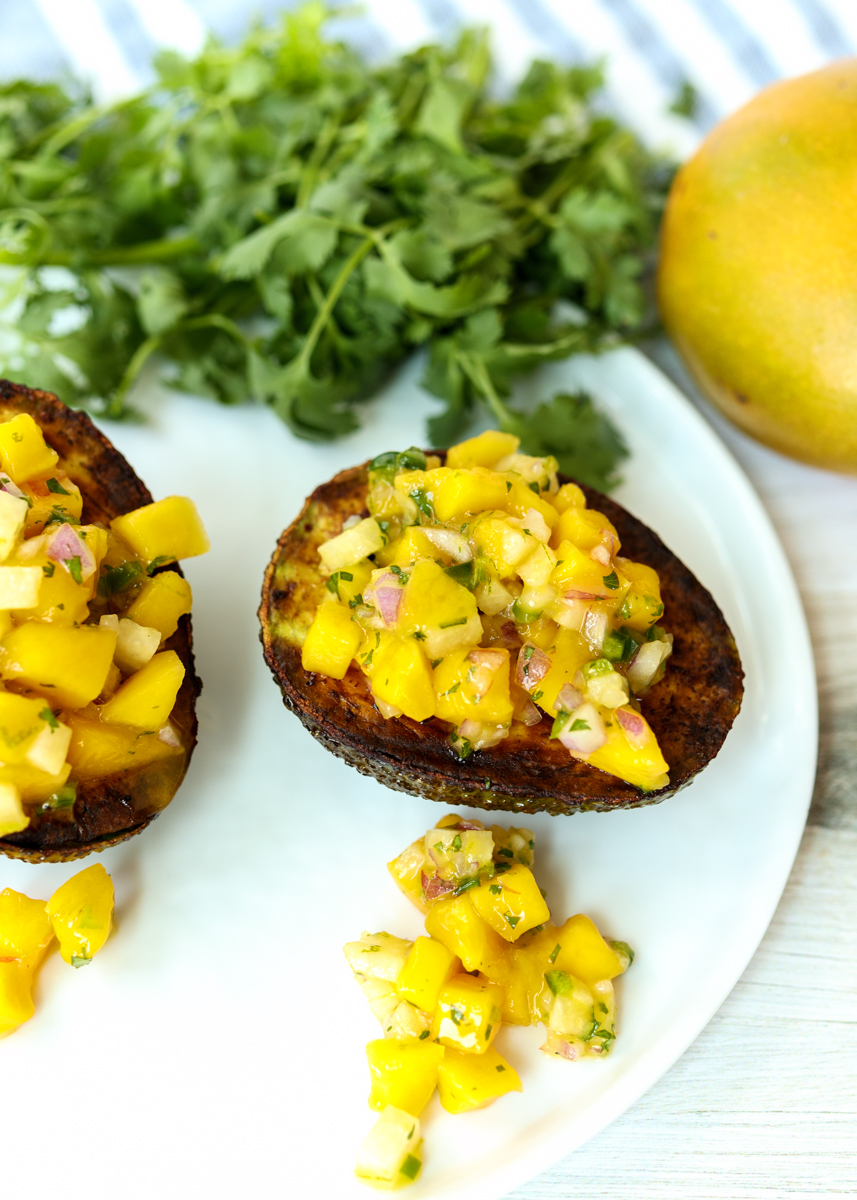 After years of having it at the restaurant I realized I needed to try making it at home. I mean, it's literally just half an avocado that has been grilled and topped with citrus-packed mango salsa. I say "just" as though it isn't the most magical combination you never knew you needed in your life until that first bite – which it is! My version doesn't taste exactly like the original, especially since we all know I'm not a fan of spicy foods, but the essence of it is the same.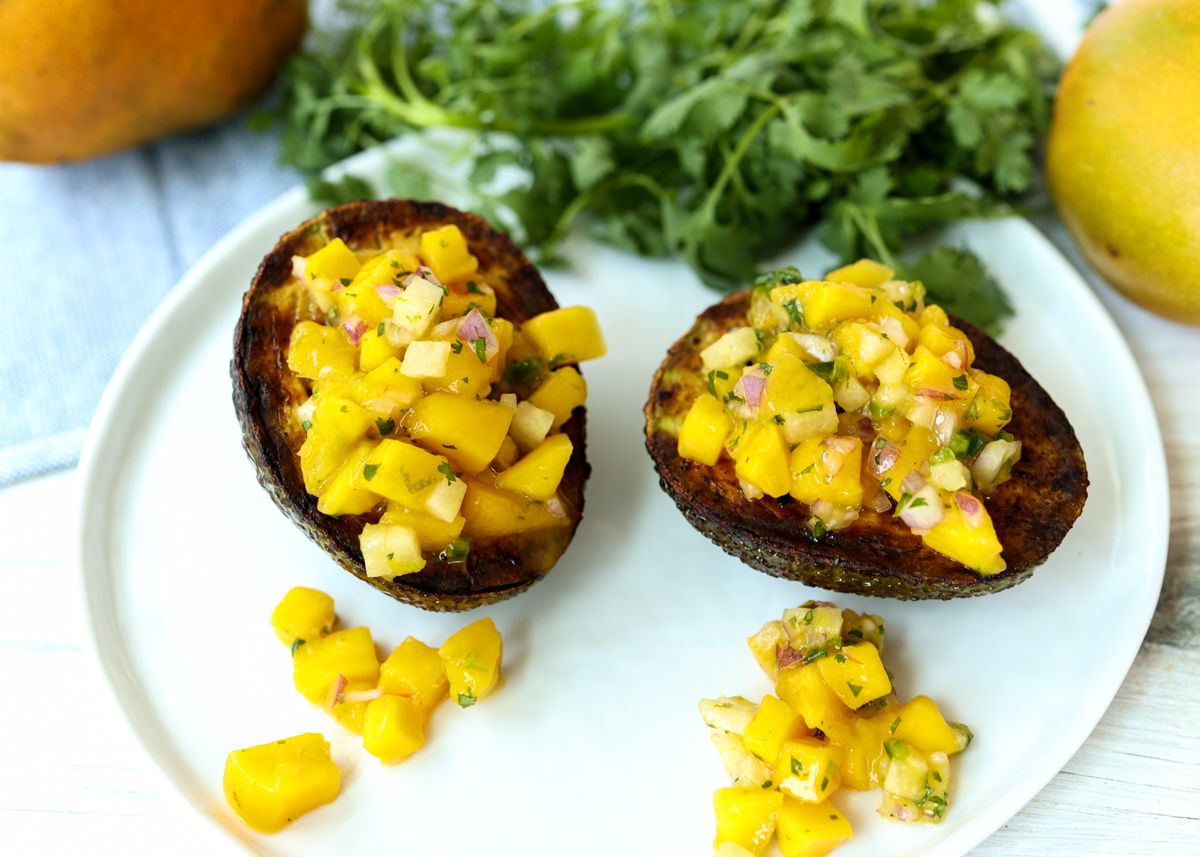 I wanted a bit of crunch in the salsa since mango and avocado are both creamy so I added jicama. Even though jicama looks kind of like a potato, it's crispy, juicy and a little sweet like an apple. It added the perfect textural element to the salsa. I also added classic Mexican flavors like lime juice, lime zest, cilantro and jalapeño.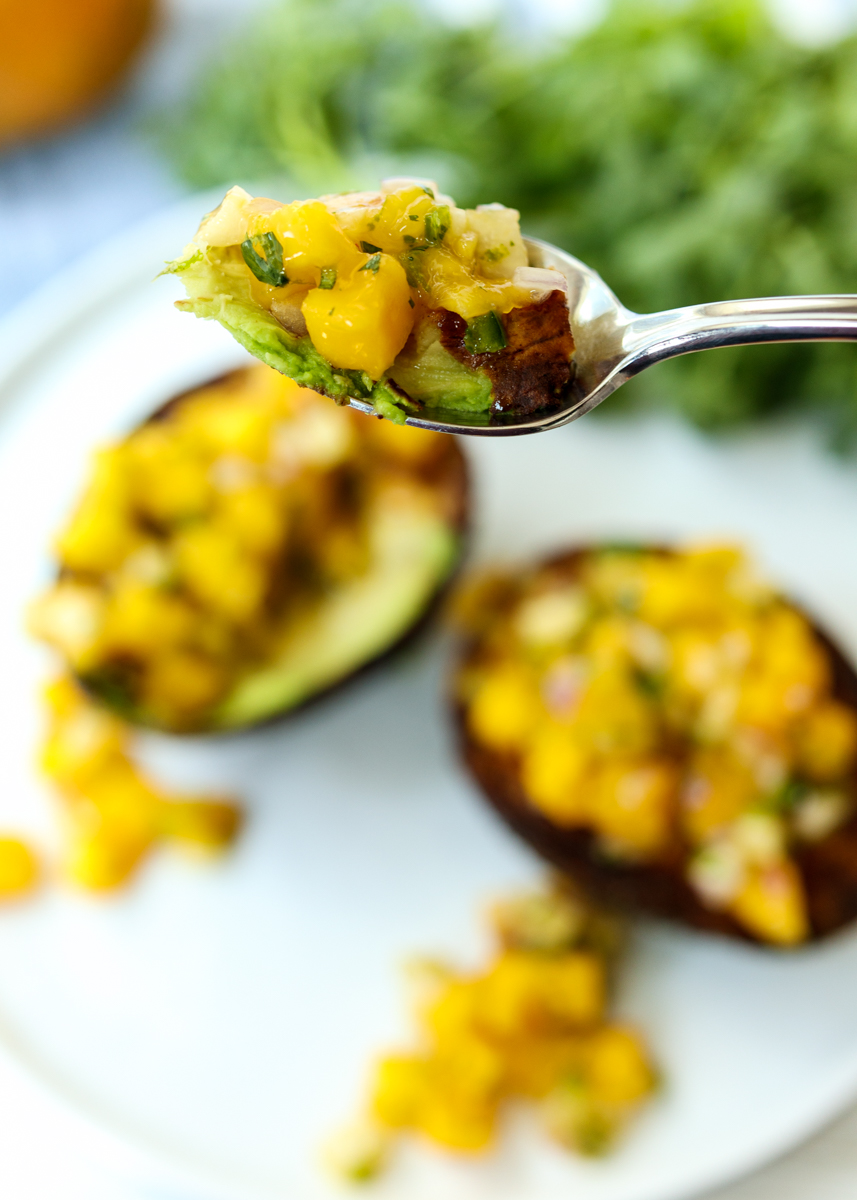 The punchy and sweet salsa spooned up with a big bite of the warm, grilled avocado is all you need in a summer meal. I'm not sure exactly what is so good about a grilled avocado, but the top gets a little charred while the inside stays creamy as always. Make sure you are using fully ripe avocados for this dish; no hard avocados allowed!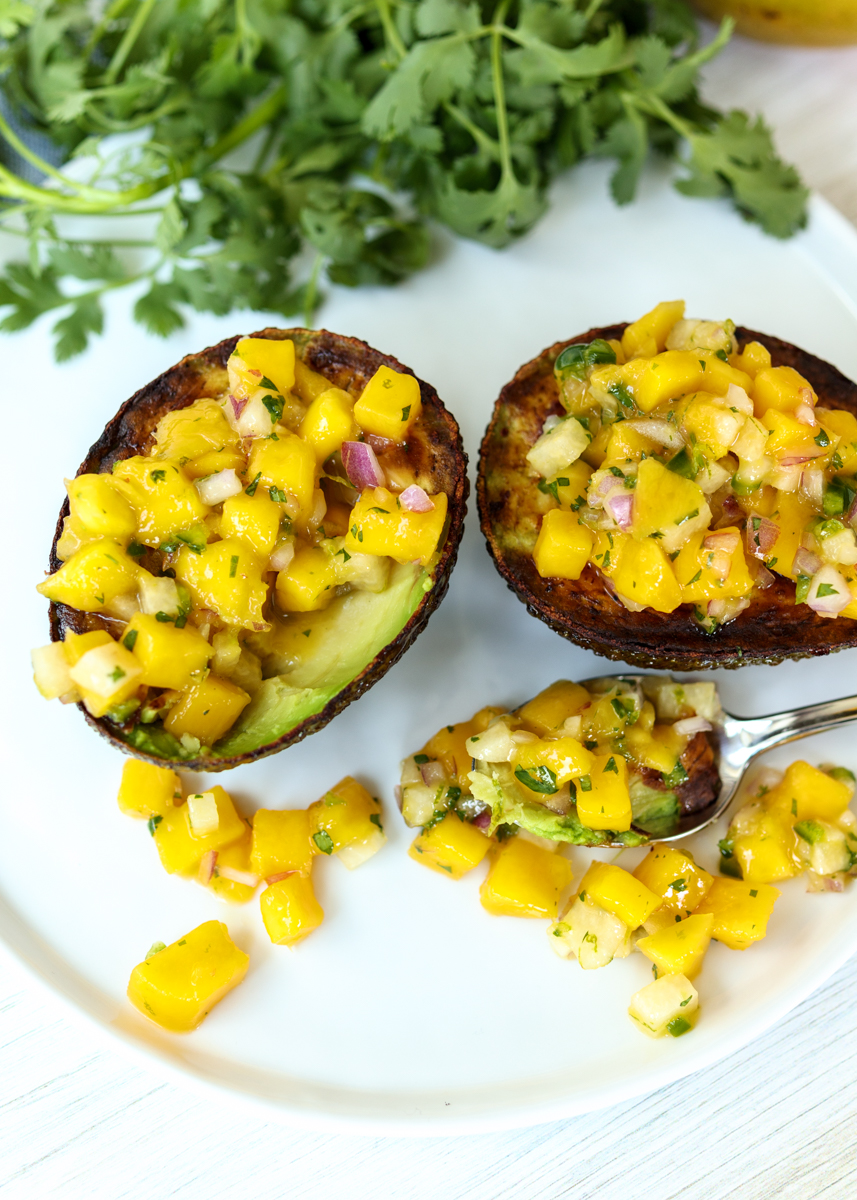 These Grilled Avocados Stuffed with Mango Salsa could be served with all sorts of dishes, particularly any type of grilled fish, tacos or grilled steak, pork or chicken. I know I basically just named all the proteins, but avocado and mango go with so many of them! I served them with something a little unique, which I will be sharing with you all next week. Enjoy and have a great weekend!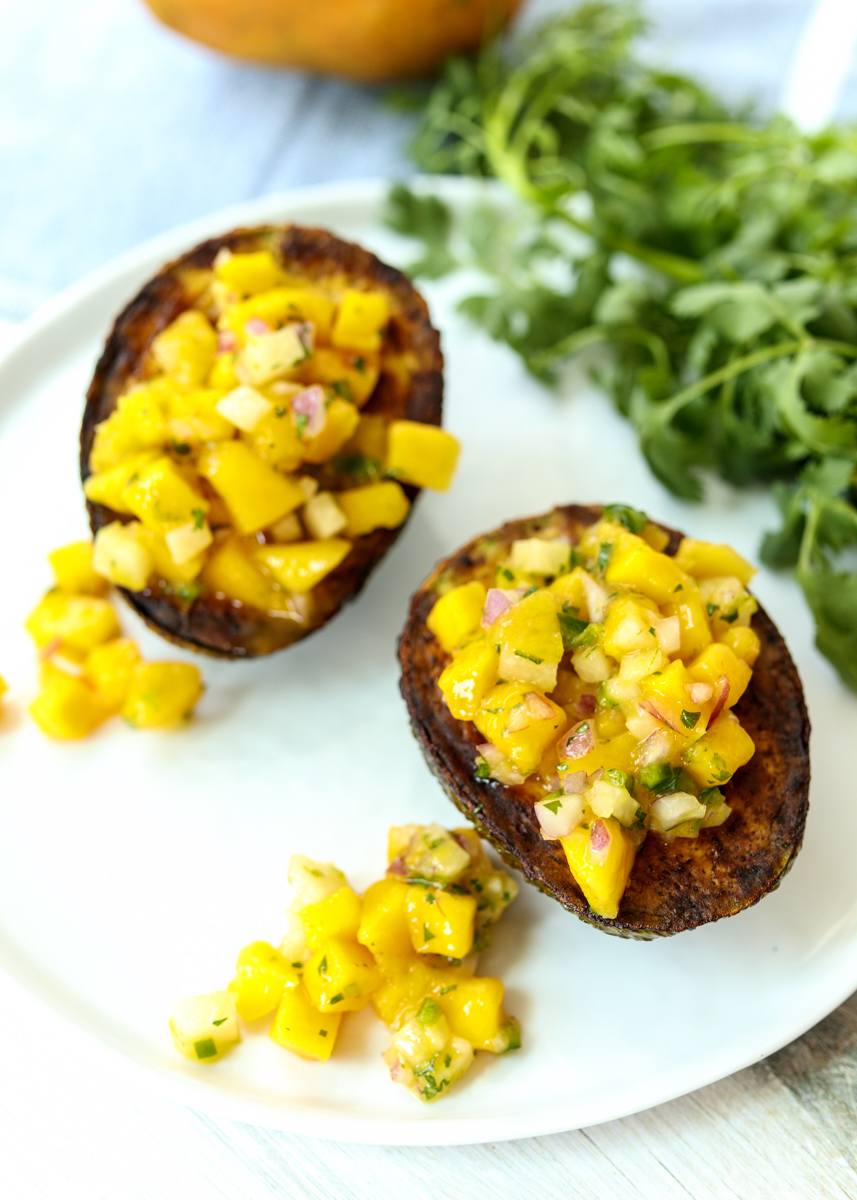 Grilled Avocado Stuffed with Mango Salsa
Yield:
4 stuffed avocado halves
Ingredients
1 finely diced ripe mango, about 1¼ cup
⅓ cup peeled and diced jicama
¼ cup minced red onion
¼ cup cilantro, chopped (use parsley if you don't like cilantro)
½ jalapeño, seeds removed and finely chopped (leave seeds if you like spicy food)
2 tablespoons lime juice
Zest from ½ lime
¼ teaspoon salt
2 avocados, halved and pits removed
Olive oil, for drizzling
Directions
In a medium mixing bowl, combine the mango, jicama, red onion, cilantro, jalapeño, lime juice, lime zest and salt. Keep in the fridge until ready to serve.
Heat grill or grill pan to medium-high heat. Lightly brush the flesh of the avocado halves with olive oil then grill, flesh side down, for 3-5 minutes. Remove from the heat and immediately fill with the mango salsa and serve.