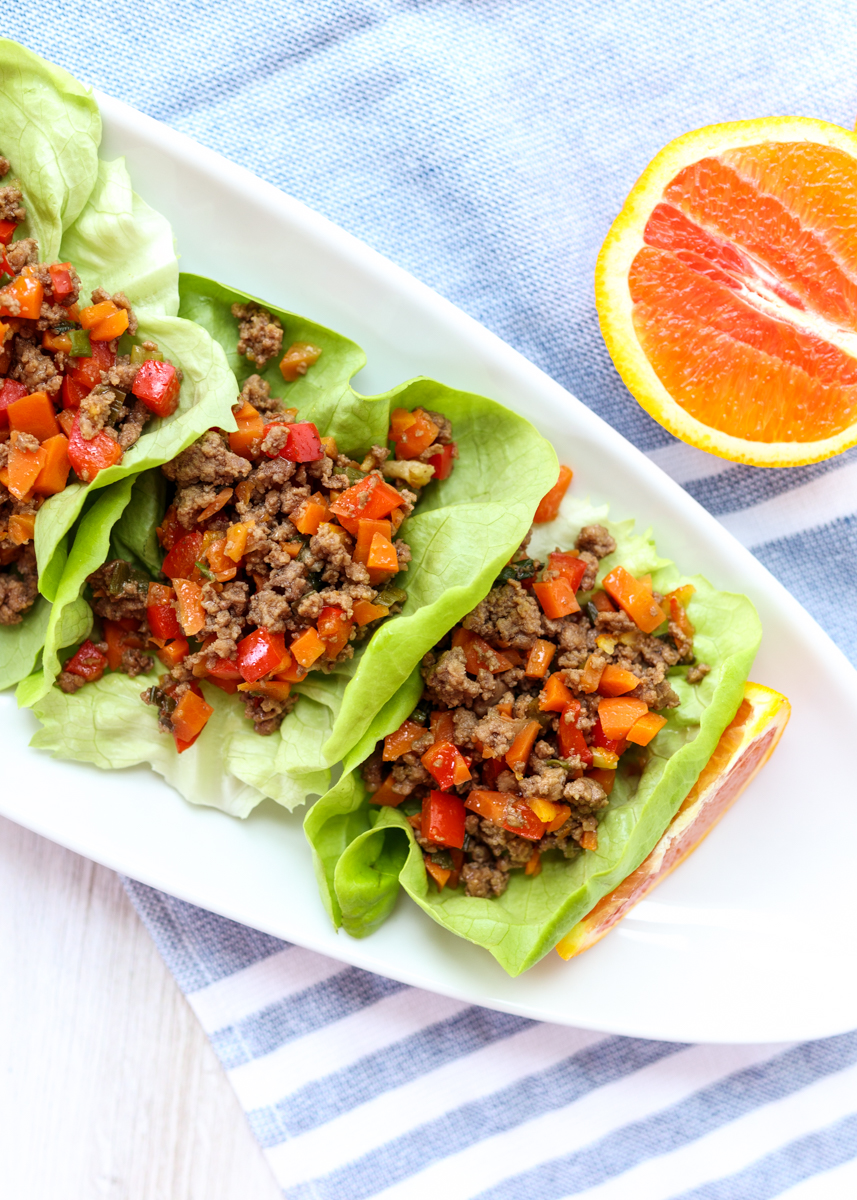 I never thought I would be obsessed with a lettuce wrap until I tasted these Asian Beef Lettuce Wraps from the Flat Belly Diet Cookbook. When I got this cookbook a few years ago I asked Matt to pick out a couple recipes he would be interested in and of course he went right to the beef section. Lean ground beef is sautéed with finely chopped carrots, red bell pepper and scallions then coated in a sweet and savory sauce.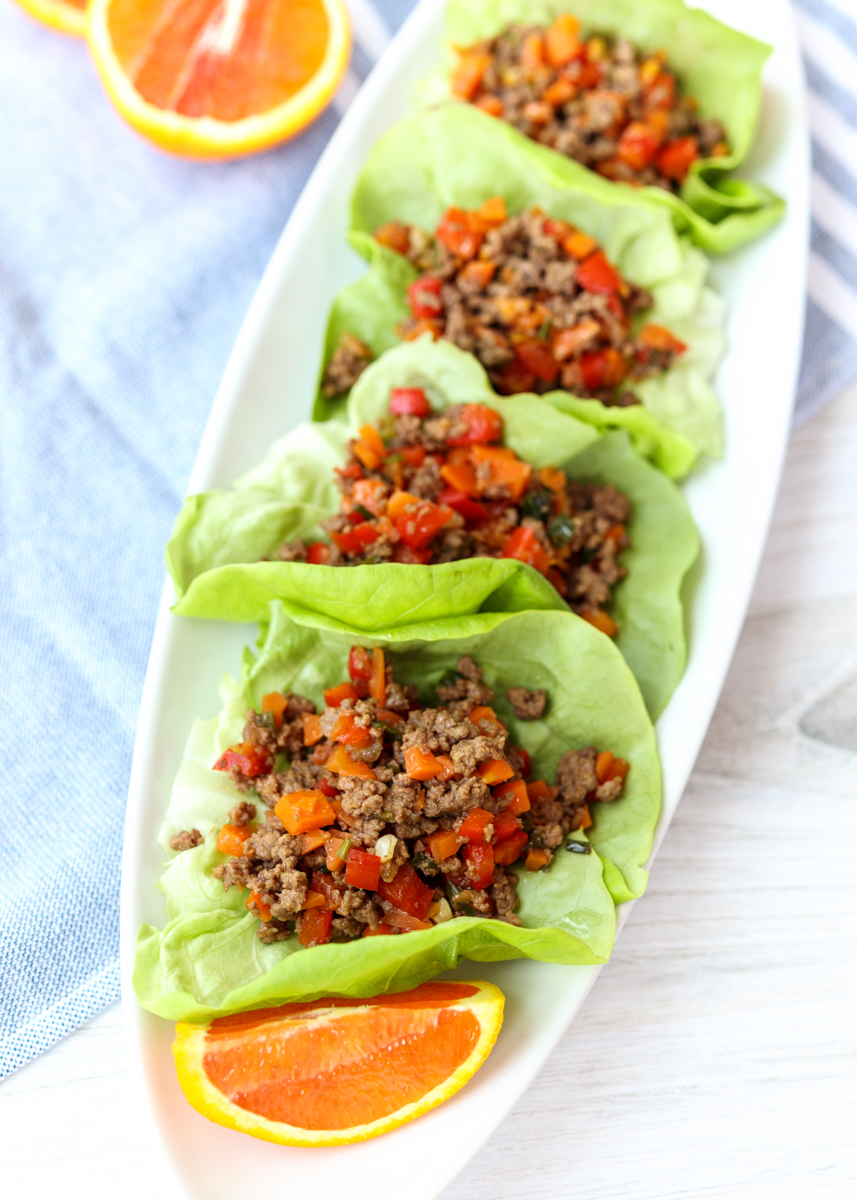 The sauce has only five ingredients, but I was shocked at how flavorful it was and it immediately became a go-to recipe. The sauce is able to add so much punch because there's a few secret ingredients. Soy sauce, ginger and garlic are all standard fare for Asian lettuce wraps, but then we have hoisin and orange marmalade. I've discussed my love for the salty and sweet qualities of hoisin before in the Crispy Sesame Pecan Chicken Tenders with a Hoisin Dipping Sauce and the Hoisin Beef Kebobs posts. The orange marmalade adds the perfect amounts of citrus and sweet notes to the dish that gives it that gotta-have-seconds vibe.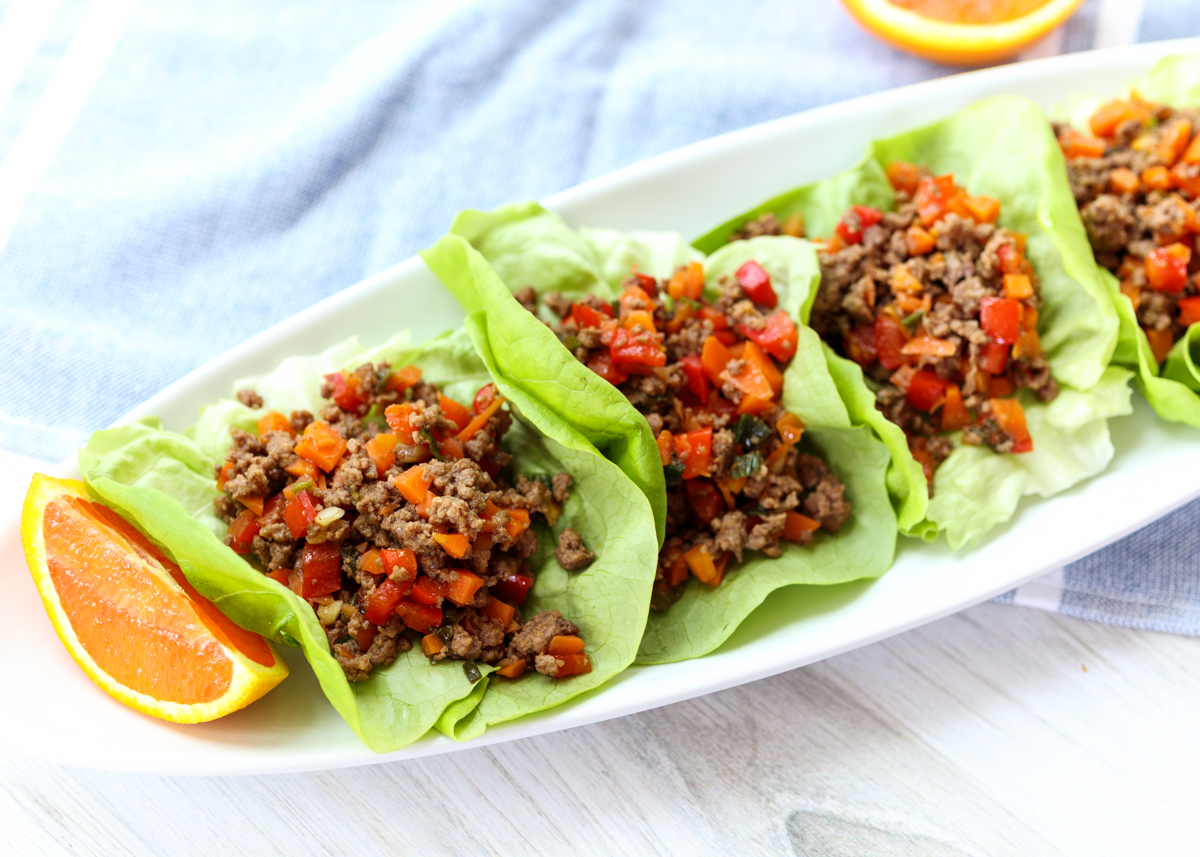 I love the freshness the crispy lettuce wraps add. I usually use Boston or Bibb lettuce and I like to scoop the filling onto the lettuce right before I eat it otherwise I find the lettuce can get soggy. Although there is a bit of chopping, the actual cooking of the lettuce wraps on the stove takes ten to twelve minutes making it a great weeknight meal to have in your back pocket.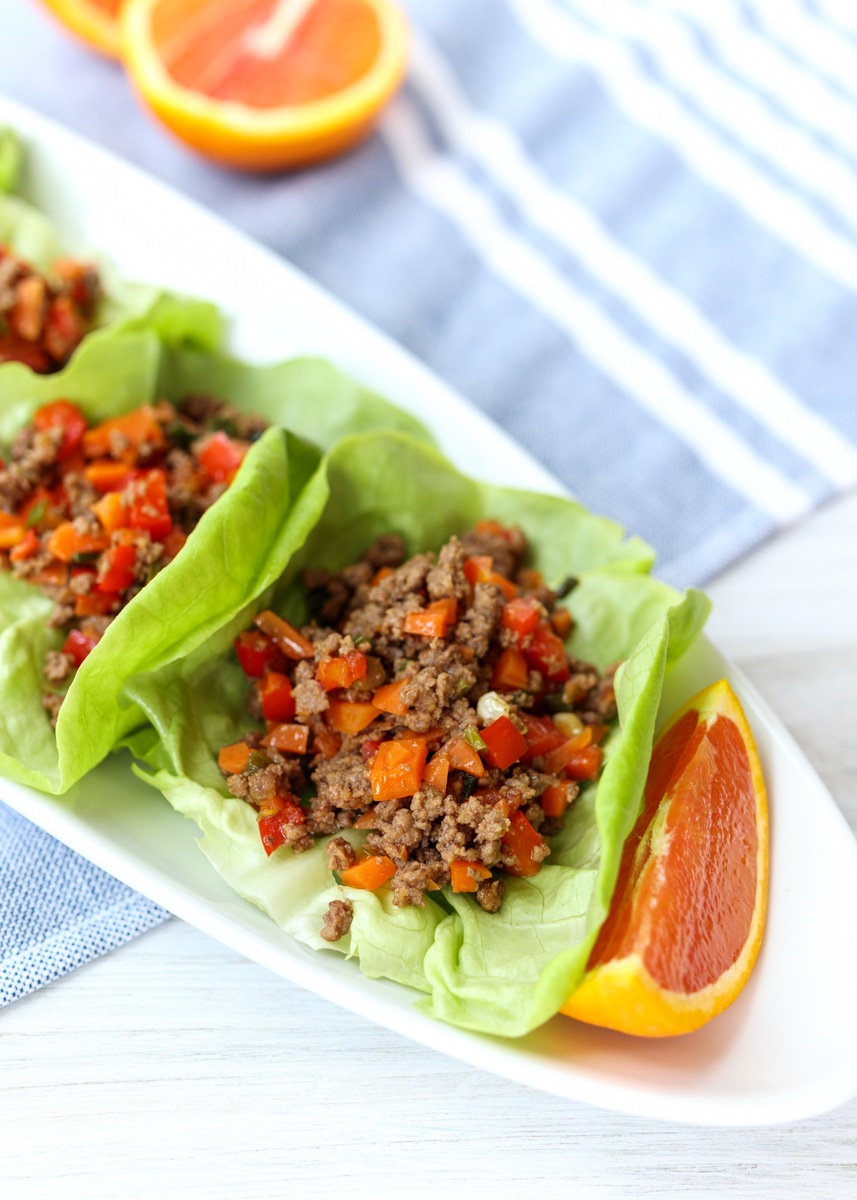 I've never tried these lettuce wraps with ground turkey instead of beef, but I'm sure they would still taste good. They just wouldn't have the rich sumptuous quality you get from eating beef.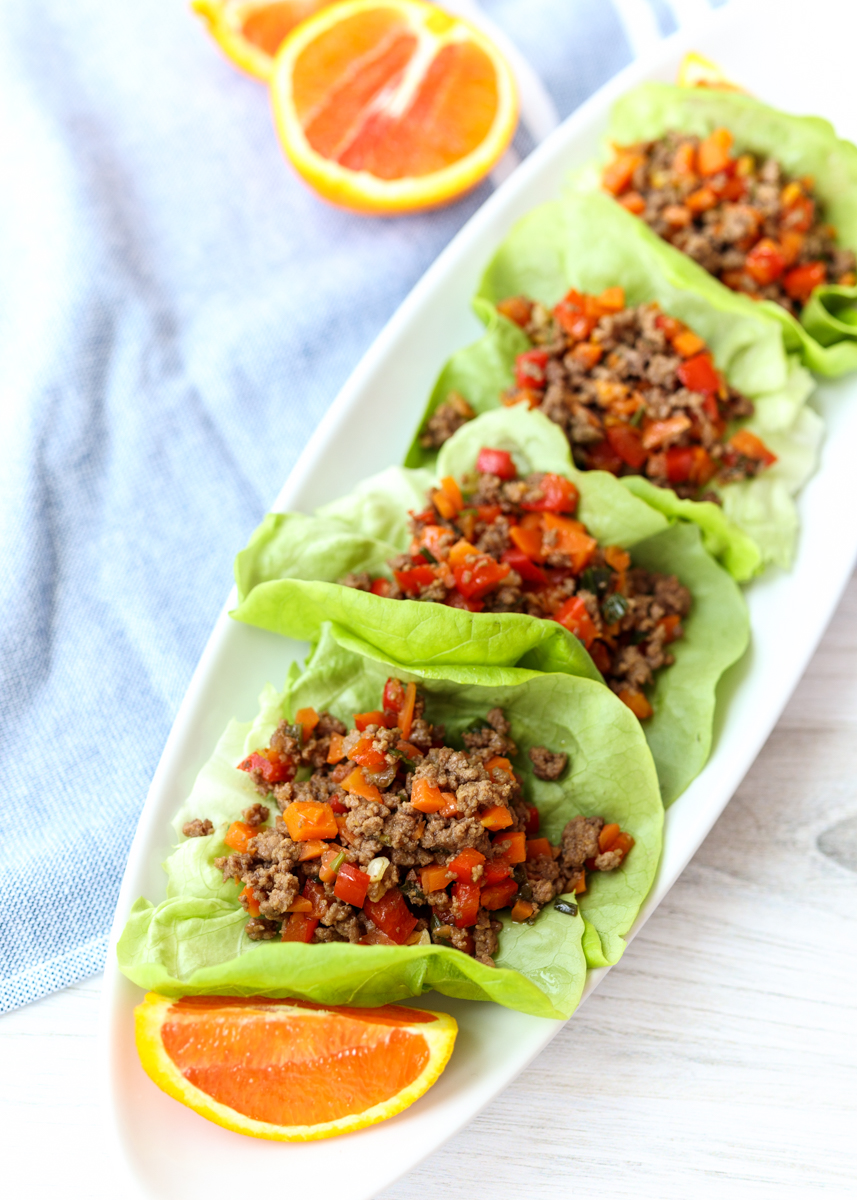 On a slightly unrelated note, have any of you tried the Impossible Burger? There's a few restaurants around us that have it, but we haven't tried it out yet. For those of you that haven't heard of it, it's a plant-based burger that supposedly tastes like real meat. I'm intrigued by the potential positive environmental implications, but the ingredient list gives me some pause. Hmm… anyways, have a great Wednesday and I hope you love these Asian Beef Lettuce Wraps!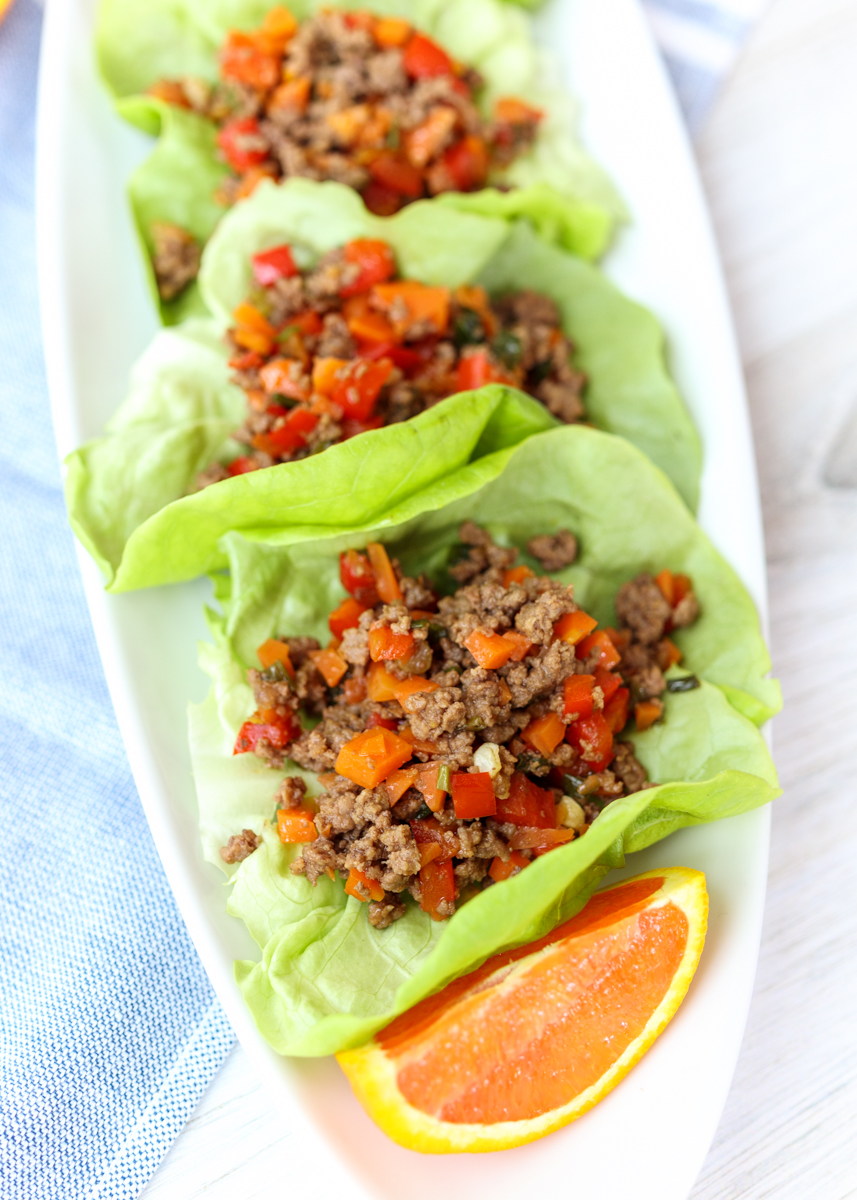 Asian Beef Lettuce Wraps
Ingredients
3 tablespoons orange marmalade
2 tablespoons low sodium soy sauce
1 tablespoon hoisin
1 tablespoon fresh grated ginger
1 garlic clove, minced
3 tablespoons vegetable oil
1 pound 93% lean ground beef
8 scallions, trimmed and sliced
2 carrots, peeled and finely chopped
1 red pepper, finely chopped
12 Boston or Bibb lettuce leaves
Directions
In a small bowl, whisk together the marmalade, soy sauce, hoisin, ginger and garlic until combined. Set aside.
Heat the oil in a large sauté pan over medium-high heat. Add the beef, scallions, carrots and red pepper; cook for 5-7 minutes or until the meat is mostly cooked. Add the sauce and cook for 5 minutes, until well blended. Remove from the heat and serve with the lettuce leaves.
Notes
The cookbook suggests serving with a side of watermelon. I usually just serve them alongside some additional veggies.
Recipe from

Flat Belly Diet! Cookbook: 200 New MUFA Recipes

.
Some of the links above are affiliate links, which means I may receive a small commission for my referral. This does not affect the retail cost of the item. Thank you for supporting Lemon & Mocha!