Loco Moco Tacos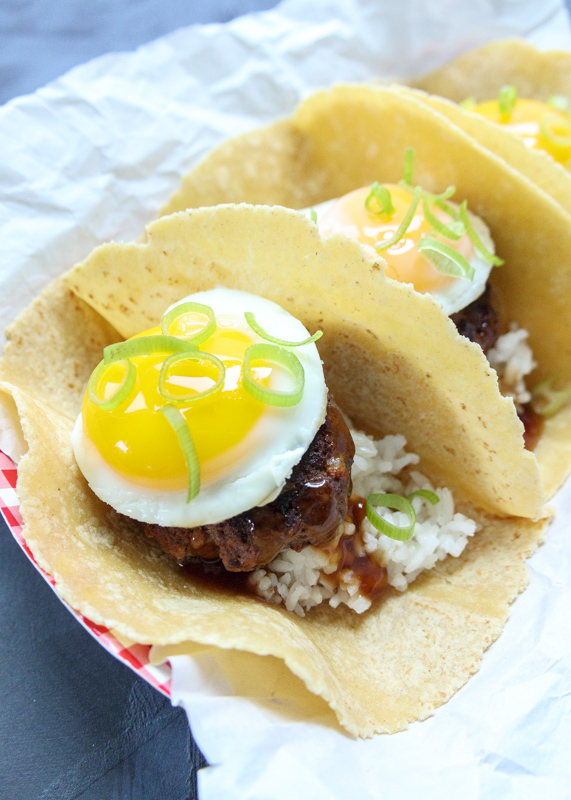 Loco Moco Tacos! The name just sounds fun and I promise you it's super tasty as well. Traditionally, loco moco is a Hawaiian comfort food dish composed of white rice, a ground beef patty, a fried egg and gravy. This version stays pretty true to the classic except we're swapping out the brown gravy for a quick homemade teriyaki sauce.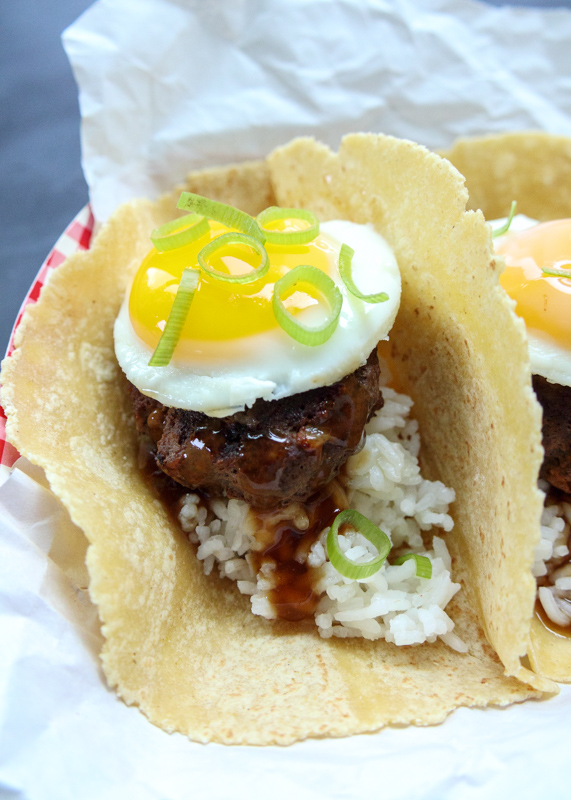 In the fall of 2016, Matt and I went to California for our one year anniversary. On our way from Los Angeles to Anaheim we went to the Venice and Santa Monica beaches for the day. I scoped out all the food ahead of time so we went right to Komodo in Venice, which is an Asian fusion restaurant known for their tacos and burritos. I ordered a few different tacos and one of them was their loco moco taco – and of course I got a picture.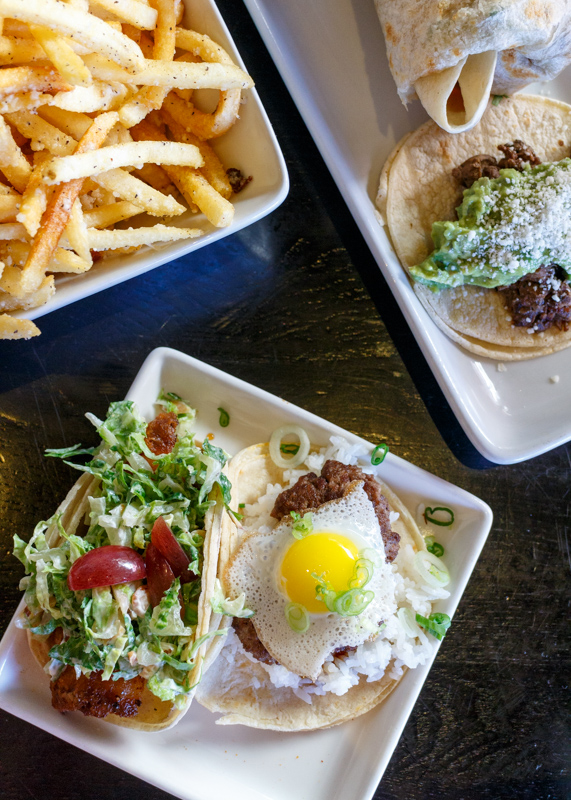 All of the tacos were really good, but there was something about the loco moco taco that had me thinking about it even two years later. I can definitely see why it's considered comfort food; the combination is so simple, but it feels familiar and decadent.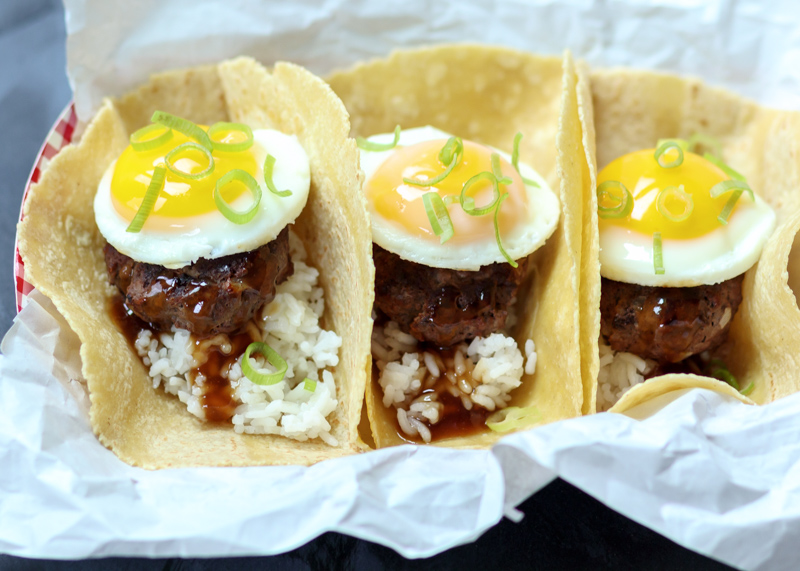 The teriyaki sauce is salty, sweet and sticky, which goes really well over the mini beef burgers and steamed white rice.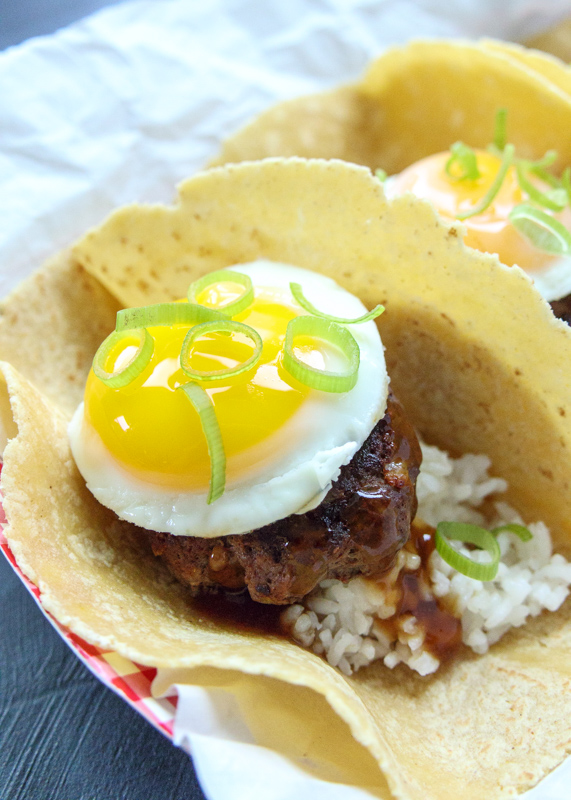 The best part is when the runny yolk drips down and smothers everything with richness. Actually, the best part is that the whole thing is a taco! Comfort food wrapped up in a warm tortilla – perfect for Taco Tuesday!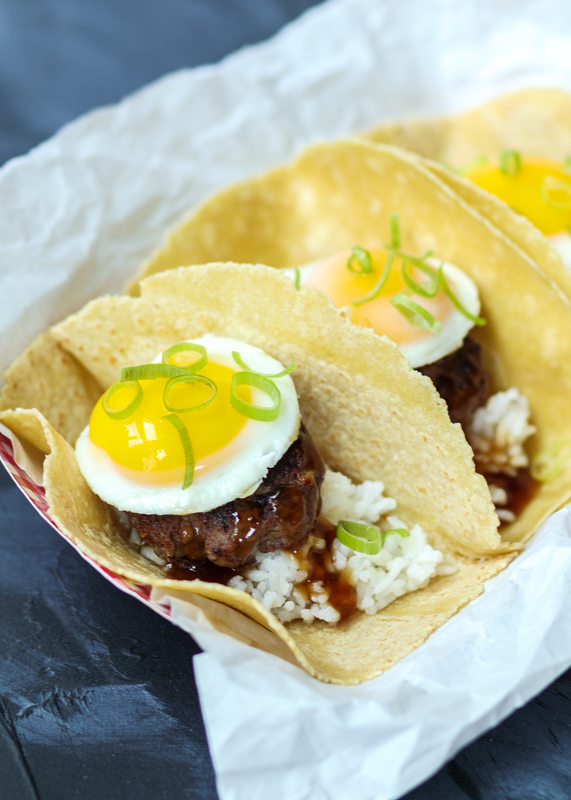 I still want to try the original version of loco moco with the gravy, but for now I'm definitely into this teriyaki loaded taco. Have you ever had loco moco?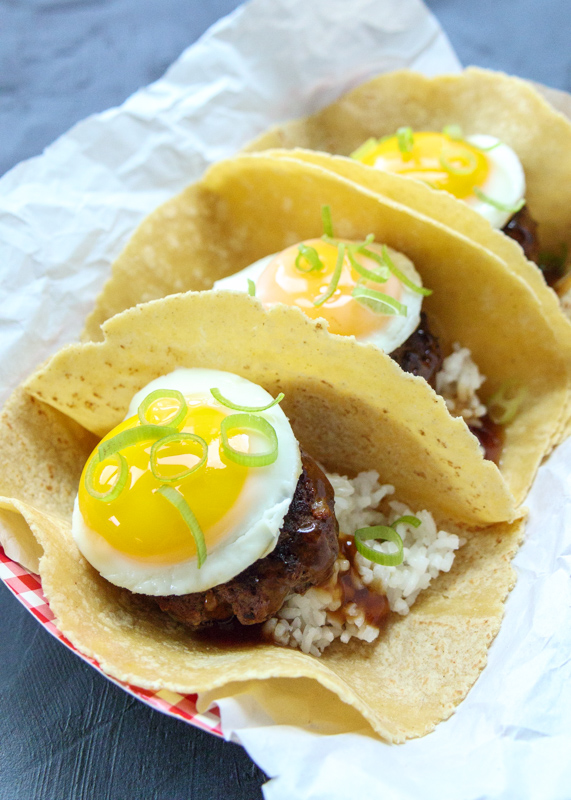 Loco Moco Tacos
Yield:
4 servings, 8 mini tacos
Ingredients
for the teriyaki sauce
1 tablespoon cornstarch
2 tablespoons water
½ cup water
2 tablespoons low sodium soy sauce
2 tablespoons honey
1 tablespoon rice wine vinegar
¼ teaspoon garlic powder
¼ teaspoon ginger powder
for the tacos
1 teaspoon olive oil
¼ cup minced onion
1 pound ground beef (80% or 85% lean)
½ tablespoon butter
8 eggs
8 6-inch flour or corn tortillas, warmed
1 cup cooked white rice
1 scallion, thinly sliced
Salt and pepper
Directions
for the teriyaki sauce
In a small bowl, combine the cornstarch and 2 tablespoons of water until the cornstarch dissolves. Set aside.
Heat the ½ cup water, soy sauce, honey, rice wine vinegar, garlic powder and ginger powder in a small saucepan over medium heat. Whisk until combined. Whisk in the cornstarch mixture and continue to whisk and cook until the sauce has thickened. Remove from the heat.
for the tacos
Heat the olive oil in a skillet over medium-high heat. Sauté the onion until soft and translucent. Remove from the heat and let cool slightly.
In a medium mixing bowl, combine the sautéed onions and ground beef. Form the mixture into 8 mini same-sized patties. Press a small thumb impression into the center of each, this keeps the patties from bulging in the middle when you cook them, then season both sides of each patty with salt and pepper.
Heat your skillet over medium-high heat. Cook the patties for 3 minutes, flip, then cook for another 4 minutes, or longer based on desired doneness. Bobby Flay recommends an internal temperature of 145 degrees F for a perfect burger., which comes out medium, although the USDA recommends 160 degrees F for ground beef. We always follow Bobby Flay's recommendation, but cook to whatever temperature you prefer or are comfortable with.
Time to make the sunny side up fried eggs. Heat the butter in a skillet over medium-low heat. Crack the eggs into the pan when it's hot; I would recommend doing no more than 4 at a time. Season with salt and pepper. Let cook just until the whites are set then remove from the pan. If desired, use a round biscuit cutter or cookie cutter to make the fried eggs into little rounds for your tacos.
Taco assembly time! Spoon some steamed white rice, about 2 tablespoons onto your warmed tortilla. Top with a cooked mini burger patty, followed by a drizzle of teriyaki sauce and some sliced scallions. Repeat, eat, enjoy!