Cauliflower Mashed Potatoes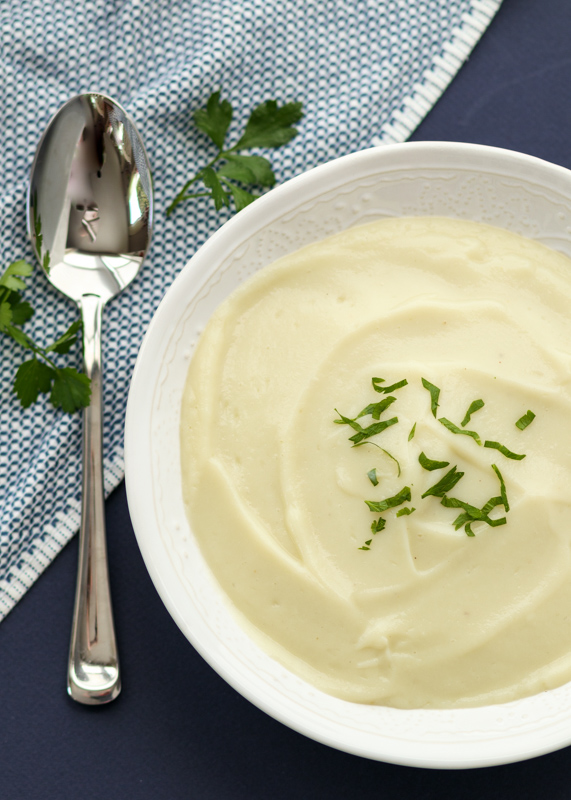 Let me get right to it. These are mashed potatoes except they're made with cauliflower instead of potatoes. So I guess technically mashed cauliflower? Or maybe even cauliflower puree? But I'm sticking with Cauliflower Mashed Potatoes because they taste like mashed potatoes, both in texture and taste, but they're cauliflower. Crazy!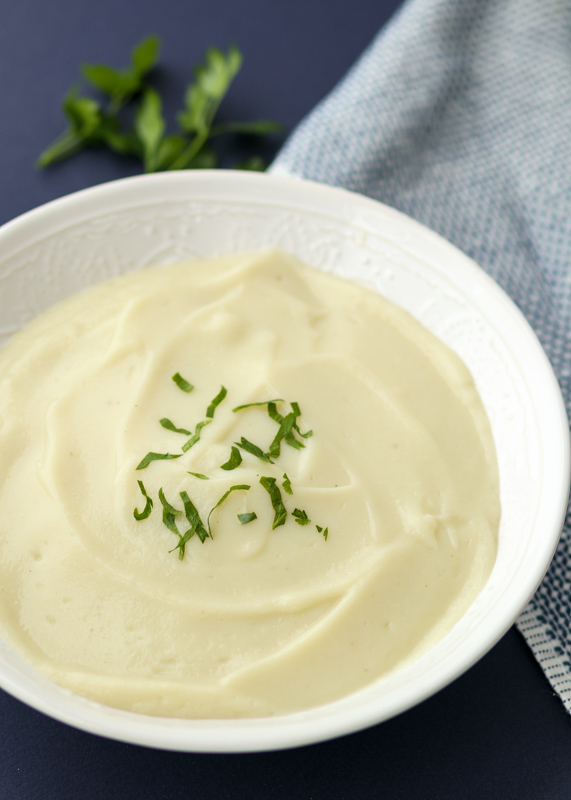 Of course if you put them side by side with mashed potatoes you'd probably prefer the latter since, you know, potatoes and butter and all, but I would take these Cauliflower Mashed Potatoes any day. Cauliflower has a really mild flavor and will take on the flavor of whatever you add to it, which is part of the reason you're seeing cauliflower rice and pizza pop up everywhere. The other reason is that cauliflower has a ton of health benefits and is low in carbs.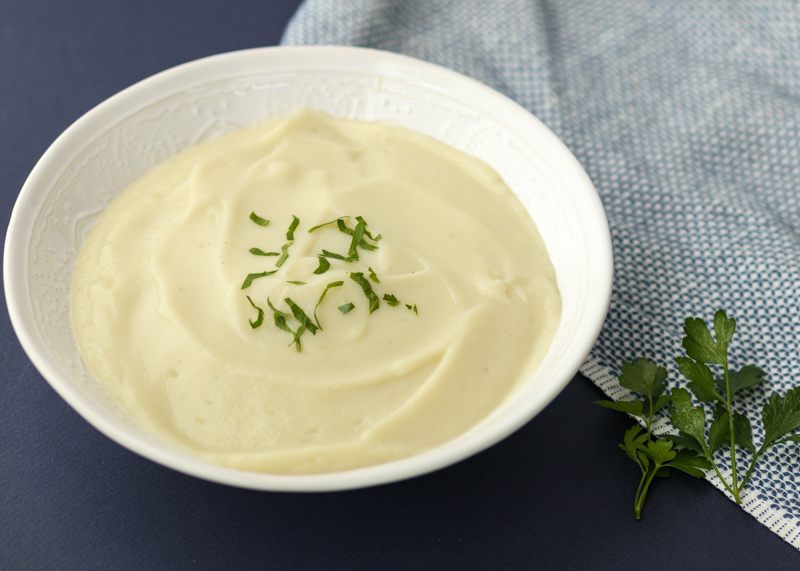 My first favorite part of this recipe is that it tastes really good. It's garlicky, creamy and a little cheesy. My second favorite aspect of this recipe is that it's incredibly clean and only uses four ingredients, not including salt and pepper. My final favorite bit of this recipe is that it is so easy. So easy as in scroll down to read the recipe just to see how short and sweet it is. Better yet, I'll type it here: Steam cauliflower. Toss cauliflower, plain nonfat Greek yogurt, Parmesan cheese, garlic powder, salt and pepper in a high-speed blender. Then eat it and feel no guilt at all.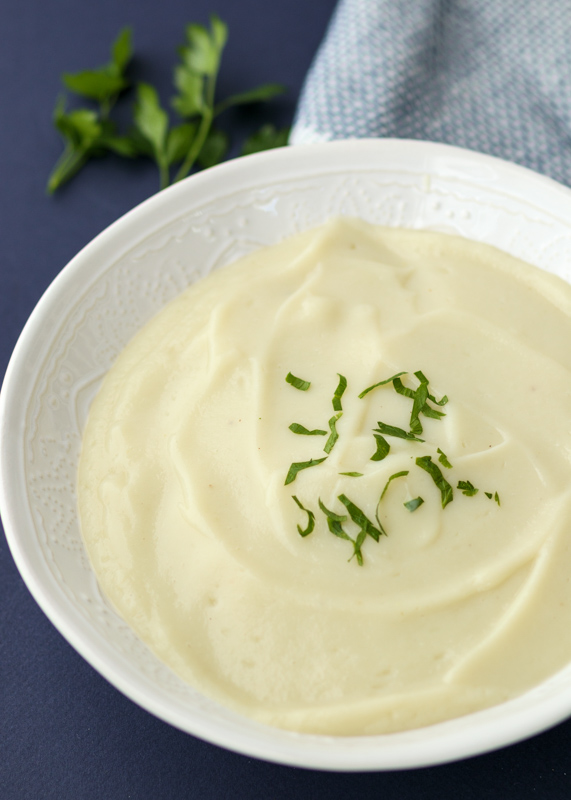 The first time I made Cauliflower Mashed Potatoes I was really skeptical. I thought it was going to taste just like some mashed up cauliflower, but I couldn't believe how well the creamy tang of the yogurt and the flavor of the Parmesan and garlic turn the cauliflower into something completely different.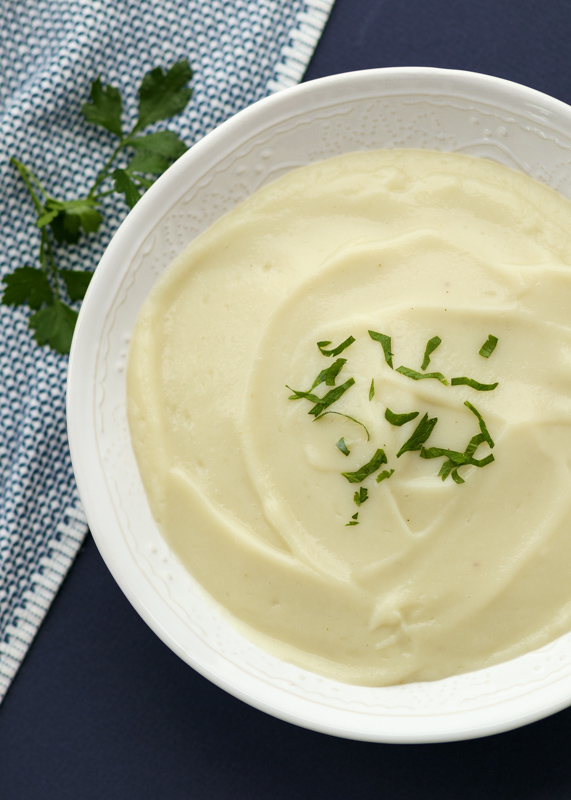 We've eaten them with Monday's Slow Cooker Short Ribs, turkey meatloaf, Pesto Turkey Meatballs and countless other entrees. What would you eat with your Cauliflower Mashed Potatoes? Can't wait to hear what you all think about this one!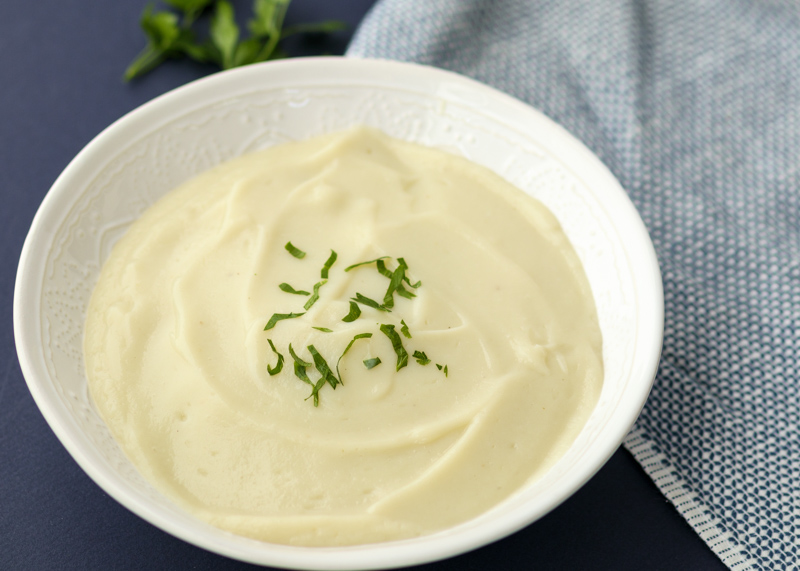 Cauliflower Mashed Potatoes
Ingredients
4 cups cauliflower florets
⅓ cup plain nonfat Greek yogurt
3 tablespoons fresh grated Parmesan cheese
½ teaspoon garlic powder
¼ teaspoon salt
¼ teaspoon ground black pepper
Directions
Steam the cauliflower florets.
Add the cauliflower florets, Greek yogurt, Parmesan, garlic powder, salt and pepper to a high-speed blender. Blend until smooth. Taste and season with additional garlic powder, salt and pepper as needed.