Slow Cooker Short Ribs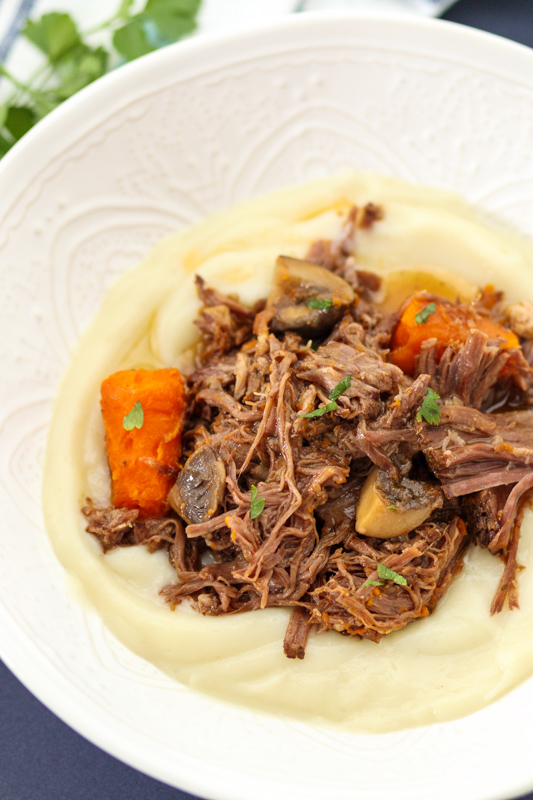 This is a decadent, belly-warming, curl-up-on-the-couch-afterwards dinner. Isn't that the epitome of a fall and winter meal?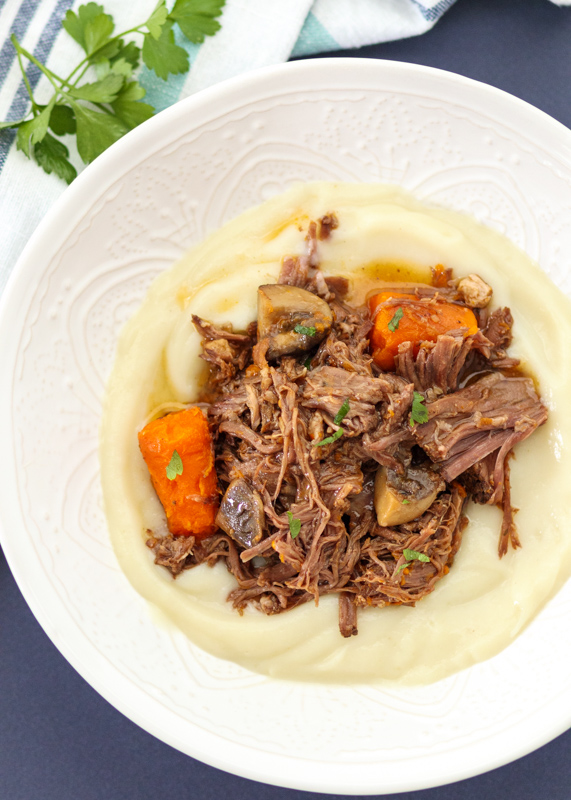 These Slow Cooker Short Ribs are full of rich flavor and tender meat. It literally falls off the bone and there's no knives required for eating this dish. I feel like I don't use my slow cooker nearly enough, but it is perfect for these short ribs.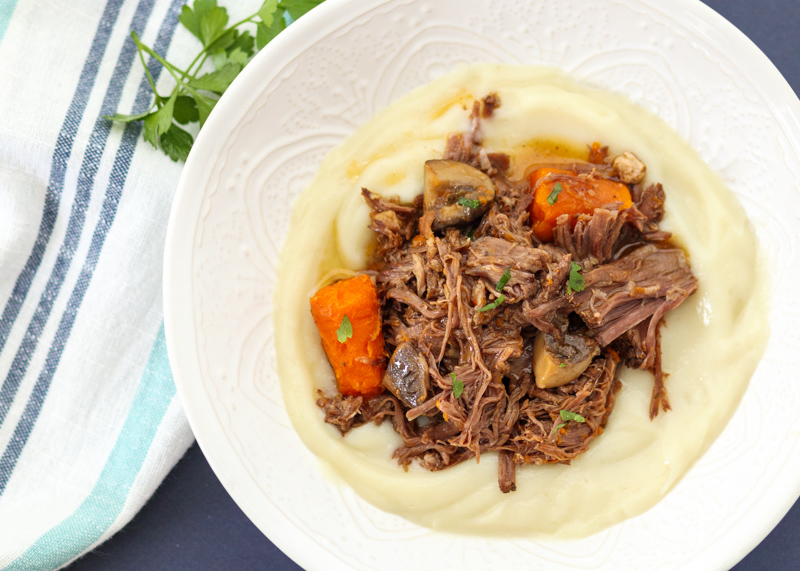 Short ribs are unapologetically rich so I fully embraced it and added crispy pork belly as well. If you've never had pork belly, it's basically bacon before it has been cured and smoked. Like bacon, it gives off grease while it cooks, which we will be using to sauté the mushrooms, onions, carrots and garlic. Yes, you read that correctly, and no, we won't be apologizing for it because it's so delicious. The other reason I used pork belly is because it is a very inexpensive cut of meat; opposite of short ribs, which are definitely pricey. I used the pork belly and the mushrooms to help us stretch our meal out.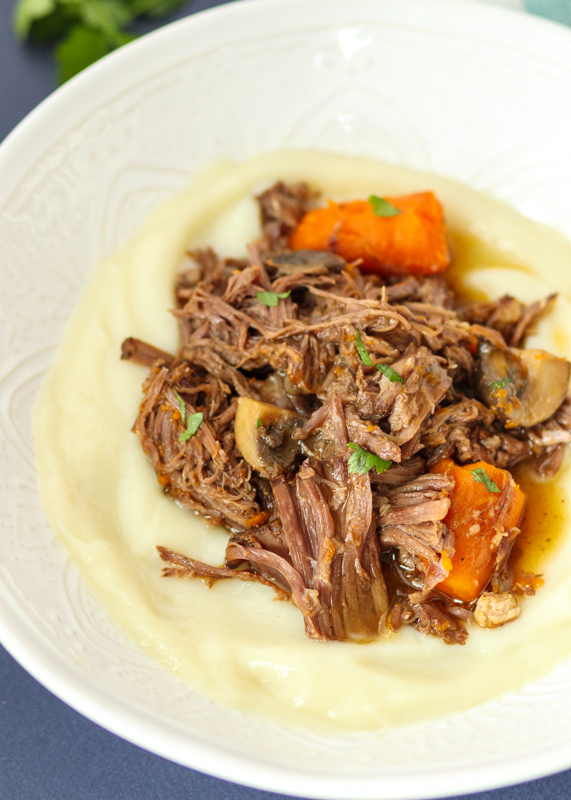 If the thought of using pork belly makes you nervous you could substitute in some slab bacon or even pancetta, although I've never tried it with pancetta so I'm not sure how much that would change the flavor profile. Short ribs are a pricier cut of meat so I usually make it for special occasions, such as Christmas dinner, but it is also one of Matt's favorite dishes so a couple times a winter I'll make it to treat ourselves.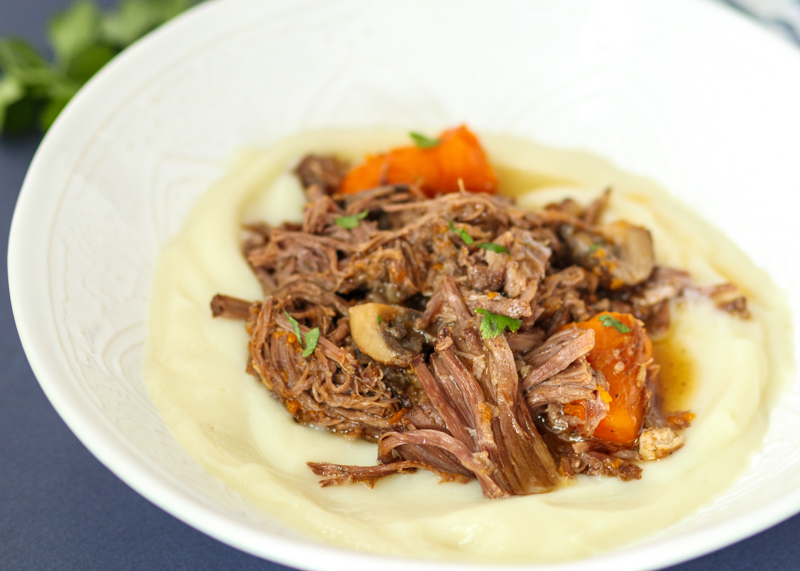 Since it's a heavier entree I like to serve it with cauliflower mashed potatoes to help balance the meal. Find that recipe here!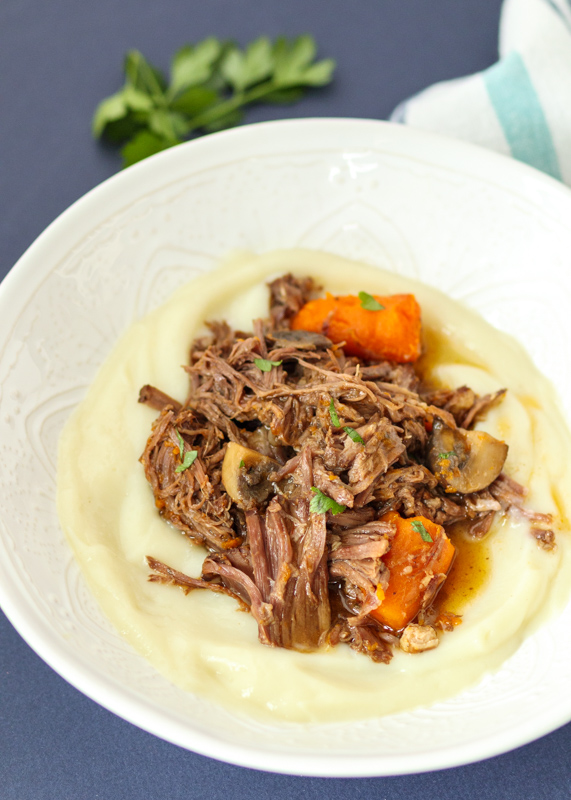 Slow Cooker Short Ribs
Ingredients
2½ pounds bone-in short ribs or 1½ pounds boneless short ribs (see note)
½ teaspoon salt
½ teaspoon ground black pepper
2 teaspoons olive oil
½ pound pork belly slices, cut into small pieces
5 ounces whole cremini mushrooms, quartered
½ onion, peeled and cut into wedges
4 medium carrots, ends removed, scrubbed and cut into 1" pieces
4 garlic cloves, minced
2 cups beef broth
1 tablespoon tomato paste
1 teaspoon dried parsley or 1 tablespoon fresh parsley
1 bay leaf
2½ tablespoons cornstarch
2½ tablespoons water
Directions
Season the short ribs all over with the salt and pepper, pressing into the meat as needed.
In a large high-sided skillet, heat the olive oil over medium heat. Brown the short ribs on all sides then place in the bottom of a slow cooker. Carefully wipe any excess oil from the skillet.
Heat the skillet to medium-high and add the pieces of pork belly. Cook until browned, stirring occasionally, being cautious about any popping grease. Add the mushrooms, onion, carrots and garlic. Cook until lightly browned then add the contents of the skillet to the slow cooker. Add the beef broth, tomato paste, parsley and bay leaf to the slow cooker. Stir then slow cook on low for 6-8 hours.
When the meat is tender, discard the bones and bay leaf. Then move the meat and veggies to a serving bowl leaving just the juices in the slow cooker. Keep the contents of the serving bowl warm. If there's a lot of excess fat on the meat, place the fatty piece of beef on a cutting board and use a knife or fork to shred the meat away from the fat. Discard the fat and return the meat to the serving bowl.
Skim the fat off the juices in the slow cooker. Transfer the juices to a small saucepan and bring to a boil. In a small bowl, combine the cornstarch and water. Add to the boiling juices and let cook until thickened, about 2 minutes. Serve the sauce with the short ribs and vegetables.
Recipe adapted from

Taste of Home

.