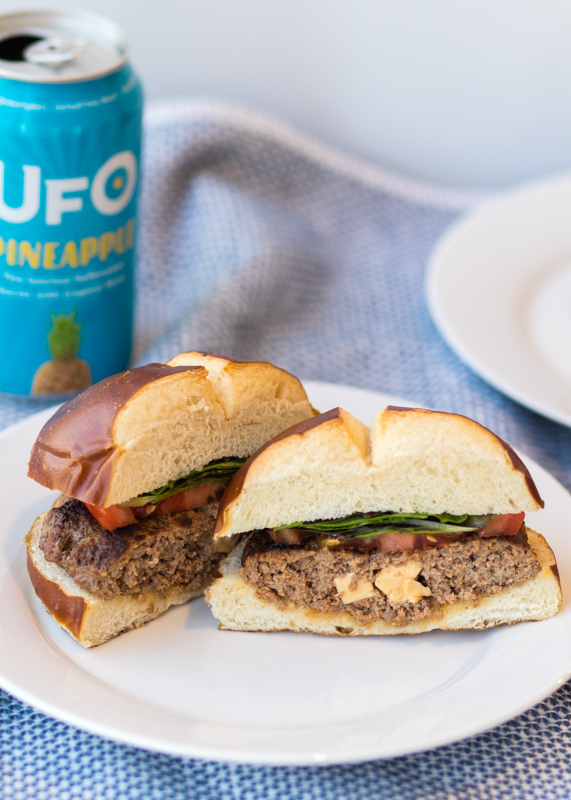 I cannot express to you how juicy, cheesy and flavorful these burgers are! Last week we were talking about tried and true recipes and this is another one I've been making since 2008. Although these Smoked Gouda Beer Burgers aren't in Matt's and my rotation, that's only because we try to eat somewhat healthy and don't want to be eating cheese-stuffed burgers weekly. However, when we're in the mood for a burger both of us instantly think about these huge smoky burgers. Especially with the beer involved they just scream summertime and standing out by your grill with a drink in hand.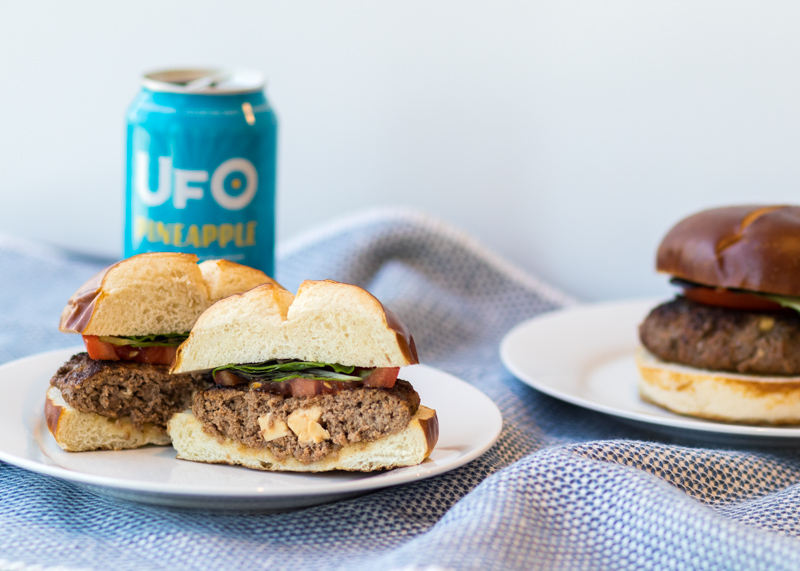 Instead of melting the cheese on top, the burger meat is loaded with chunks of smoked gouda cheese. They create melted and gooey pockets of cheese in the burger, but the chunks are just big enough to not completely melt and still maintain their rich smoky flavor. The smoky flavor gets even more pronounced by the addition of smoked paprika in the burger seasoning. The beer, Worcestershire sauce and other seasonings also add to the richness and depth of flavor in these burgers.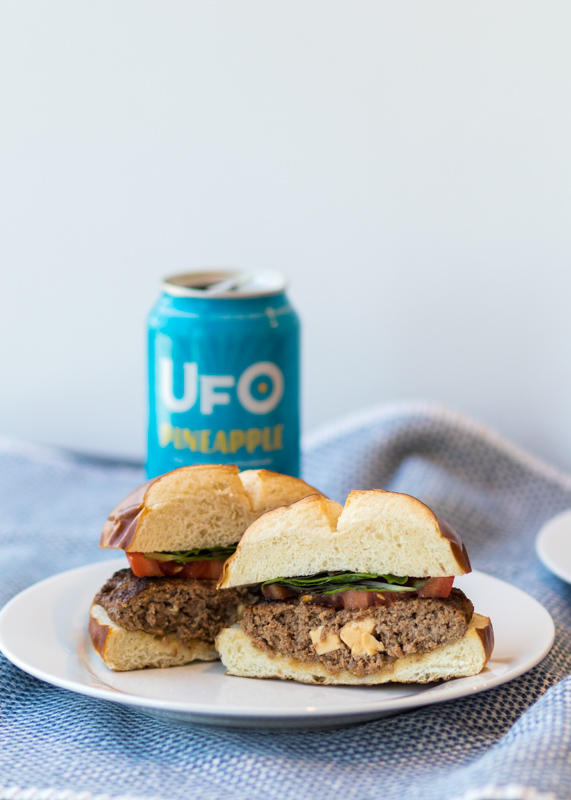 I suggest letting the burgers firm up a little in the fridge after you make the patties otherwise you risk them falling apart with the cheese and liquid ingredients added to the meat. These ingredients are what make the burger so juicy though so I definitely wouldn't skip anything! Pretzel buns are perfect for this burger because you want something that's going to stand up to the bold flavors, just like Uncle Rob's Tailgate Filet Sandwiches with Whiskey Marinade.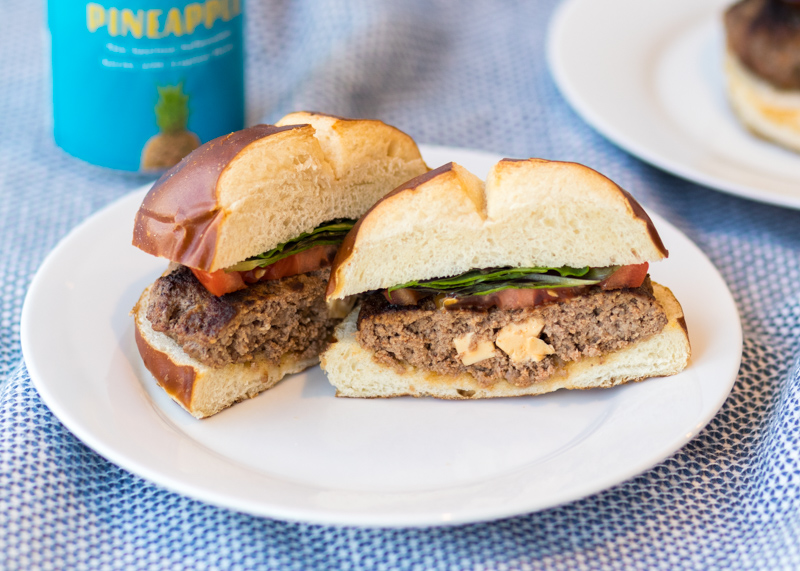 These Smoked Gouda Beer Burgers would be the ultimate dish for Father's Day or the burger-lover in your life. I think it's especially fitting to be posting these Father's Day burgers today because it is my father-in-law, Floyd's birthday! In addition to being caring and always willing to go above and beyond to lend a hand, my father-in-law loves burgers. So what better way to celebrate? I hope you enjoy these and make them for someone special this weekend!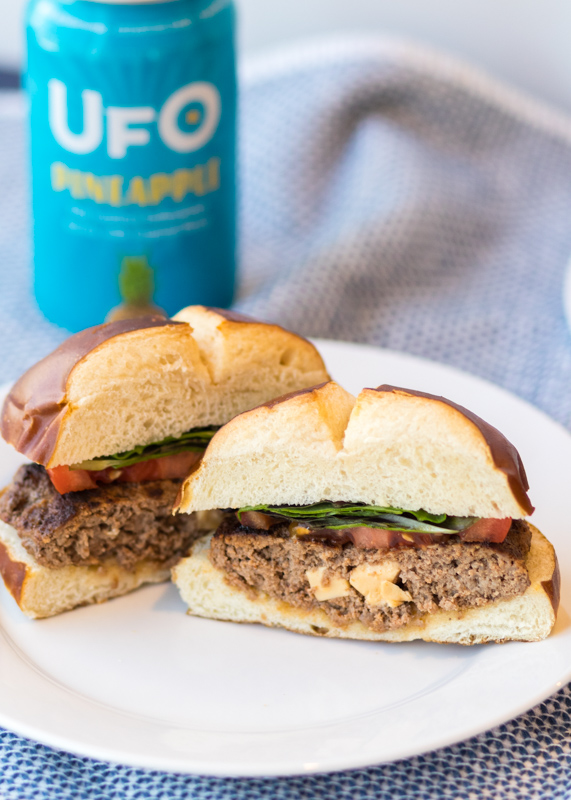 Smoked Gouda Beer Burgers
Ingredients
2 pounds 85% lean ground sirloin
⅓ pound smoked gouda, cut into ¼-1/2" chunks
¼ cup grated onion, about ⅓ of an onion
1 tablespoon Worcestershire sauce
2 teaspoons dijon mustard
2 teaspoons smoked paprika
½ teaspoon garlic powder
½ teaspoon ground coriander
Salt and pepper
4 ounces beer
1½ tablespoons vegetable oil
6 pretzel buns
Lettuce and tomato, for serving
Directions
In a large bowl add the ground sirloin, diced gouda, grated onion, Worcestershire sauce, dijon, smoked paprika, garlic powder, ground coriander, salt and pepper. I used about 6 grinds each of our small salt and pepper grinders. Mix with your hands until roughly combined, try not to over-mix. Add the beer and mix into the burger. Form the burger meat into 6 patties. Lightly press your thumb into the center of the burger so the center is thinner than the edges. When burgers cook they bulge into the middle so this ensures an even patty. Place the patties on a plate or platter, cover then refrigerate for about 10 minutes. You can skip this step, but your burgers are more likely to stay together if they have a chance to firm up a little in the fridge.
Heat your grill or grill pan to medium-high heat. Lightly brush the burgers with the vegetable oil then grill for 4-5 minutes on each side for a medium done burger. Do not press down on the burger with your spatula while it is cooking or flip other than the one time. This is how burgers lose their juiciness! Bobby Flay recommends an internal temperature of 145 degrees F for a perfect burger, which comes out medium, although the USDA recommends 160 degrees F for ground beef. We always follow Bobby Flay's recommendation, but cook to whatever temperature you prefer or are comfortable with.
Remove from the heat and serve on the pretzel buns with the lettuce, tomato and condiment of choice. I recently had these with some pesto mayo and it was SO good!
Recipe slightly adapted from

Rachel Ray

.