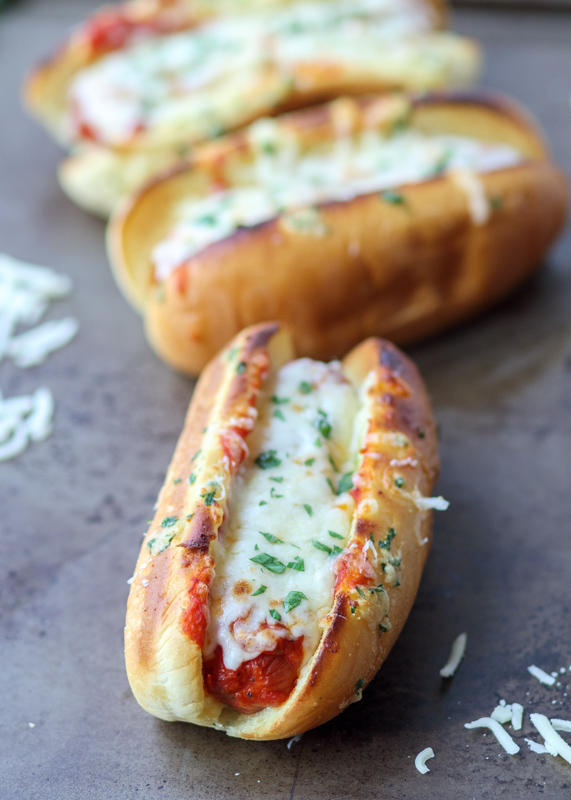 Okay, okay, I know I'm killing you over here with all the hot dogs and pizza, but hear me out! I had the amazing idea for the Elote Hot Dogs. I made them and they were everything I could have imagined. We gobbled them up and everyone was happy. Then I looked in the fridge and saw all the leftover ingredients from the elote and I thought – ah ha! Elote Pizza would be epic! So I made Elote Pizza, it was delicious, we gobbled it up, everyone was happy, yaddy yaddy yada. Then I had a problem because I had leftover hot dogs and leftover pizza ingredients, also known as shredded mozzarella, which to me means pizza, so I had to come up with something to use them both up. I had to! The leftovers made me do it!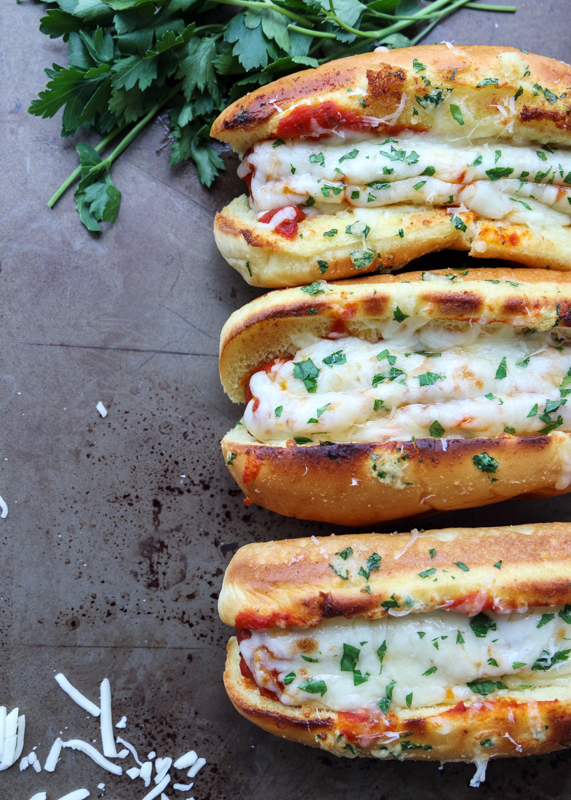 I am so happy I did because otherwise I might have never discovered how – insert explicit word here – delicious Pizza Hot Dogs are. Hot Dogs are a summer guilty pleasure and pizza is just plain amazing all the time so together is like something straight out of your food fantasies. The hot dog is smothered in marinara sauce and gooey melted mozzarella.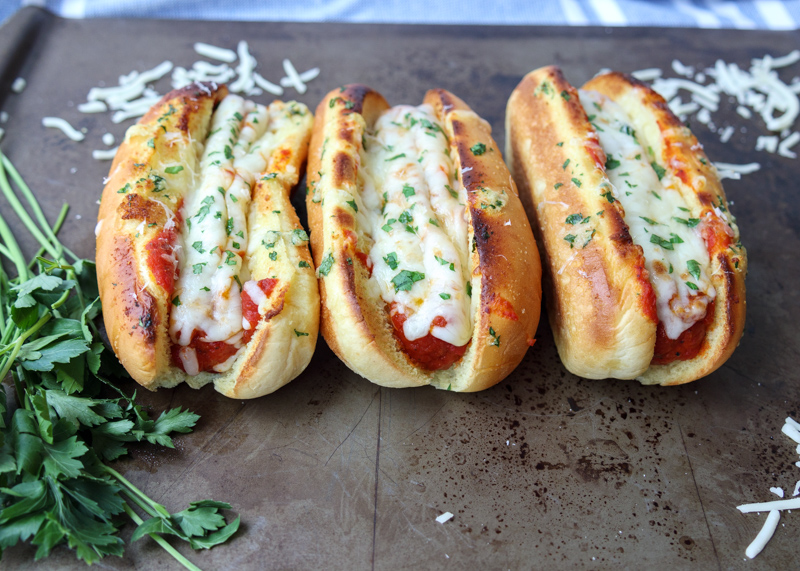 If that wasn't enough, the tricked up potato buns are on a whole other level. I love potato rolls because they're buttery and a little sweet. I brushed the tops of the buns with a combination of melted butter, freshly grated Parmesan, chopped parsley and garlic powder before broiling them until toasty. Basically, giving the bun a whole garlic bread quality that is out of this world.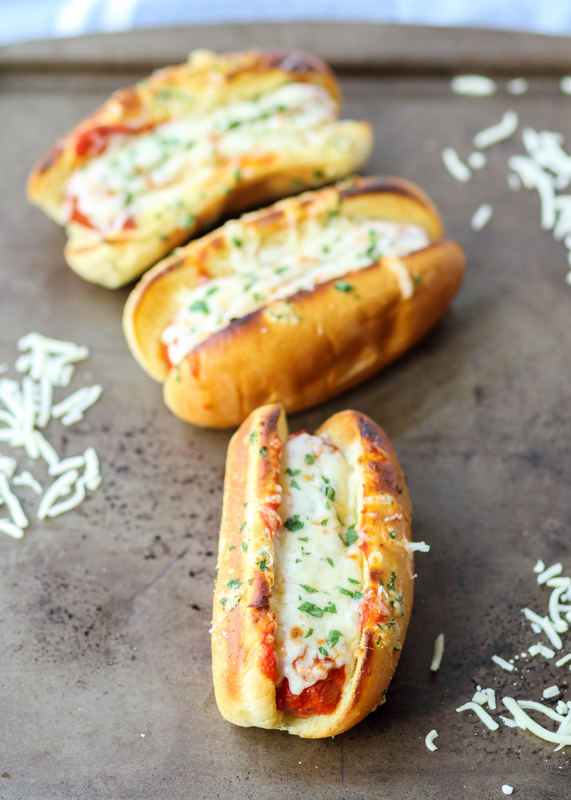 Matt and I quickly decided that every time we consume a hot dog it needs to be on these buttery, cheesy, garlicky rolls. We also decided that we can't eat another hot dog for like three years and I'm never allowed to make so many hot dogs and pizza recipes in one week ever again.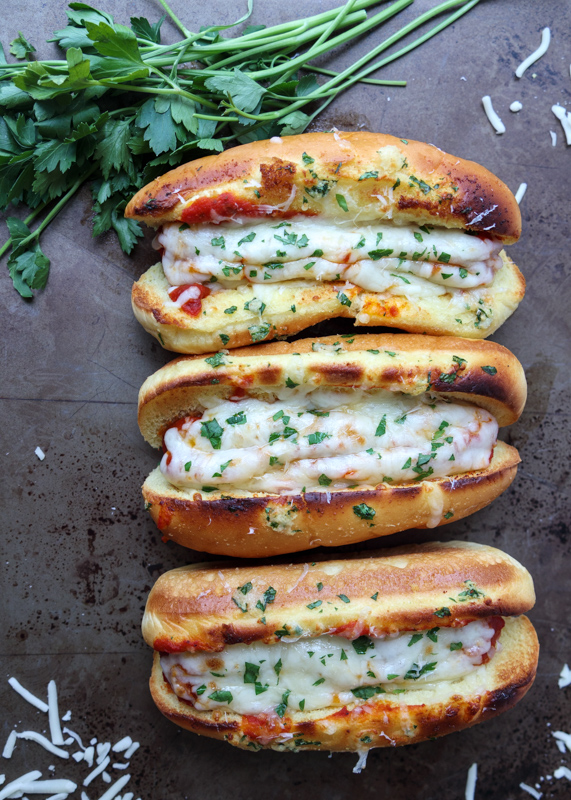 Now I'm going to share something equally delicious with you on Friday and when you see it, before you yell at me, just keep in mind that I made and photographed the whole elote – hot dog – pizza trio months ago and I just made Friday's up-coming post the other week. So my advice to you is to ABSOLUTELY, DEFINITELY make these Pizza Hot Dogs as soon as possible! Unless you just made the Elote Hot Dogs or the Elote Pizza, in which case my advice is wait a couple weeks then ABSOLUTELY, DEFINITELY make these Pizza Hot Dogs. Enjoy!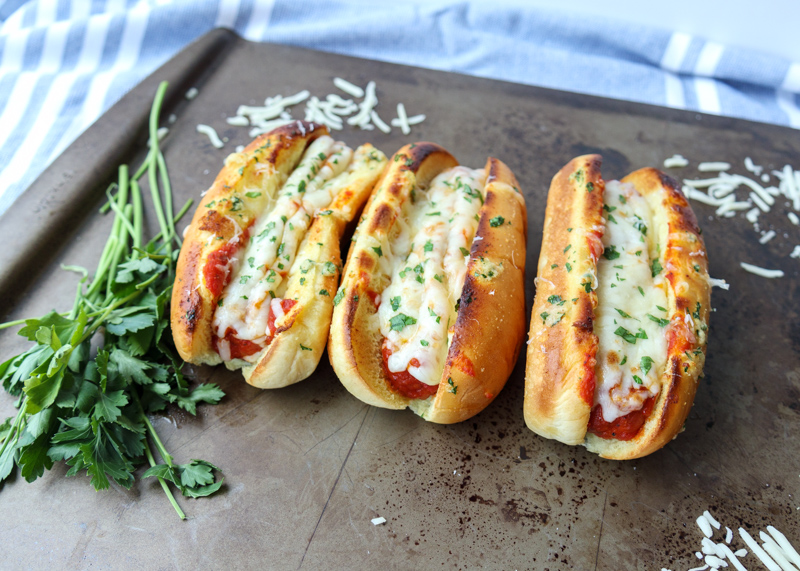 Pizza Hot Dogs
Ingredients
⅔ cup marinara sauce
4 hot dogs
4 long potato rolls
1 tablespoon butter, melted
1 tablespoon fresh grated Parmesan
1 tablespoon chopped parsley leaves, plus more for topping
¼ teaspoon garlic powder
⅔ cup shredded mozzarella
Directions
In a small saucepan over medium-low heat, heat the marinara sauce and hot dogs until both are warmed through. Set aside.
While the hot dogs and sauce are getting warmed up, prepare the buns. Place the potato rolls upright as if you were about the put the hot dog in them on a baking sheet lined with aluminum foil.
n a small bowl, combine the melted butter, Parmesan, chopped parsley and garlic powder. Generously brush this mixture over the tops of the potato rolls. Place a warmed hot dog in each bun and top with the marinara sauce. Divide the mozzarella between the 4 hot dogs, sprinkling right on top of the sauce. Broil the hot dogs until the cheese is melted and the tops of the buns are golden. Top with more parsley, if desired, and eat warm.