Pork Chops with Baked Apples, Parsnips and Turnips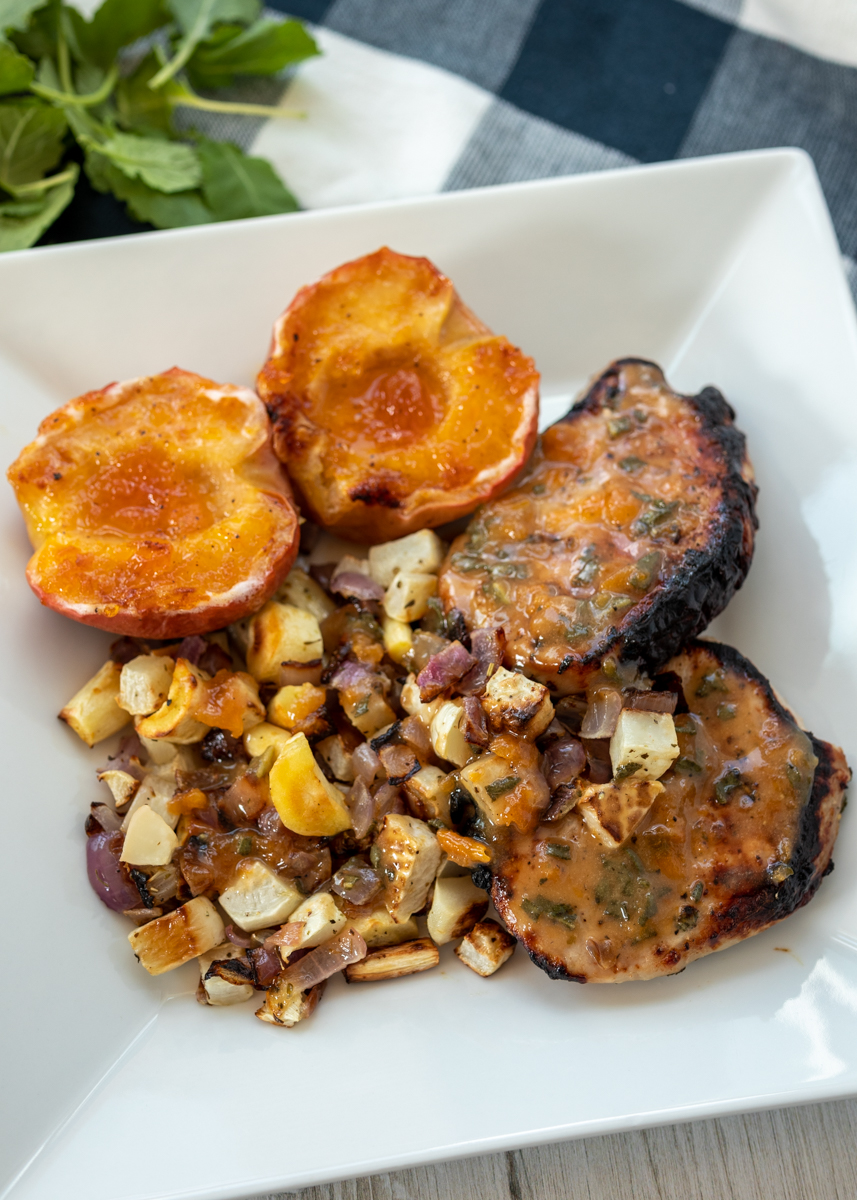 2 medium parsnips, peeled and cut into ½-inch pieces
1 medium turnip, peeled and cut into ½-inch pieces
½ red onion, cut into ½-inch pieces
2 tablespoons olive oil
1 teaspoon dried rosemary
2 small apples, such as Gala, halved and seeded
¼ cup apricot preserves
1 teaspoon Worcestershire sauce
1 teaspoon chopped fresh sage
4 boneless pork loin chops, ½-inch thick
1 tablespoon unsalted butter
Salt and fresh ground black pepper
Preheat oven to 450 degrees F.
Line a baking sheet with nonstick aluminum foil and place the parsnips, turnips and onion on it. Drizzle with the olive oil, toss, then sprinkle with the rosemary and season generously with salt and pepper. Place the apple halves, cut side up, on the baking sheet nestled between the veggies. Divide 2 tablespoons of the apricot preserves between the apple halves and brush over top then season lightly with black pepper. Roast for 20 minutes, or until the vegetables are soft. Turn the oven to broil and broil for 5 minutes, or until everything is golden brown.
While the veggies are cooking, marinate the pork. In a shallow bowl or plastic container large enough to fit the pork, whisk together the remaining 2 tablespoons of apricot preserves, the Worcestershire sauce, sage and ½ cup water. Season with a little black pepper. Pierce the pork chips all over with a fork then add to the bowl and marinate for 10 minutes.
Set a wire cooling rack into a rimmed baking sheet and place the pork chops on top, reserving the marinade. Season the pork chops with salt and pepper. Broil the pork chops for 4-5 minutes per side, or until they reach an internal temperature of 145 degrees F. Remove from the oven and let the pork rest while you finish the sauce.
Pour the reserved marinade into a small saucepan and bring to a boil over medium-high heat. Continue to boil until thickened, about 3-4 minutes. Whisk in the tablespoon of butter until melted. Serve the pork alongside the vegetables and apples with the sauce drizzled over top.
Recipe by
Lemon & Mocha
at http://www.lemonandmocha.com/2020/01/21/pork-chops-with-baked-apples-parsnips-and-turnips/