Skillet Balsamic Peach Pork Chops with Feta and Basil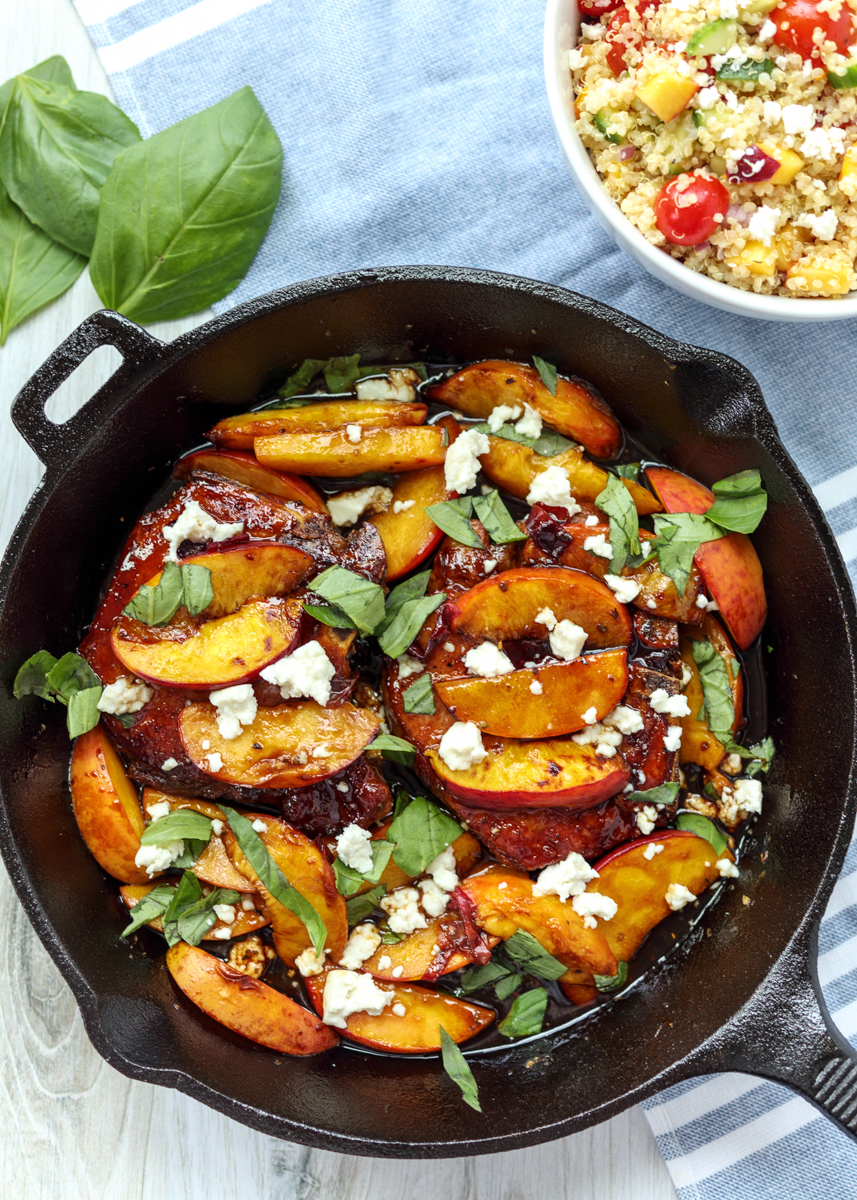 Look at this sizzling skillet of juicy pork chops and caramelized peaches! Ugh, this meal was so good. Both Matt and I decided we would love to have these Skillet Balsamic Pork Chops with Feta and Basil along with the Summer Peach Greek Quinoa Salad every week this summer.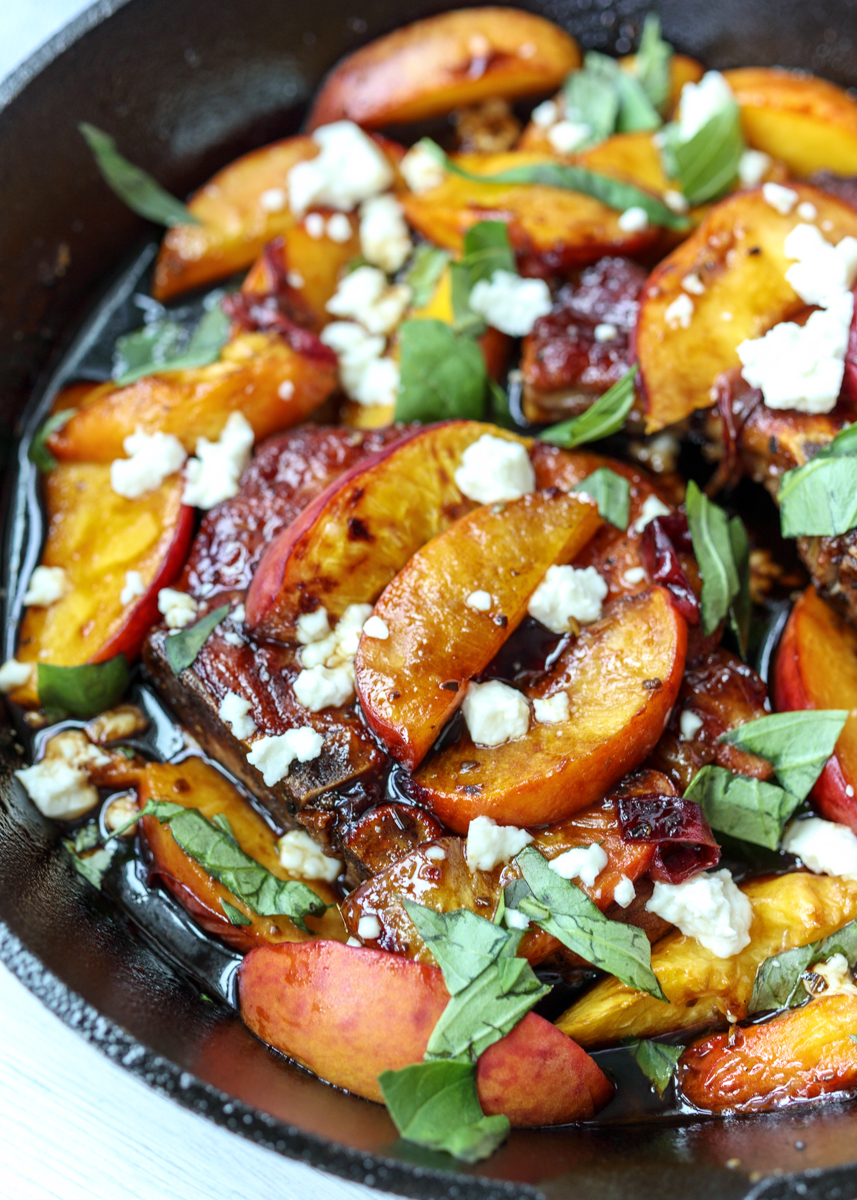 Of course that will never happen since I'm always too busy trying out new recipes, but I'm determined to fit it into our busy meal schedule at least a few more times this summer because I already cannot wait to eat it again.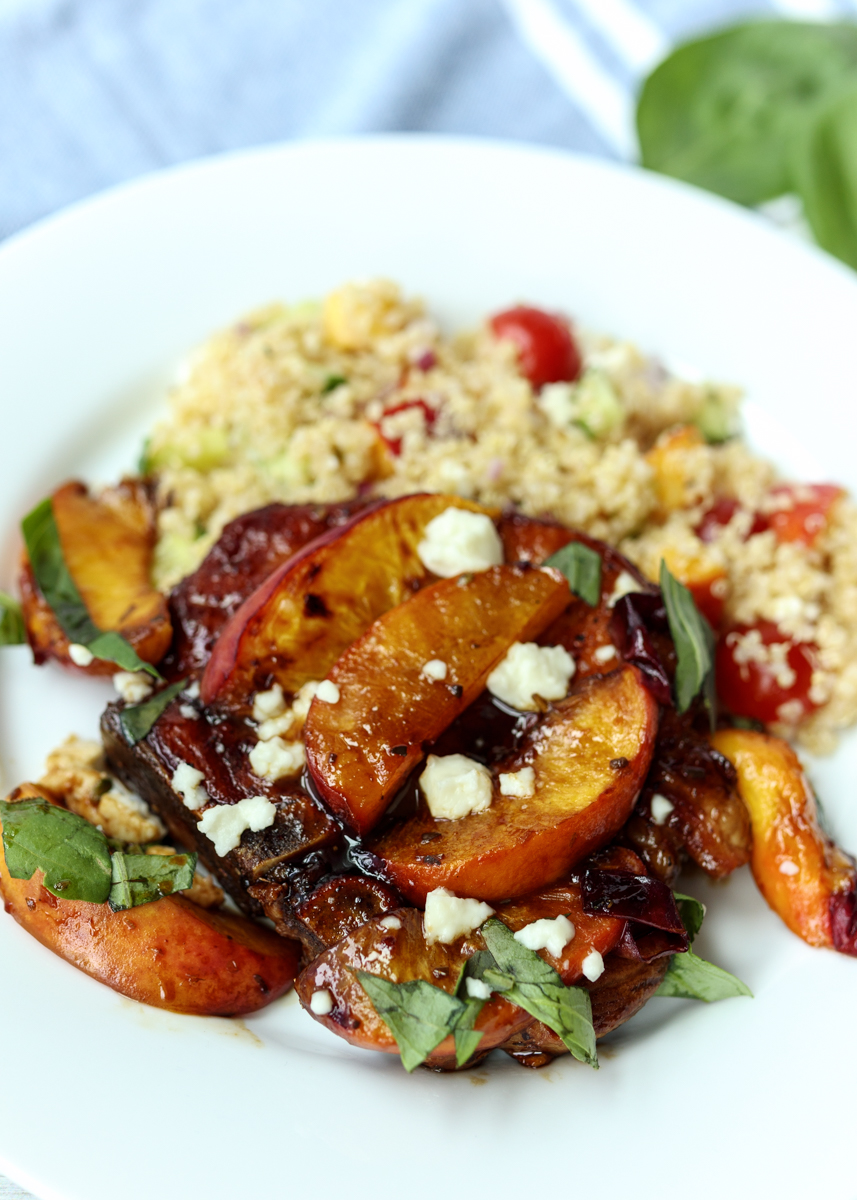 This was my first time cooking bone-in pork chops and I was super impressed with how flavorful and juicy they were being cooked in our cast iron skillet. The pork chops get a nice sear on the stove-top before adding in an easy sauce of balsamic vinegar, honey and oregano that gets thickened as the pork chops cook. Fresh peach slices are added to the skillet and then the whole dish is broiled in the oven so the peaches can get caramelized.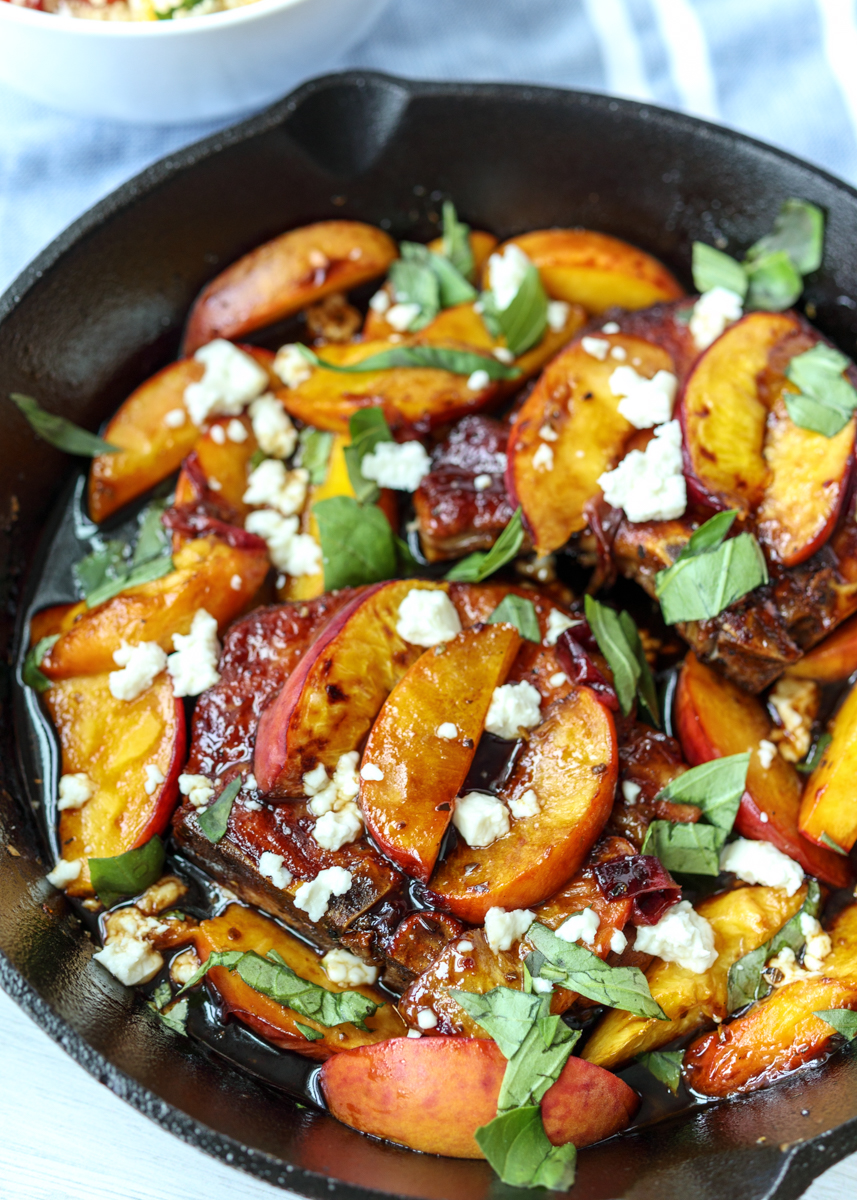 Final touches include some salty feta and sweet basil and you have yourself a drool-worthy, company-worthy and easy dinner. I was skeptical of how the finished dish would taste since I had previously tried a peach and chicken dish that I did not care for, but the peach and pork combination is a definite winner.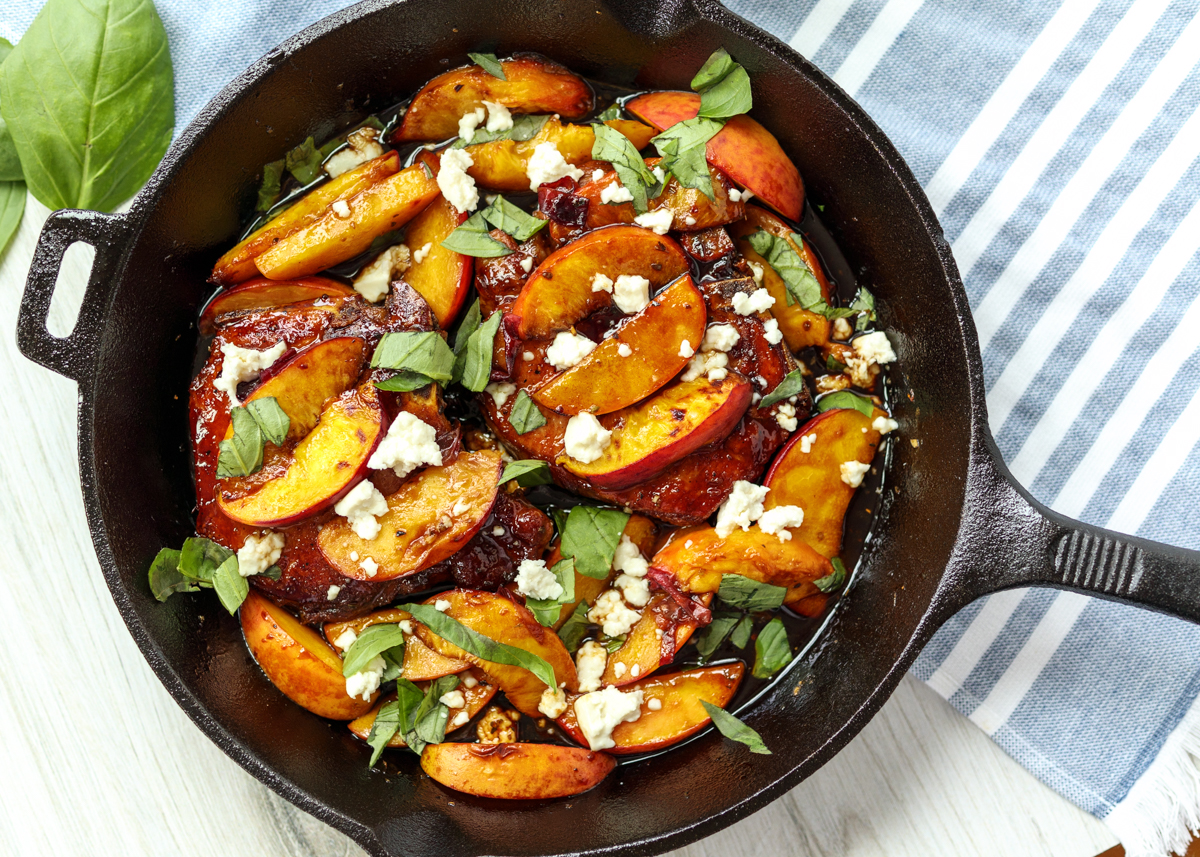 If you don't have a cast iron skillet you can use any oven-safe pan instead, or you could sear in a pan then transfer to a baking dish for the broiling portion, but I highly recommend getting yourself a cast iron skillet so you can easily make stove-top to oven dishes like these Skillet Balsamic Pork Chops, this Strawberry Dutch Baby or this Caramelized Onion and Apple Dip. I hope you all enjoy this meal as much as we did!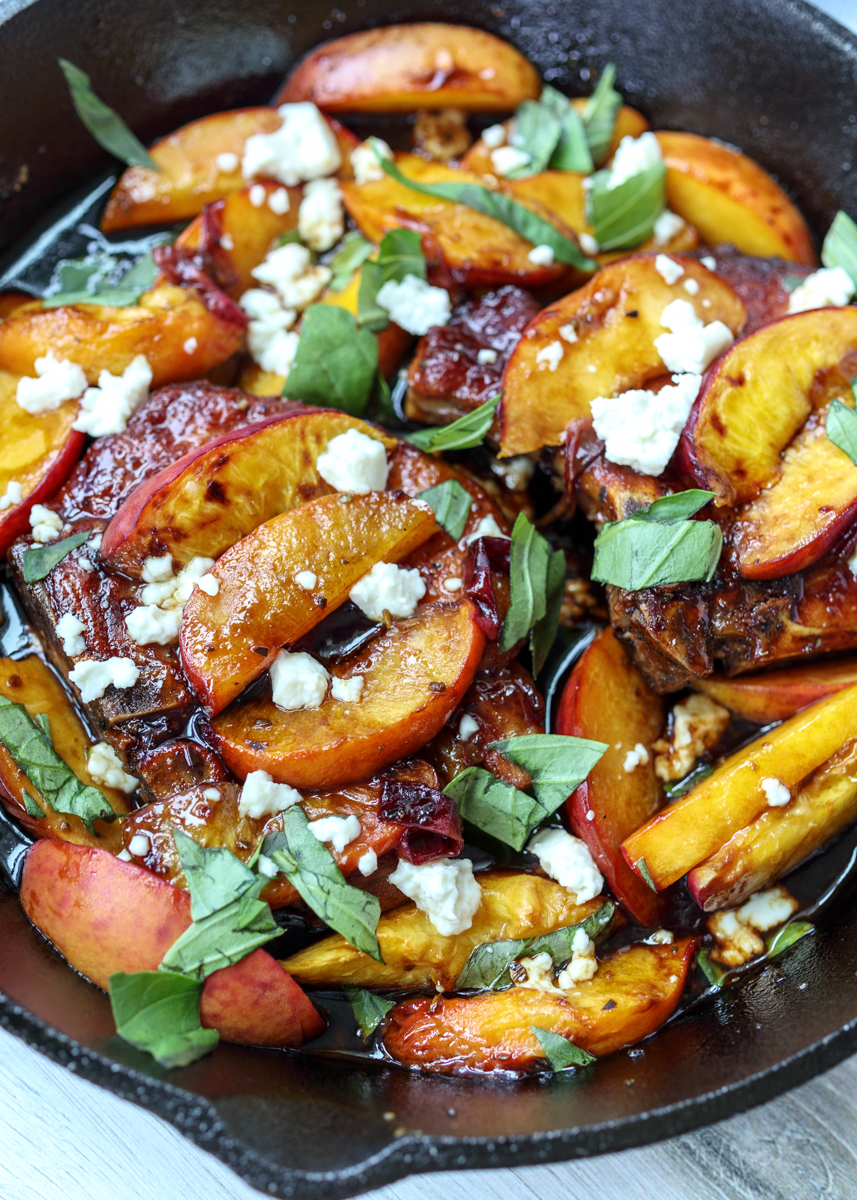 Skillet Balsamic Peach Pork Chops with Feta and Basil
Ingredients
2 bone-in pork chops, about ¾" thick
1 tablespoon olive oil
½ cup balsamic vinegar
1 tablespoon honey
1 teaspoon dried oregano
2 peaches, pitted and sliced
⅓ cup fresh basil, roughly chopped
Feta, for topping
Directions
Heat the olive oil in a cast iron skillet over medium-high heat. Season both sides of the pork chops with salt and pepper. When the olive oil is hot, add the pork chops and sear both sides for 3-4 minutes each. Reduce the heat to medium and continue to cook for 8-10 minutes, or until the pork reaches an internal temperature of 145 degrees F.
While the pork is cooking, whisk together the balsamic, honey and oregano. When the pork has 2 minutes left in cooking time, pour the balsamic mixture over the pork. Remove from the heat when the pork has reached 145 degrees F and add the peaches. Broil the skillet for 4-5 minutes or until the peaches are lightly charred. Top with the basil and feta before serving.
Some of the links above are affiliate links, which means I may receive a small commission for my referral if you purchase something. This does not affect the retail cost of the item. Thank you for supporting Lemon & Mocha!
Recipe slightly adapted from

Half Baked Harvest

.