I always have endless ideas for dinner, but when it comes to lunch I am constantly in need of new recipes. Over the last year, I've found myself searching "healthy lunch recipes" on Google and Pinterest so many times that I figured other people might be searching for the same thing. Especially with school starting back up for a lot of families out there, now seemed like the perfect time to share some of my go-to lunches. So here we are! I've put together a list of my fifteen favorite healthy lunches that I meal prep for Matt and I. A lot of these can do double-duty as a light dinner. All the recipes below can be made ahead of time, which for me is a key criteria for a lunch meal. We have a set of glass meal prep containers from Amazon that we love and that you'll see in a few of the photos below.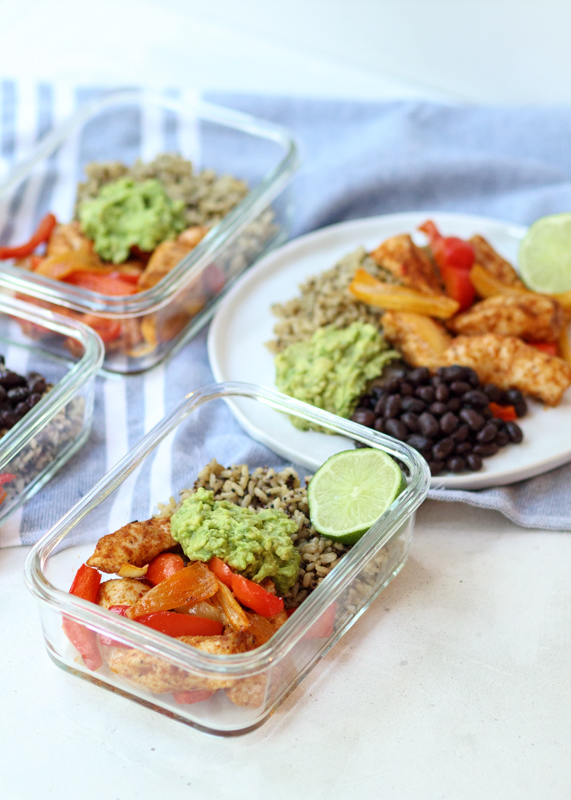 1. Sheet Pan Chicken Fajita Bowls
Is there anything better than meal-prepping all on the same sheet pan? These fajita bowls are loaded with chicken, peppers, onions, brown rice, black beans and a quick guacamole. No marinating required.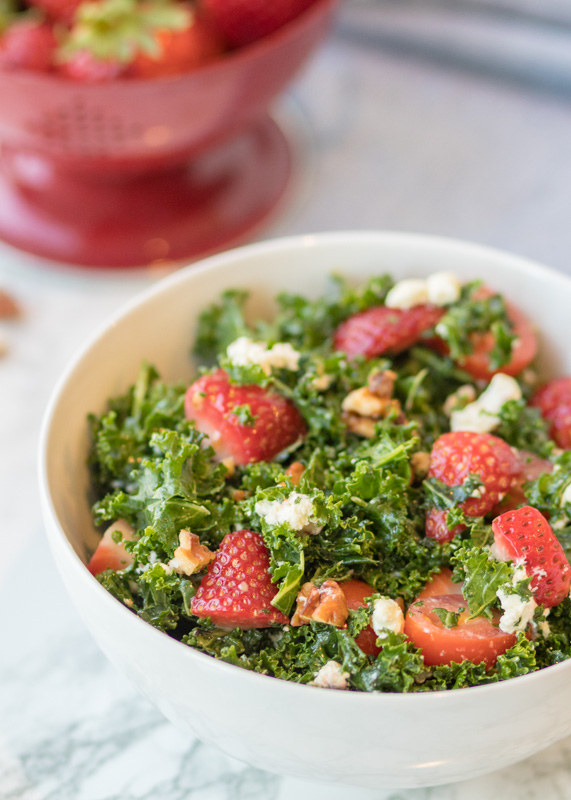 2. Strawberry Kale Salad with Goat Cheese & Pecans
Kale salads are a game-changer for making meals ahead of time since you toss the greens with the dressing well before eating. If you think you aren't a kale fan, you probably haven't had it properly prepared. My recipe has plenty of tips to make sure your kale is just right before loading it up with fresh strawberries, creamy goat cheese and crunchy pecans. Feel free to add some grilled chicken if you don't want to go meatless.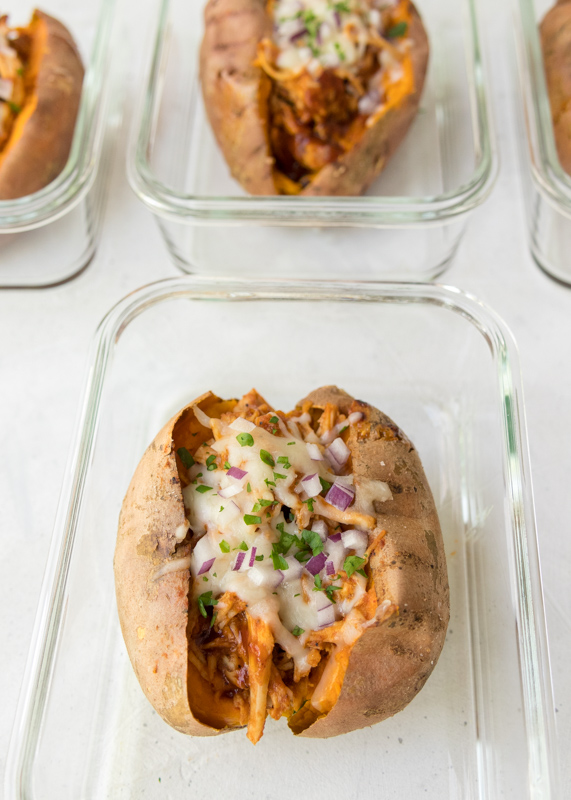 3. Barbecue Chicken Stuffed Sweet Potatoes
Ultimate healthy comfort food right here. In under 15 minutes you will have a healthy BBQ sauce that has no refined sugar and is much lower in sodium than any store-bought brand. Best served smothered over juicy shredded chicken, a tender sweet potato and the perfect amount of melted cheese.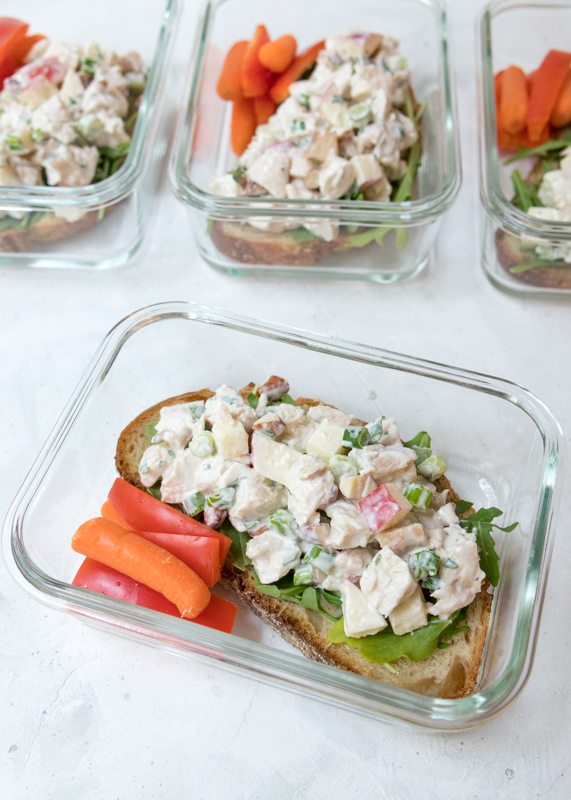 4. Open-Faced Chicken Salad Sandwiches
I couldn't write up a list of lunch ideas and not include a sandwich! Typically, I don't think of sandwiches when I think of healthy, but I snuck a few tricks into this recipe to really lighten it up. The base of the chicken salad is nonfat Greek yogurt, but I promise you will not even notice the change since I've loaded so many crunchy and delicious goodies into the chicken salad as well.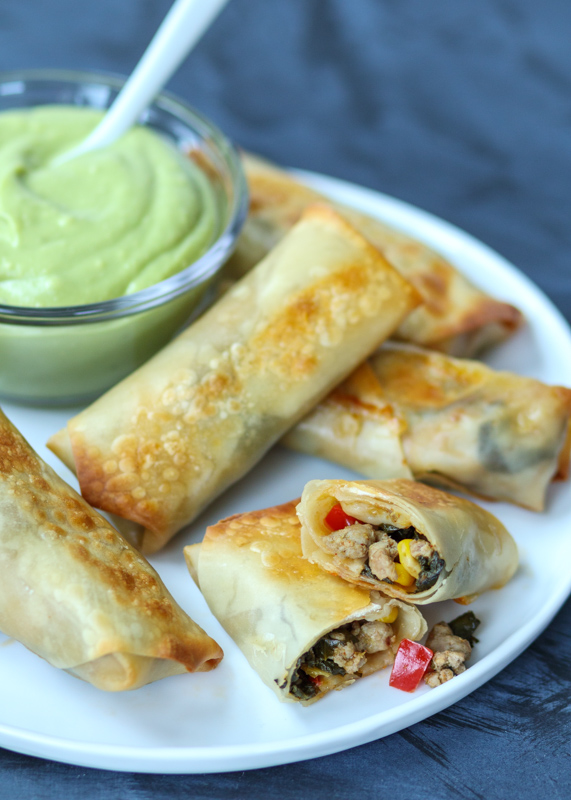 5. Southwest Turkey Baked Egg Rolls with an Avocado Dipping Sauce
If you read my blog regularly or follow me on Instagram, you will know that I am obsessed with this dish. These flavor packed egg rolls are stuffed with ground turkey, spinach and corn before being baked to crispy perfection.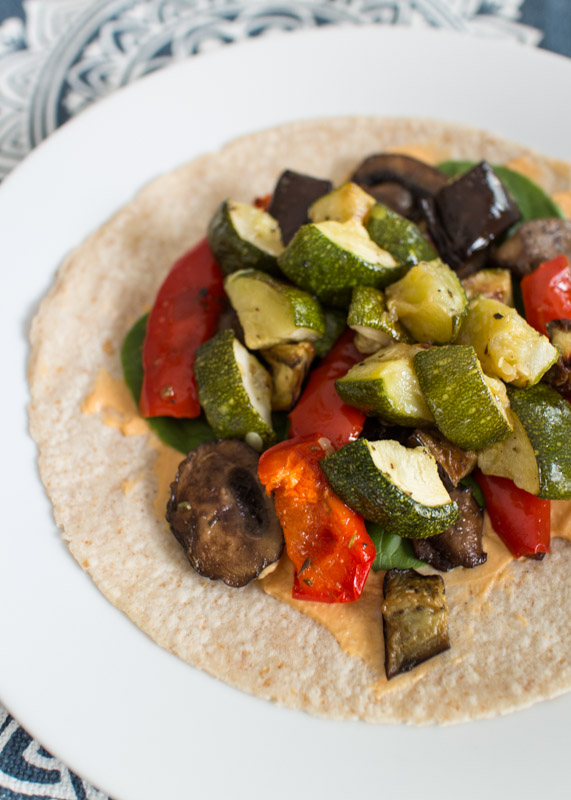 6. Roasted Veggie Hummus Wraps
If you have never had hummus with roasted vegetables you are missing out! This recipe includes my favorite combination of red bell peppers, zucchinis, eggplant and cremini mushrooms. Make sure you read my tips for grocery shopping for a healthy wrap.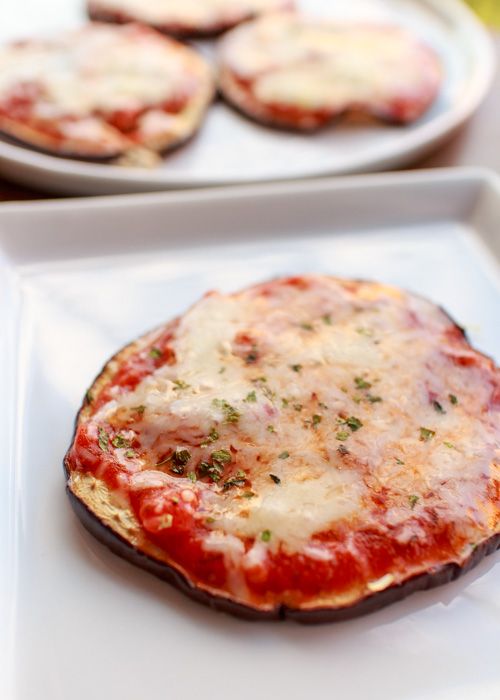 7. Mini Eggplant Pizzas
Forget the cauliflower pizza craze – zesty sauce and melty mozzarella on a meaty roasted eggplant slice is where it's at! This quick meal could not be more simple, which is great because you are going to want it again and again.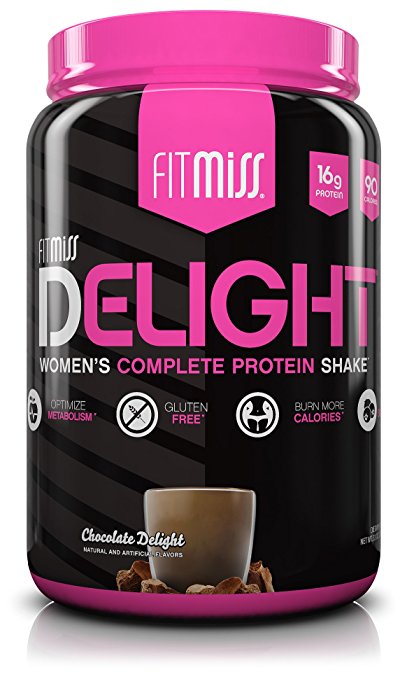 8. FitMiss Delight Protein Powder
I want to accurately share all our favorite go-to healthy lunches so I am including this FitMiss protein powder. I think eating whole foods is very important, but sometimes you just need a quick meal and don't feel like prepping something to eat. I have tried a lot of shake mixes and the FitMiss Delight is my absolute favorite. It mixes super smooth and the taste is great. I mix mine into nonfat milk for some added calories, protein and calcium, but other people I know mix it into almond milk. The chocolate and the vanilla chai are both equally good in my opinion. I know a bunch of people that used to do the Shakeology brand shakes and switched over to FitMiss because the flavor and affordability was so much better. You can buy the powder on Amazon, although sometimes I see it in the pharmacy or supplement stores. Here is the blender bottle that I use. I see them at Marshalls and TjMaxx by the fitness equipment all the time.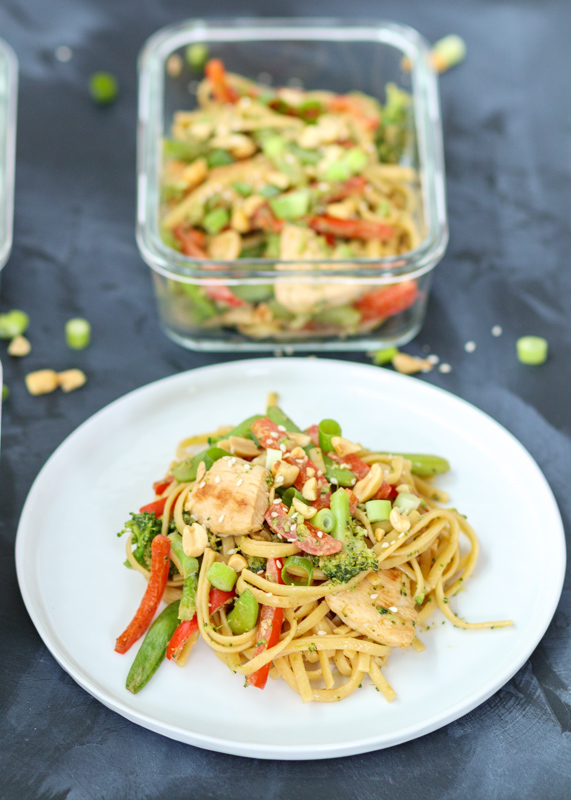 9. Sesame Peanut Noodles with Chicken
Noodles – check. Juicy chicken – check. Loads of veggies – check. A creamy and addictive sesame peanut sauce to drizzle over the whole dish – definite check.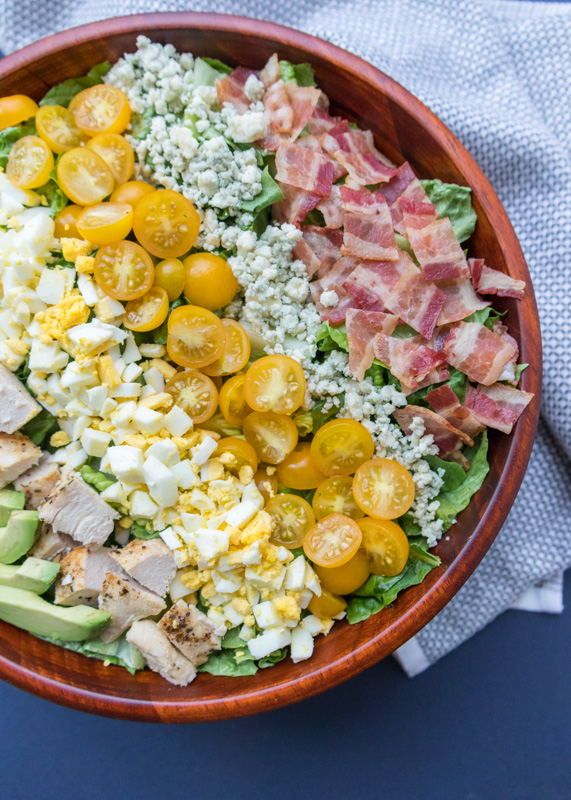 10. Chicken Cobb Salad with Creamy Avocado Dressing
Cobb salad gets a bad rap as being unhealthy, but I've made a few adjustments so that you can enjoy it guilt free. The main swap is the homemade avocado dressing. It's super creamy from the avocado and uses just 1/2 tablespoon of olive oil per serving.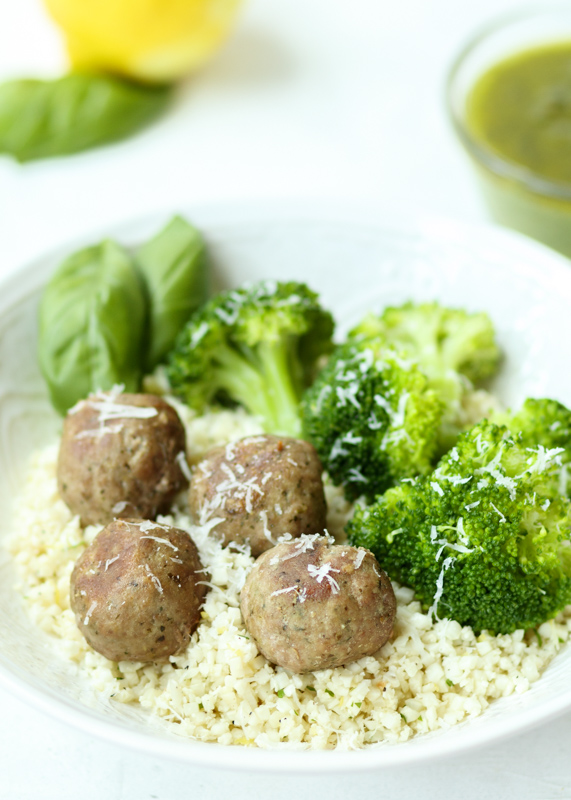 11. Baked Pesto Turkey Meatballs over Lemon Cauliflower Rice
Pesto gets baked right into the turkey meatballs to pack a big punch of flavor and juiciness. Serve them with some green veggies over a quick lemon cauliflower rice and you will never notice your lunch is carb-free.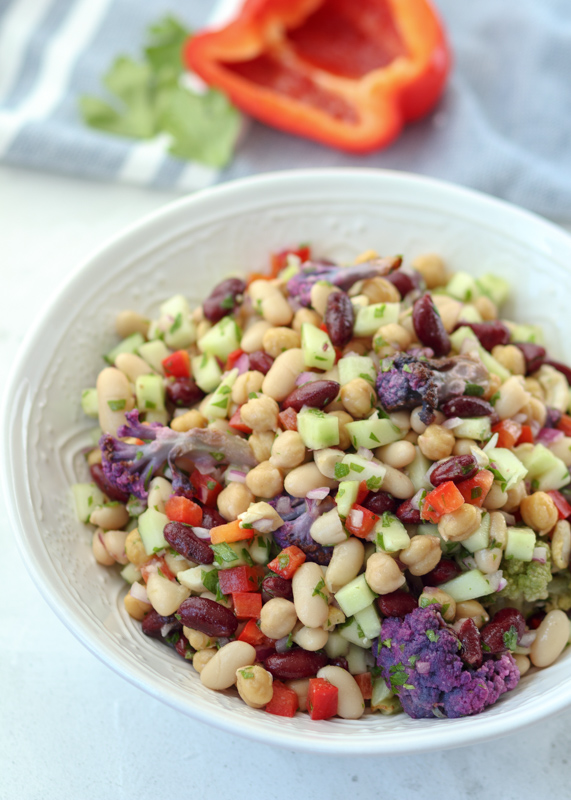 12. Three Bean & Roasted Cauliflower Salad
I love this salad in the summertime. It's colorful, packed with protein and full of healthy veggies. Forget the weekend barbecue – keep this one all to yourself for healthy lunches all week long.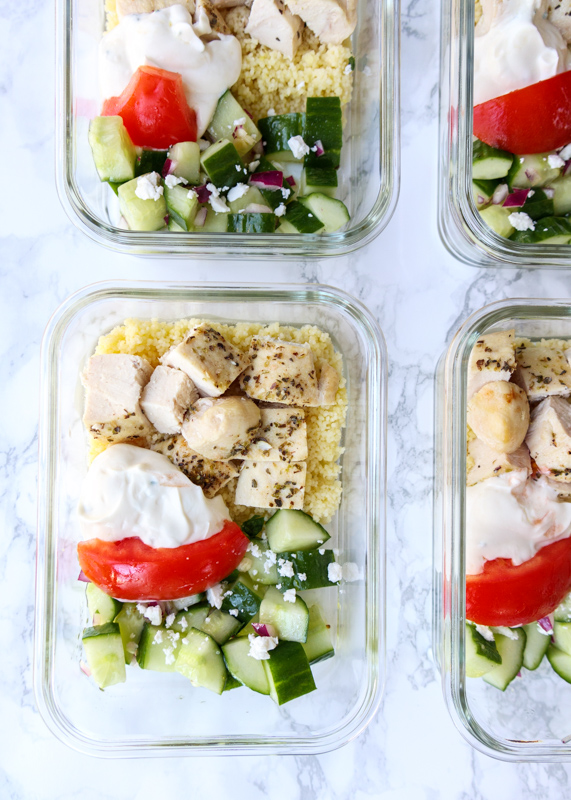 13. Greek Chicken Bowls
Greek chicken, cous cous, a quick cucumber salad and an easy yogurt sauce come together for a healthy lunch that will have your coworkers jealous.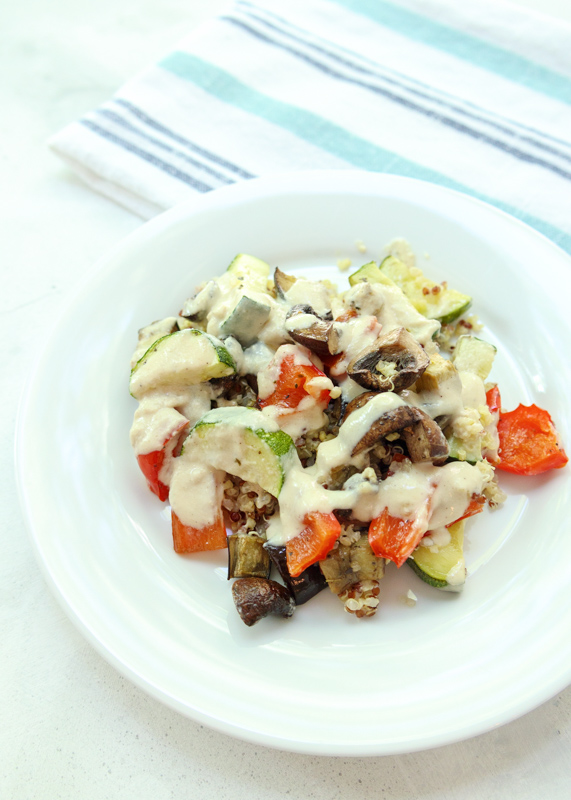 14. Roasted Vegetable Quinoa Tahini Bowls
Yes, I have a thing for roasted veggies, but they are a great – and super easy – way to bring a lot of flavor to your vegetables. Matt and I had this lunch on repeat last winter mostly because the tahini dressing is out-of-this-world tasty. If you don't want to go vegetarian, toss in some rotisserie chicken as well.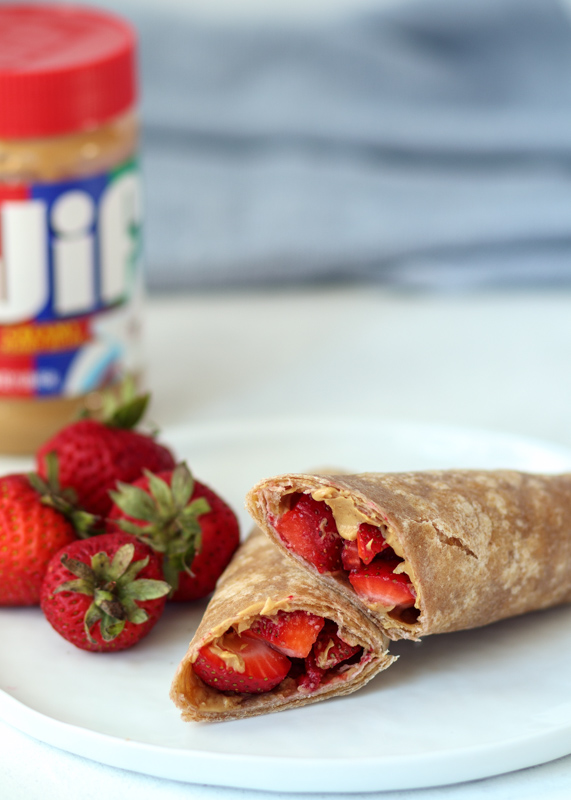 15. Peanut Butter Strawberry Wrap
Finally, I'm ending on a slight twist of a classic peanut butter and jelly sandwich. Load a healthy wrap up with your favorite nut butter and fresh berries – we prefer strawberries – and you will be one happy luncher. Don't forget the carrot and celery sticks!
I hope these recipes provided plenty of inspiration to eat healthy all week long! Let me know if you try any of them in the comments below.