Healthy Open-Faced Chicken Salad Sandwiches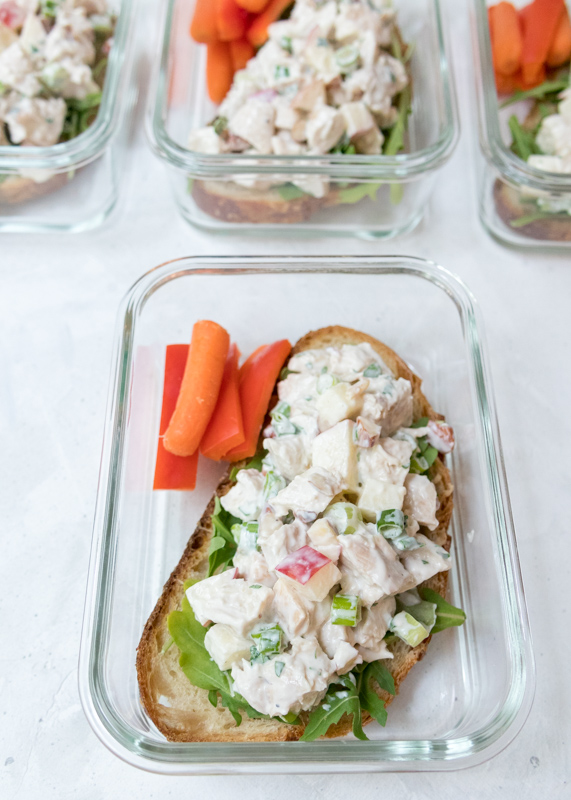 How many posts have I started with, "I'm so excited to share this with you!"? I think that's okay though because I only ever share recipes here that I think you NEED in your life so it makes sense for me to always be excited! These Healthy Open-Faced Chicken Salad Sandwiches have me really excited for several reasons, but mostly because the chicken salad is just damn delicious! Now, as many of you know, I am mayonnaise obsessed. At least half of you are probably cringing right now (I know Matt is!), but I've just always been hooked. Mayonnaise and healthy don't exactly go together so I challenged myself to make a mayo-free chicken salad that wouldn't make me miss the mayo at all. Well, as mayo-free as possible – I did throw in just one little tablespoon of mayo (which is less than a teaspoon per serving). Sorry, I can't help it!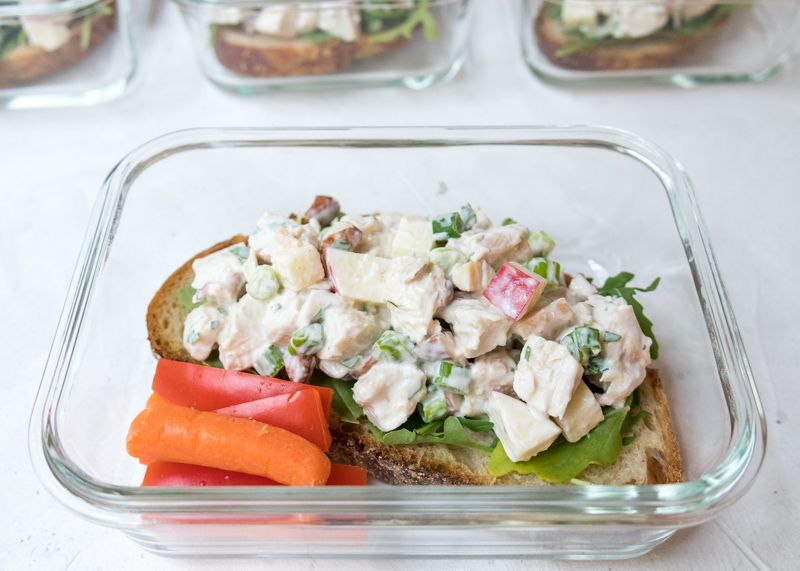 I was completely prepared to hate this chicken salad. I thought with subbing in plain Greek yogurt that would be all I would taste and that it would be okay, but not a solid substitute for the classic. I was so wrong and I'm so excited about it! I didn't miss all the mayo one bit! The apple cider vinegar, Dijon, parsley and scallions give this chicken salad so much flavor and the crunch from the apple and the almonds keeps it from being anything but boring.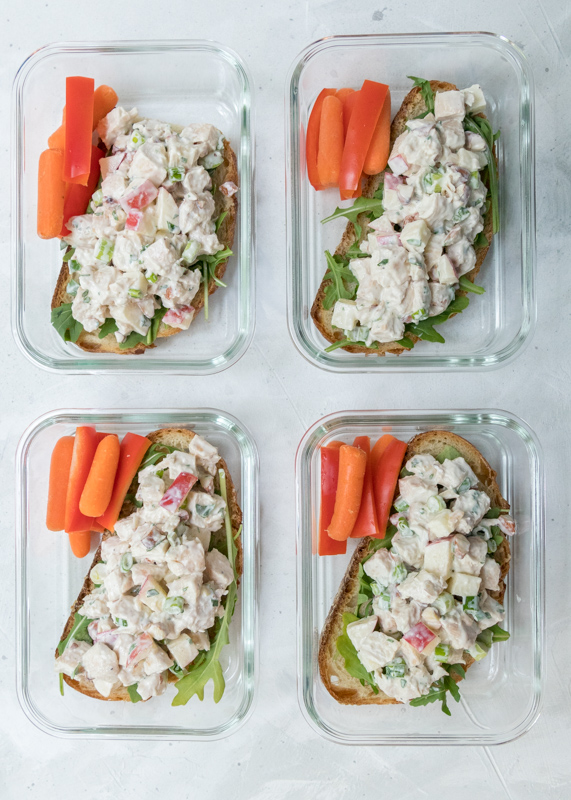 Another reason this chicken salad has so much flavor packed in is that I used grilled chicken. I love grilling chicken in the summertime and this sandwich is the perfect reason to throw a few extra chicken breasts on your grill. Matt hates chicken salad because he doesn't like mayo and even he was chowing down on these!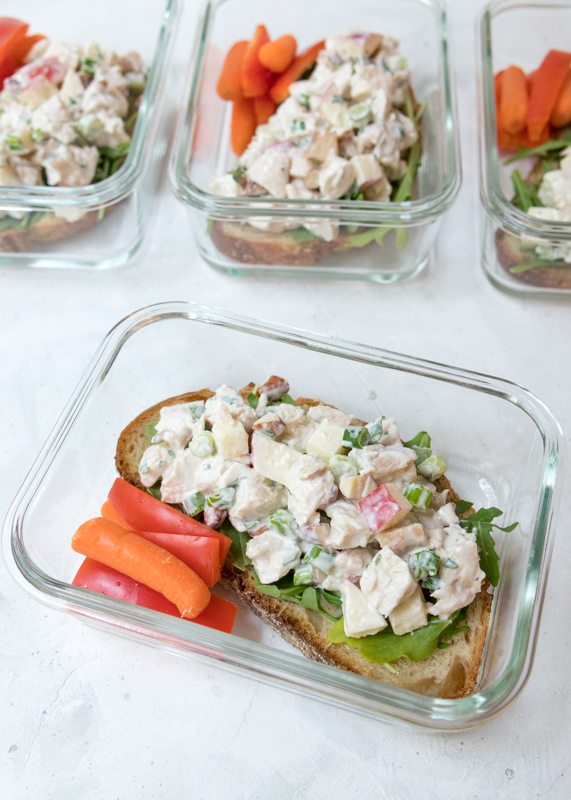 The chicken salad tastes great on its own or on a green salad, but my favorite way to eat it is as these Open-Faced Chicken Salad Sandwiches. I love using locally baked sourdough bread as a healthier option. I am allergic to oats and most multigrain breads have rolled oats, oat flour or oat fiber in them. Although sourdough is similar to white bread in terms of calories and carbs, it is usually made with no sweeteners or oils, doesn't require extra preservatives and is higher in protein. A lot of people also find it much easier to digest due to the lactic acid present as a result of the baking process. I also love how it's soft and chewy with a bit of a tanginess to it. It holds up really well to this chicken salad and tastes so good with a little bit of fresh arugula for some added green veggies. I hope you enjoy this one! If you try a recipe, don't forget to let me know how it was in the comments – I love hearing from you all!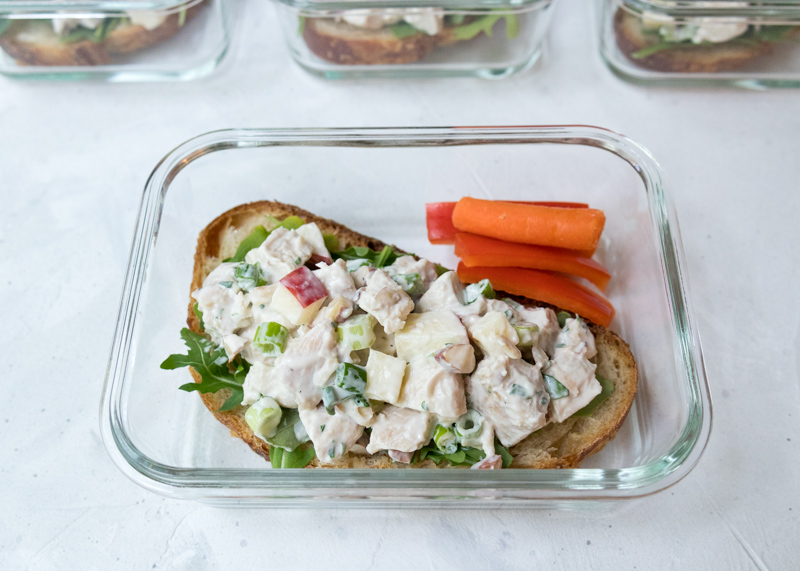 Healthy Open-Faced Chicken Salad Sandwich
Ingredients
for the chicken salad
1 pound boneless skinless chicken, grilled, about 2.5 cups cooked
½ cup diced apple
¼ cup chopped almonds
¼ cup sliced scallions
⅓ cup plain nonfat Greek yogurt
1 tablespoon mayonnaise
1 teaspoon apple cider vinegar
½ teaspoon Dijon mustard
¼ teaspoon salt
Fresh ground pepper
1½ tablespoons fresh chopped parsley
for the sandwich
4 slices sourdough bread
1 cup arugula
Carrot and red pepper slices for serving, optional
Directions
for the chicken salad
Dice the chicken. Toss in a medium mixing bowl with the diced apple, chopped almonds and sliced scallions. Add the yogurt, mayonnaise, vinegar, Dijon, salt, pepper and parsley. Stir well to combine.
for the sandwich
Put the sourdough bread on 4 plates or in 4 meal prep containers. Divide the arugula between the 4 slices of bread. Top with the chicken salad, dividing between the 4 slices of arugula topped bread. Add carrot and red pepper slices to container, if using.