Roast Chicken with a Pomegranate Molasses and Apricot Glaze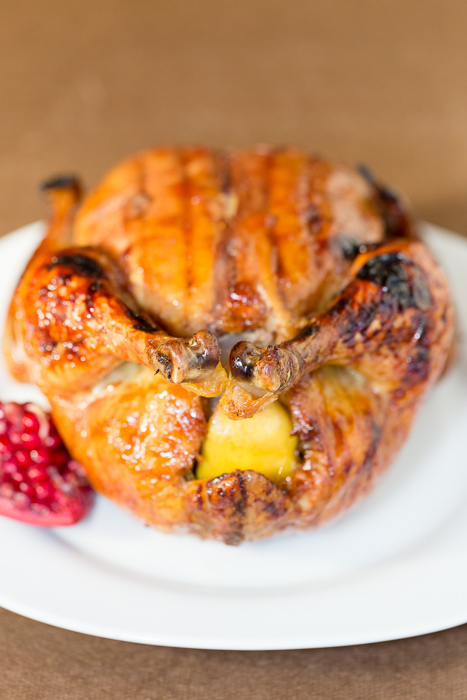 The first time I made a whole roast chicken was all due to a happy accident. Vehicle-less and not wanting to lug groceries on the T, my college roommates and I decided to test out Peapod online grocery delivery service. After the roommates and I added all our items, Matt added a couple of his own before completing the order. When it arrived a couple days later I pulled out an entire ten pound chicken. What college student buys a ten pound chicken? Especially in an apartment where we were living on grilled cheeses, frittatas and pasta! Turns out in his haste Matt accidentally ordered a whole chicken instead of chicken breasts. So we stuck it in the freezer until we could work up the courage to tackle the bird.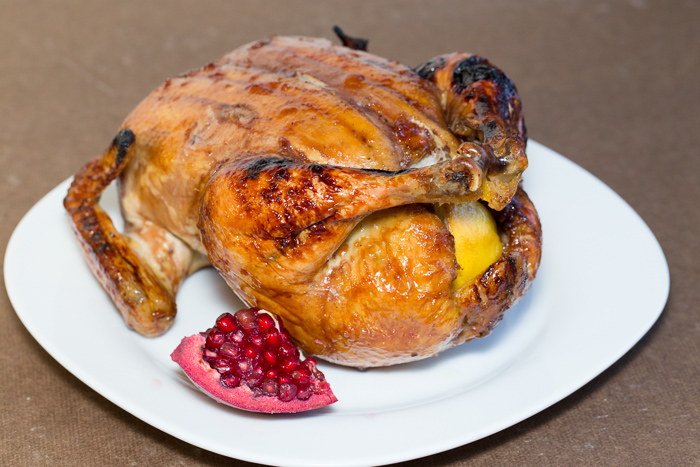 But when we finally did and took the first bite out of our labor of love we had seasoned, buttered and basted for hours, it was absolutely glorious. There is something so delicious about a roast chicken. It could be that the anticipation goes to your head while you're waiting for it to cook. It might be that you get overwhelmed by a sense of accomplishment at having completed such a monumental task.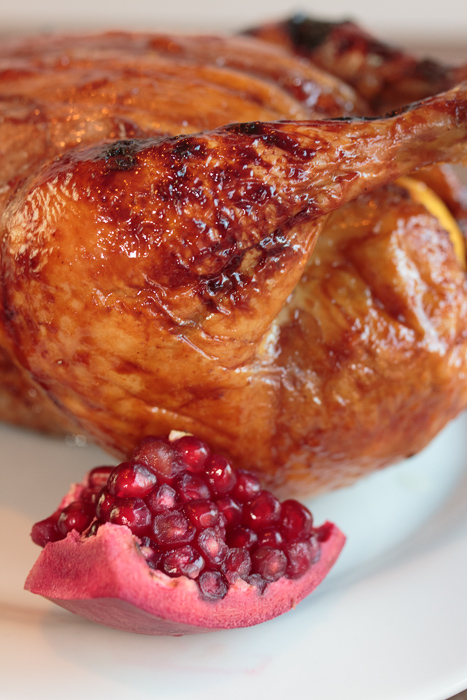 But if I was to really try and put my finger on it I'd have to keep it simple: from the juicy white meat to the tender thighs to the crispy skin a whole roast chicken is just damn tasty. This pomegranate molasses and apricot roast chicken is certainly no exception. The meat is moist, flavorful and fragrant, while the exterior is sweet and sticky. Finger-lickin' great chicken.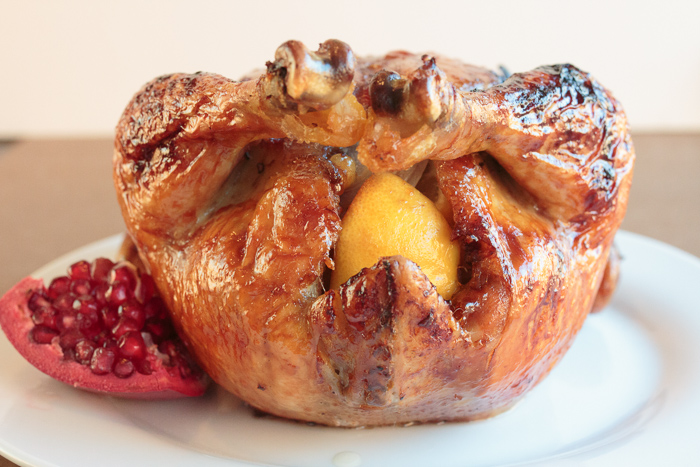 You will wish you had five ovens so you could whip up a whole bunch of these bad boys at once. If you have never made roast chicken before don't be shy! I promise you that if a couple of grilled cheese making college kids can do it then so can you. And if you have made a whole roast chicken before then you will regret not giving this one a shot. So go ahead, use some of that precious pomegranate molasses and tackle that bird.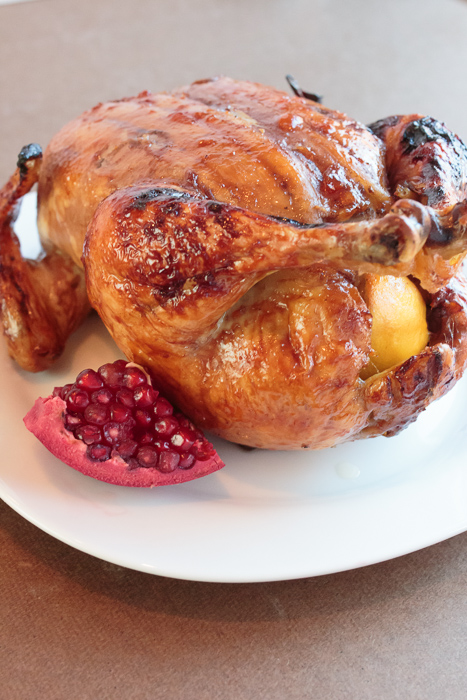 Roast Chicken with a Pomegranate Molasses and Apricot Glaze
Ingredients
4-6 pound chicken, giblets removed
1 orange, cut in slices
1 lemon, cut in slices
½ onion, cut in half
2 cloves garlic
¼ cup pomegranate molasses
¼ cup orange juice
3 tablespoons apricot jam
1 tablespoon lemon juice
1 tablespoon melted butter
Salt and pepper
Directions
Preheat the oven to 450 degrees F.
Rinse the chicken inside and out and dry thoroughly.
Salt and pepper then inside of the chicken the stuff the cavity with the orange slices, lemon slices, onion pieces and garlic cloves.
Use kitchen twine to tie the legs together, tucking the wings under the body of the chicken. Place the chicken breast-side down on the roasting rack in a deep roasting pan.
Roast the chicken for 15 minutes. Use the melted butter to baste the chicken allover. Reduce the oven temperature to 375 degrees F and continue to cook for 45 minutes. After 20 minutes baste the chicken again with butter.
While the chicken is in the oven make the glaze. Whisk together the pomegranate molasses, orange juice, apricot jam and lemon juice until combined. Season with salt and pepper.
After the 45 minutes are up flip the chicken so the breasts are up then coat allover with the glaze. Cook for 30 minutes, basting with the glaze again after 15 minutes. Remove from the oven when the chicken reaches an internal temperature of 165 degrees F or when the juices run clear when you cut between a leg and thigh.
Recipe adapted from

The Global Jewish Kitchen
.