Weeknight Minestrone Soup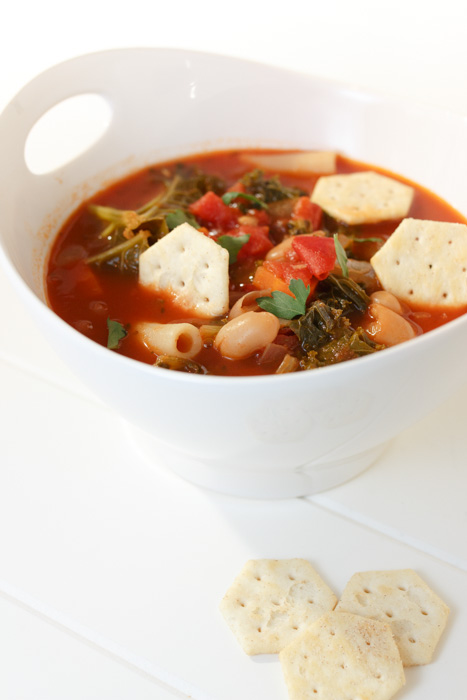 I've been really into soups lately. Not that I previously disliked soups, they just weren't in my weekly routine mostly due to the fact that I always end up burning my tongue. Probably the same reason I don't like hot coffee and let my hot chocolate come to almost room temperature so I can gulp it down, tongue intact. I guess I could also just try being patient, but that's not really my thing when it comes to food.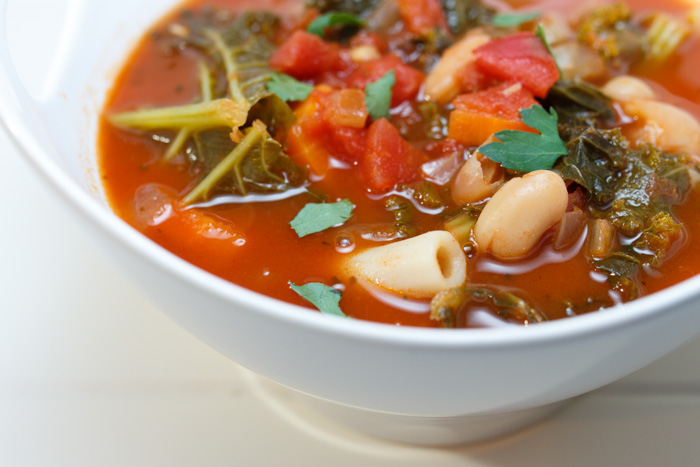 Lately though, I've been putting aside my fears of burnt tongues and really digging soups. It all started with this cauliflower soup. The next week I made a broccoli version and the week after I made it with roast mushrooms. By the fourth week Matt and I decided I needed to expand my soup-making horizons. Enter this weeknight minestrone soup. Yum.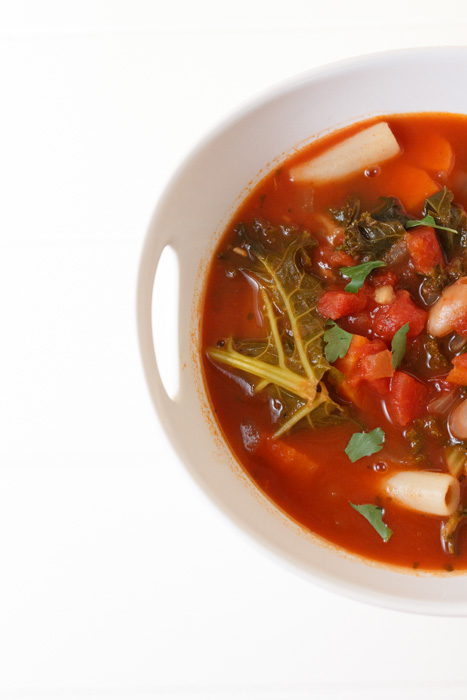 Now this soup was so quick to make that I had serious doubts about the level of deliciousness that it would reach. Doubts be damned, this soup is tasty! A perfectly well-balanced minestrone soup with a light tomato base full of perfectly seasoned and softened vegetables, beans and pasta.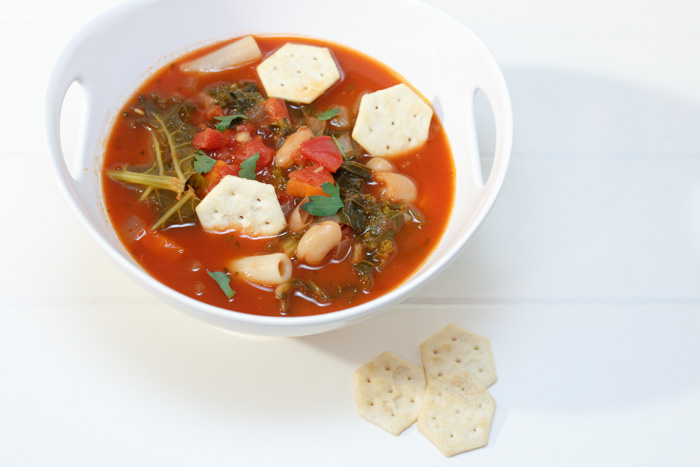 I kept mine pretty traditional, other than the addition of kale, but you could customize this in any way that suits you. The next time I make it I might include some zucchini for extra greenery. And some mushrooms because I have a mushroom addiction. But that's just me.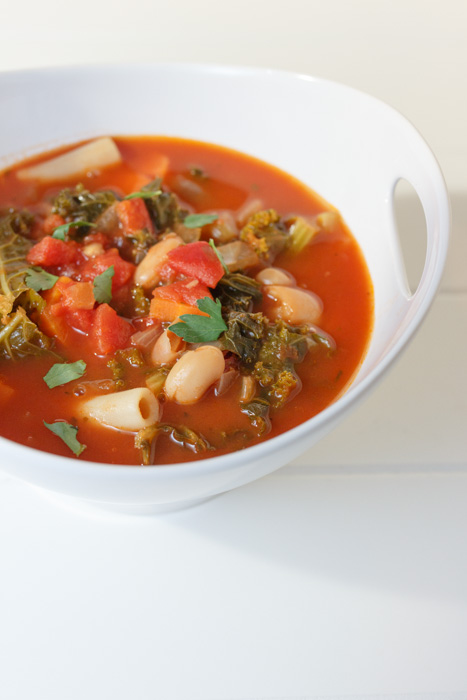 Weeknight Minestrone Soup
Ingredients
2 tablespoons olive oil
1 large onion, diced
4 cloves garlic, minced
2 stalks celery, diced
1 large carrot, diced
1 teaspoon dried oregano
1 teaspoon dried parsley flakes
1 teaspoon paprika
3 cups chopped kale or baby spinach, hard stems removed
6 cups low sodium vegetable broth
1 28 ounce can crushed tomatoes
1 14 ounce can no-salt-added diced tomatoes
1 15 ounce can kidney beans, drained and rinsed
1 cup small-shaped whole wheat or brown rice pasta
Fresh grated Parmesan cheese and chopped parsley for topping
Salt and pepper
Directions
Heat the olive oil over medium-high heat in a large pot. Add the onion and cook for about 5 minutes, or until translucent. Add the garlic and cook until fragrant, about 30 seconds. Add the celery and carrot and cook for about 5 minutes, or until they begin to soften. Add the dried oregano, parsley flakes, and paprika, then season with salt and pepper. Add the kale or spinach and cook until wilted, about 5 minutes.
Add the vegetable broth, crushed tomatoes and diced tomatoes then bring to a boil. Reduce the heat to medium-low and add the pasta and beans. Cook for 10 more minutes, or until the pasta and vegetables are tender. Season with salt and pepper.
Serve hot topped with fresh grated Parmesan cheese and chopped parsley.
Recipe slightly adapted from the

Food Network
.