Sesame Peanut Noodles with Chicken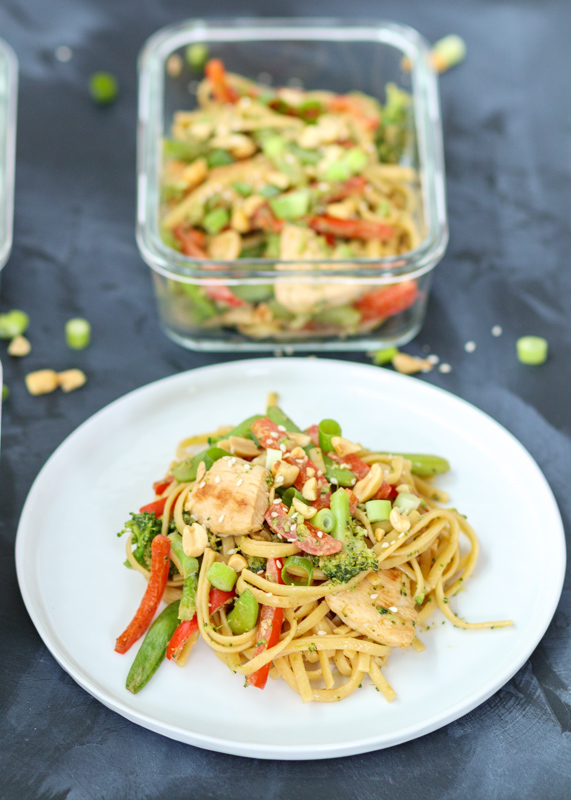 You know this is a quick and easy recipe since it's from the "10-Minutes Meals" section of my Cook This, Not That! cookbook! Now, I've never accomplished this meal in quite that short of a time frame before, but it's still a fast meal to whip up. I got this little cookbook the year after I graduated college and I cooked about 13 different meals from it for Matt and I that year.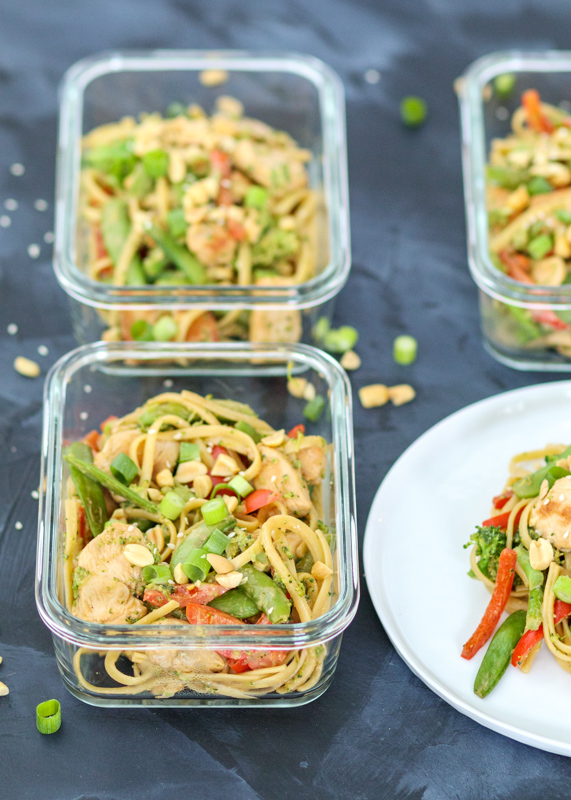 Whenever I get asked about my favorite cookbook I always laugh and mention Cook This, Not That! It's such a little cookbook and it's not by any celebrity chef, but I've actually cooked a fair amount of recipes from it and they've always been really good! In fact, one of my favorite go-to meals, whether it's just Matt and I or we're having company, is this Chicken Cordon Bleu from the cookbook. I've never made these Sesame Peanut Noodles with Chicken for company, but I make them for Matt and I as make-ahead lunches or dinners whenever we are in the mood for an Asian noodle fix.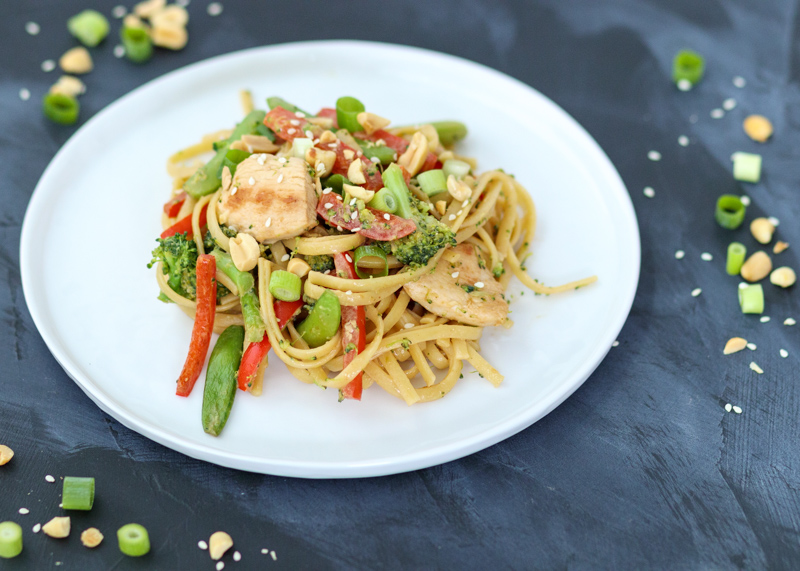 The sauce is creamy, tangy and super peanut-ty. I'm obsessed with peanut butter, like most people without nut allergies, so I love that the peanut taste really comes through here. Every time I make it I just want to start pouring it on everything! And by everything I mean on food items so I can then eat them, not covering items in my house with peanut sauce for no reason. I don't know why I said no reason, I don't think there would ever be a reason you would cover household items with peanut sauce, but anyways I'm getting sidetracked here!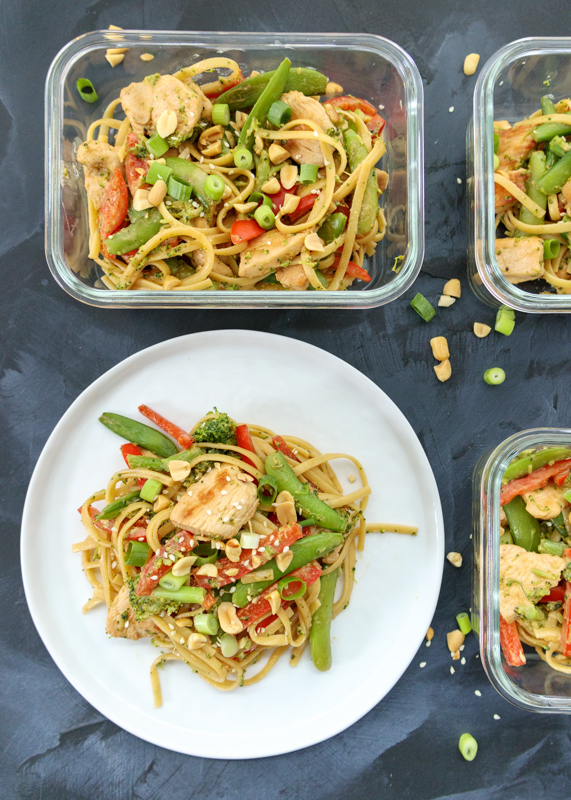 I throw in sautéed chicken, broccoli, red bell peppers and snow peas, but you could switch it up with whatever protein and vegetables you would prefer. This would be so good with some flank steak, peppers, onions and asparagus – yum! You can also use whatever type of pasta you prefer; I like using long noodles for this, but sometimes I switch up the type of long noodle and use brown rice noodles or whatever else is in my pantry.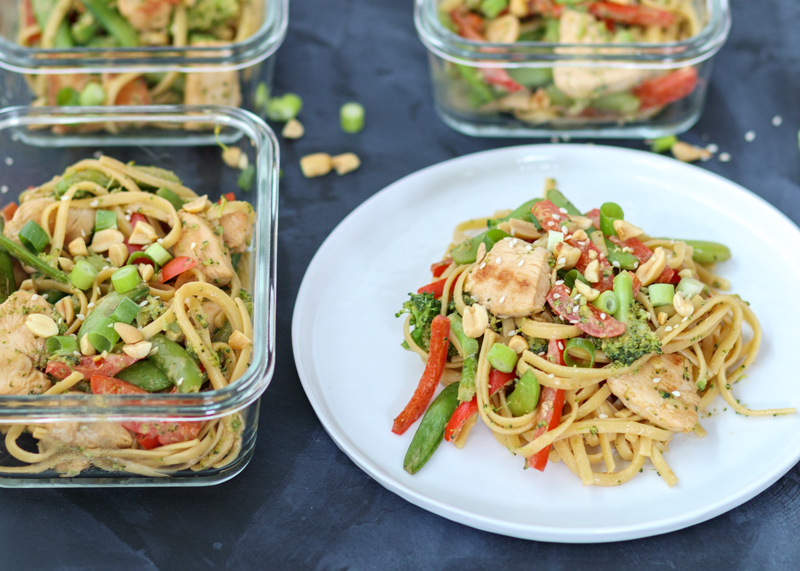 The chopped peanuts, toasted sesame seeds and scallions on top add the perfect amount of crunch and texture to this dish. Okay, just describing these Sesame Peanut Noodles with Chicken has made me start craving them so I guess I need to make them again soon! I hope you all enjoy!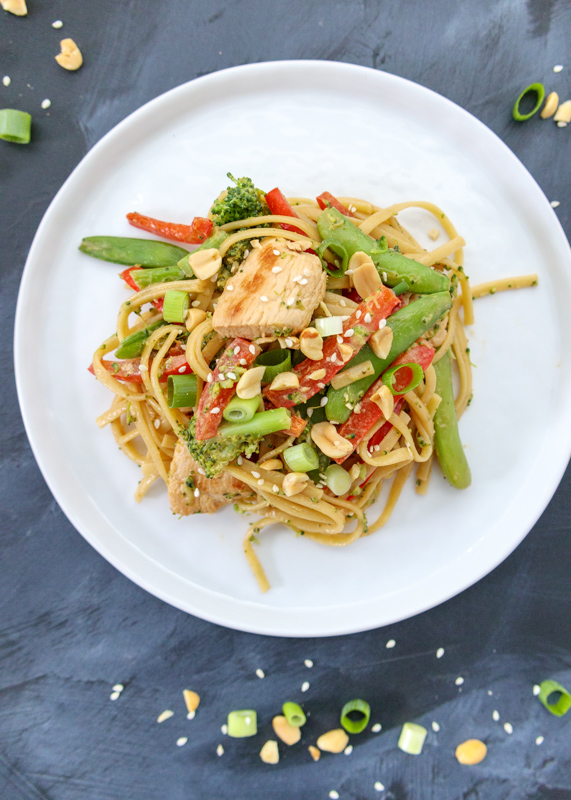 Sesame Peanut Noodles with Chicken
Ingredients
8 ounces linguine pasta
2 cups broccoli florets
1 pound boneless skinless chicken breasts or tenders
1 tablespoon olive oil
1 red bell pepper, sliced
1 cup snow peas, trimmed
3 tablespoons lime juice
3 tablespoons peanut butter
2 tablespoons water
1½ tablespoons soy sauce
2 teaspoons toasted sesame oil, plus more for noodles
Chopped peanuts, toasted sesame seeds and scallions for topping
Directions
Bring a large pot of water to a boil and cook the pasta. When there's 5 minutes left on the pasta, add the broccoli florets. Drain the pasta and broccoli together then toss with a little sesame oil and a little rice wine vinegar in a large bowl to keep the pasta from sticking. If you don't have rice wine vinegar just a little sesame oil is fine.
While the water is coming to a boil, start the chicken and veggies. Cut the chicken into thin slices then cut in half if the pieces are too long.
Sauté the chicken in the olive oil on medium high heat until almost browned. Season the chicken with a little salt and pepper right after putting it in the pan. Add the bell pepper and snow peas. Cook until the bell pepper is tender and the chicken is browned then remove from the heat.
In a small microwave safe bowl, add the lime juice, peanut butter, water, soy sauce and sesame oil. Microwave for 45 seconds and then whisk or stir until combined. Pour over the noodles and broccoli and toss to coat. Add the cooked chicken and veggies then toss to combine. Top with the chopped peanuts, toasted sesame seeds and scallions, if desired.
Notes
I usually use Jif creamy peanut butter for this recipe. I find the natural peanut butters tend to separate and not mix as well when I cook or bake with them. I haven't tried this specific recipe with natural peanut butter so if you do give it a shot let us know how it worked!
This recipe accounts for 2 ounces of pasta per person, which is the FDA's recommended serving size. If you are used to larger pasta portions you can certainly use more! The dish is loaded with chicken and veggies though so we find the dish filling as is.
Recipe adapted from

Cook This, Not That!

.
Some of the links above are affiliate links, which means I may receive a small commission for my referral. This does not affect the retail cost of the item. Thank you for supporting Lemon & Mocha!