Beach Crab Cupcakes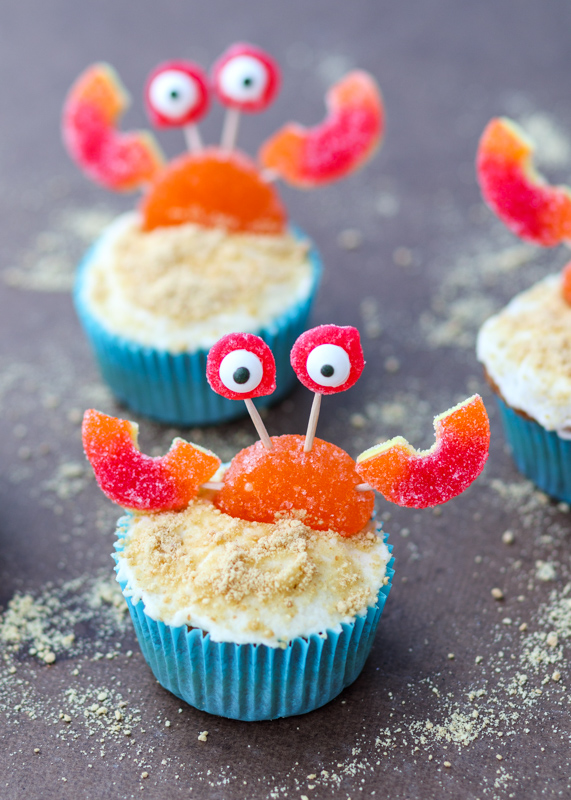 This past week was my family's beach week down at the Delaware shore. Every year my Dad's side of the family gathers together at the beach for a week of lazy beach days, plenty of Leebreezes, and general family shenanigans. As usual, it went by too quickly and we're already counting down until next summer's beach week! Do vacations ever seem long enough?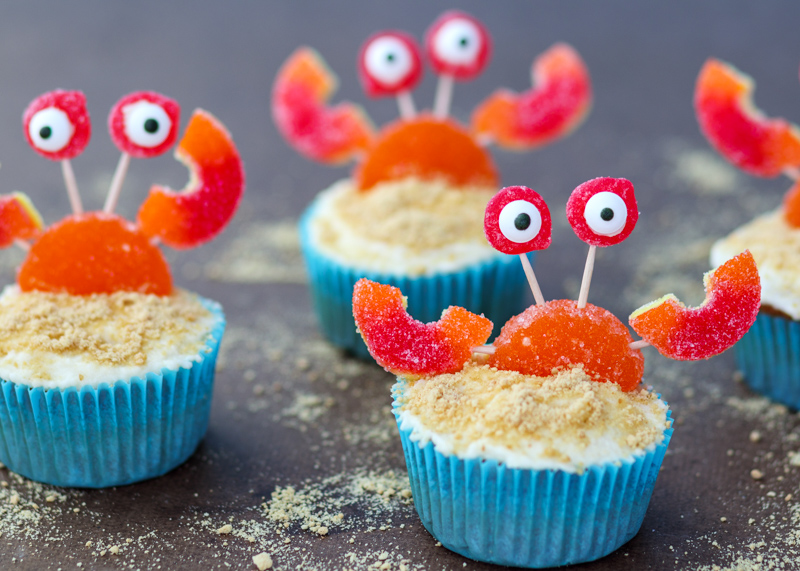 I wanted to bring down a fun treat and when I saw these Beach Crab Cupcakes on Pinterest I knew I had to make them. How cute are these? I don't normally have the patience for decorating, but these were actually very simple.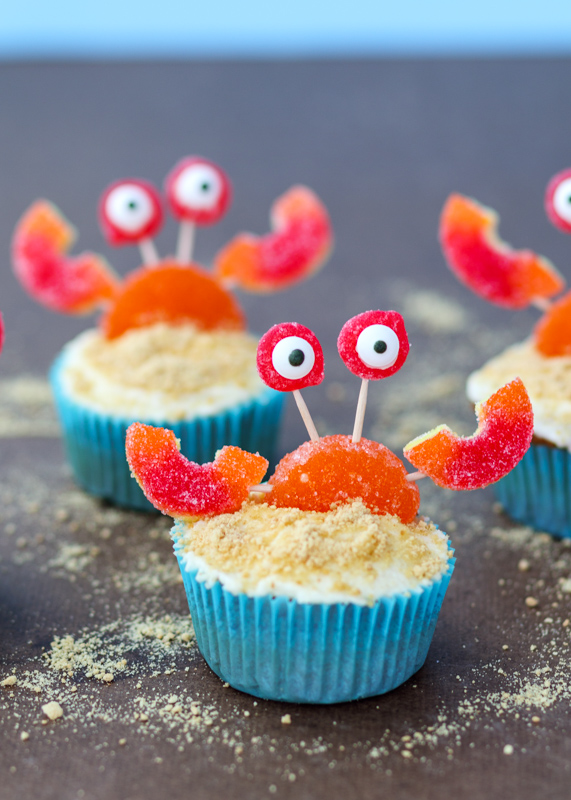 The hardest part was finding a gummy that would work for the eyes. I ended up using Sour Patch Cherry, which I didn't even know was a thing. You stick a candy eye onto each Sour Patch Cherry, or whatever small round sour gummies you can find, for the crab's eyeballs. The claws are made out of gummy peach rings that are cut in half. The crab's body is made of gummy orange slices and finally the whole thing is propped up onto your cupcake and frosting of choice with some halved toothpicks. Don't forget the graham cracker crumb "sand" on top!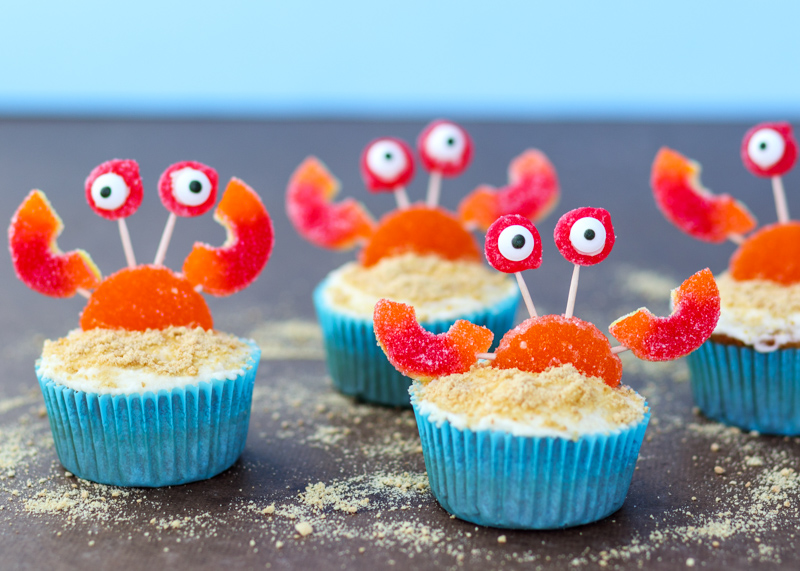 I used my Key Lime Pie Cupcakes with Mascarpone Frosting for these since they were already screaming summer even before I topped them with these adorable crabs. These are great for kids and adults alike, especially the gummy candy eaters like Matt.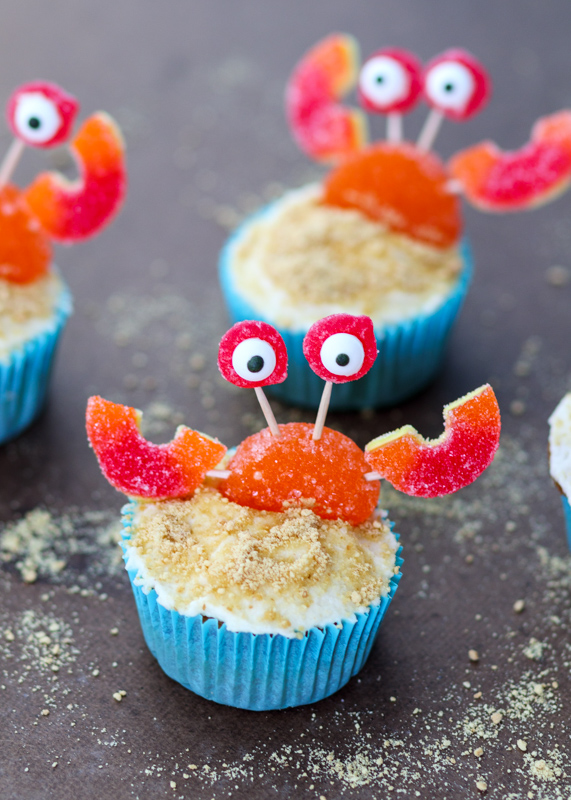 I will definitely be making these again, although I already started brainstorming cute cupcake ideas for next beach week! Happy Friday, everyone!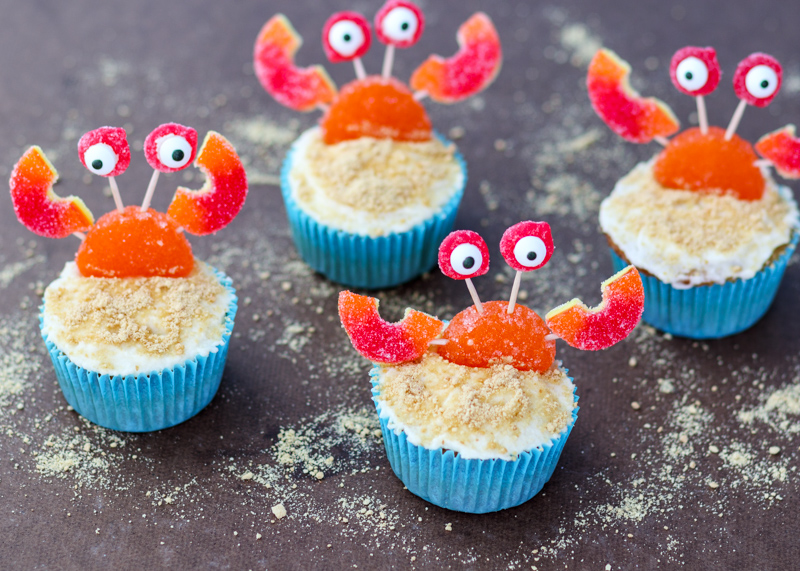 Beach Crab Cupcakes
Ingredients
24 cupcakes
Batch of frosting to frost 24 cupcakes
2 cups graham cracker crumbs
48 Sour Patch Cherries
48 candy eyes
60 toothpicks, cut in half
24 gummy peach rings
24 gummy orange slices
Directions
Frost the cupcakes, reserving a small amount of the frosting for the eyes. Sprinkle the tops of the frosting cupcakes with graham cracker crumbs.
To make the eyes, use a small amount of icing to attach one candy eye to each small round sour gummy. Insert 1 toothpick piece into each prepared eye.
To make the claws, cut the gummy peach rings in half. Insert 1 toothpick piece into each crescent shaped gummy peach half.
To put together the crab, insert a toothpick piece into the bottom of the flat part of the gummy orange slice. This will be how the crab gets set on top of the cupcake. Take the two prepared eye toothpicks and insert them both onto the top curved part of the gummy orange slice. Finally, insert one prepared claw onto each side of the crab. Insert the crab onto a frosted cupcake then repeat for the remaining cupcakes.
Inspiration from

Clean and Scentsible

.