Key Lime Pie Cupcakes with Mascarpone Frosting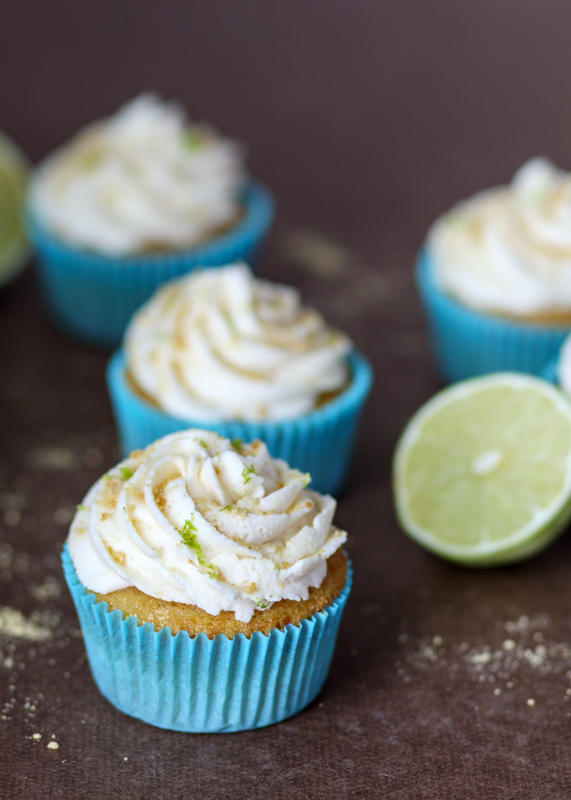 Key Lime Pie Cupcakes with Mascarpone Frosting! Yes! These cupcakes are pure bright, summery and creamy heaven. I love cupcakes, but ever since I started making filled cupcakes I am so spoiled by them. Filling cupcakes isn't difficult, but it gives them that something extra special. First of all, with filled cupcakes you get that surprise factor when you bite into it. Secondly, it adds a third flavor and texture element to the cupcake making the depths of deliciousness that much deeper.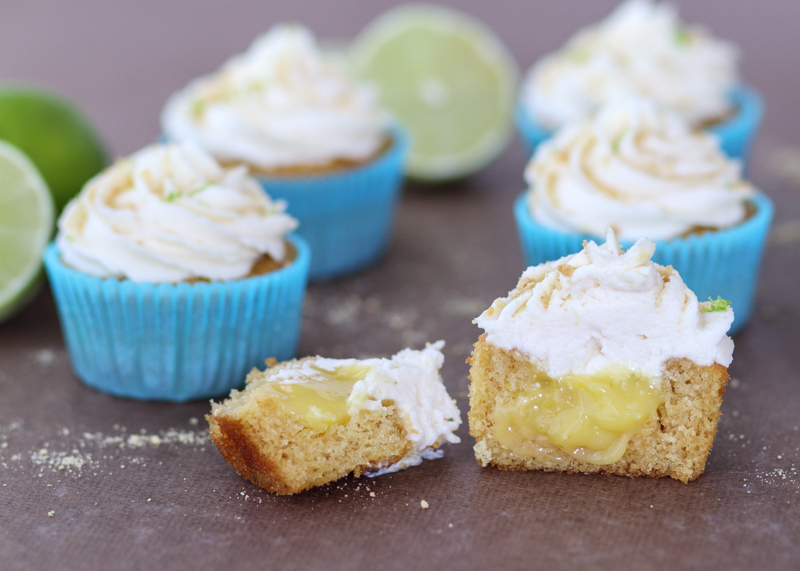 These Key Lime Pie Cupcakes are filled with Monday's creamy key lime curd. I wanted a base cupcake that would pair well with the key lime curd so I went with a moist vanilla cupcake that has a hint of spiced cookie to it since some of the flour is replaced with graham cracker crumbs. I got the idea from June's S'mores Muffins – remember those bad boys?! I love the taste the graham cracker crumbs provided to the muffin so I figured why not replicate it in these vanilla cupcakes.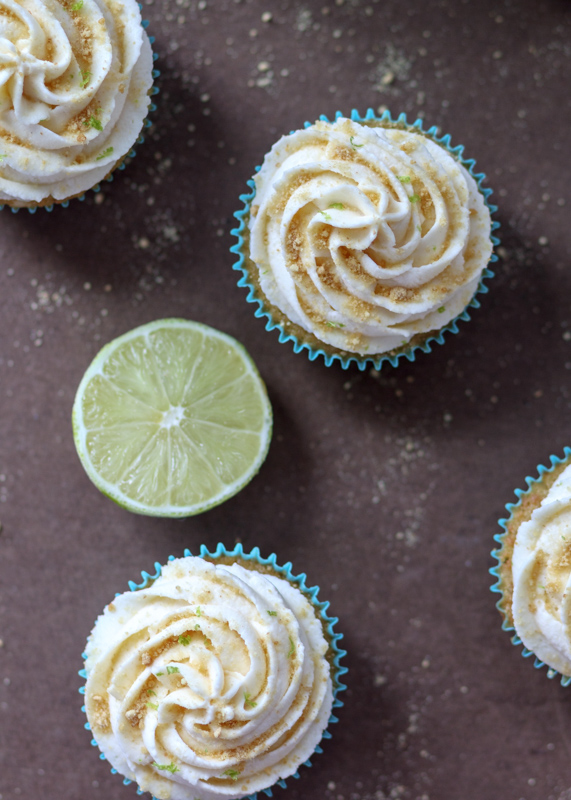 I initially was planning on making a cream cheese frosting for these loaded cupcakes, but I had some mascarpone cheese in my fridge that was begging to be turned into frosting. Mascarpone is made using whole cream so it's a lot creamier and richer than cream cheese. Cream cheese also has more acidity to it and we're already getting enough acidity from the key lime curd filling that mascarpone seemed to be a better fit for the frosting.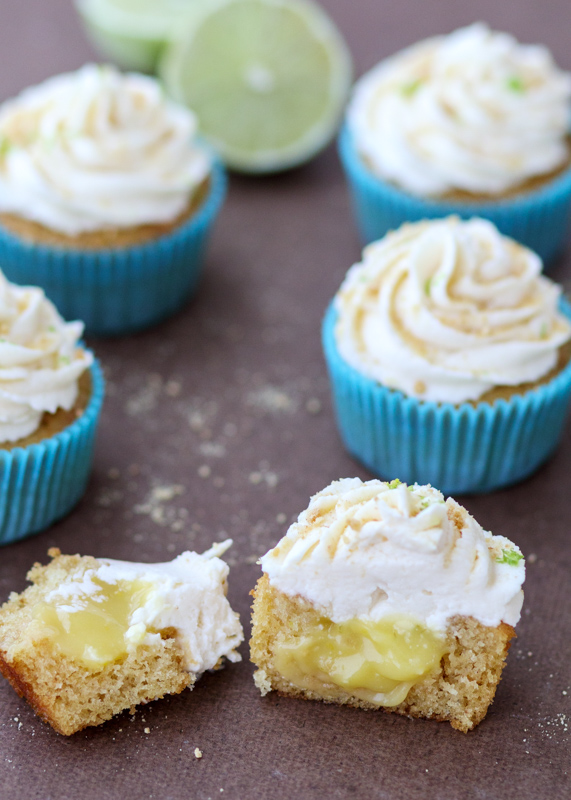 I wouldn't be able to pick a favorite component of this recipe, but this mascarpone frosting? Insane. I can't even describe to you how hard it was to save it for topping the cupcakes and not eat it all. There's not even any butter in the frosting because the mascarpone is rich enough on its own to hold up to the sugar and vanilla. I don't like overly sweet frostings; I would much prefer a whipped cream frosting over a buttercream frosting. The mascarpone frosting reminded me of a cross between a whipped cream frosting and a cream cheese frosting because it was rich and creamy without being too sweet.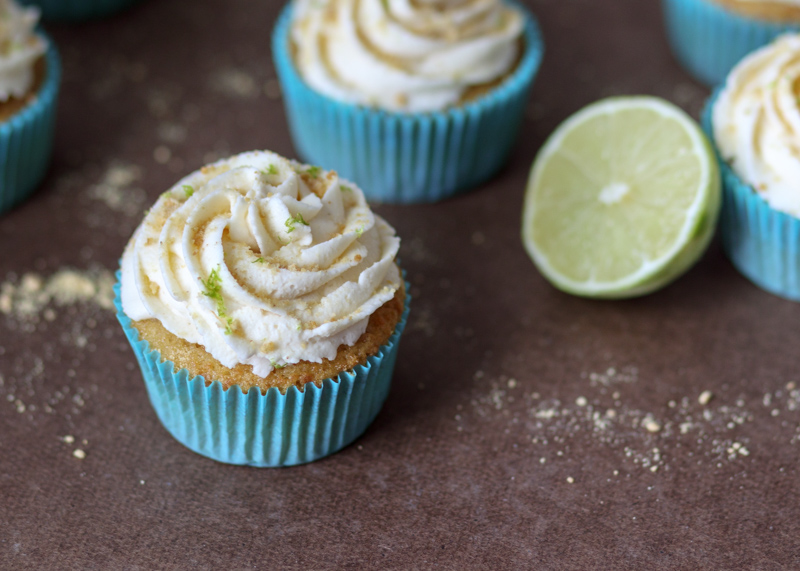 Having a mouthful of the light cupcake, the tangy key lime curd and the creamy mascarpone frosting was definitely on my top five bites of summer this year. Enjoy, friends!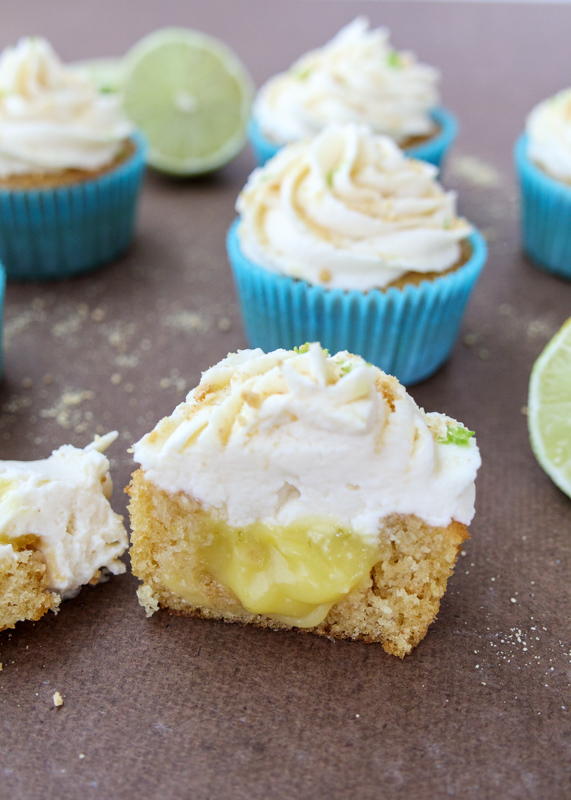 Key Lime Pie Cupcakes with Mascarpone Frosting
Ingredients
for the cupcakes
¾ cup cake flour (see note)
½ cup graham cracker crumbs, plus more for topping
1¼ teaspoon baking powder
½ teaspoon baking soda
½ teaspoon salt
2 large eggs
¾ cup sugar
1½ teaspoons vanilla extract
½ cup vegetable oil
1 tablespoon key lime zest, about 3 key limes, plus more for topping if desired
½ cup buttermilk
1 cup key lime curd
for the frosting
6 ounces mascarpone cheese, cold
2 teaspoons vanilla extract
⅔ cup powdered sugar
¾ cup heavy cream, chilled
Directions
for the cupcakes
Preheat the oven to 350 degrees F. Line 2 cupcake pans with paper liners (this makes 14 cupcakes) and set aside.
Sift together the cake flour, graham cracker crumbs, baking powder, baking soda and salt in a medium mixing bowl.
In the bowl of a stand mixer or in a large bowl with a hand mixer, beat the eggs for 20 seconds. Add the sugar then beat until combined on medium speed, about 30 seconds. Add the vanilla extract, vegetable oil and key lime zest then beat again until combined.
Reduce the mixer speed to low then carefully add half of the flour mixture. Once just combined, add half of the buttermilk. Repeat with the remaining flour then with the remaining buttermilk. Try not to over-mix the batter. Scrape down the sides as needed.
Divide the batter between the prepared 14 cupcake liners. Bake for 12-14 minutes. The edges should be golden brown and a toothpick inserted in the center should come out with just a few crumbs on it. Let cool in the pan for 1-2 minutes then remove the cupcakes to let cool completely on a wire cooling rack.
Once the cupcakes are cool, use a cupcake corer or a knife to remove the middle of the cupcake. Fill the cupcake with about 1 tablespoon of key lime curd - enough so it fills the cavity in the cupcake. Repeat with the remaining cupcakes.
for the frosting
In the bowl of a stand mixer or in a large bowl with a hand mixer, beat together the mascarpone and vanilla until incorporated. Slowly beat in the powdered sugar until incorporated. Slowly add the heavy cream while still beating the mixture then increase the speed to medium. Continue to beat until light and fluffy, about 3 minutes.
Once the cupcakes have been filled with key lime curd, frost them with the mascarpone frosting then sprinkle with the graham cracker crumbs and additional key lime zest, if desired. Store in the fridge until ready to eat.
Notes
If you don't have cake flour, follow this substitution to use all-purpose flour. Measure out ¾ cups all-purpose flour. Take out 1 tablespoon and 1½ teaspoons of the measured flour (you can put these back in your flour container, you won't need them). Add 1 tablespoon and 1½ teaspoons of cornstarch to the flour and sift together before using in the recipe.
If you don't have buttermilk, follow this substitution to use whatever percentage milk you have in your fridge. Put ½ tablespoon of lemon juice or vinegar (I prefer to use lemon juice when I'm baking) into a liquid measuring cup then fill with milk until you have ½ cup. Let sit for 5 minutes before using in the recipe.
These cupcakes should be stored in the fridge.
Cupcake base adapted from

Glorious Treats

.