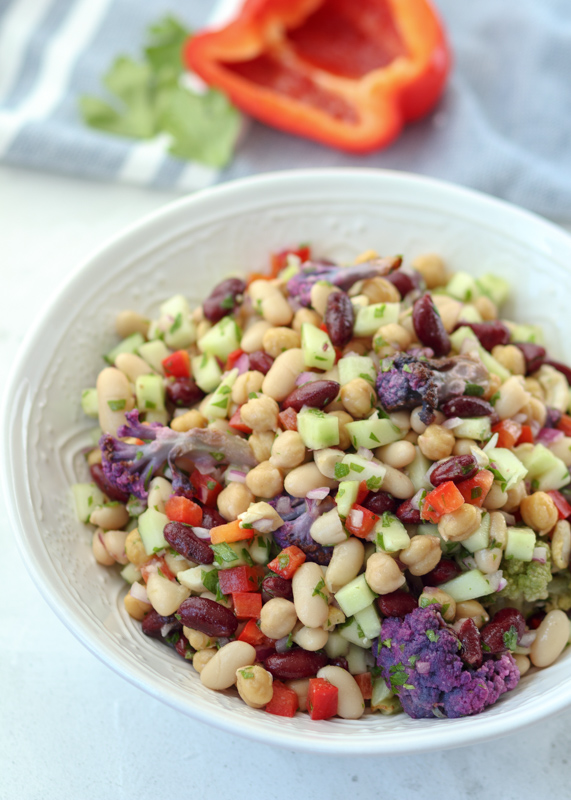 There's still plenty of time for barbecues and this Three Bean and Roasted Cauliflower Salad is the perfect side dish. I didn't grow up with bean salad on the dinner table and I had never really given the dish much thought before. However, a couple months ago, Matt and I were grabbing dinner at Whole Foods. We live right by one so this is a common occurrence for us; it's too hard to go in there and shop without getting dinner! I usually put together something from the salad bar. I'm not big on salads, but I throw in all the toppings and sides they have without any lettuce on the bottom. Anyone else do this or am I the only weird one?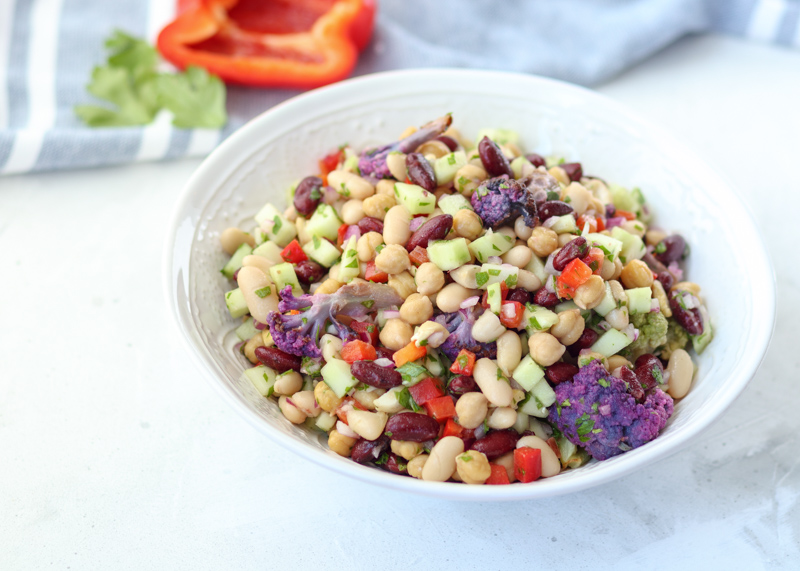 Anyways, I put in some of this four bean salad they had along with some multi-colored roasted cauliflower (among probably ten other things). When we sat down to eat, I couldn't get enough of the bean salad and roasted cauliflower combination.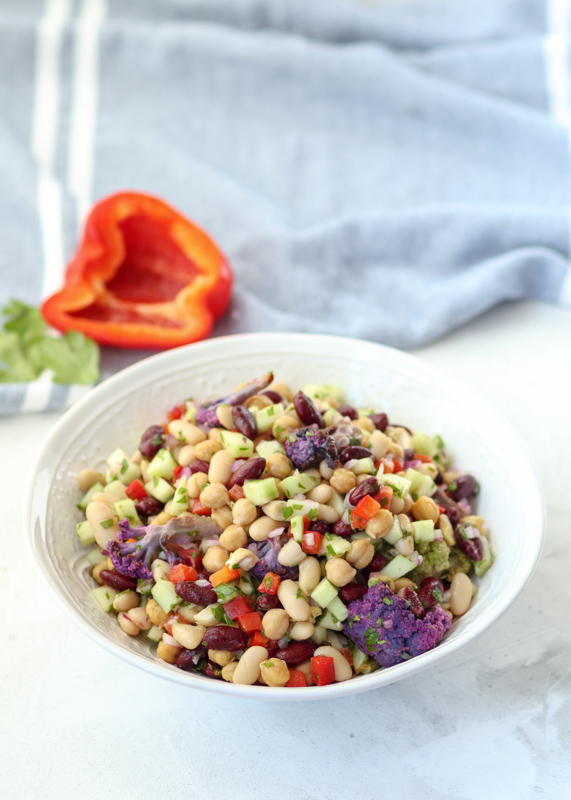 I decided to make my own version when we had some family come stay with us. I found Cookie and Kate's bean salad recipe and decided to tweak a few things. The salad got rave reviews! It is crunchy, well-balanced and has just the right amount of acidity. All the fresh chopped parsley brightens it up as well. My Aunt liked it so much that she made it while we were down at the beach!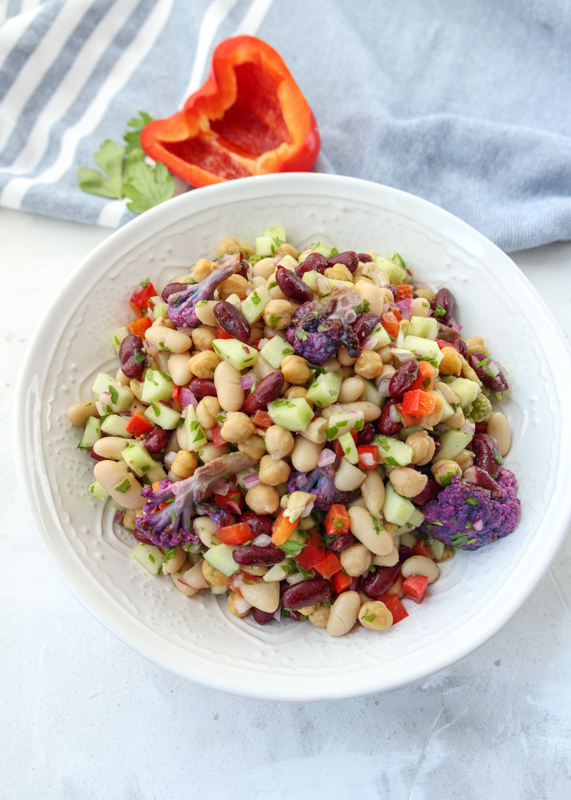 Shortly after making it for my family, I decided I wanted to make it again, but this time with the roasted cauliflower like my Whole Foods salad bar meal. I found some rainbow cauliflower in the frozen section of Trader Joe's and thought the colors of the purple cauliflower would pop really well. I had never roasted frozen cauliflower before, but it came out perfect.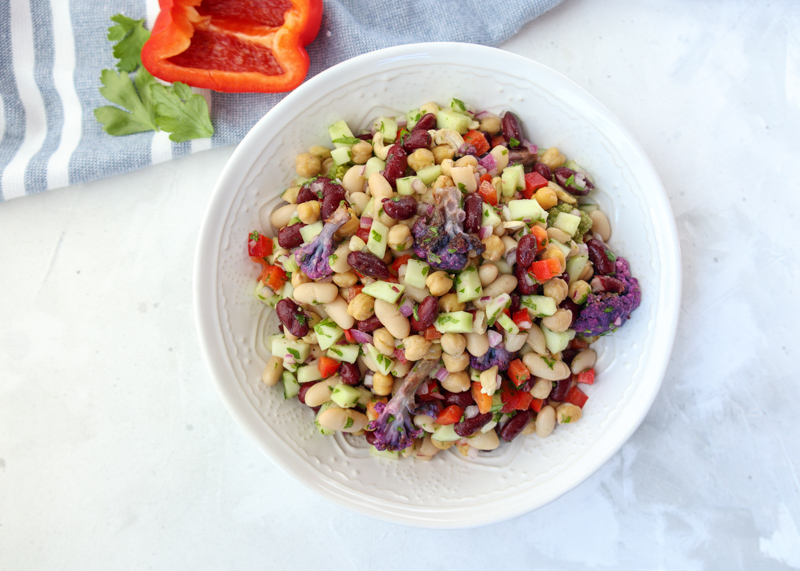 So after a bit of tweaking, below is my favorite version of this refreshing Three Bean and Roasted Cauliflower Salad. It makes a lot so definitely make sure you're going to have some hungry eaters!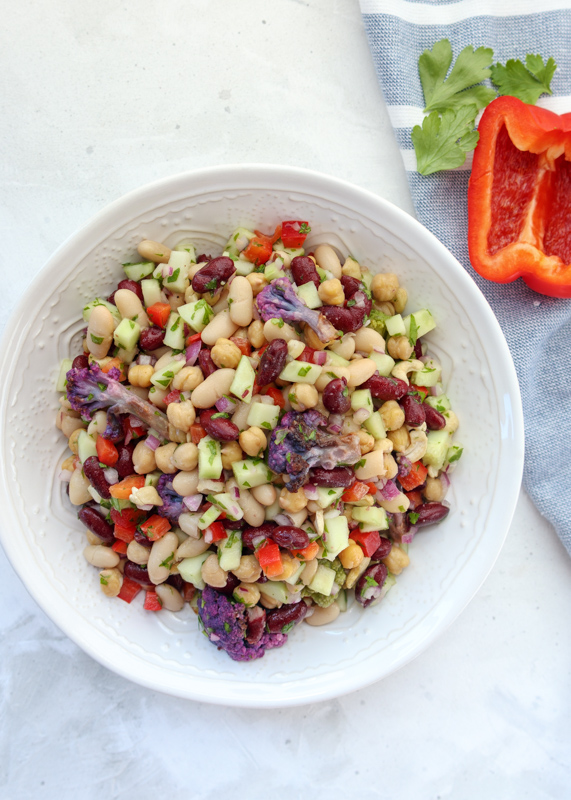 Three Bean & Roasted Cauliflower Salad
Ingredients
2 cups cauliflower florets
1 tablespoon olive oil
1 15-ounce can dark red kidney beans, rinsed and drained
1 15-ounce can cannellini beans, rinsed and drained
1 15-ounce can chickpeas, rinsed and drained
½ small red onion, minced
1 medium cucumber, peeled, seeded and diced
½ red bell pepper, diced
¾ cup chopped fresh parsley
¼ cup olive oil
¼ cup lemon juice
½ teaspoon garlic powder
½ teaspoon salt
Freshly ground black pepper
Directions
Preheat the oven to 425 degrees F. Toss the cauliflower with the olive oil then place on a baking sheet. Season with salt and pepper then roast for 20 minutes. Set aside to let cool.
In a large serving bowl or mixing bowl, combine the roasted cauliflower, kidney beans, cannellini beans, chickpeas, red onion, cucumber red bell pepper and parsley.
In a small bowl or liquid measuring cup, whisk together the olive oil, lemon juice, garlic powder, salt and pepper. Pour over the beans and cauliflower and gently toss to combine.
Notes
I like to peel my chickpeas even though it takes a while. If you wish to peel them, simply pop them out of their skins after you've rinsed them.
Recipe adapted from

Cookie + Kate

.