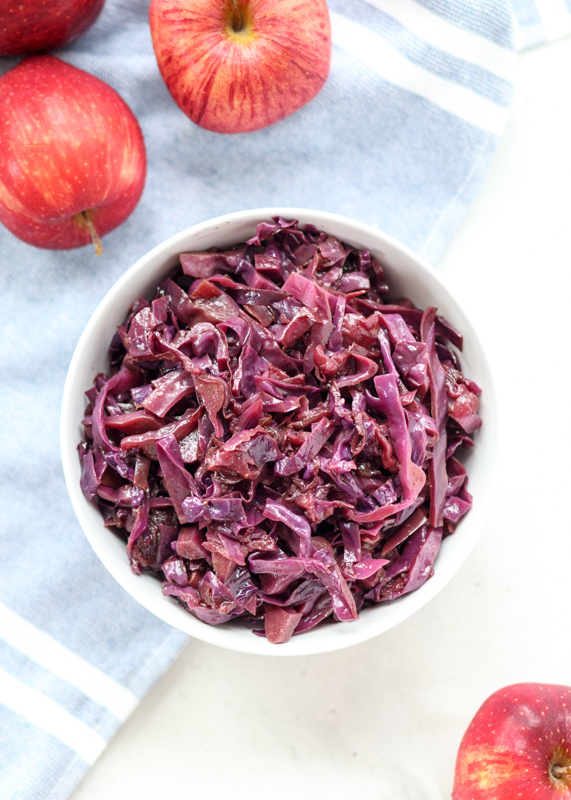 I just realized this is the third Friday in a row I'm posting a vegetable dish. Don't worry, this Braised Red Cabbage and Apples is just as swoon-worthy as the other two healthy side dishes. Tender, sweet and the perfect amount of acidity from the balsamic vinegar, you will be hooked on this cabbage after one bite.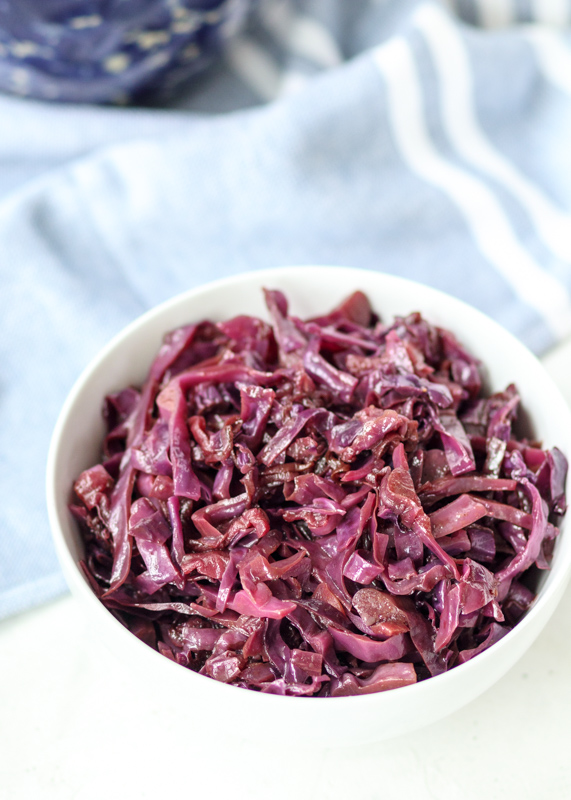 Instead of adding any sugar, the red cabbage is cooked down with an apple to give it some natural sweetness. The cabbage takes on a lot of the balsamic vinegar flavor, which is also slightly sweeter than other types of vinegar since it's made from grapes. I love making this dish for the holidays because it makes a ton, the color is stunning and you can absolutely make it ahead of time. In fact, it tastes even better the next day after the flavors have had a chance to meld together. It also freezes really well; I just freeze it in quart size freezer bags or reusable containers.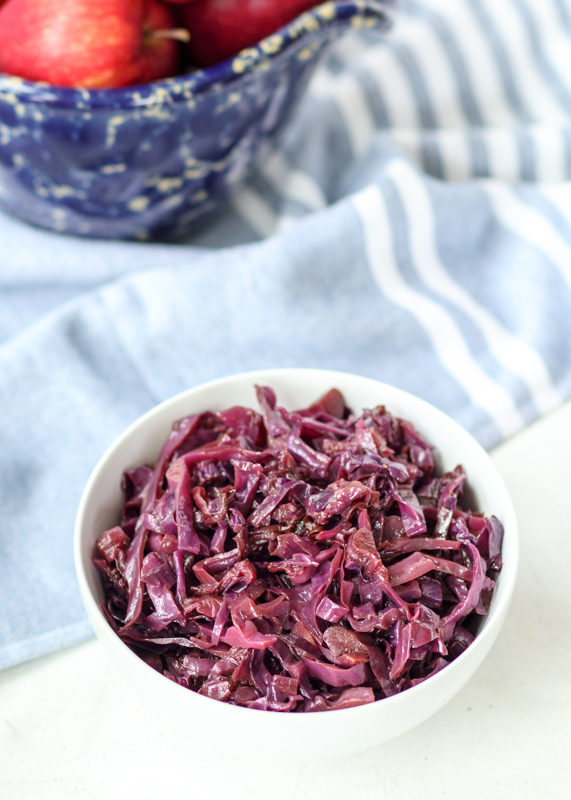 My grandma, Babu, is always on my mind, but especially today on her birthday. Babu loved cabbage and I think she would have been a big fan of this Braised Red Cabbage and Apples. I also think she would be laughing about me celebrating her birthday with cabbage and telling me she would have much preferred some vanilla ice cream! She used to make ground turkey and rice stuffed cabbage rolls, baking them right in our toaster oven. I would never take a bite of them – they didn't look like my usual macaroni and cheese and fish sticks – but I bet I would love them now.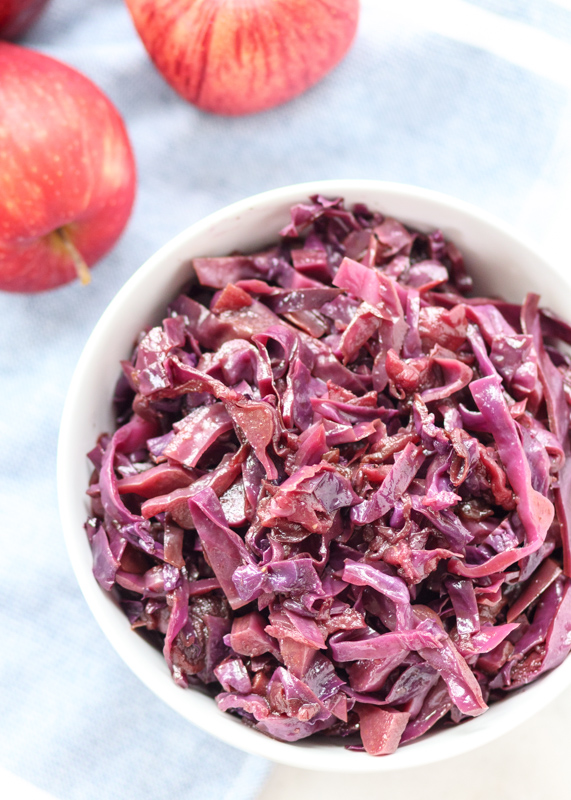 It's so interesting to me how your taste-buds evolve and change the more you introduce them to different foods. Also, as I mentioned a couple weeks ago, a lot of it has to do with how the foods are prepared and presented. Matt gobbles this braised cabbage up every time I make it and its been a big hit whenever I make it for company. I hope you enjoy this one and have a wonderful weekend!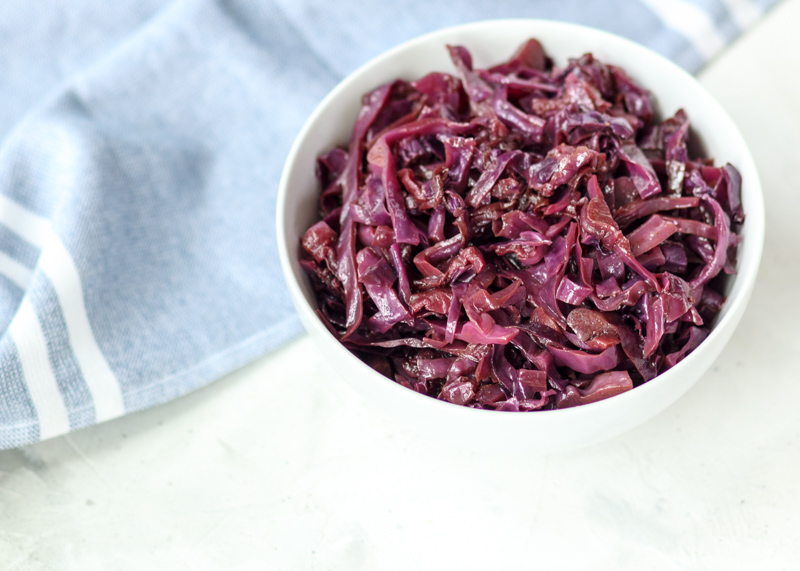 Braised Red Cabbage with Apples
Ingredients
1 large red cabbage, about 2 pounds
2 tablespoons vegetable oil
1 small onion, thinly sliced
2 tart apples, such as granny smith, peeled, cored and sliced
⅓ cup balsamic vinegar, divided
⅛ teaspoon ground cinnamon
⅛ teaspoon ground cloves
Pinch of nutmeg
Salt and ground black pepper
Directions
Prepare the cabbage. Rinse the cabbage and remove the loose outer leaves. Cut the cabbage into quarters: place the cabbage stem side down and cut it in half. Slice each half in half again from the top to the stem to make quarters. Remove the stem and core from each quarter wedge by diagonally cutting it off. Finally, lay each quarter down on the flat side and thinly slice. Place the sliced cabbage in a bowl and cover with cold water while you finish getting everything else together.
Heat the oil in a large skillet that has a lid or a Dutch oven over medium heat. Add the onion and cook for about 3 minutes. Add 2 tablespoons of the balsamic vinegar and cook for about 3 minutes, or until the mixture is golden, stirring while it cooks. Add the apple slices and cook for 3 more minutes, continuing to stir.
Drain the red cabbage slices and add to the onions. Add the cinnamon, cloves, nutmeg and 2 more tablespoons of balsamic vinegar. Stir to combine well them season with salt to taste. Cover the pot and reduce the heat to low. Cook for 1 hour, stirring occasionally. Before removing from the heat, add some freshly ground black pepper and another tablespoon of balsamic vinegar. Season with additional salt according to taste if needed.
Notes
This recipe makes a lot, but it can easily be halved. It also freezes really well in freezer bags.
Recipe from

NY Times Cooking

.