Roasted Turmeric Spiced Cauliflower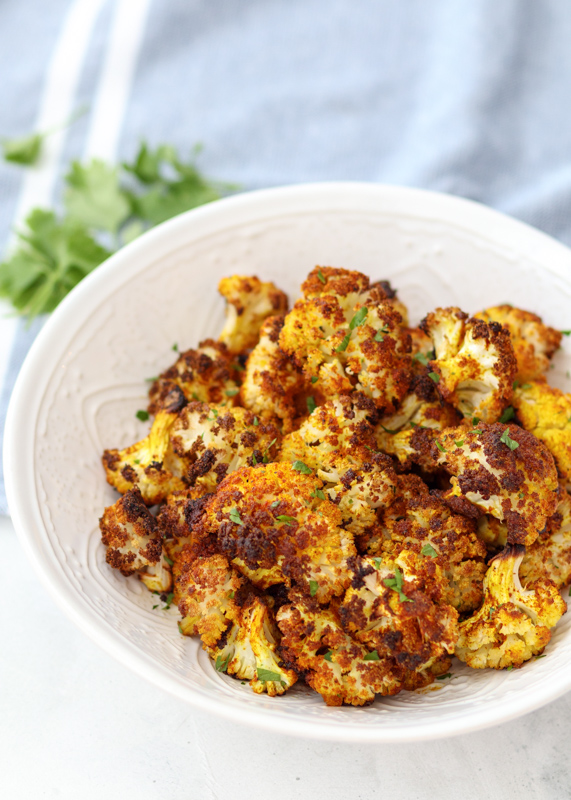 This might sound weird, but I love cooking vegetables. Anyone else or am I the only weird one? When I was growing up we always only had steamed vegetables. After countless nights of steamed broccoli, carrots, cauliflower and asparagus, I thought of vegetables as boring, required food. I was required to eat them, which meant I required cheese sauce poured over all of them in order to do so.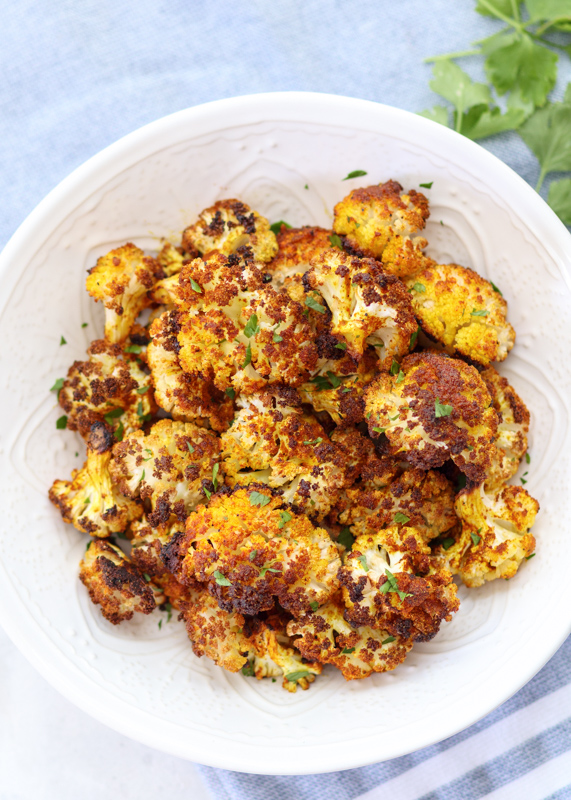 When Diane and my Dad got married, Diane introduced me to exciting vegetables, like grilled zucchini and sautéed mushrooms. I realized that vegetables could taste not just bearable, but actually good, no cheese sauce involved – who knew? When I started cooking on my own, I quickly discovered how many ways there are to make really, really good-tasting vegetables. And not just delicious for a vegetable – just delicious period!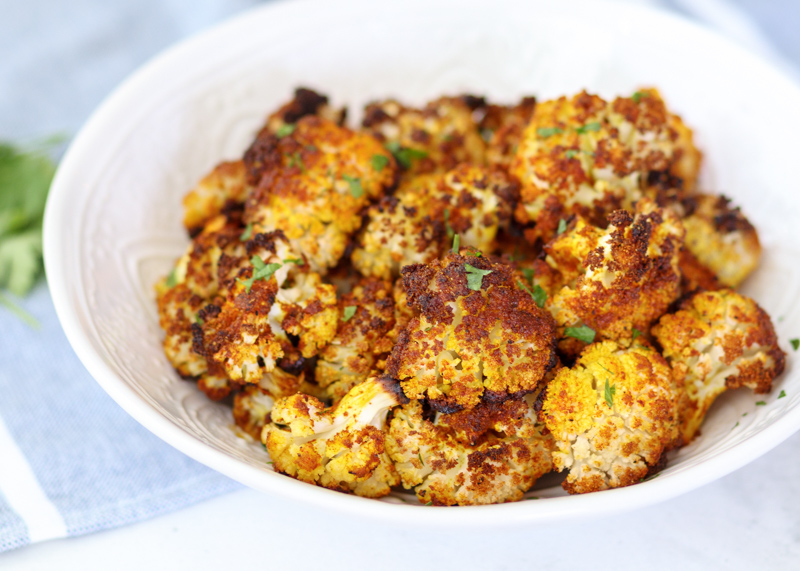 I love vegetables and definitely no longer think of them as a boring food group. With a ton of variety, both in ingredients and cooking techniques, this food group is anything, but boring.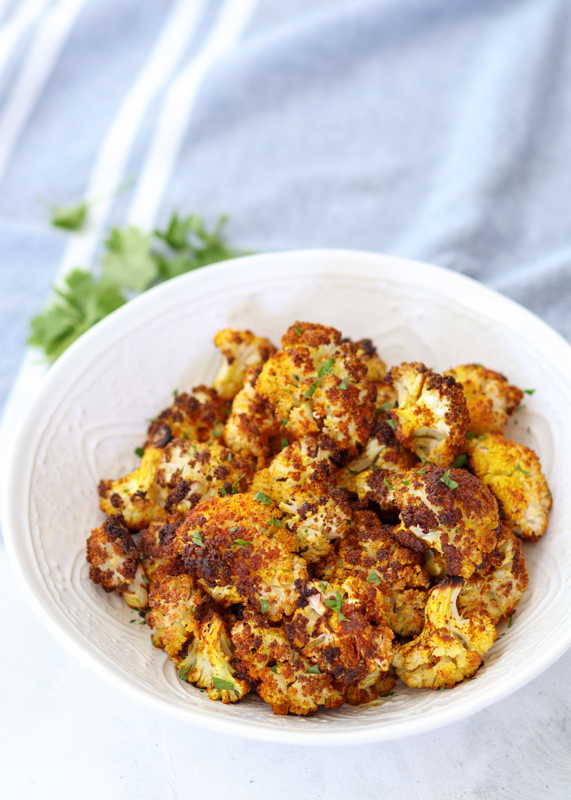 However, I know a lot of people that don't eat exciting vegetables, which is one of the reasons I love cooking them for other people. This Roasted Turmeric Spiced Cauliflower is one of those exciting vegetables. As I mentioned in last week's Thai Peanut Chicken Tacos post, I've been experimenting more with different spices and the minute I tried this combination on crispy roasted cauliflower I was obsessed. The flavor is nutty, earthy and a little smoky, which is perfect for fall.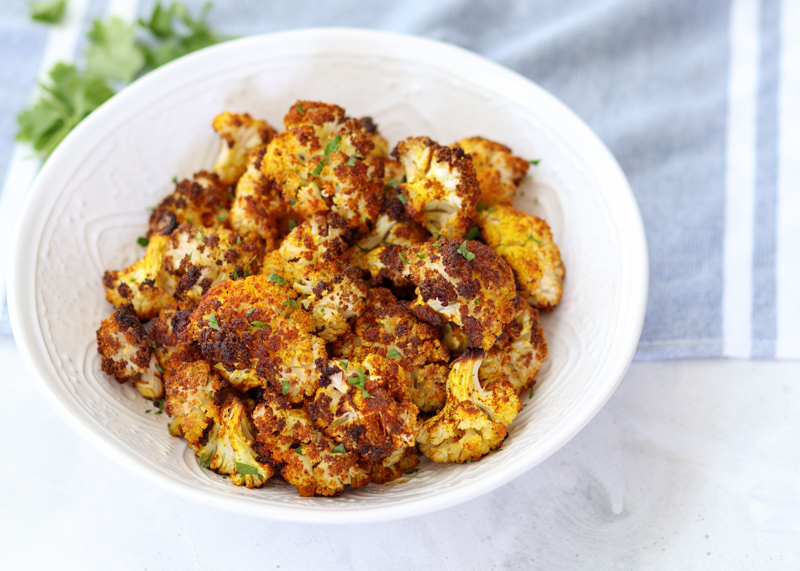 Sometimes I have them as a warm side dish and other times I throw them cold over a spinach salad. And sometimes I roast them and just start eating them off the baking sheet since they smell amazing and as usual I probably waited too long to eat lunch so I'm starving. However you decide to eat them I hope you make them soon to remind yourself how crazy tasty vegetables can be!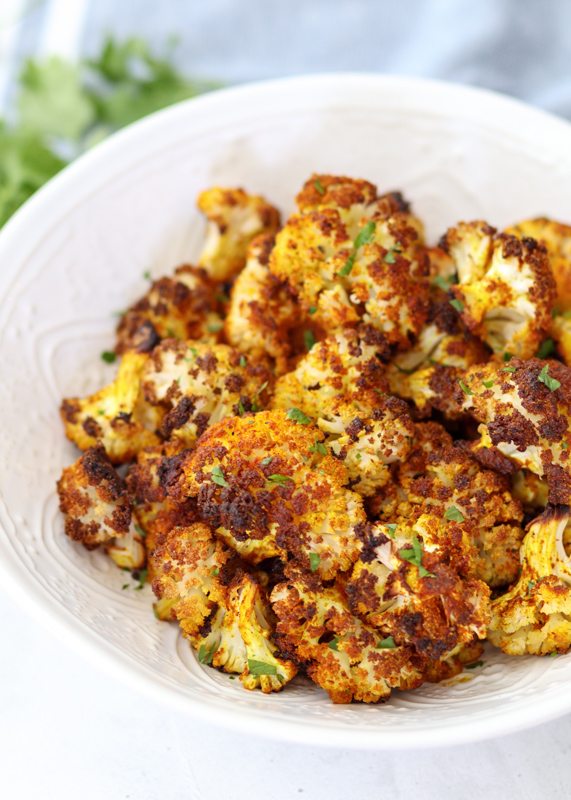 Turmeric Roasted Cauliflower
Ingredients
2 heads cauliflower, cut into florets
2 tablespoons olive oil
1 teaspoon ground cumin
1 teaspoon turmeric
1 teaspoon smoked paprika
½ teaspoon garlic powder
½ teaspoon salt
¼ teaspoon ground black pepper
1 tablespoon chopped fresh parsley
Directions
Preheat the oven to 425 degrees F. Line a large baking sheet with nonstick aluminum foil and set aside.
Place the cauliflower florets in a mixing bowl. In a small bowl, combine the olive oil, cumin, turmeric, smoked paprika, garlic powder, salt and ground black pepper. Pour over the cauliflower florets and toss to completely coat. You may want to really rub the tops of the cauliflower florets in the mixture to get them completely coated.
Place the coated cauliflower florets on the prepared baking pan and spread them out. Bake for 40-45 minutes, or until they are tender and browned. Top with the chopped fresh parsley before serving.