Grilled Asparagus with Chimichurri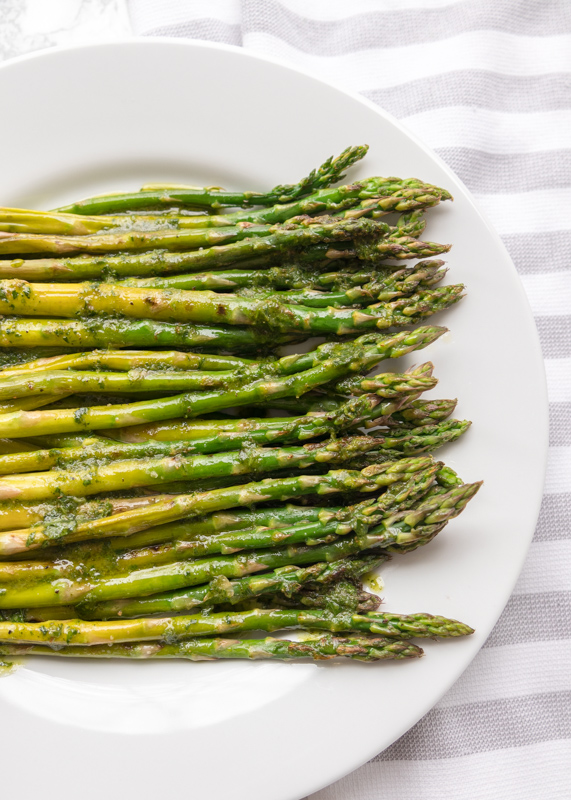 ¼ cup olive oil
2 tablespoons packed fresh parsley leaves
1 clove garlic
1 tablespoon lime juice
½ teaspoon dried oregano
⅛ teaspoon salt
Pinch of ground black pepper
1 pound asparagus
1 tablespoon olive oil
Salt and pepper
Combine all the ingredients except the asparagus in a blender. Blend until smooth, about 1 minute. Set aside.
Remove and discard the woody ends of the asparagus. If you lightly bend the asparagus stalk it will snap at a natural spot where the thick stem ends. Drizzle the asparagus with the olive oil then toss to coat. Season with the salt and pepper. I usually do about 5-6 grinds each of our salt and pepper grinders (they are small).
Heat your grill or grill pan so it's at medium-high heat. Grill the asparagus for 5 minutes, tossing/turning once while grilling. If your asparagus stalks are very thin you may only need 3 minutes, if the stalks are thick you may need longer than the 5 minutes. If you are using a grill not a grill pan I would suggest using a grill grid or basket so the asparagus doesn't slip through the grill grates and adding about 5 minutes of grilling time. Top with the chimichurri.
Recipe by
Lemon & Mocha
at http://www.lemonandmocha.com/2018/05/18/grilled-asparagus-with-chimichurri/