Sweet Potato Salad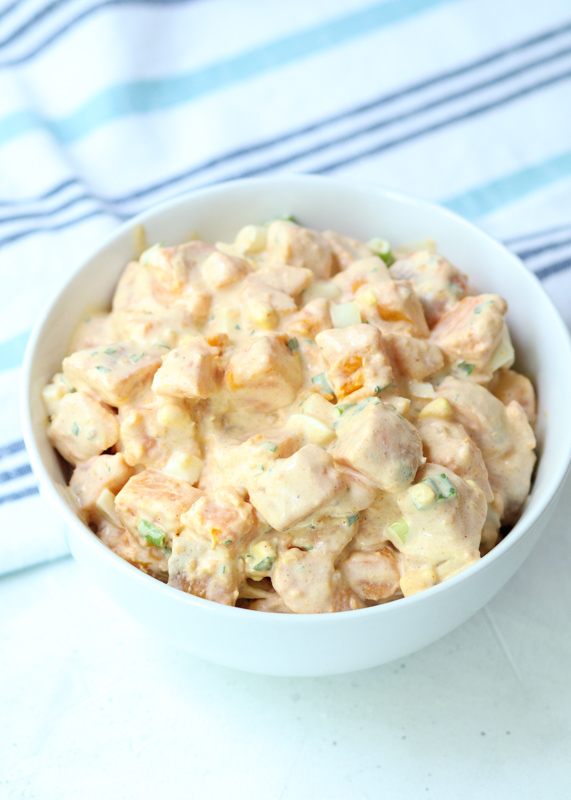 I am a little addicted to this Sweet Potato Salad. This inspiration came from the restaurant chain Not Your Average Joe's. I'm not sure if you have one in your state, but we have a few here in Massachusetts and Matt and I are hooked. Last summer they had a limited time barbecue menu and one of the sides was a sweet potato salad. When I asked our waitress about the special sides she started raving about the sweet potato salad so I figured I would give it a shot.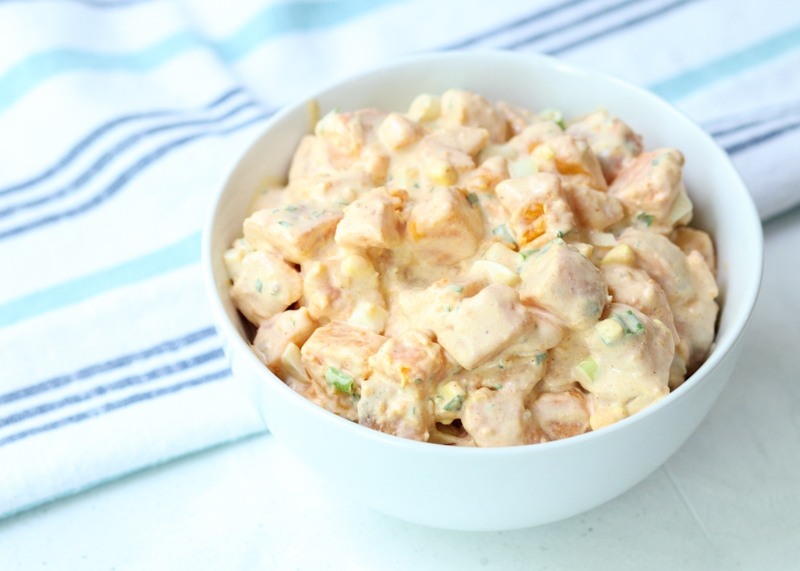 It was amazing! It was incredibly flavorful, a little tangy, a little sweet and I couldn't stop eating it! The next day at work I started telling people that they had to go and order it because it was that good. This summer I haven't seen it back on their menu yet so I set out to recreate the recipe. Just like the one I had at Not Your Average Joe's, I couldn't stop eating this potato salad!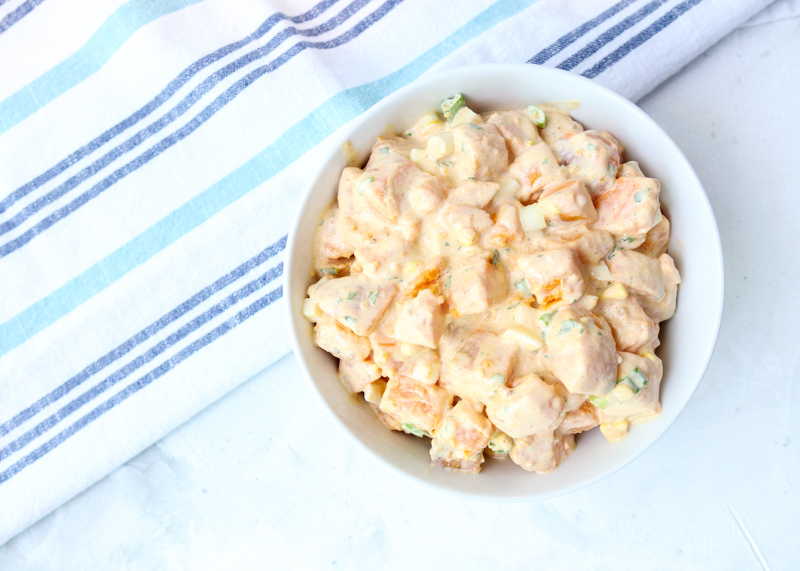 I knew the base of the dressing wasn't all mayonnaise since it had a rich tanginess to it, so I added some buttermilk. The mustard seeds give it a great crunch and the celery salt and smoked paprika bring a ton of flavor. I added in hard boiled eggs and scallions because I remembered them from the original dish and I love both those ingredients in my potato salads. I don't like spicy food so I put in the teeniest tiniest pinch of chili powder, but you can definitely add more if you want a bit of a kick in your salad.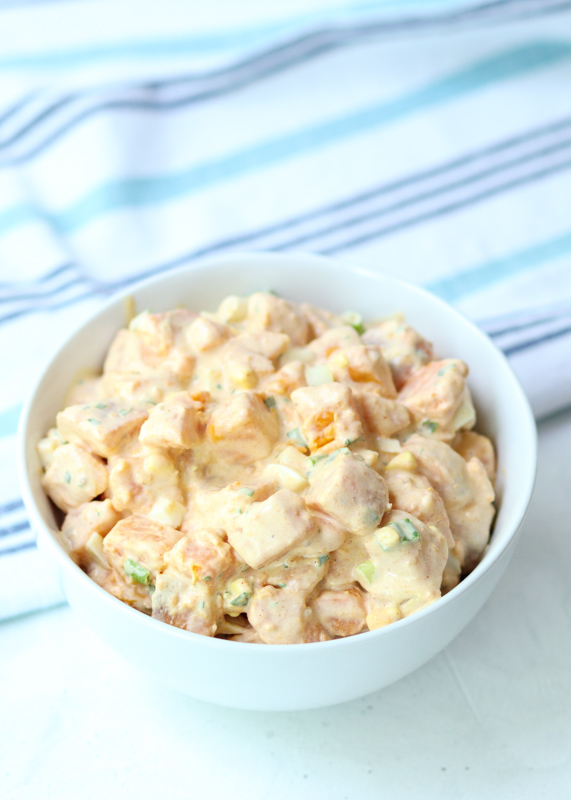 One of my favorite parts of this Sweet Potato Salad is that it tastes even better the next day making it the perfect make ahead side dish for 4th of July, potlucks and summer barbecues. I hope you all have a fantastic weekend and enjoy this Sweet Potato Salad!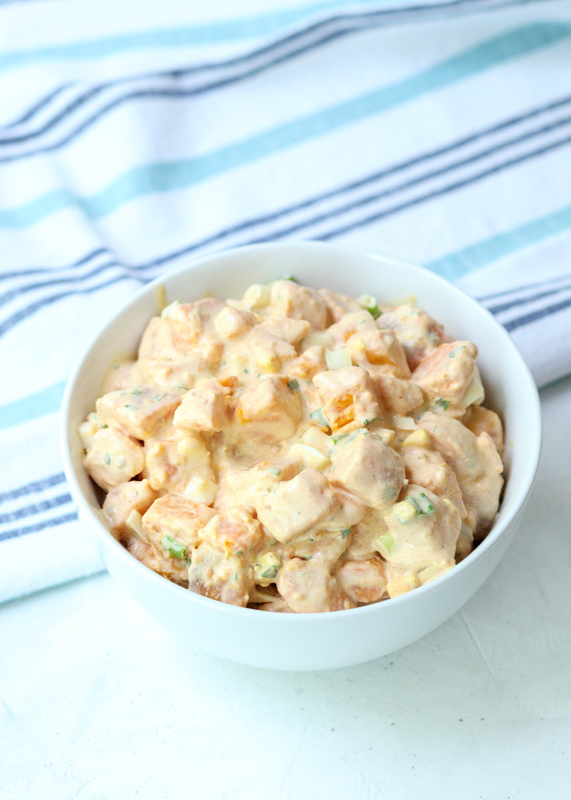 Sweet Potato Salad
Ingredients
2 pounds sweet potatoes, peeled and cubed
2 hard boiled eggs, chopped
3 scallions, sliced
⅓ cup mayonnaise
¼ cup buttermilk
1 tablespoon plus ½ teaspoon apple cider vinegar
1 tablespoon parsley leaves, chopped
2 teaspoons Dijon mustard
¾ teaspoon mustard seeds
½ teaspoon celery salt
¼ teaspoon smoked paprika
Pinch of chili powder, optional
Directions
Put the cubed sweet potatoes in a large sauce pan then cover with water. Add 1 teaspoon salt to the water. Bring to a boil over medium high heat then reduce to simmer for 10-15 minutes until the potatoes are cooked through. Drain the potatoes, rinse with cold water, then let drain until dry. Place in a large mixing bowl and let cool. Once cool add the chopped hard boiled eggs and sliced scallions.
Mix together the dressing. In a medium bowl or liquid measuring cup, whisk together the mayonnaise, buttermilk, apple cider vinegar, parsley, Dijon, mustard seeds, celery salt, smoked paprika and chili powder, if using. Pour over the potatoes and carefully stir until coated. Let sit in the fridge for at least 30 minutes. Give it a stir before serving. It tastes even better the next day.
Notes
If you don't want to buy buttermilk you can make your own with regular milk. Put a little less than a teaspoon of lemon juice (or vinegar, but I like to use lemon juice) in a measuring cup then fill with milk until you reach ¼ cup. Let the mixture sit for 5-10 minutes.