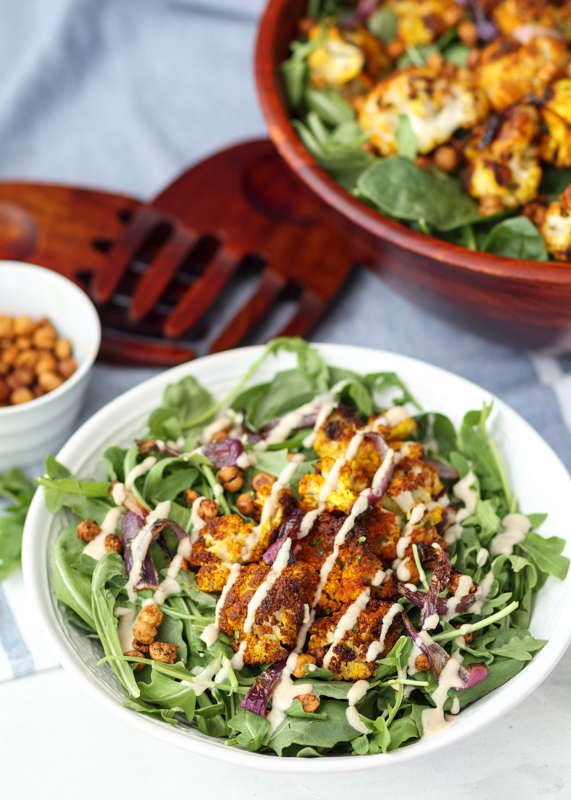 I'm going to shock you all right now by letting you know that I'm obsessed with this salad. As I've mentioned here before, I am not a big fan of salads unless they are loaded with stuff. This salad doesn't have a ton of stuff, but the goodies it does have on top are just the right stuff. Cue New Kids on the Block. This Fall Spinach and Arugula Salad with Tahini Dressing is the ultimate culmination of a few recipes I've shared recently. I made the Roasted Turmeric Spiced Cauliflower and the Crispy Roasted Chickpeas with this fall salad as my main intention, but they were so good on their own that I figured they deserved their own posts, too.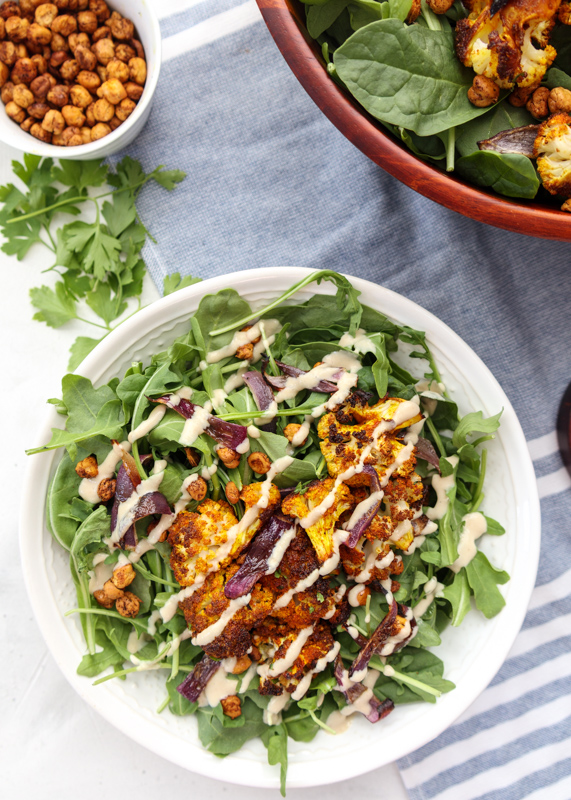 We've also already seen this creamy and tangy tahini dressing before on the Roasted Vegetable Quinoa Bowls. The dressing pairs really well with spiced and tender roasted vegetables so I knew it would be perfect over the Roasted Turmeric Spiced Cauliflower.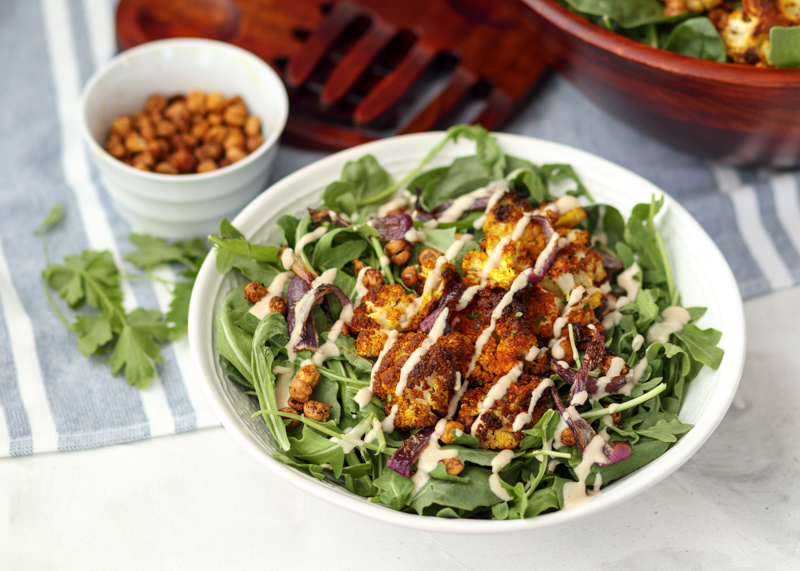 If you haven't made the Roasted Turmeric Spiced Cauliflower dish yet, you need to make it soon! Preferably to eat on top of this awesome salad. The spices aren't hot spicy, they are warming spices, which I like to think of as warming you from the inside out, similar to how you might describe a cozy bowl of soup. I threw some red onion in with the cauliflower to get caramelized. I love the flavor onion brings to dishes, but oftentimes raw onion is too pungent for me. Roasting the onion slices really mellows the onion flavor and brings out a nice sweetness to them.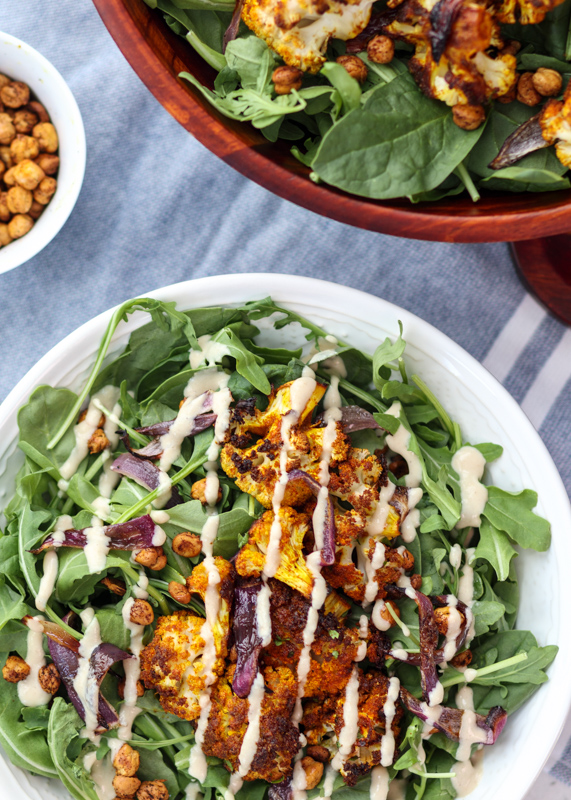 Matt and I had this salad with our dinner and the next day I had it for lunch with some deli turkey slices on top. One great thing about this salad is that it tastes so good whether the cauliflower is warm out of the oven or cold right from the fridge.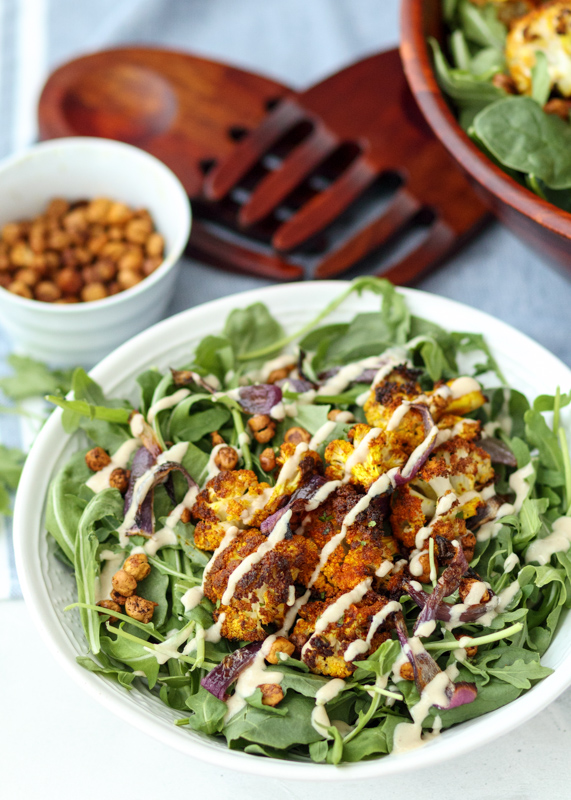 I created this salad with Thanksgiving in mind. I think it is a great way to have a healthy salad option that complements the fall Thanksgiving flavors better than your typical garden salad. Also, you can make it ahead and serve it cold so that's always a bonus for the holidays! Enjoy, everyone!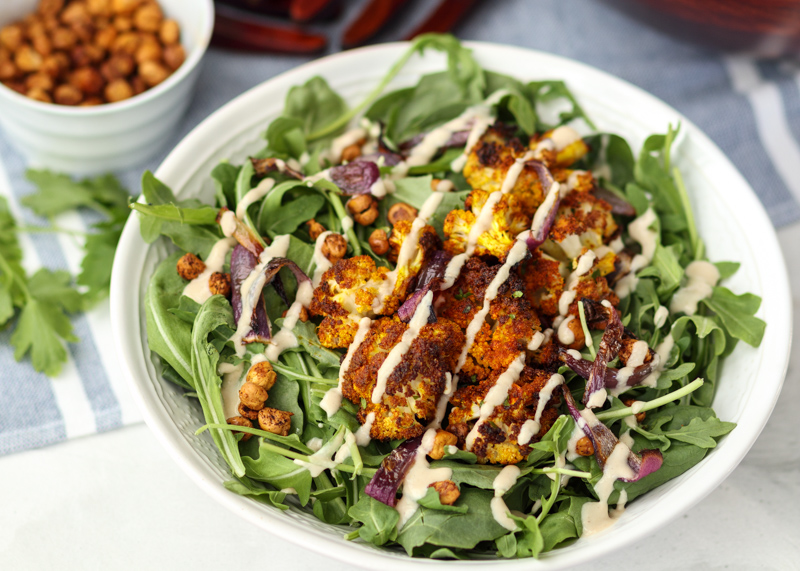 Fall Spinach and Arugula Salad with Turmeric Roasted Cauliflower, Crispy Roasted Chickpeas and Tahini Dressing
Yield:
4 servings, ⅔ cup of dressing
Ingredients
for the salad
2 heads cauliflower, cut into florets
½ large red onion, cut into large strips
2 tablespoons olive oil
1 teaspoon ground cumin
1 teaspoon turmeric
1 teaspoon smoked paprika
½ teaspoon garlic powder
½ teaspoon salt
¼ teaspoon ground black pepper
1 tablespoon chopped fresh parsley
4 cups spinach
4 cups arugula
¼ cup crispy chickpeas
for the dressing
¼ cup tahini
¼ cup lemon juice
2 tablespoons water
¼ teaspoon garlic powder
¼ teaspoon salt
Directions
for the salad
Preheat the oven to 425 degrees F. Line a large baking sheet with nonstick aluminum foil and set aside.
Place the cauliflower florets in a mixing bowl. In a small bowl, combine the olive oil, cumin, turmeric, smoked paprika, garlic powder, salt and ground black pepper. Pour over the cauliflower florets and toss to completely coat. You may want to really rub the tops of the cauliflower florets in the mixture to get them completely coated.
Place the coated cauliflower florets on the prepared baking pan and spread them out. Bake for 20 minutes, then add the red onion to the baking sheet with the cauliflower, lightly tossing. Continue to bake for another 20-25 minutes, or until the cauliflower is tender and browned. Make sure the onion doesn't burn. Top with the chopped fresh parsley.
Add the spinach and arugula to a large mixing bowl or salad bowl. Top with the turmeric roasted cauliflower, the roasted red onions and the crispy chickpeas. Serve with the dressing on the side.
for the dressing
Whisk together the dressing ingredients or mix in a high-speed blender until smooth.