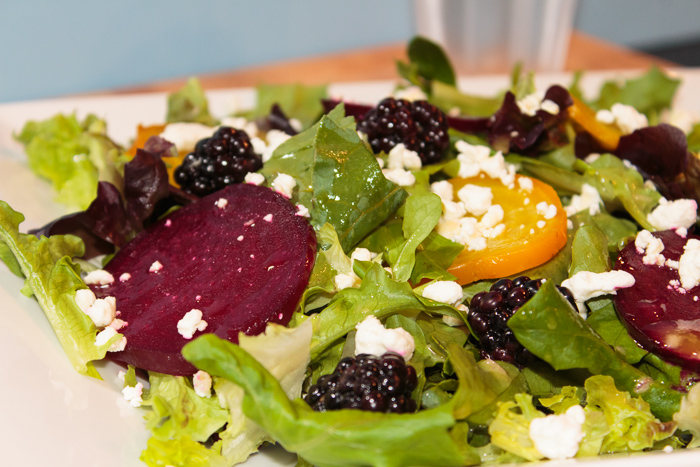 It is January 1st. A new year is upon us! It's time for reflecting on how we live our lives, making resolutions to do better, watching our diet and going to the gym; at least for the next three weeks. In the spirit of the new year I am going to try very, very hard to not post any desserts for the next three weeks. Joking aside I know I could certainly use a dessert detox after all the stuffing my face sessions I participated in over the last couple months.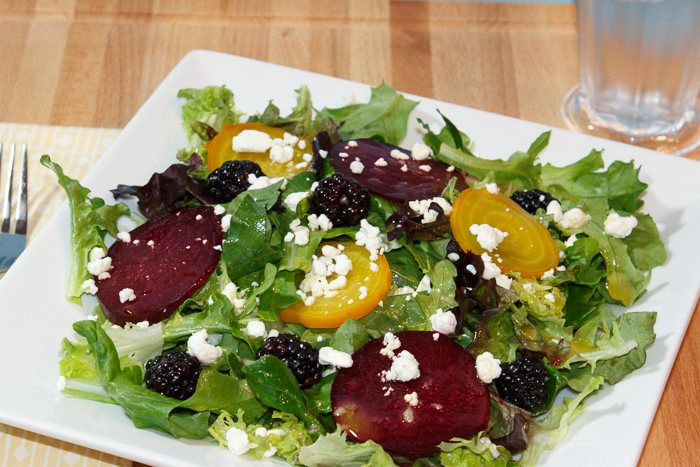 Being the food obsessed person I am I have an extraordinarily difficult time dieting so instead I just try to keep my meals fresh, healthy and flavorful. As I have previously mentioned on Lemon & Mocha I am not a fan of salads resembling rabbit food. However, I find when salads have a cooked element instead of all raw ingredients the texture and flavor is greatly enhanced.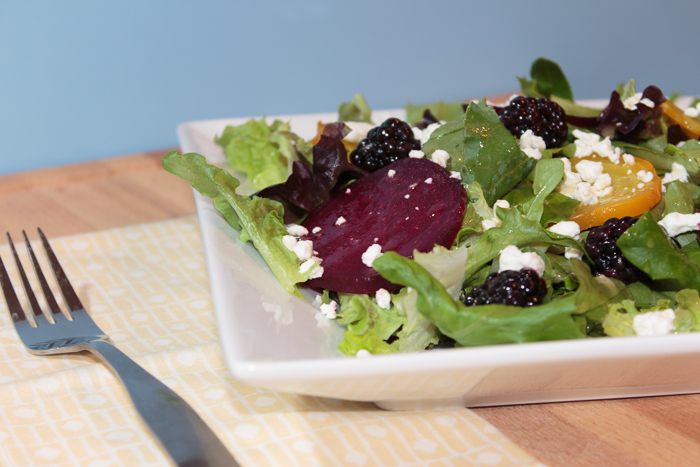 This roasted beet, blackberry and goat cheese salad with an orange champagne vinaigrette packs so much punch you will completely forget you are eating healthy. The beets are roasted to mellow and sweeten their flavor as well as sliced thin to keep them from overwhelming the rest of the salad. The creamy goat cheese provides a nice contrast to the tangy citrus infused dressing. Serve alongside roast chicken or as a vegetarian main dish for a fresh, flavorful and seasonal meal this winter.

Roasted Beet and Goat Cheese Salad with Orange Champagne Vinaigrette
Yield:
4 servings, 1 cup dressing
Ingredients
for the salad
1 large beet, top trimmed
1 large golden beet, top trimmed
1-2 tablespoons olive oil
Salt and pepper
8 cups mixed beet greens and mesclun
1 cup blackberries
Crumbled goat cheese
for the dressing
1 tablespoon minced shallot, about ½ a shallot
¼ cup orange champagne vinegar
1 tablespoon dijon mustard
1 tablespoon orange juice
Pinch of sugar
¾ cup olive oil
Salt and pepper
Directions
for the salad
Rinse the beets, scrubbing off any dirt, then dry. Tear off 2 small squares of tin foil large enough to encase each beet. Place each beet in a square of tin foil, slightly turn up the sides and drizzle each with olive oil. Lightly season with salt and pepper then seal up the tin foil packets. Bake the beets in the foil packets for 30 minutes.
Remove the beets from the oven and set aside to cool. Once cool enough to touch, remove the skins by hand or with a paring knife. Thinly slice the beets.
Wash the greens and place in a large bowl. Add the sliced beets and blackberries then toss with some of the dressing. Top with the crumbled goat cheese.
for the dressing
Whisk together the minced shallot, orange champagne vinegar, mustard, orange juice and sugar. Slowly whisk in the olive oil then season with salt and pepper.
Notes
*I got orange champagne vinegar from Trader Joe's, but if you can't find any you can use regular champagne vinegar and add 1 tablespoon orange zest.
*Use the leaves from the bunches of beets for the beet greens.
Dressing recipe adapted from

Martha Stewart
.