Roasted Beet and Goat Cheese Salad with Orange Champagne Vinaigrette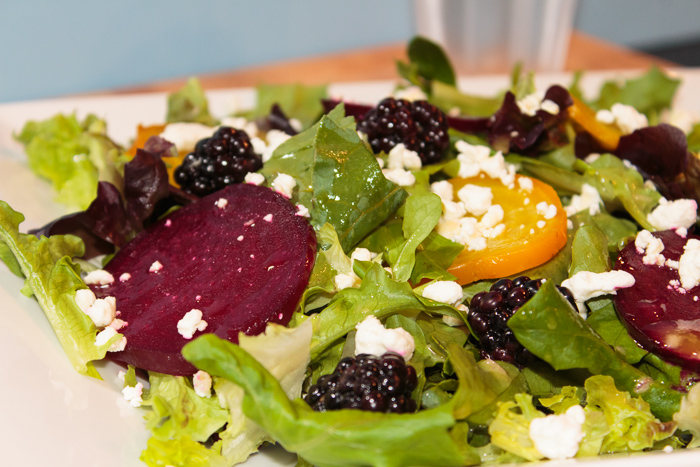 Yield:
4 servings, 1 cup dressing
1 large beet, top trimmed
1 large golden beet, top trimmed
1-2 tablespoons olive oil
Salt and pepper
8 cups mixed beet greens and mesclun
1 cup blackberries
Crumbled goat cheese
1 tablespoon minced shallot, about ½ a shallot
¼ cup orange champagne vinegar
1 tablespoon dijon mustard
1 tablespoon orange juice
Pinch of sugar
¾ cup olive oil
Salt and pepper
Rinse the beets, scrubbing off any dirt, then dry. Tear off 2 small squares of tin foil large enough to encase each beet. Place each beet in a square of tin foil, slightly turn up the sides and drizzle each with olive oil. Lightly season with salt and pepper then seal up the tin foil packets. Bake the beets in the foil packets for 30 minutes.
Remove the beets from the oven and set aside to cool. Once cool enough to touch, remove the skins by hand or with a paring knife. Thinly slice the beets.
Wash the greens and place in a large bowl. Add the sliced beets and blackberries then toss with some of the dressing. Top with the crumbled goat cheese.
Whisk together the minced shallot, orange champagne vinegar, mustard, orange juice and sugar. Slowly whisk in the olive oil then season with salt and pepper.
*I got orange champagne vinegar from Trader Joe's, but if you can't find any you can use regular champagne vinegar and add 1 tablespoon orange zest.
*Use the leaves from the bunches of beets for the beet greens.
Recipe by
Lemon & Mocha
at http://www.lemonandmocha.com/2014/01/01/roasted-beet-blackberry-and-goat-cheese-salad-with-orange-champagne-vinaigrette/