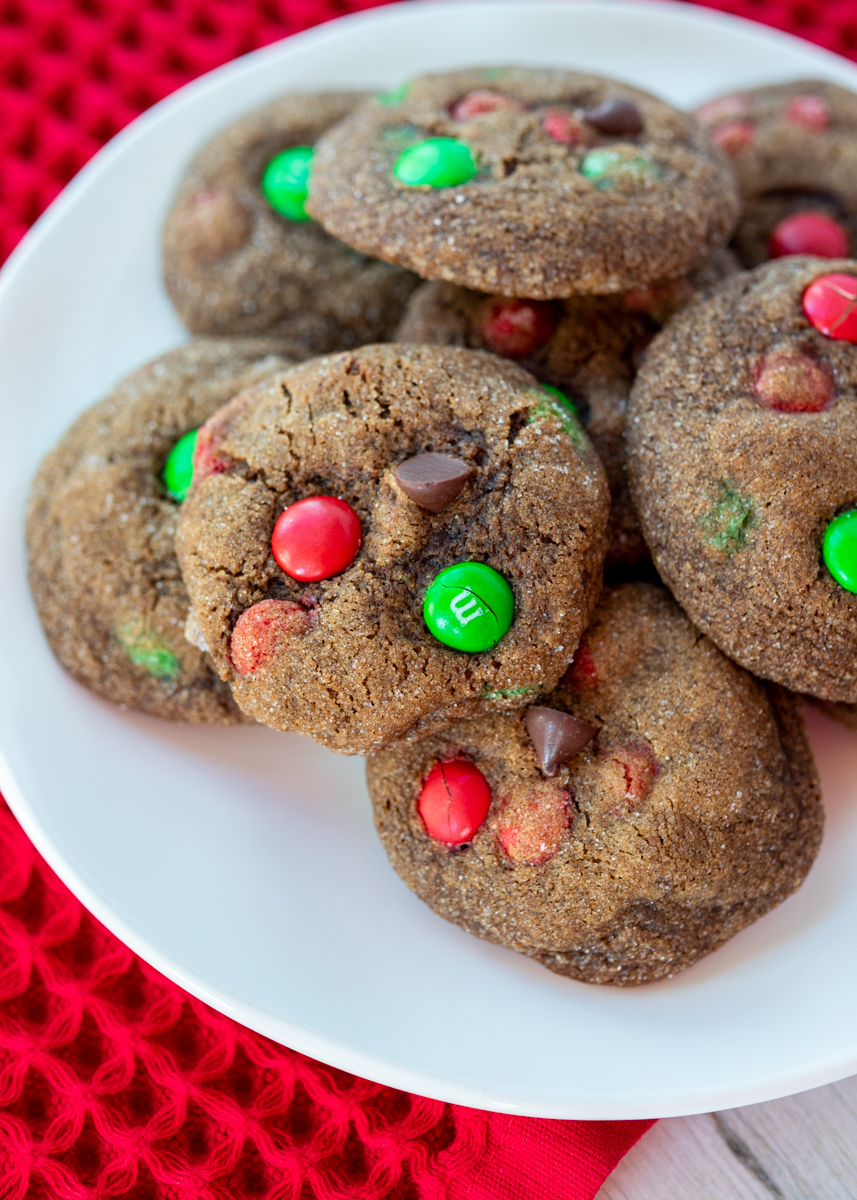 We're here for day ten of the Lemon & Mocha 12 Days of Cookies! Even though I have three more recipes scheduled to post before the end of 2019, the post for these Soft Gingerbread M&M Cookies that you are reading now is the last one I wrote right before my post-baby blog break started!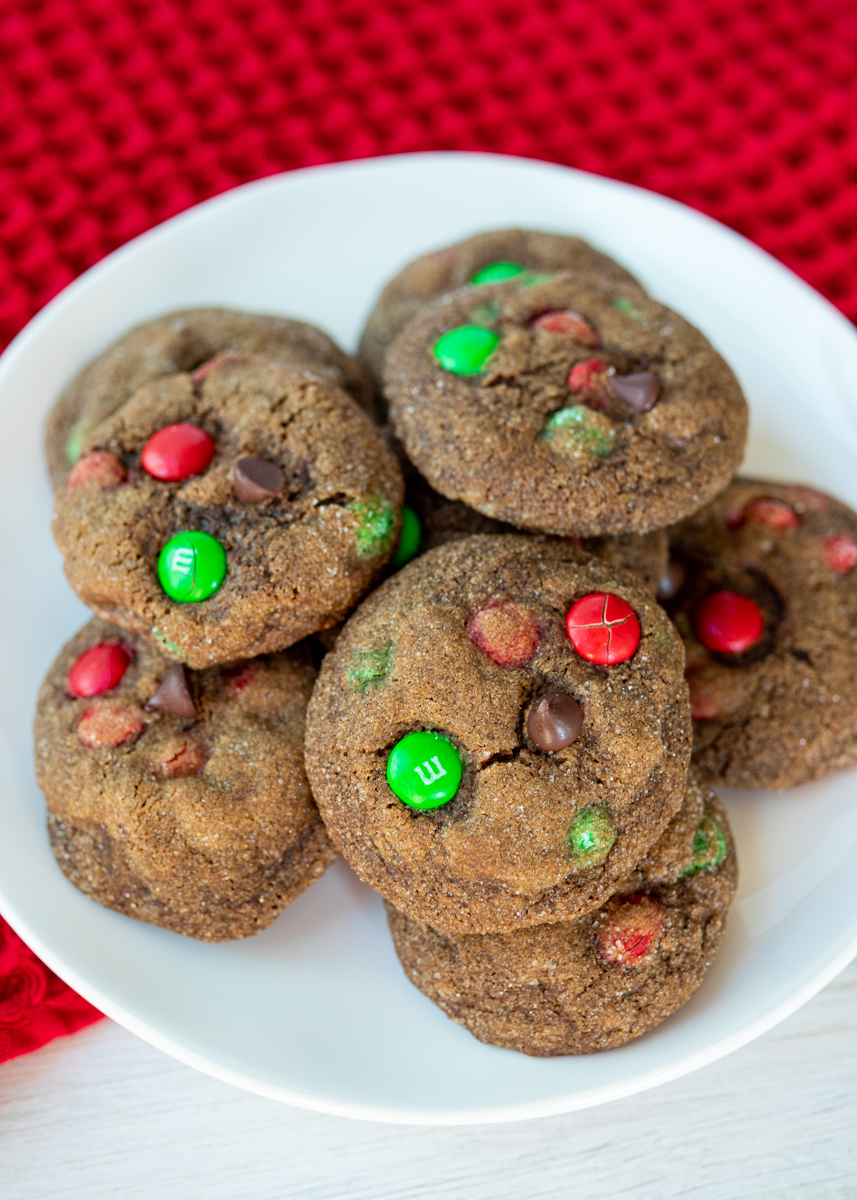 The only reason I was shuffling around the kitchen baking these cookies in my compression socks and the last remaining outfit that would fit over my big belly was because I had to wait for the red and green M&M's to arrive in the stores. I wanted them to look pretty and festive for the photos, especially since the post is so close to Christmas. Usually I'm the first to shake my head when I see grocery stores putting holiday items out months in advance, but of course this time I was actually complaining about them not having Christmas items out early! Go figure.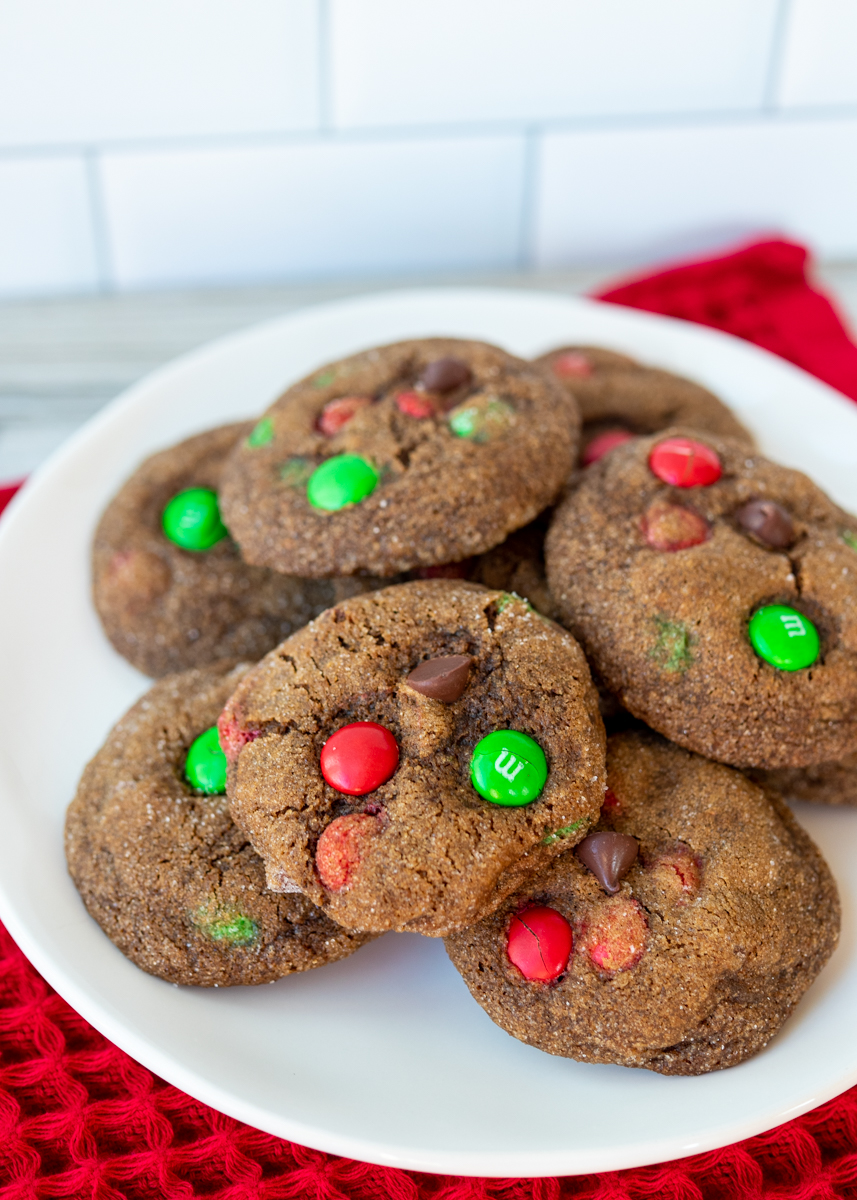 So let's talk about these Soft Gingerbread M&M Cookies. They're buttery, chewy and definitely chocolate-packed. I'm declaring these cookies the chocolate chip cookie lover's perfect holiday-spiced cookie.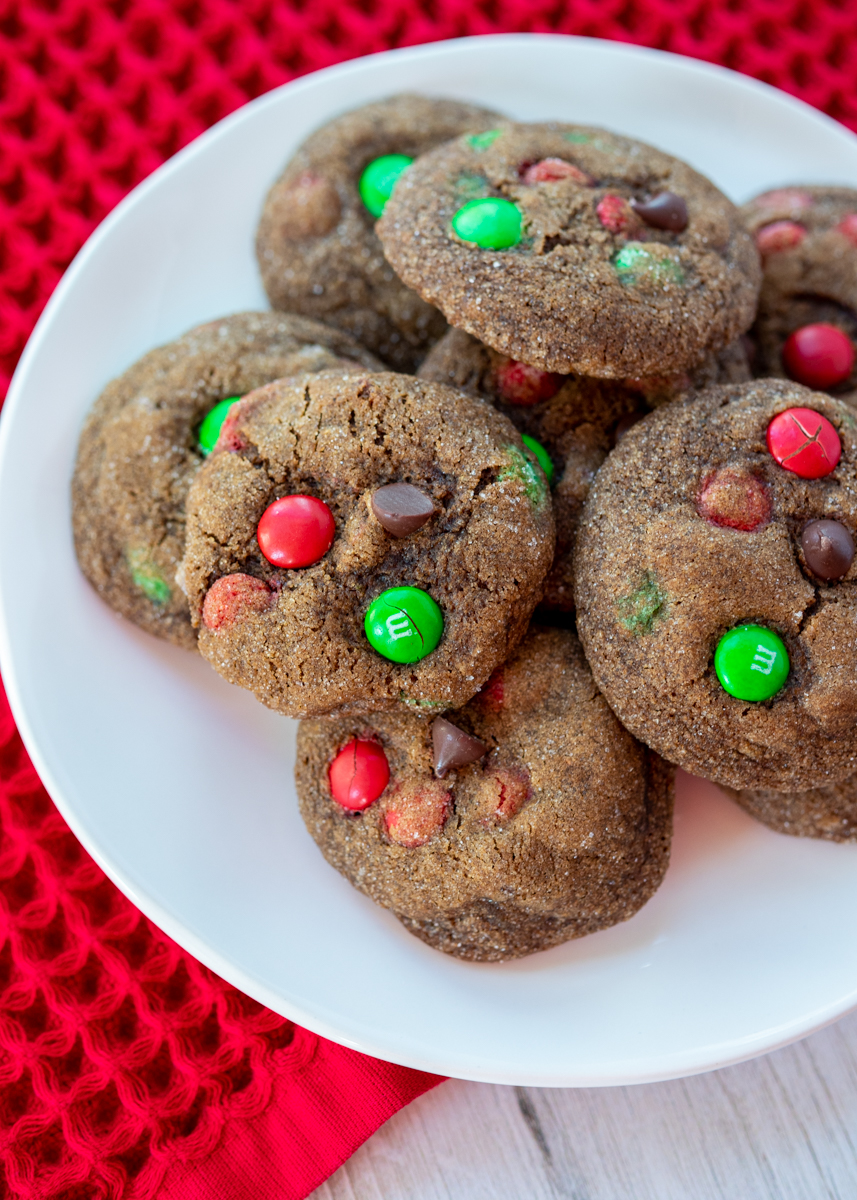 They have the same soft, chewy texture and buttery brown sugar flavor you get from chocolate chip cookies, plus the added bonus of gingerbread flavors through molasses, cinnamon, ginger and cloves. Also, between the chocolate chips and the M&M's they are chock-full of chocolate goodness.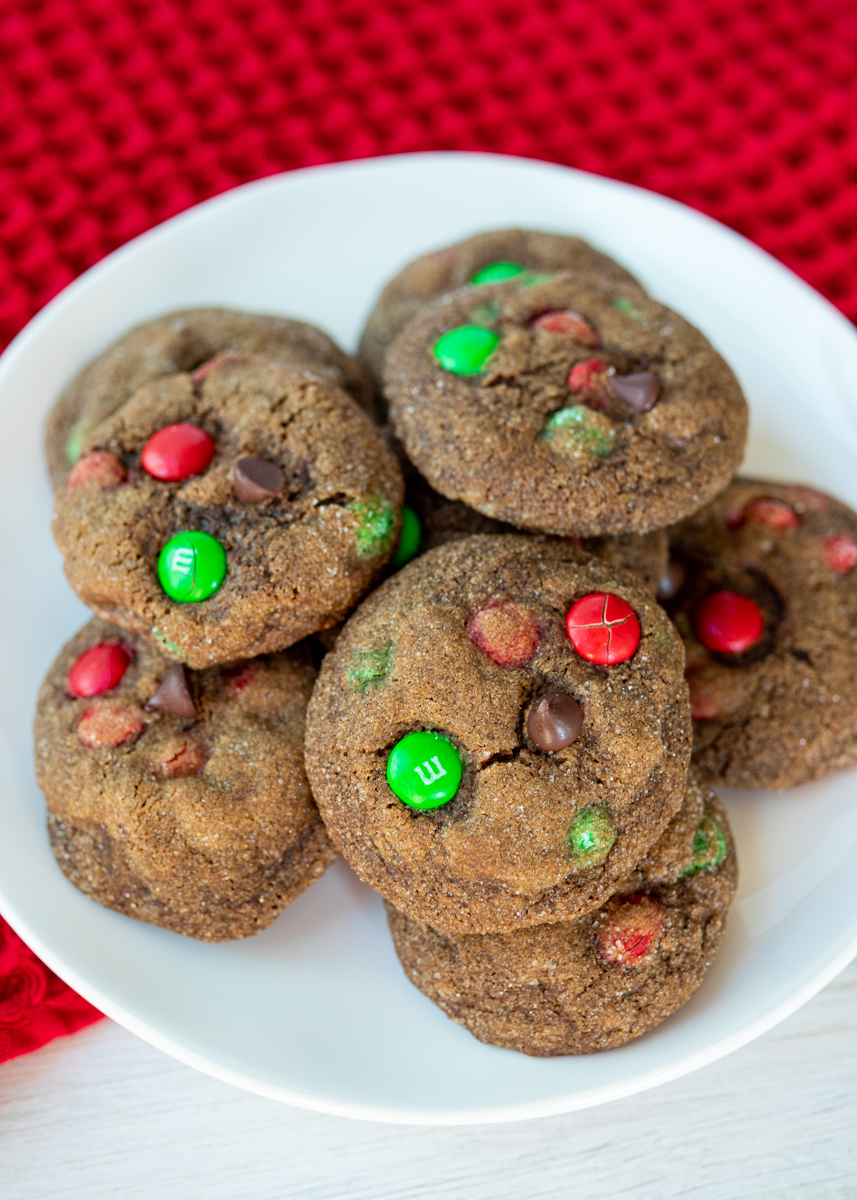 The good news is, as my swollen feet/ankles/calves/aka everything-below-my-belly can attest to, these cookies are super simple to whip up so you can be done in the kitchen and kicked back eating platefuls of Soft Gingerbread M&M Cookies in no time! Enjoy!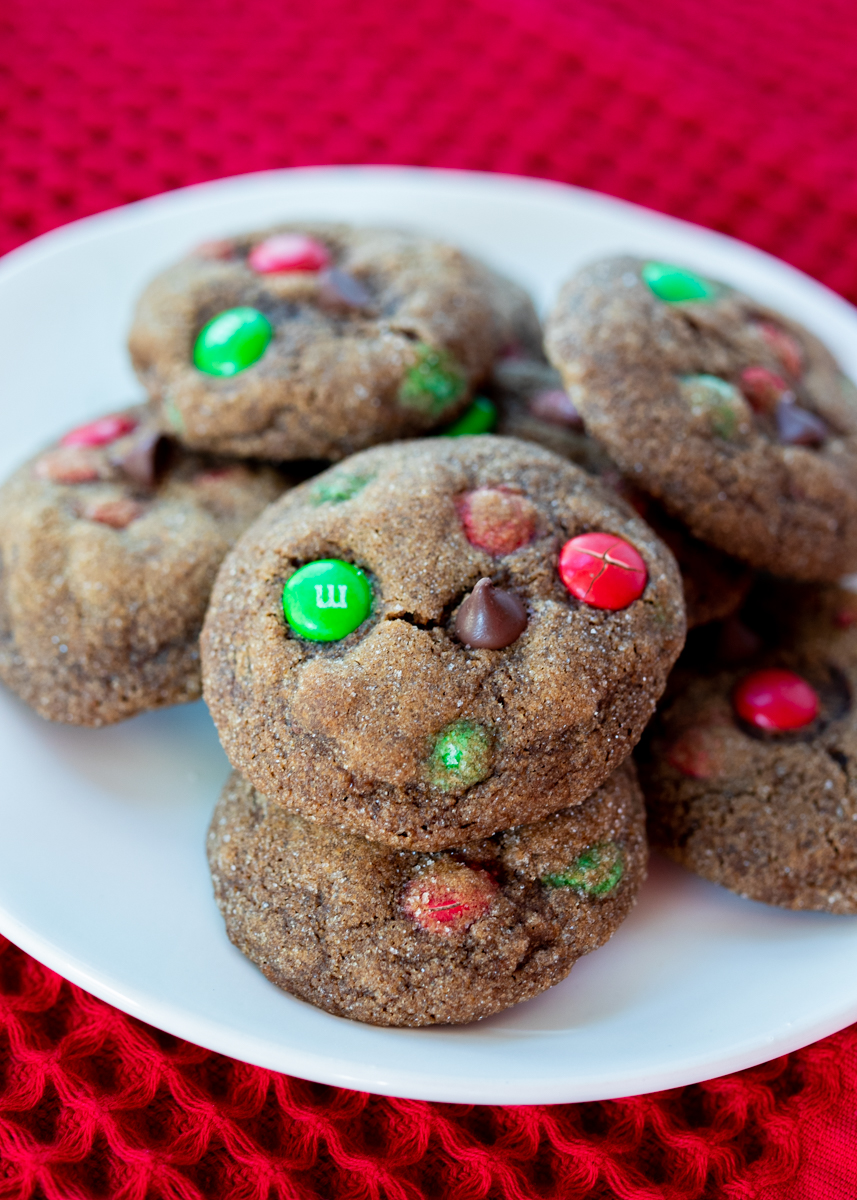 Soft Gingerbread M&M Cookies
Yield:
about 3 dozen cookies
Ingredients
2¾ cups all-purpose flour
1½ teaspoons ground cinnamon
1½ teaspoons ground ginger
1 teaspoon baking soda
½ teaspoon ground cloves
¼ teaspoon salt
1 cup butter (2 sticks), room temperature
¾ cup brown sugar
⅓ cup molasses
1 large egg
1 teaspoon vanilla extract
1 10-ounce bag M&M's (about 1½ cups)
1 cup semisweet chocolate chips
⅓ cup granulated sugar, for rolling
Directions
Preheat oven to 350 degrees F. Line 2 baking sheets with parchment paper and set aside.
In a mixing bowl, whisk together the flour, cinnamon, ginger, baking soda, cloves and salt until combined. Set aside.
In the bowl of a stand mixer or in a large bowl with a hand mixer, beat the butter, brown sugar and molasses on medium-high speed until fluffy, about 3 minutes. Add the egg and vanilla; beat until combined.
Add the flour mixture then beat on low speed until only a few flour streaks remain. Add the M&M's and chocolate chips (leaving some aside - we'll press these into the rolled balls so they look pretty!) and stir until just combined. Scoop out 1½ tablespoons of dough (if using Oxo cookie scoops use a medium cookie scoop) and roll into a ball. Roll the ball into the granulated sugar then place on the prepared baking sheet. Repeat for the remaining cookie dough. Lightly press an M&M and a chocolate chip into the top of each cookie ball. This will make sure they look nice and pretty!
Bake for 12 minutes then let cool on the cookie sheet placed on a wire cooling rack for 2 minutes. Transfer cookies to the wire cooling rack to cool completely. Repeat with 1 cookie sheet for the remaining cookie dough.
Recipe adapted from

Something Swanky

.