Chocolate Dipped Espresso Meringue Kisses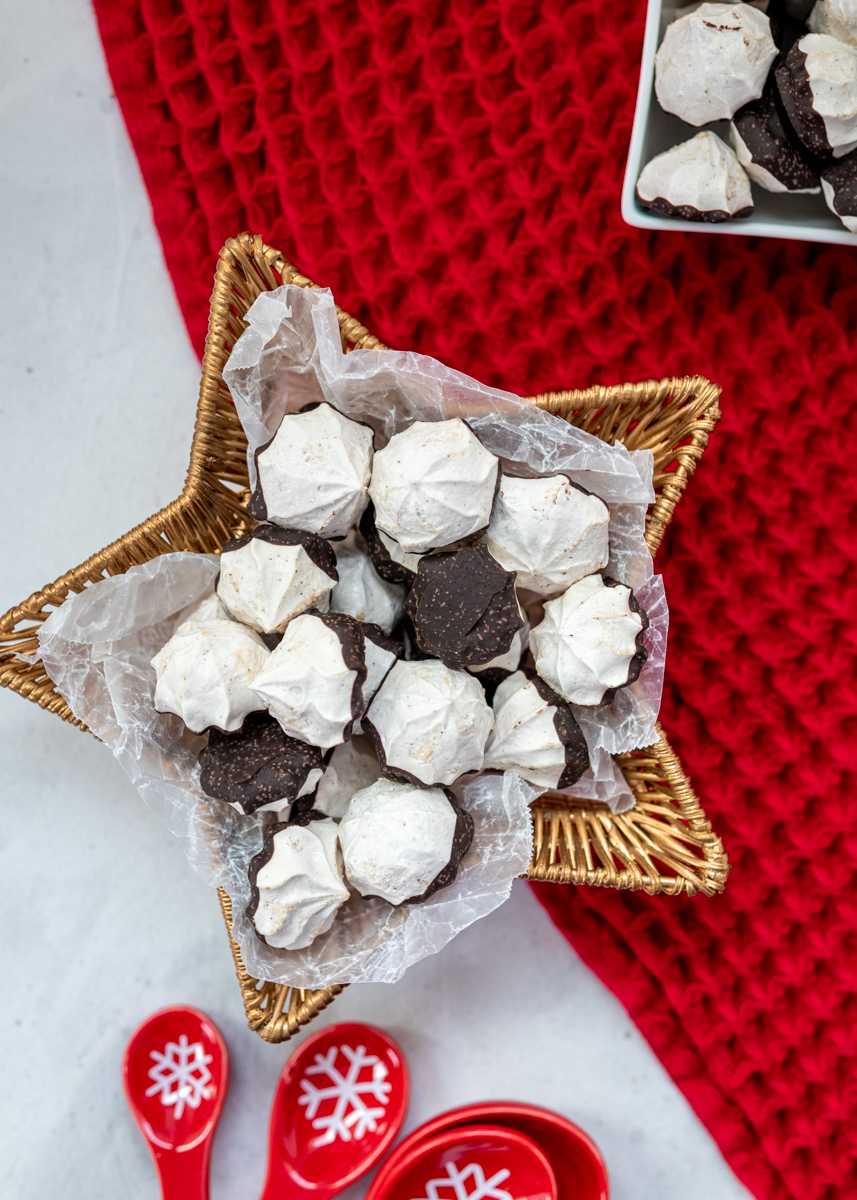 2 large egg whites
¼ teaspoon cream of tartar
Pinch of salt
1 teaspoon espresso powder
½ teaspoon coffee extract
½ cup granulated sugar, divided
1 cup semisweet chocolate chips, plus more as needed
1 teaspoon vegetable oil, plus more as needed
Preheat oven to 200 degrees F. Line 2 baking sheets with parchment paper and set aside.
In the bowl of a stand mixer or in a large bowl with a hand mixer, beat the egg whites, cream of tartar and salt until foamy. Add the espresso, extract and 1 tablespoon of the sugar. Beat on medium-high speed until soft peaks form.
Gradually add the remaining sugar while continuing to beat until stiff and glossy peaks form.
Fill a pastry bag fitted with a star tip. Pipe 54 cookies onto the prepared baking sheets. Alternatively, you could drop heaping teaspoonfuls of batter onto the baking sheets.
Bake the meringues for 1½-2 hours, switching pans from top to bottom halfway through the baking time. Meringues are done when they are barely dry on the outside and soft in the middle. Turn off the oven and let cookies cool in the oven for 1-3 hours.
Put the chocolate chips and the vegetable oil in a microwave-safe measuring cup or bowl. Microwave for 30 seconds, stir, then continue microwaving and stirring at 15-second intervals until the chocolate is completely melted. Dip the bottoms of the meringues into the melted chocolate and let the excess drip off. Set on a baking sheet lined with wax paper to allow the chocolate to harden. You can speed up the hardening time if you put them in the fridge. Repeat for all the meringues, melting more chocolate as needed.
Recipe by
Lemon & Mocha
at http://www.lemonandmocha.com/2019/12/13/chocolate-dipped-espresso-meringue-kisses/