Perfect Chocolate Chip Cookies
This post was originally published on 5/20/2014. It has been updated with new photos and content.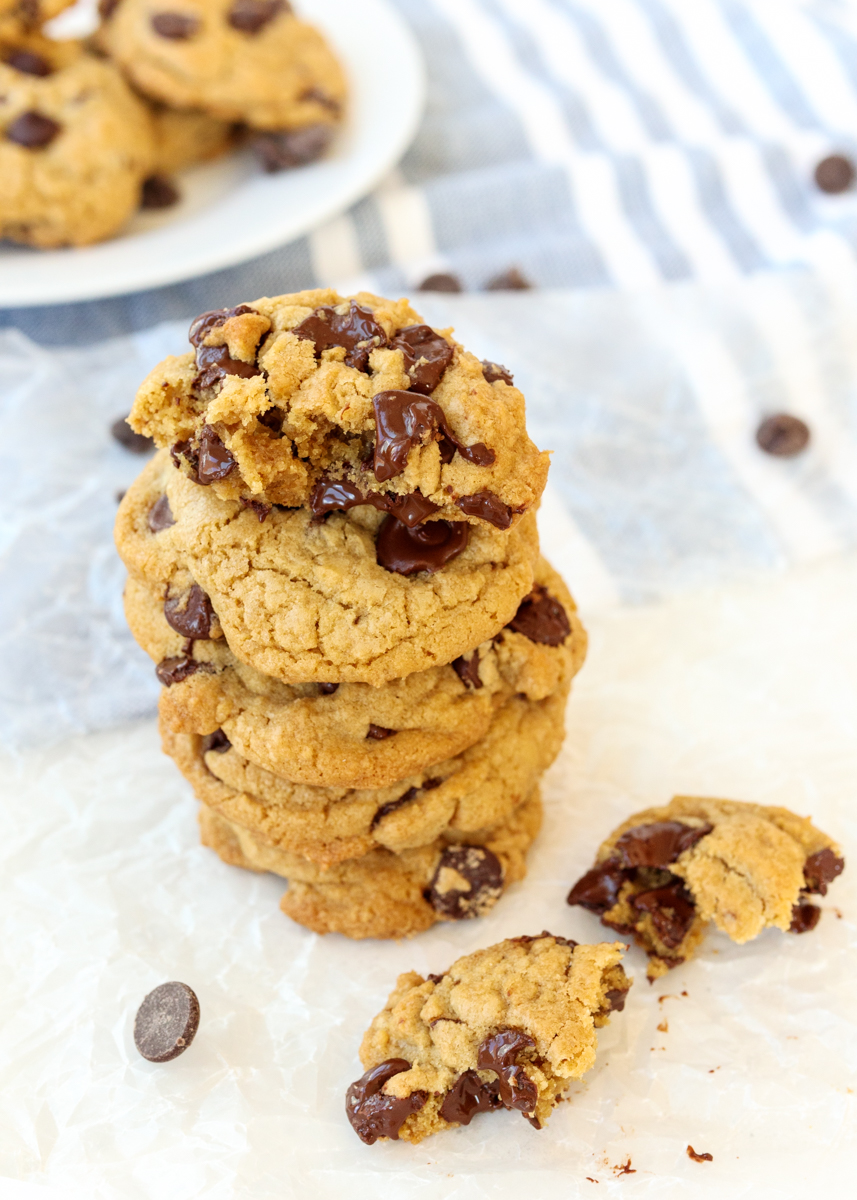 I would be surprised if there is anyone who doesn't have some sort of special memory related to chocolate chip cookies. They are just one of those foods that tend to remind you of home and comfort. My memory has to do with my grandma, as most of my food memories do. She was known throughout my family and friend group as having delicious chocolate chip cookies, so much in fact that they were dubbed "Babu Cookies." (Side note: we call my grandma Babu, which is short for Babushka, or grandmother in Russian).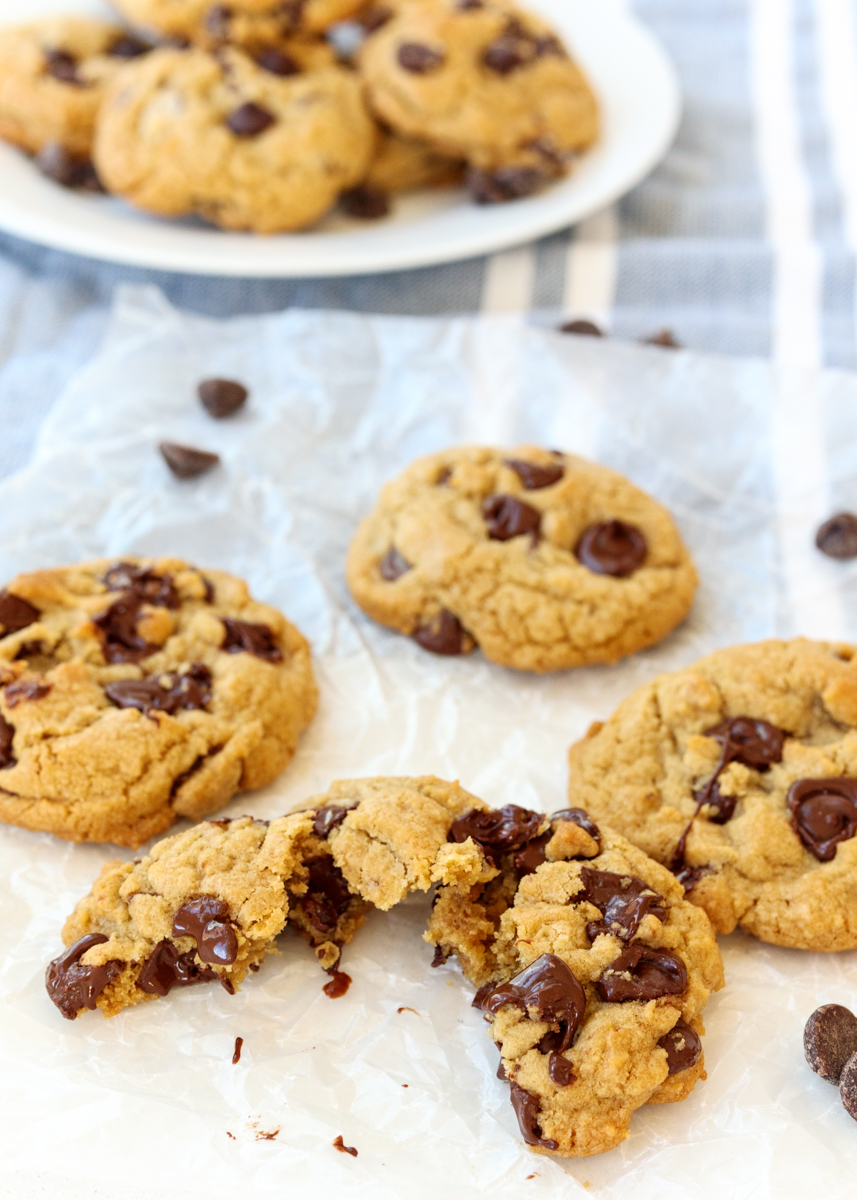 The best part was that there was always a batch of them somewhere in the house. Whether they were stocked in the freezer or a fresh batch was sitting warm and gooey on the cooling racks in the kitchen, Babu made sure we never were lacking chocolate chip cookies. I have not been able to perfect the Babu cookie as I remember it, slightly cakey and chewy, and part of that is probably because the memories associated with some foods can tend to elevate them in your mind. So instead, after much practice in the kitchen I now make my own delicious chocolate chip cookies.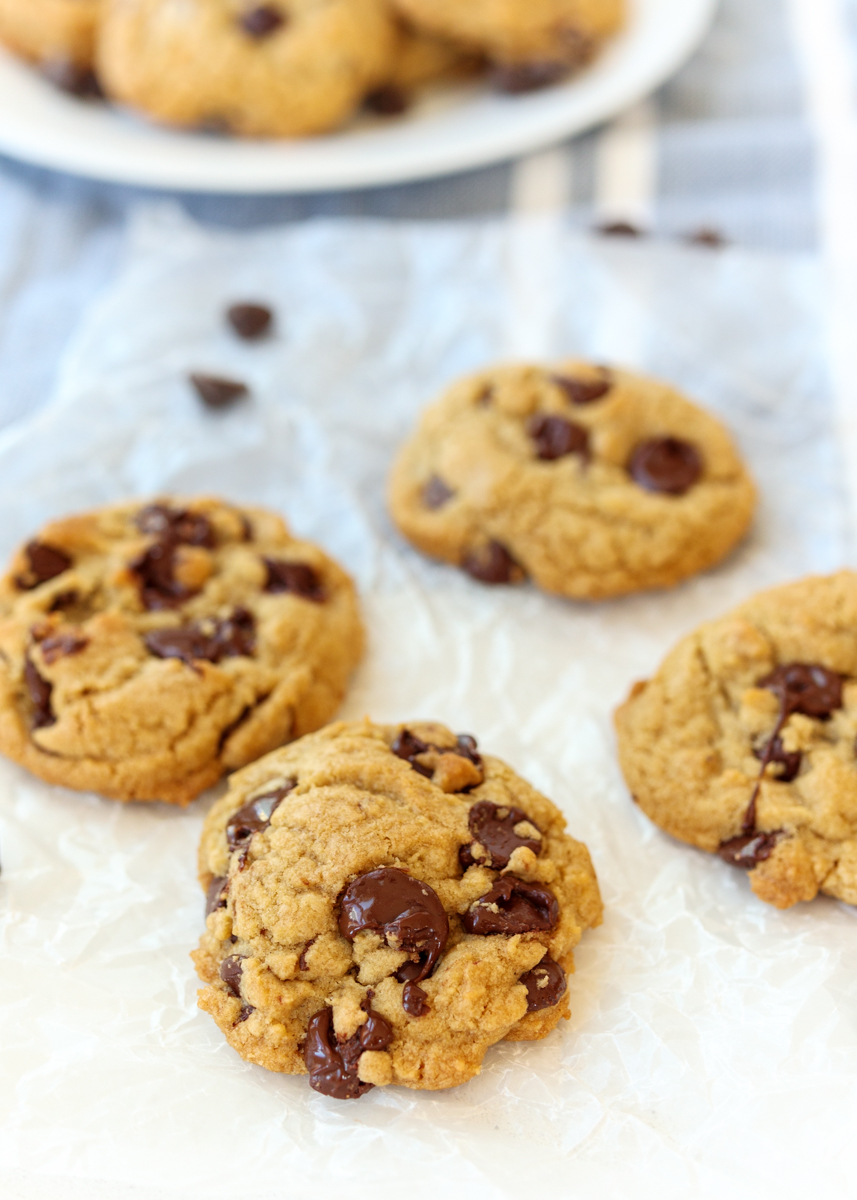 Although I'm ice cream obsessed and having a very close relationship with my Perfect Chocolate Cupcakes, my favorite dessert is a chocolate chip cookie. If I'm going to be specific though, my absolute favorite dessert is my Perfect Chocolate Chip Cookies. I know, it sounds so egotistical, which is not me at all, but they are my ideal chocolate chip cookie. Chewy, soft, rich flavor and loaded with chocolate chips. They are also my favorite cookies to bake because there's no resting time for the dough! This is ideal for whenever you are having a cookie craving, which is my usual state of being.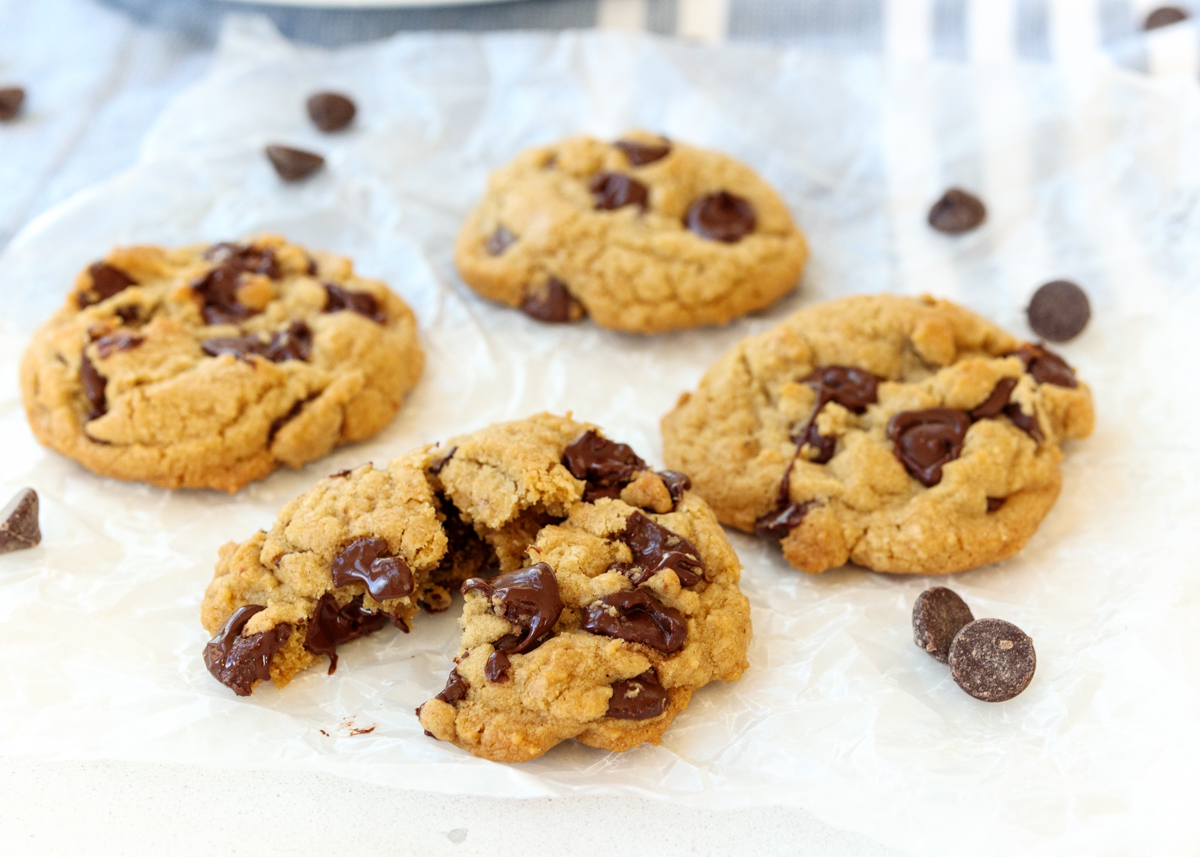 Chewy Texture
Having a higher percentage of brown sugar rather than granulated sugar, as well as an additional egg yolk, is what gives the cookies that chewy texture. Now, the secret with these cookies is that they are actually Browned Butter Chocolate Chip Cookies.
Rich Flavor
Browning the butter gives them a rich, deep flavor, and as an added bonus you don't have to remember to let your butter come to room temperature!
Loaded with Chocolate
Really good chocolate chips are key and bring this cookie to a straight-up heavenly status. I stick to Ghiradelli or Trader Joe's semi-sweet chocolate chips, but I've heard great reviews about Scharffen Berger and Guittard as well. If they are out of the Ghiradelli semi-sweet I use the bittersweet chocolate chips instead. Sometimes I even mix it up and do half chocolate chips and half chocolate chunks – yum!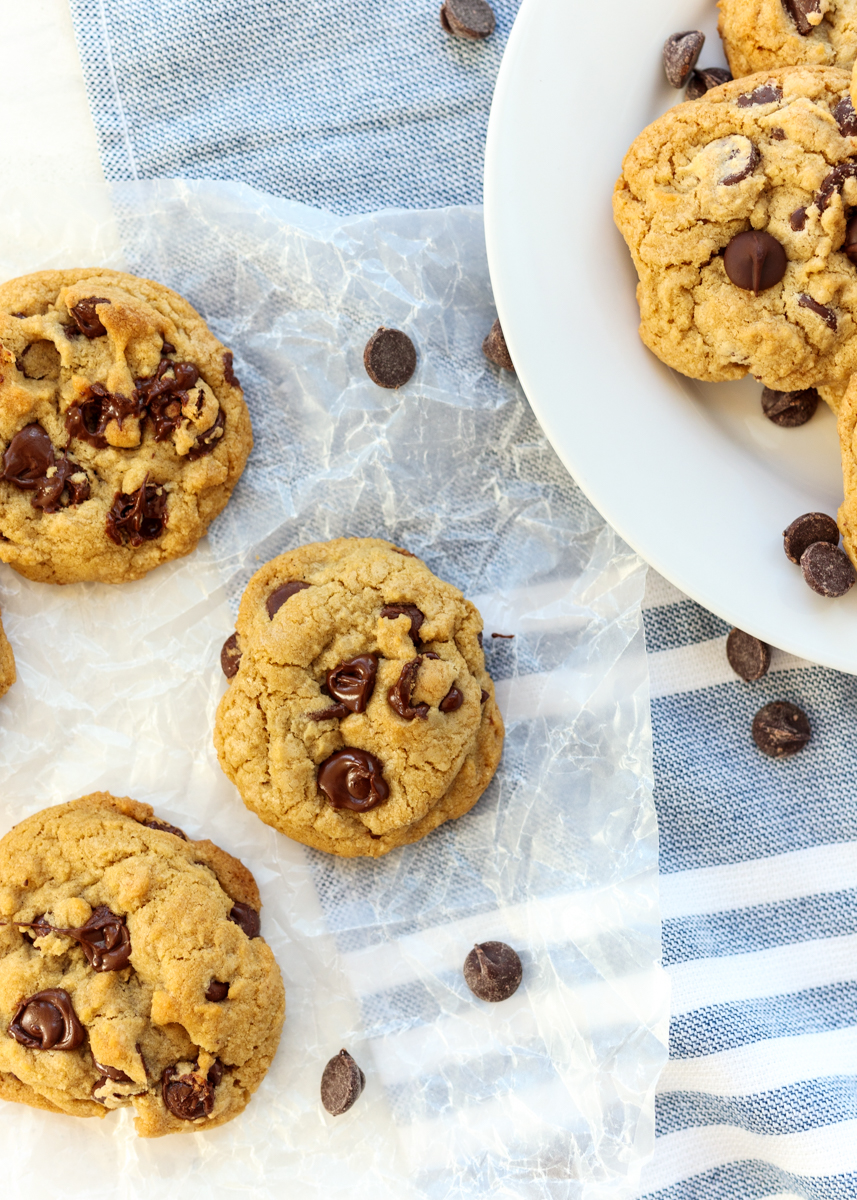 I could eat the entire batch of these cookies, but Matt would never let me get away with not sharing. Even though it takes an enormous amount of willpower to not devour them as soon as they're out of the oven, my favorite way to eat them is cold out of the fridge. So make these Perfect Chocolate Chip Cookies and make some food memories. Or at least make your taste-buds extremely happy.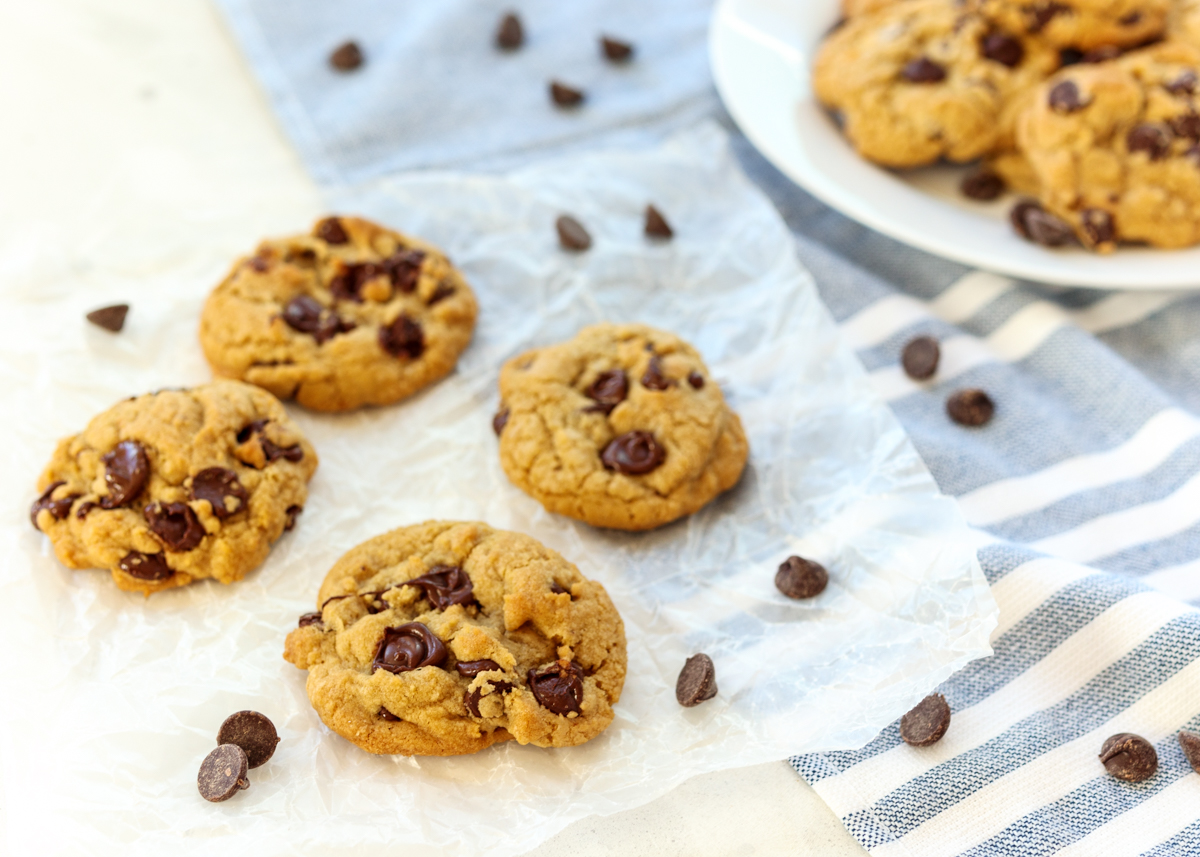 Extra Tips
If you don't already have one, get a

cookie scoop

. I promise it will make your life 10,388,772 times easier. I also use mine for scooping muffin and cupcake batter. It helps make your cookies the perfect uniform size every time and the dough doesn't get soft from you touching it with your warm hands to make dough balls, resulting in thinner cookies that spread.
Put the dough in the fridge after scooping out the first batch to go in the oven. If you leave it out the whole time your first batch is baking, the dough will be too soft and the cookies will spread a lot during your second batch. Even though the dough will only be in the fridge for just 5 or so minutes between batches, it really helps.
Don't overcook them! The cookies will be really soft when they come out of the oven and the centers will look not done. If you keep cooking them the cookies will get overcooked. Let the cookies rest on the cookie sheet on a wire rack (not the stove-top, which is most likely warm from the oven) for 1-2 minutes before transferring the cookies to a wire cooling rack. A

cooling rack with grids

is more stable for the cookies.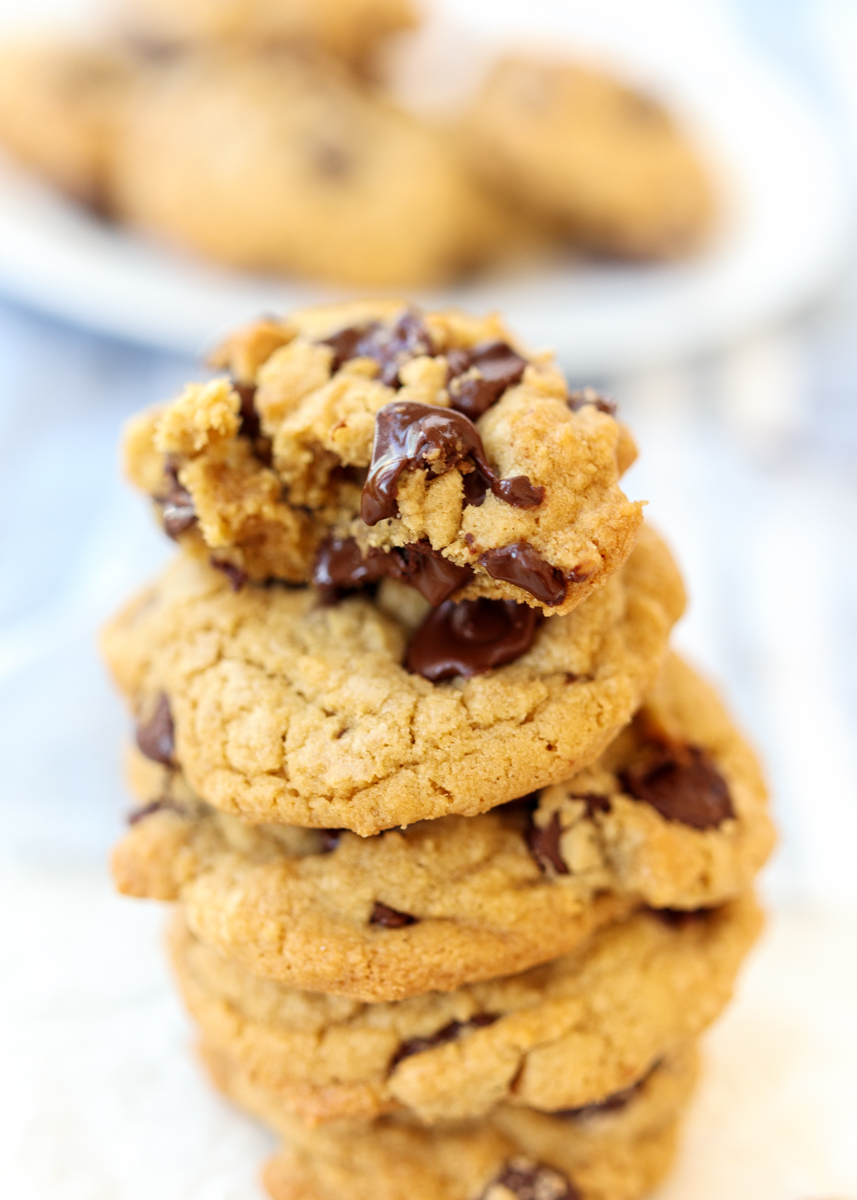 Perfect Chocolate Chip Cookies
Ingredients
1¾ cups all-purpose flour
¾ teaspoon salt
½ teaspoon baking soda
¾ cup unsalted butter (1½ sticks)
½ cup sugar
¾ cup dark brown sugar
2 teaspoons vanilla extract
1 large egg, at room temperature
1 large egg yolk, at room temperature
2 cups semi-sweet Ghiradelli chocolate chips
Directions
Preheat oven to 375 degrees F. Line 2 large baking sheets with parchment paper and set aside.
In a medium bowl sift together the flour, salt and baking soda, then set aside.
In a small skillet over medium-high heat melt 8 tablespoons of the butter. Reduce the heat to medium and keep cooking, making sure to continuously swirl the pan, until the butter is golden brown in color, about 3 minutes. Remove from the heat and pour the browned butter into a large heatproof bowl or the bowl of a stand mixer. Stir in the remaining 4 tablespoons of butter until melted. Let the butter cool slightly.
Add the sugar, brown sugar and vanilla to the large bowl with the browned butter. Whisk for 2 minutes on medium then medium high speed, scraping down the sides as needed. Add the egg, whisk for 1 minute on medium speed, then add the egg yolk and whisk for 1 minute on medium speed. The dough should be smooth and shiny. If using a stand mixer, switch to a paddle attachment. Stir in the flour mixture on low speed until a few streaks remain. Stir in the chocolate chips. The dough will be thick at this point so mixing in the chips will be a little hard, but do the best you can without over mixing.
Use a medium cookie scoop to arrange dough balls, about 1½ tablespoons each, 2 inches apart on the first prepared baking sheet. Put the rest of the dough in the fridge. When the first batch is 5 minutes away from being done, take the cookie dough out of the fridge and scoop dough balls onto the second prepared baking sheet.
Bake the cookies one tray at a time on the middle rack for 10-12 minutes. Cookies are done when they are golden brown and the edges have just started to set, but the centers are soft. Once removed from the oven let cool on the baking sheet on a cooling rack for 1-2 minutes, then carefully remove the cookies from the pan to a wire cooling rack.
Notes
If you prefer larger cookies, use a large cookie scoop to make dough balls of 3 tablespoons each.