Perfect Chocolate Chip Cookies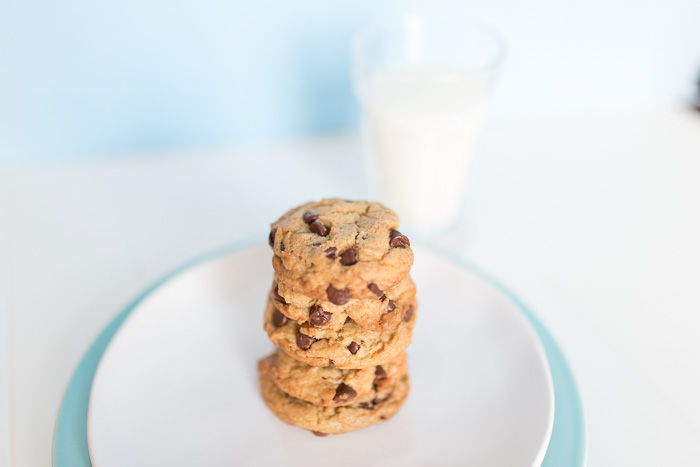 1¾ cups all-purpose flour
¾ teaspoon salt
½ teaspoon baking soda
¾ cup unsalted butter (1½ sticks)
½ cup sugar
¾ cup dark brown sugar
2 teaspoons vanilla extract
1 large egg, at room temperature
1 large egg yolk, at room temperature
2 cups semi-sweet Ghiradelli chocolate chips
Preheat oven to 375 degrees F. Line 2 large baking sheets with parchment paper and set aside.
In a medium bowl sift together the flour, salt and baking soda, then set aside.
In a small skillet over medium-high heat melt 8 tablespoons of the butter. Reduce the heat to medium and keep cooking, making sure to continuously swirl the pan, until the butter is golden brown in color, about 3 minutes. Remove from the heat and pour the browned butter into a large heatproof bowl or the bowl of a stand mixer. Stir in the remaining 4 tablespoons of butter until melted. Let the butter cool slightly.
Add the sugar, brown sugar and vanilla to the large bowl with the browned butter. Whisk for 2 minutes on medium then medium high speed, scraping down the sides as needed. Add the egg, whisk for 1 minute on medium speed, then add the egg yolk and whisk for 1 minute on medium speed. The dough should be smooth and shiny. If using a stand mixer, switch to a paddle attachment. Stir in the flour mixture on low speed until a few streaks remain. Stir in the chocolate chips. The dough will be thick at this point so mixing in the chips will be a little hard, but do the best you can without over mixing.
Use a medium cookie scoop to arrange dough balls, about 1½ tablespoons each, 2 inches apart on the first prepared baking sheet. Put the rest of the dough in the fridge. When the first batch is 5 minutes away from being done, take the cookie dough out of the fridge and scoop dough balls onto the second prepared baking sheet.
Bake the cookies one tray at a time on the middle rack for 10-12 minutes. Cookies are done when they are golden brown and the edges have just started to set, but the centers are soft. Once removed from the oven let cool on the baking sheet on a cooling rack for 1-2 minutes, then carefully remove the cookies from the pan to a wire cooling rack.
If you prefer larger cookies, use a large cookie scoop to make dough balls of 3 tablespoons each.
Recipe by
Lemon & Mocha
at http://www.lemonandmocha.com/2018/12/12/perfect-chocolate-chip-cookies/