Double Chocolate Peppermint Cookies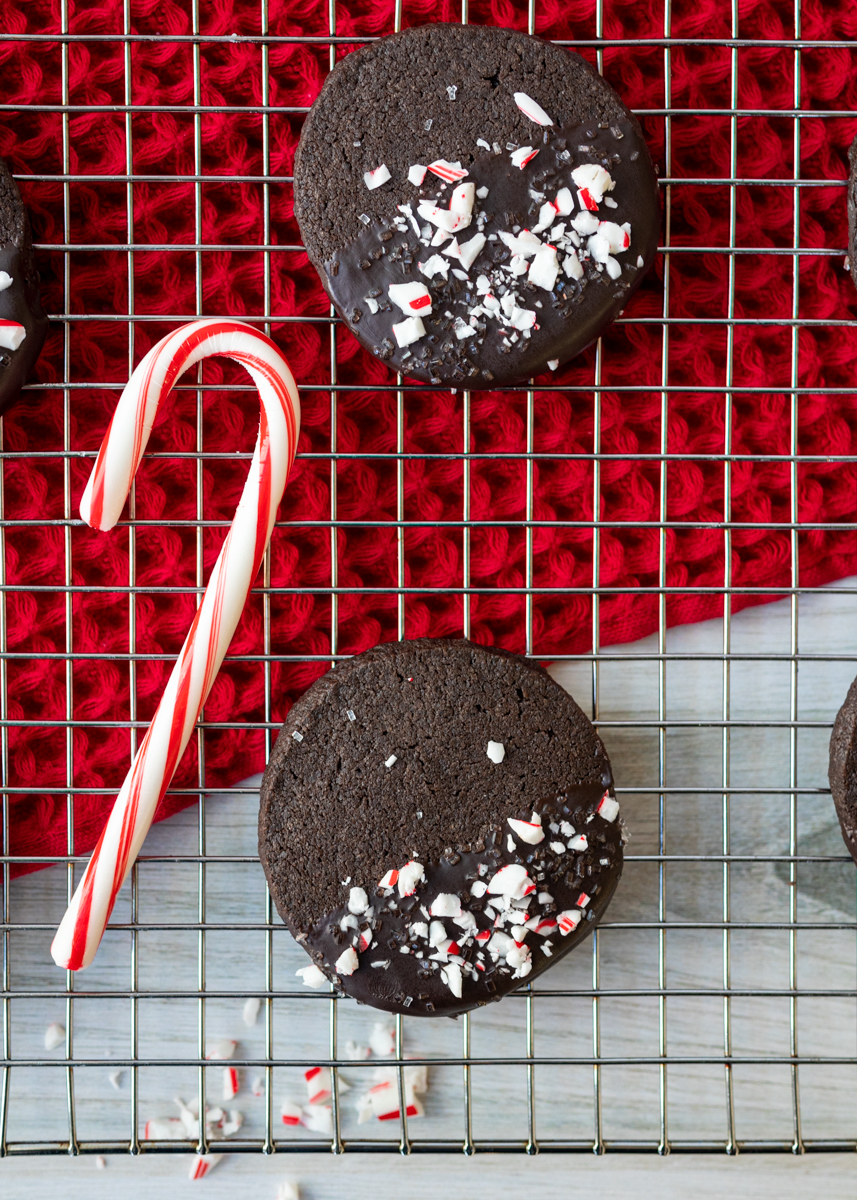 You knew I couldn't stay away from the chocolate for too long! I'm catching us all up on chocolate by providing double the chocolate today. For day seven of Lemon & Mocha's 12 Days of Cookies I present to you Double Chocolate Peppermint Cookies! They should really be called double chocolate double peppermint cookies since, you guessed it, there's both double the chocolate and double the peppermint, but I figured one "double" would work just as well.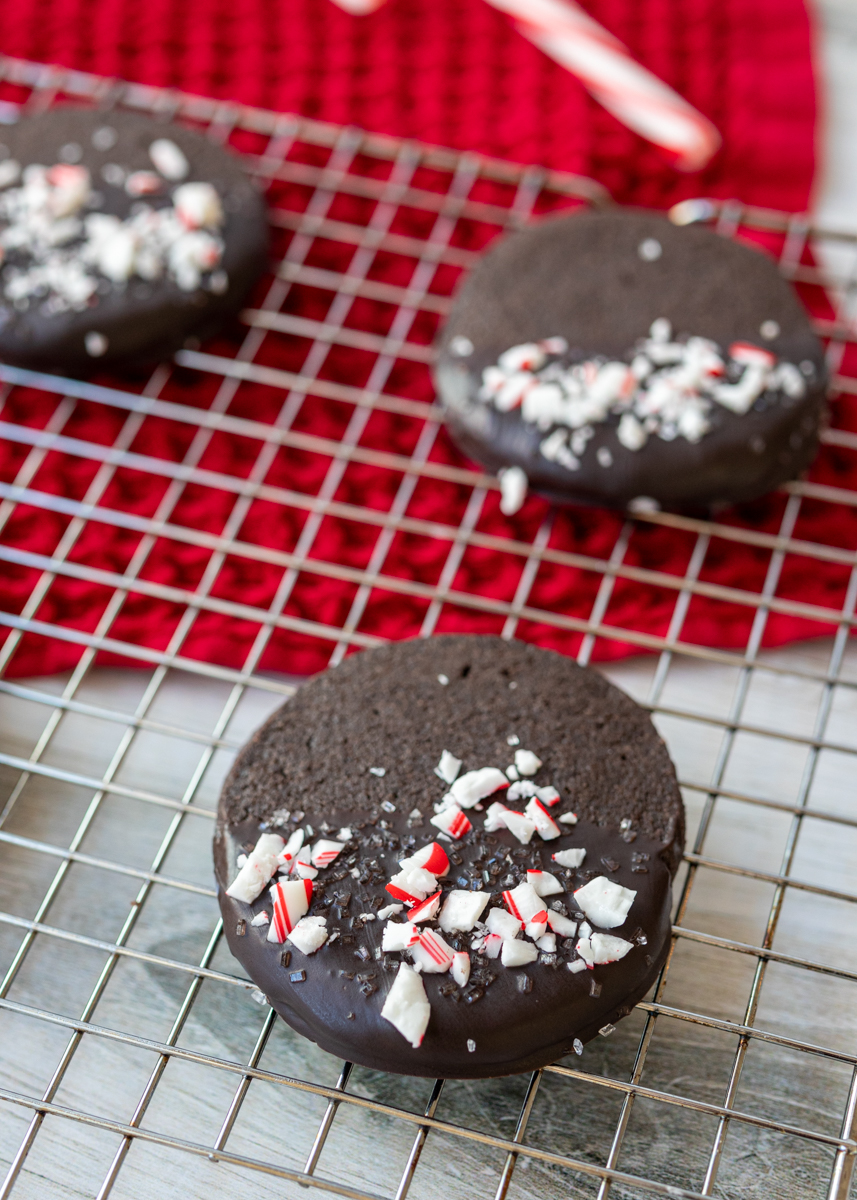 Do these round, dark and slightly crispy cookies look familiar? If they do, it's because we're using the same cookie base from the Chocolate Raspberry Heart Cookie Pops recipe. Back in February, Matt and I couldn't get enough of the buttery dark chocolate cookies. The first time I posted this cookie base I described them as a buttery version of the Sheila G's Brownie Brittle and that is so spot on. Except this time, we're dipping them in peppermint-flavored melted semisweet chocolate and sprinkling crushed candy canes on top to make them extra festive.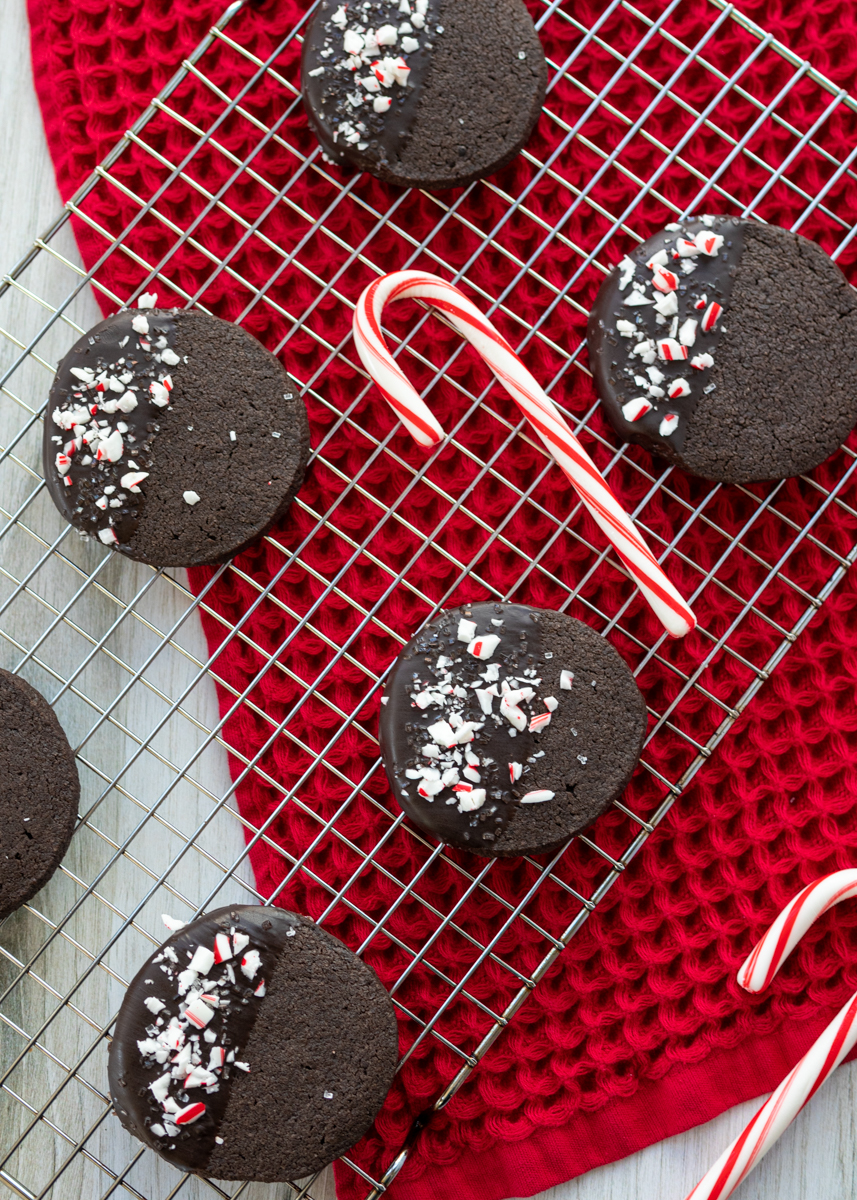 A couple months ago I shared these cookies with some friends and they were a big hit. I love when recipes like these are a big hit. And by recipes like these I mean recipes that are easy! So easy!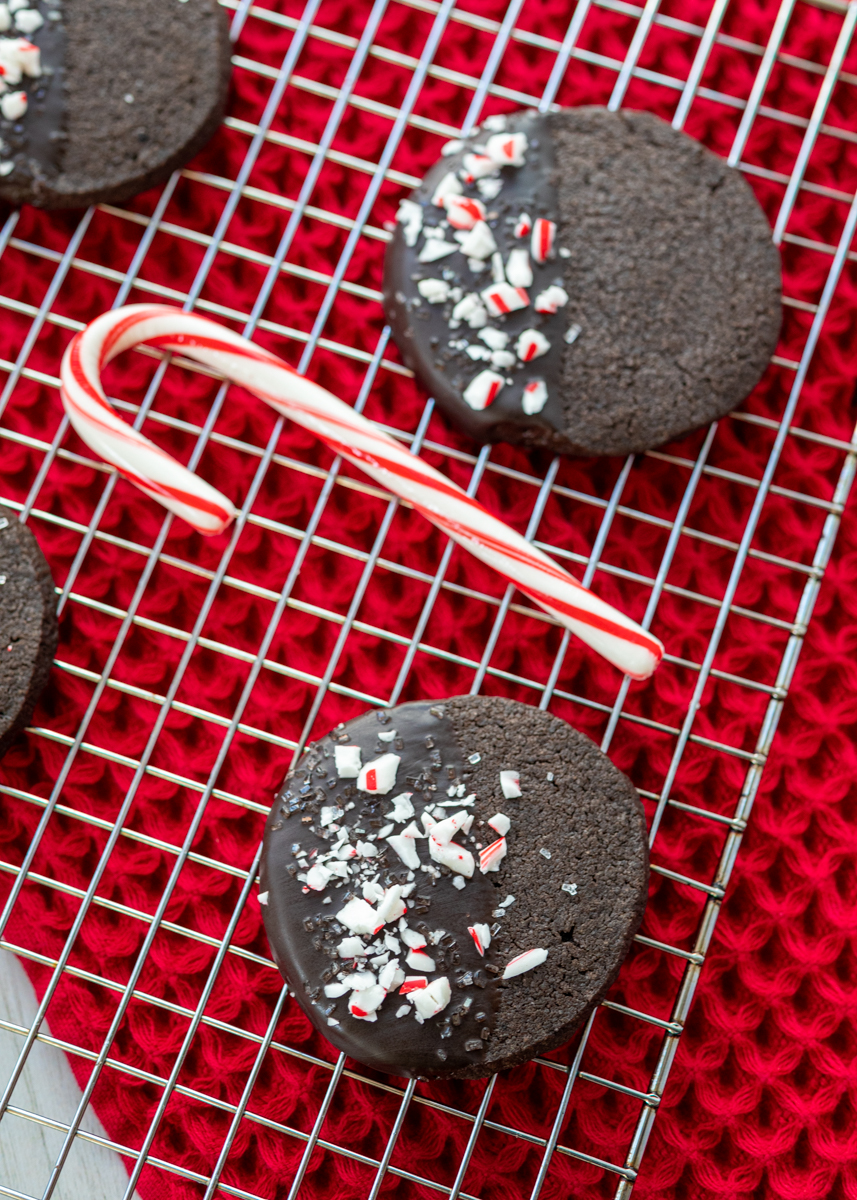 First of all, the cookie dough comes together in a food processor. I use this 14-cup food processor by Cuisinart. The dough is pulsed together then cold butter cubes are added and you continue to pulse until the dough completely comes together, just like if you were making a pie crust. Cold butter also means no waiting for ingredients to come to room temperature – hurray!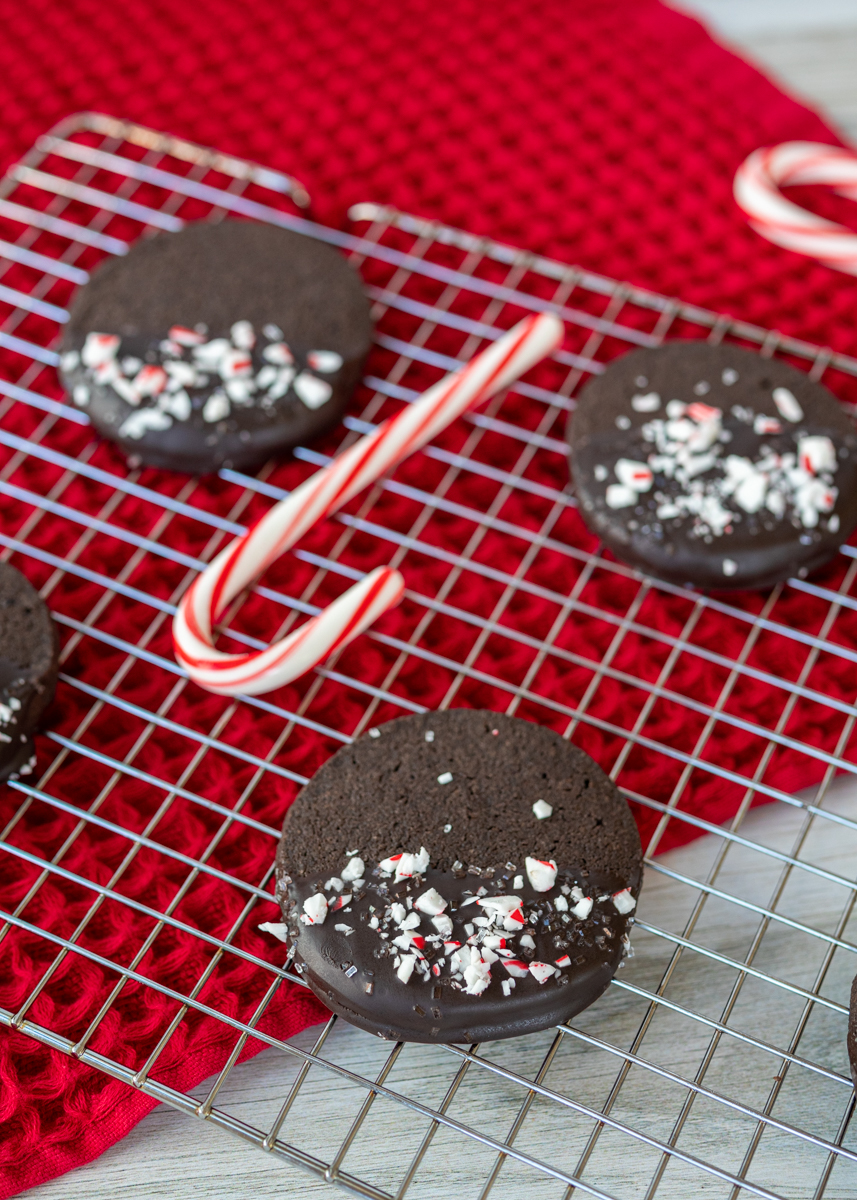 When I made the cookie pops, the cookie dough was rolled out, but to simplify things even more I've adjusted these to be made as slice-and-bake cookies. The dough comes out of the food processor and is rolled into a log in plastic wrap. Pop it into the fridge overnight or until firm and then it's time to slice the dough into rounds and bake up the cookies! Once cooled, a quick dip into some minty melted chocolate and some sprinkling of peppermint candy and you're done! Yum! I hope you all enjoy these!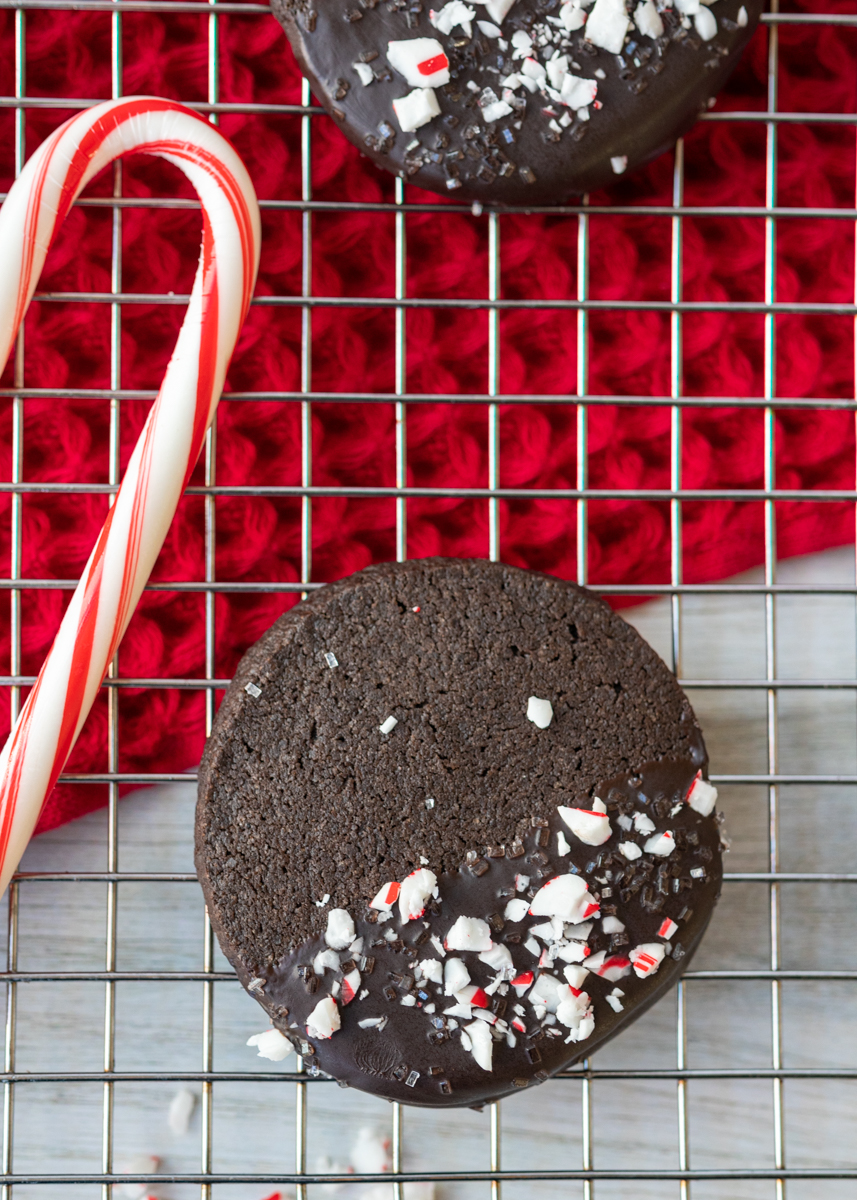 Double Chocolate Peppermint Cookies
Ingredients
2 cups all-purpose flour
¾ cup powdered sugar
⅓ cup unsweetened Dutch-process cocoa powder
¼ cup granulated sugar
½ teaspoon salt
2½ sticks cold unsalted butter, cut into cubes
2 teaspoons vanilla extract
1 cup semisweet chocolate chips
1 teaspoon vegetable oil
½ teaspoon peppermint extract
Candy canes, crushed, for decorating
White sanding sugar for decorating, optional
Directions
In a food processor, pulse together the flour, powdered sugar, cocoa powder, granulated sugar and salt. Once combined, add the cold butter cubes and the vanilla extract. Pulse until the mixture looks like it has larger crumbs and will hold together when pinched. Transfer the dough to a large bowl or clean work surface and press the dough into a ball. Knead the dough a few times. Place the dough on a large piece of plastic wrap and work it into a log with a 2.5-3 inch diameter. Roll the dough log in the plastic wrap (I usually continue rolling and shaping it while it's wrapped in plastic). Refrigerate the dough log until firm or overnight.
Make sure oven racks are positioned in the lower and upper thirds of the oven. Preheat to 325 degrees F. Using a sharp knife, slice the log into ⅜-inch thick cookies and arrange 2 inches apart on 2 baking sheets lined with parchment paper. Bake the cookies for 25-27 minutes, switching the pans from top to bottom and front to back halfway through. Let cookies cool for 10 minutes on the pan on a wire cooling rack then transfer cookies to the wire cooling rack to cool completely.
Once the cookies are completely cool, melt the chocolate chips and vegetable oil in a microwave safe liquid measuring cup. Microwave for 30 seconds, stir, then continue microwaving and stirring in 15 second intervals until it's melted and smooth. Stir in the peppermint extract. Dip a cooled cookie halfway into the melted chocolate, place on a baking sheet lined with wax paper and sprinkle with crushed candy canes and white sanding sugar (if using). Repeat for the rest of the cookies, melting more chocolate if needed. Towards the end I didn't want to melt more so I just used a spoon to help spread it on the remaining cookies. Place in the fridge until the chocolate sets then remove and store at room temperature.