Chocolate Chip Cookie Brittle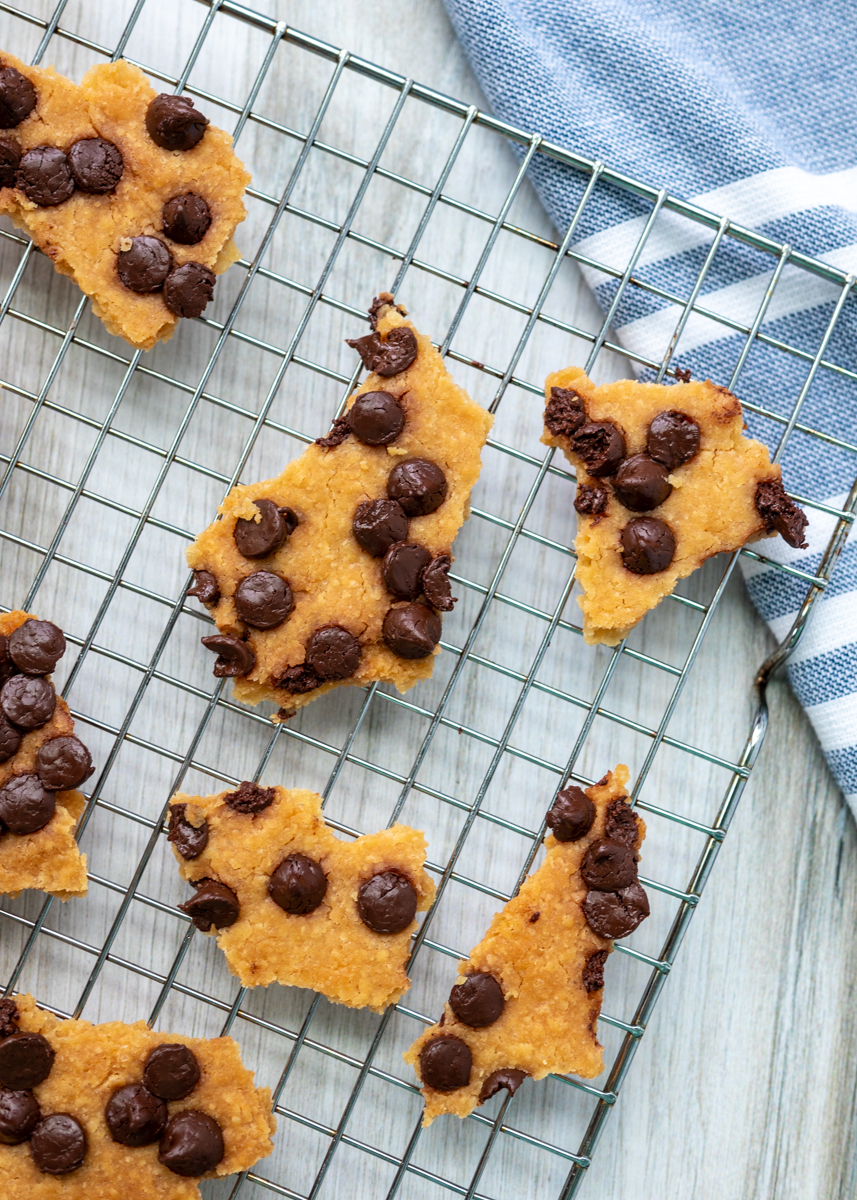 Remember the Flourless Chocolate Walnut Cookies? Of course you do. I shared the recipe three weeks ago and they were fudgey and chocolatey and exceptionally delicious. I made the recipe from my Food52 Genius Desserts cookbook and I figured if the first cookie recipe I tried was that good that I definitely needed to bake another cookie recipe from the cookbook before the cookie season was through.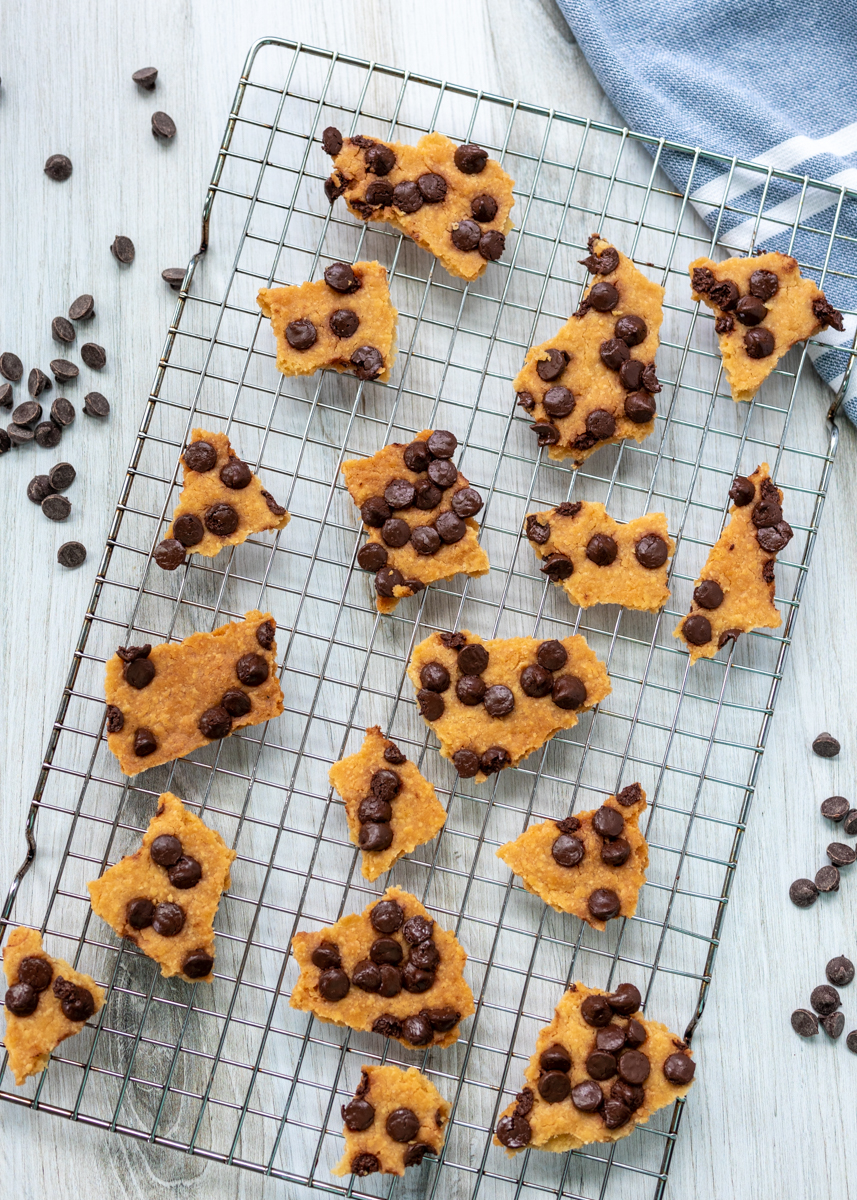 So, today, on day eight of Lemon & Mocha's 12 Days of Cookies, I'm sharing the recipe for Chocolate Chip Cookie Brittle. This cookie brittle is for all the crispy cookie fans out there. The cookie dough is baked in a half sheet pan and then cracked into pieces once it's cooled.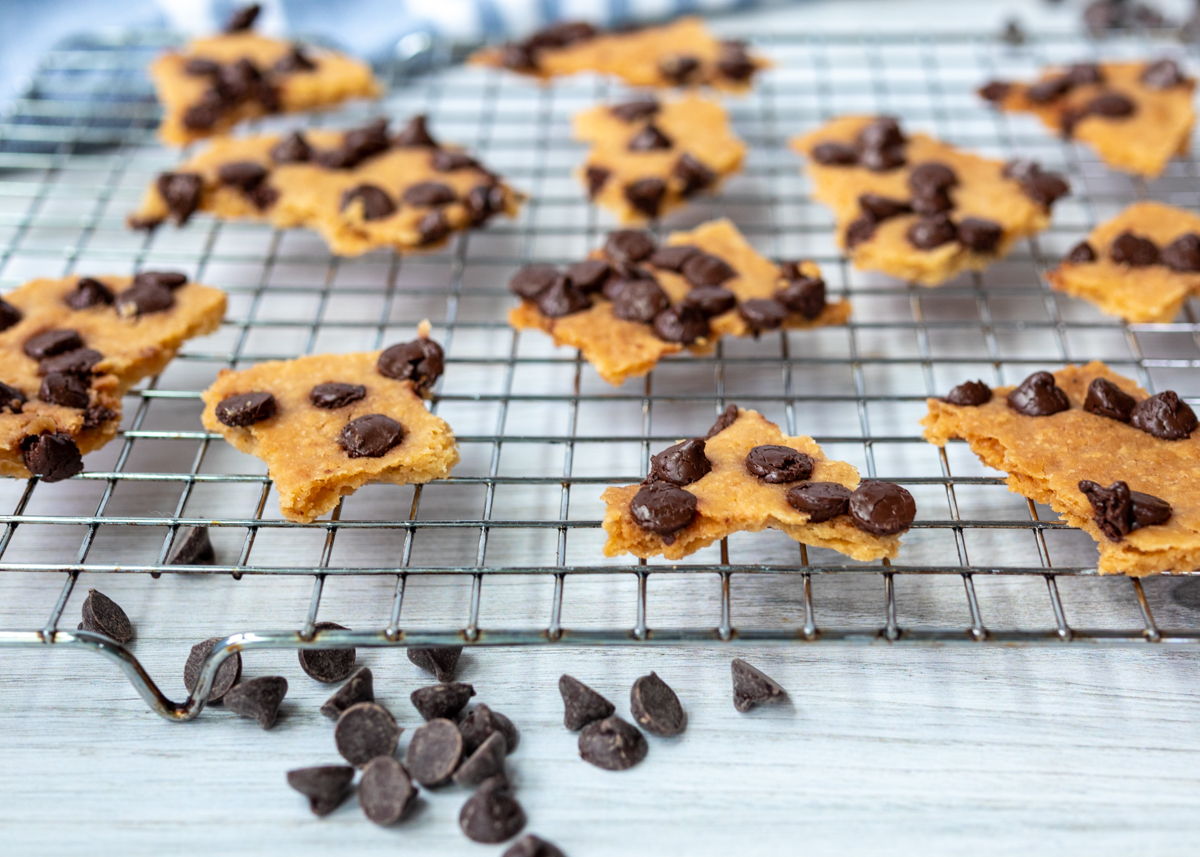 This unconventional cookie requires an unconventional cookie dough. In this case, the cookie dough doesn't have any eggs or any leavening ingredients. In fact, we're just combining melted butter, turbinado sugar, flour, vanilla and salt and spreading it super thinly onto that half sheet pan. Don't forget the chocolate chips!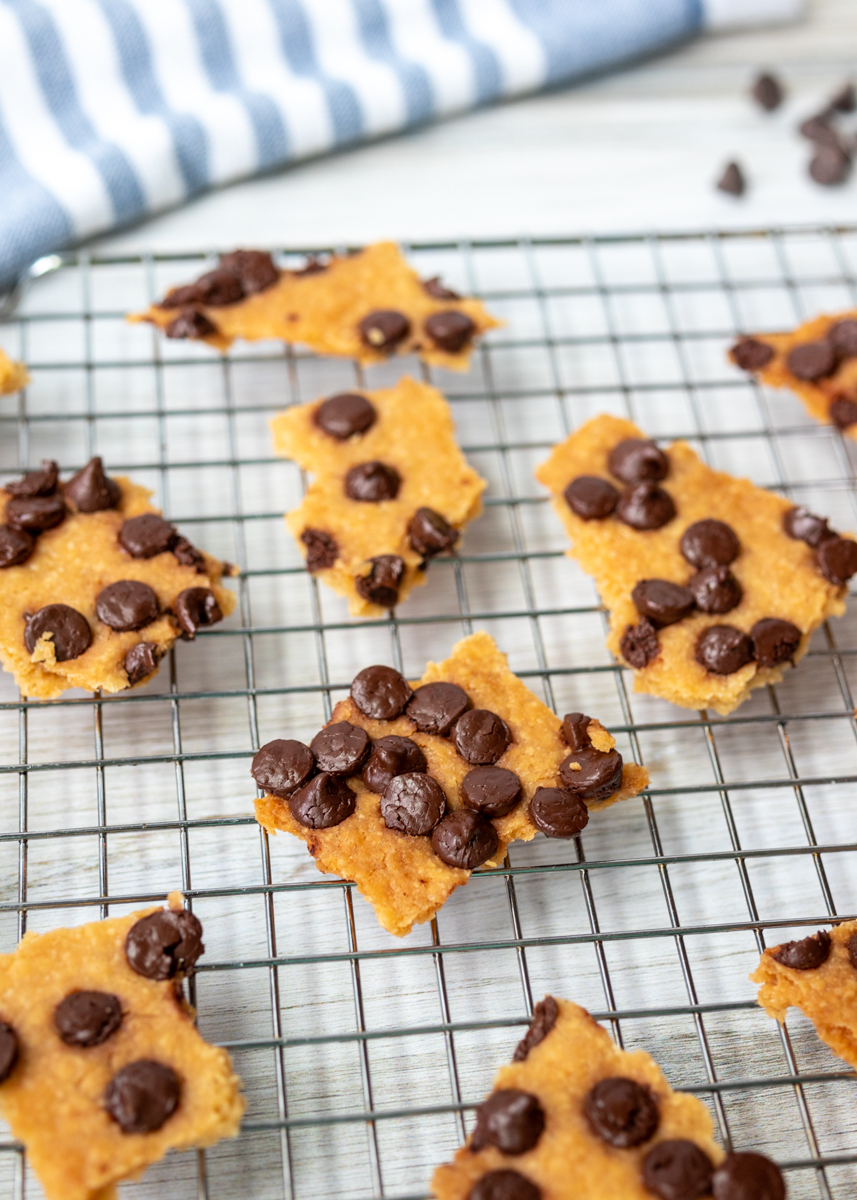 Since this is a stripped down type of cookie with plenty of chocolate chips you're definitely going to want to use high quality chocolate. Stick with semisweet or bittersweet; my go-to brands are Ghiradelli or Guittard.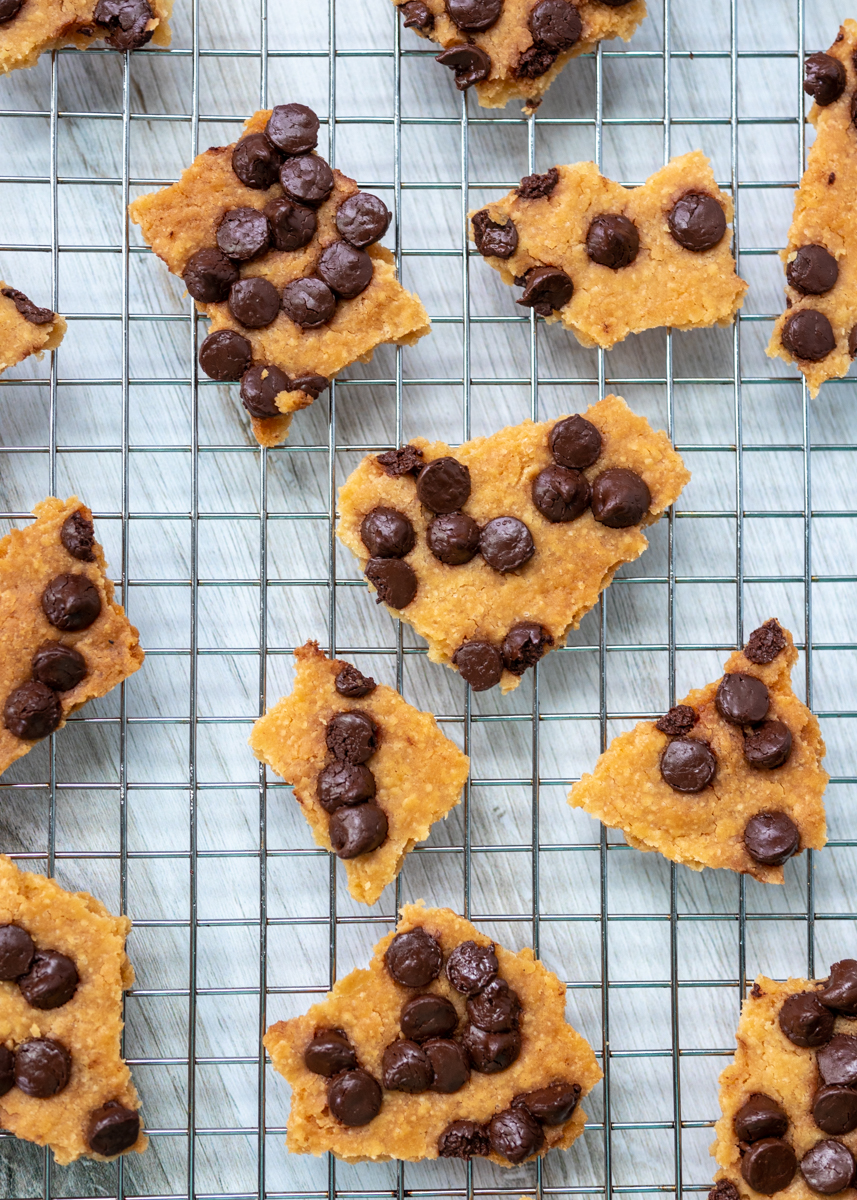 Matt couldn't get enough of this crispy, crunchy confection and I'm glad to have found another hit from my cookbook. This cookie brittle won't be replacing my Perfect Chocolate Chip Cookies anytime soon since I'm more of a soft and chewy cookie fan, but if you're looking for a crispy cookie fix then this Chocolate Chip Cookie Brittle is just what you need!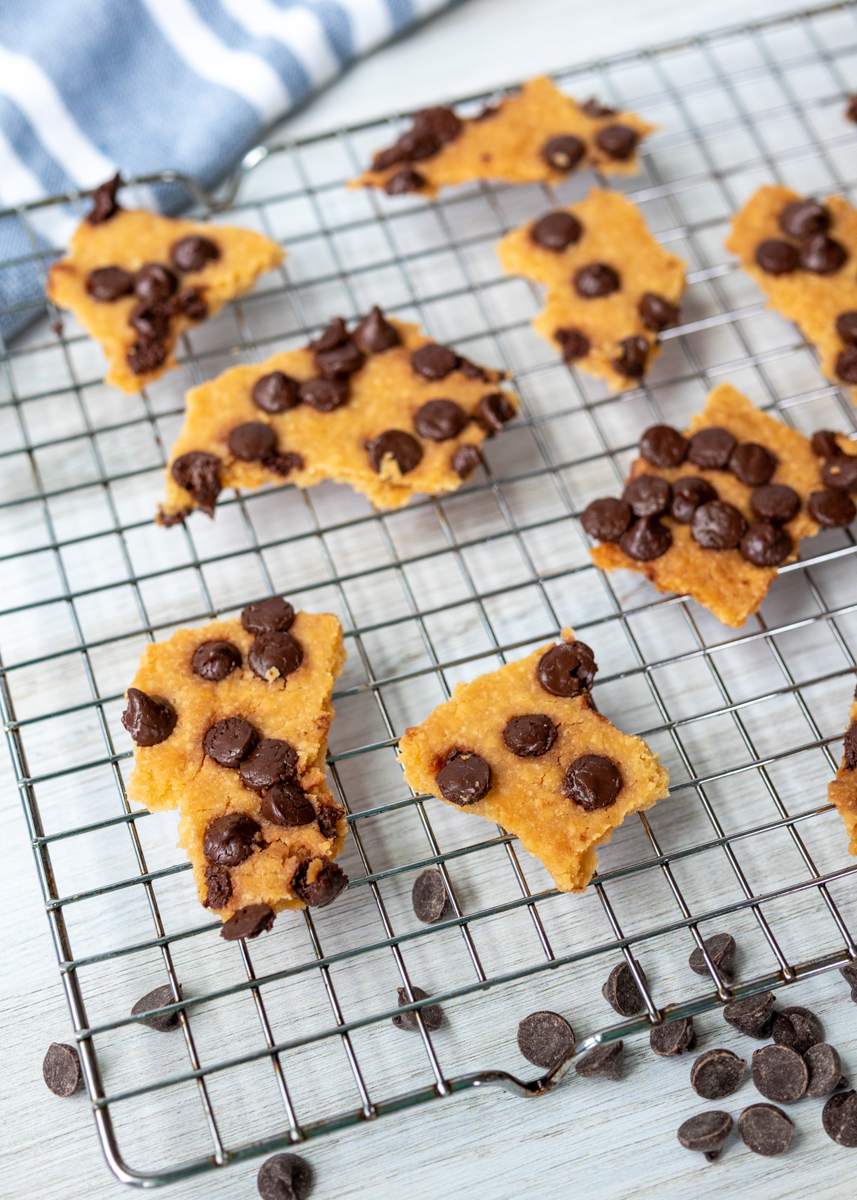 Chocolate Chip Cookie Brittle
Yield:
about 3 dozen pieces
Ingredients
14 tablespoons unsalted butter, cut into tablespoons
1 cup turbinado sugar
2 teaspoons vanilla extract
1 teaspoon salt
2 cups all-purpose flour
1¼ cup bittersweet or semisweet chocolate chips
Directions
Preheat oven to 350 degrees F.
Combine the butter and sugar in a large microwave-safe bowl. Microwave for 20 seconds, stir, then continue microwaving and stirring in 20 second intervals until the butter is almost fully melted. Alternatively, you could melt the butter and sugar in a saucepan over medium heat, making sure you don't let it come to a boil. Whisk until the butter is melted and the sugar has mostly dissolved. Let cool for 5 minutes.
Whisk until the mixture is thick, smooth and doesn't look separated, about 1 minute. Add the vanilla and salt, whisk until combined. Add the flour and stir with a spatula until no streaks remain.
Scrape the dough onto a rimmed ungreased half sheet pan (about 12-inch x 17-inch) and use your hands to pat it into a thin, even layer. It won't look like you're going to have enough dough to completely fill the pan, but you will. Keep pressing the dough to the edges; the layer will be very thin. Once you've filled the pan, use an offset spatula to smooth the top before sprinkling the chocolate chips all over. Lightly press the chocolate chips down with your hands.
Bake for 22-25 minutes (rotating the pan every 7-8 minutes), or until light golden brown and slightly firm. Place the baking sheet on a wire cooling rack and let cool completely in the pan. Use a thin spatula to loosen the edges of the brittle from the baking sheet then break into pieces and let the pieces cool completely on the wire cooling rack, while trying to avoid smudging the chocolate chips. Alternatively, if the brittle is already completely cool you can put the pieces straight into an airtight container with layers of wax paper or parchment paper in between the brittle layers and store at room temperature.
Recipe from

Food52 Genius Desserts: 100 Recipes That Will Change the Way You Bake

.
Some of the links above are affiliate links, which means I may receive a small commission for my referral. This does not affect the retail cost of the item. Thank you for supporting Lemon & Mocha!