Chocolate Dipped Espresso Meringue Kisses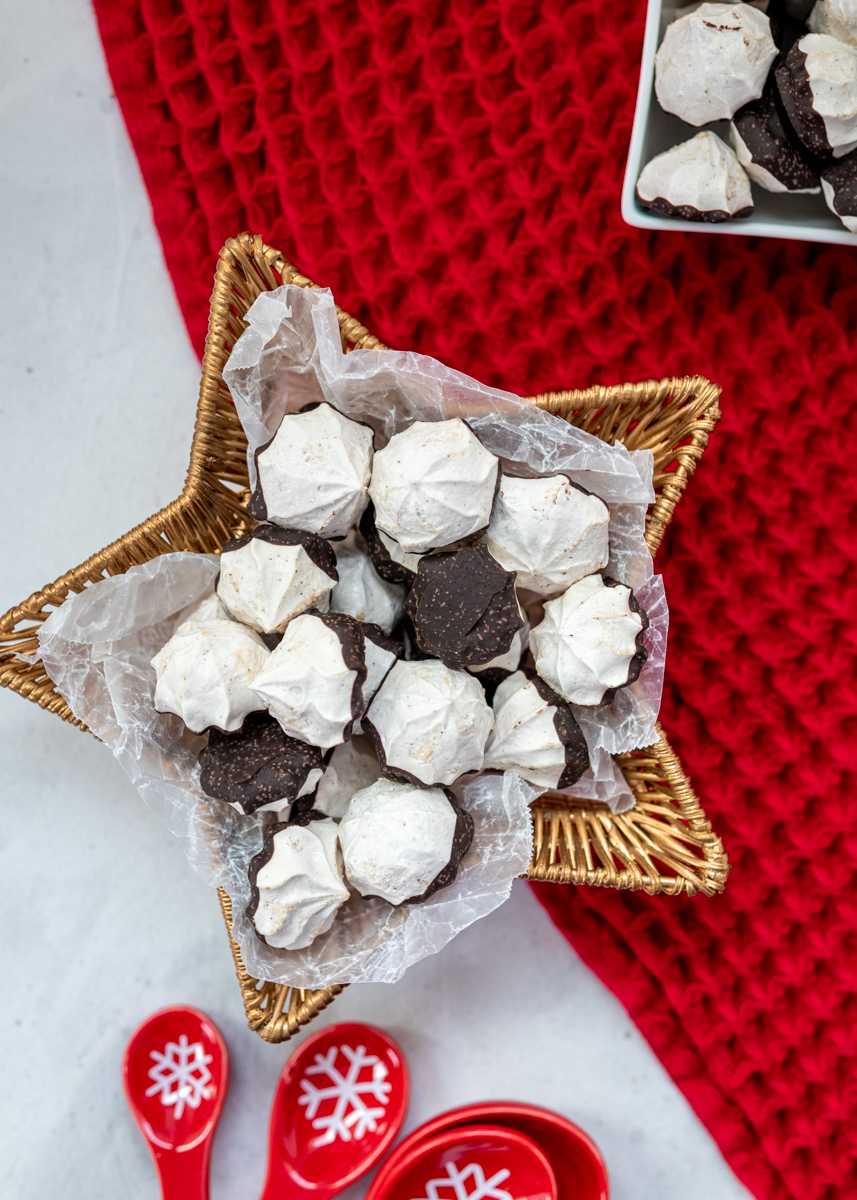 Last holiday season I was experimenting with a bunch of new cookie recipes and I wanted to try something that was a little lighter. I instantly thought of meringue cookies since they are definitely light and have that sort of melt in your mouth texture about them. I didn't want to just make plain meringue cookies though; what's the fun in that?!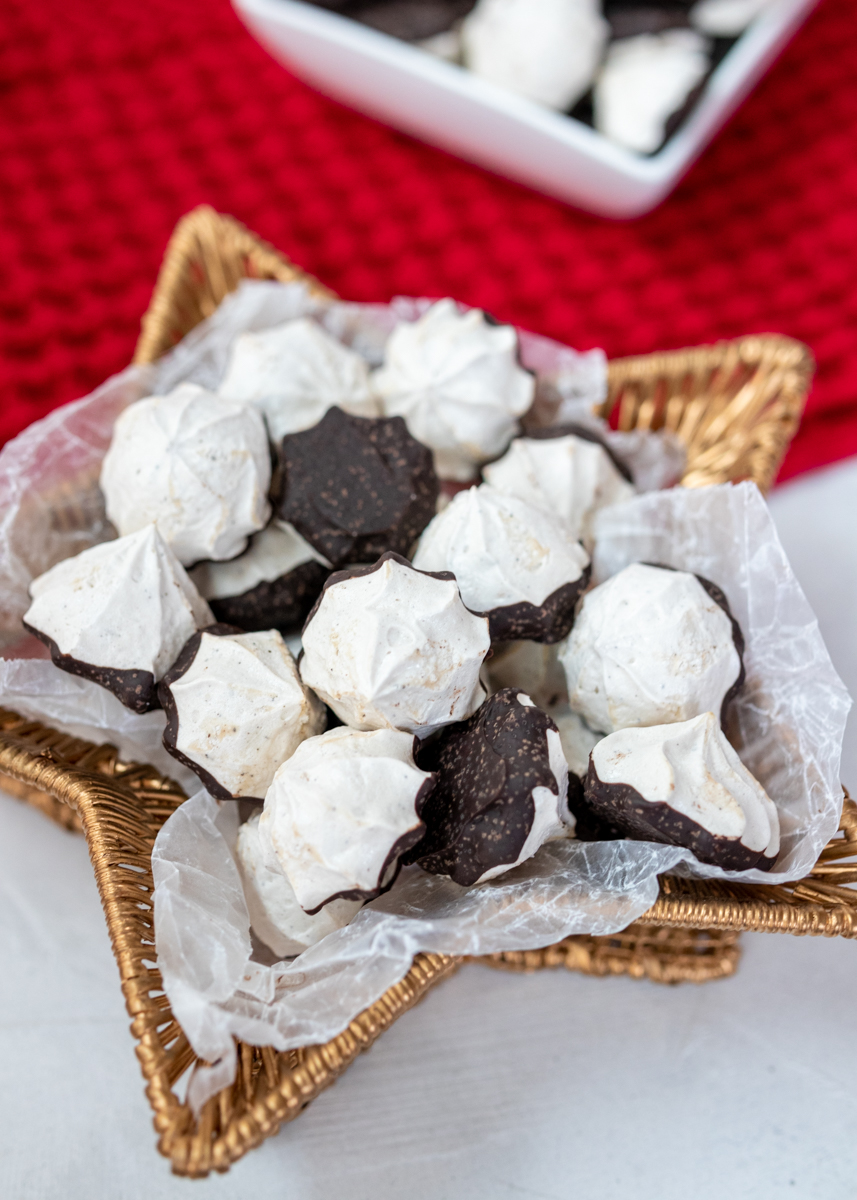 Even though I don't drink coffee I like coffee flavored desserts, especially if they're paired with chocolate, so I went seeking out a coffee flavored meringue recipe. Thankfully it led me to this delicious espresso meringue kiss cookie recipe from King Arthur Flour. So for day nine of Lemon & Mocha's 12 Days of Cookies we have Chocolate Dipped Espresso Meringue Kisses.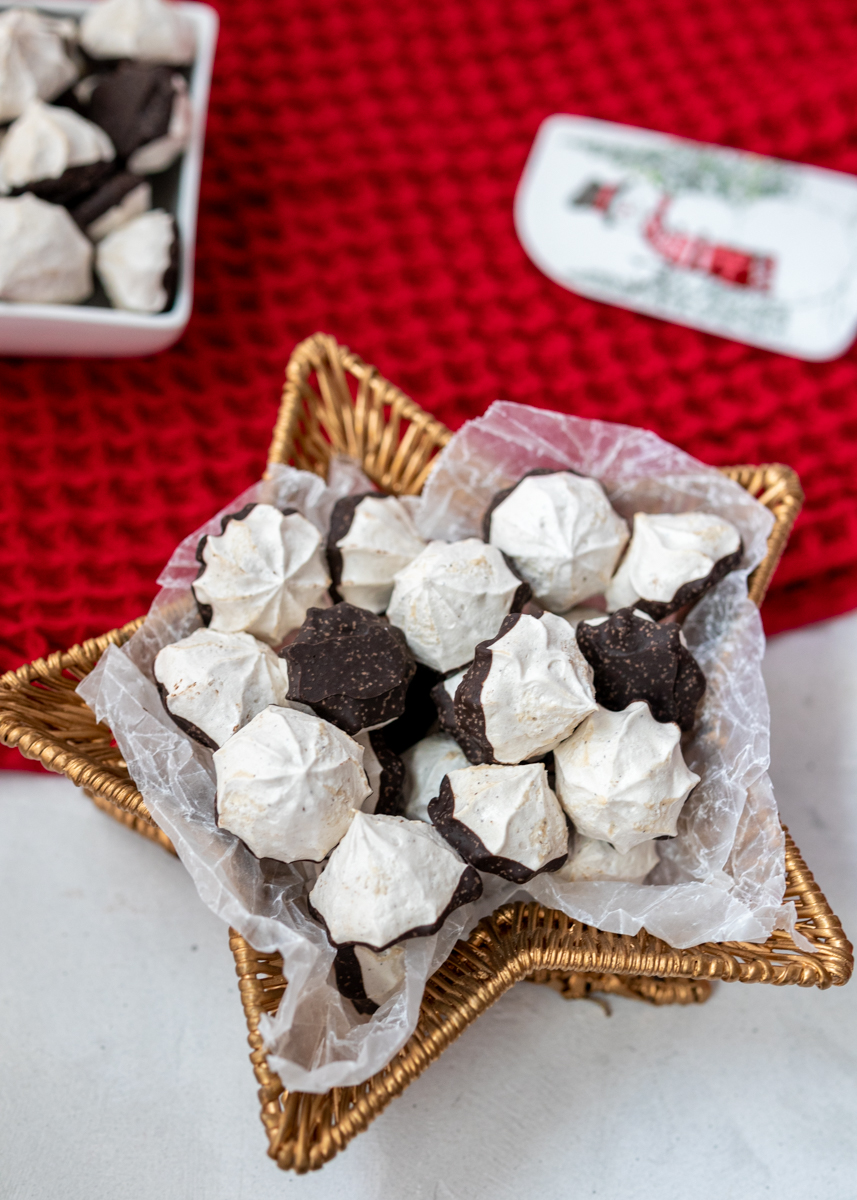 Making meringue cookies is actually really simple and requires only a few ingredients. Egg whites, cream of tartar, salt, espresso powder, coffee extract and sugar are beaten until you have stiff and glossy peaks. Making sure the peaks of your meringue are stiff is key otherwise they will start deflating and not holding their shape when you go to pipe them out into the star kiss shapes. Alternatively, you could always just drop teaspoonfuls of batter onto your baking sheet; they don't need to be perfect!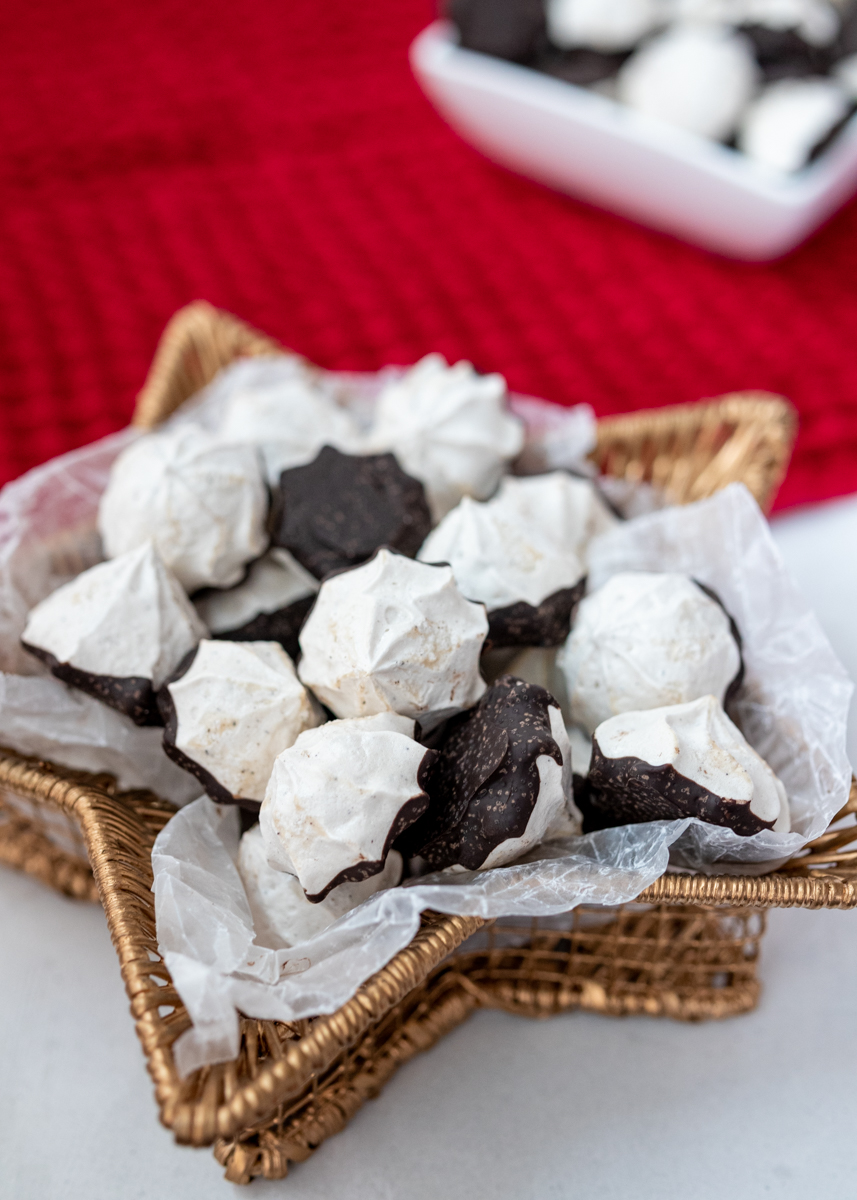 The finicky part of meringue cookies is the cooking and cooling since they cook on a really low temperature for quite a while and then have to sit in the cooling oven after it's turned off for a few more hours. However, once they're done, you get to dip them into melted chocolate for that espresso mocha flavor combination that is out of this world. The cookies are crispy, light and good luck eating just one!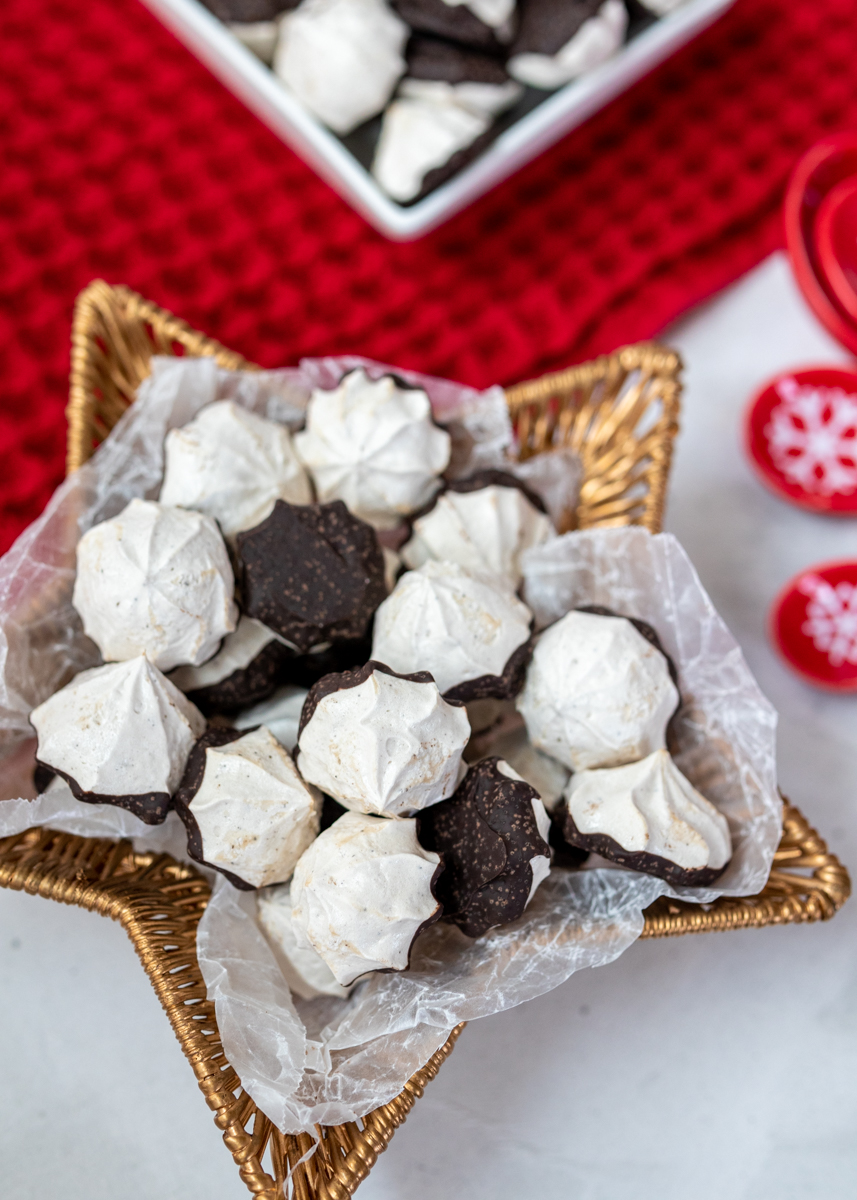 Chocolate Dipped Espresso Meringue Kisses
Ingredients
2 large egg whites
¼ teaspoon cream of tartar
Pinch of salt
1 teaspoon espresso powder
½ teaspoon coffee extract
½ cup granulated sugar, divided
1 cup semisweet chocolate chips, plus more as needed
1 teaspoon vegetable oil, plus more as needed
Directions
Preheat oven to 200 degrees F. Line 2 baking sheets with parchment paper and set aside.
In the bowl of a stand mixer or in a large bowl with a hand mixer, beat the egg whites, cream of tartar and salt until foamy. Add the espresso, extract and 1 tablespoon of the sugar. Beat on medium-high speed until soft peaks form.
Gradually add the remaining sugar while continuing to beat until stiff and glossy peaks form.
Fill a pastry bag fitted with a star tip. Pipe 54 cookies onto the prepared baking sheets. Alternatively, you could drop heaping teaspoonfuls of batter onto the baking sheets.
Bake the meringues for 1½-2 hours, switching pans from top to bottom halfway through the baking time. Meringues are done when they are barely dry on the outside and soft in the middle. Turn off the oven and let cookies cool in the oven for 1-3 hours.
Put the chocolate chips and the vegetable oil in a microwave-safe measuring cup or bowl. Microwave for 30 seconds, stir, then continue microwaving and stirring at 15-second intervals until the chocolate is completely melted. Dip the bottoms of the meringues into the melted chocolate and let the excess drip off. Set on a baking sheet lined with wax paper to allow the chocolate to harden. You can speed up the hardening time if you put them in the fridge. Repeat for all the meringues, melting more chocolate as needed.
Recipe slightly adapted from

King Arthur Flour

.