Chocolate Chip Cookie Brittle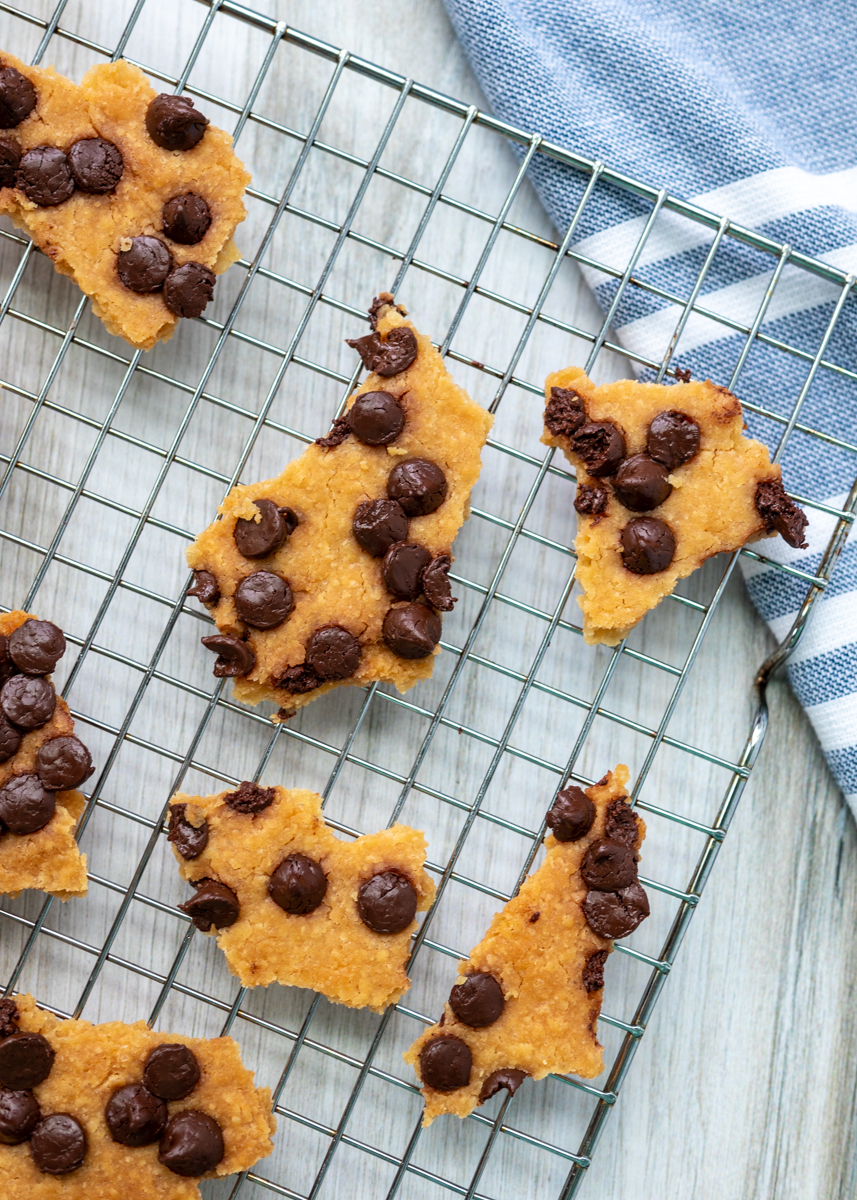 Yield:
about 3 dozen pieces
14 tablespoons unsalted butter, cut into tablespoons
1 cup turbinado sugar
2 teaspoons vanilla extract
1 teaspoon salt
2 cups all-purpose flour
1¼ cup bittersweet or semisweet chocolate chips
Preheat oven to 350 degrees F.
Combine the butter and sugar in a large microwave-safe bowl. Microwave for 20 seconds, stir, then continue microwaving and stirring in 20 second intervals until the butter is almost fully melted. Alternatively, you could melt the butter and sugar in a saucepan over medium heat, making sure you don't let it come to a boil. Whisk until the butter is melted and the sugar has mostly dissolved. Let cool for 5 minutes.
Whisk until the mixture is thick, smooth and doesn't look separated, about 1 minute. Add the vanilla and salt, whisk until combined. Add the flour and stir with a spatula until no streaks remain.
Scrape the dough onto a rimmed ungreased half sheet pan (about 12-inch x 17-inch) and use your hands to pat it into a thin, even layer. It won't look like you're going to have enough dough to completely fill the pan, but you will. Keep pressing the dough to the edges; the layer will be very thin. Once you've filled the pan, use an offset spatula to smooth the top before sprinkling the chocolate chips all over. Lightly press the chocolate chips down with your hands.
Bake for 22-25 minutes (rotating the pan every 7-8 minutes), or until light golden brown and slightly firm. Place the baking sheet on a wire cooling rack and let cool completely in the pan. Use a thin spatula to loosen the edges of the brittle from the baking sheet then break into pieces and let the pieces cool completely on the wire cooling rack, while trying to avoid smudging the chocolate chips. Alternatively, if the brittle is already completely cool you can put the pieces straight into an airtight container with layers of wax paper or parchment paper in between the brittle layers and store at room temperature.
Recipe by
Lemon & Mocha
at http://www.lemonandmocha.com/2019/12/09/chocolate-chip-cookie-brittle/