Soft Gingerbread M&M Cookies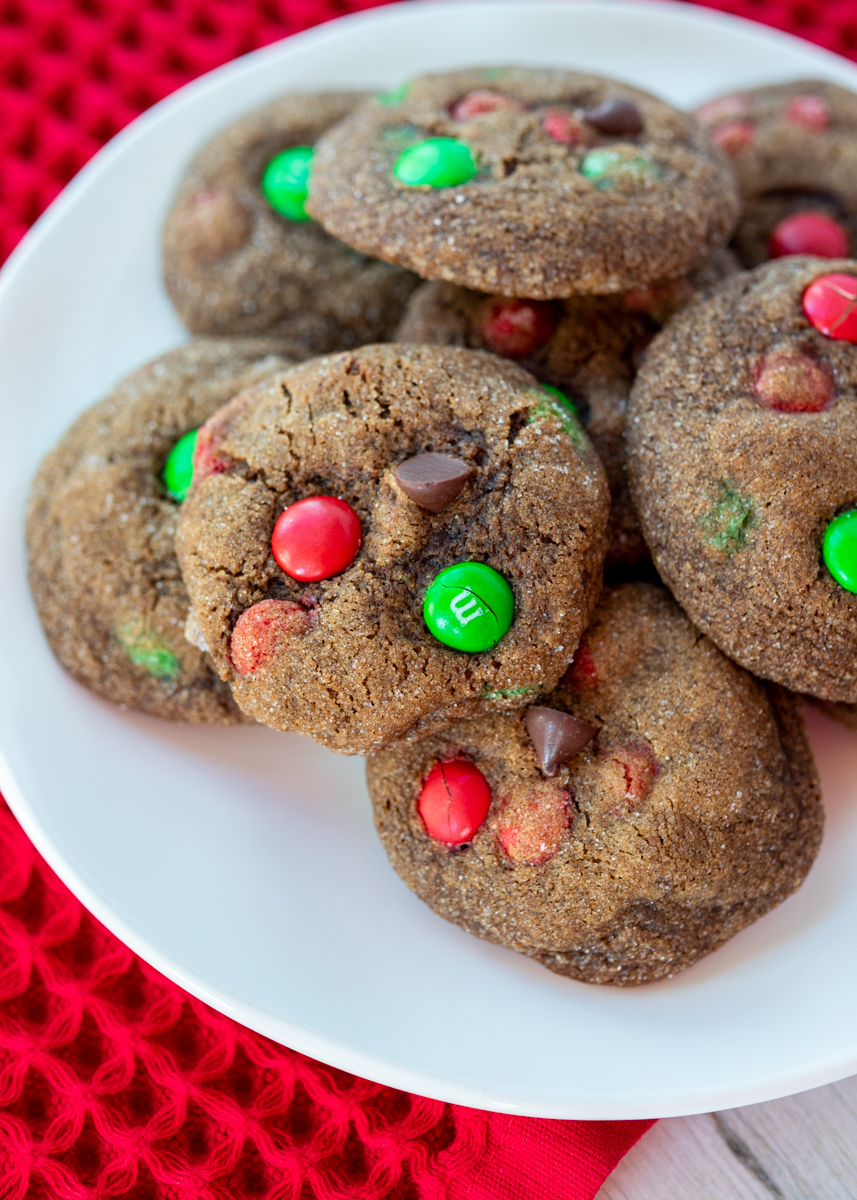 Yield:
about 3 dozen cookies
2¾ cups all-purpose flour
1½ teaspoons ground cinnamon
1½ teaspoons ground ginger
1 teaspoon baking soda
½ teaspoon ground cloves
¼ teaspoon salt
1 cup butter (2 sticks), room temperature
¾ cup brown sugar
⅓ cup molasses
1 large egg
1 teaspoon vanilla extract
1 10-ounce bag M&M's (about 1½ cups)
1 cup semisweet chocolate chips
⅓ cup granulated sugar, for rolling
Preheat oven to 350 degrees F. Line 2 baking sheets with parchment paper and set aside.
In a mixing bowl, whisk together the flour, cinnamon, ginger, baking soda, cloves and salt until combined. Set aside.
In the bowl of a stand mixer or in a large bowl with a hand mixer, beat the butter, brown sugar and molasses on medium-high speed until fluffy, about 3 minutes. Add the egg and vanilla; beat until combined.
Add the flour mixture then beat on low speed until only a few flour streaks remain. Add the M&M's and chocolate chips (leaving some aside - we'll press these into the rolled balls so they look pretty!) and stir until just combined. Scoop out 1½ tablespoons of dough (if using Oxo cookie scoops use a medium cookie scoop) and roll into a ball. Roll the ball into the granulated sugar then place on the prepared baking sheet. Repeat for the remaining cookie dough. Lightly press an M&M and a chocolate chip into the top of each cookie ball. This will make sure they look nice and pretty!
Bake for 12 minutes then let cool on the cookie sheet placed on a wire cooling rack for 2 minutes. Transfer cookies to the wire cooling rack to cool completely. Repeat with 1 cookie sheet for the remaining cookie dough.
Recipe by
Lemon & Mocha
at http://www.lemonandmocha.com/2019/12/16/soft-gingerbread-mm-cookies/