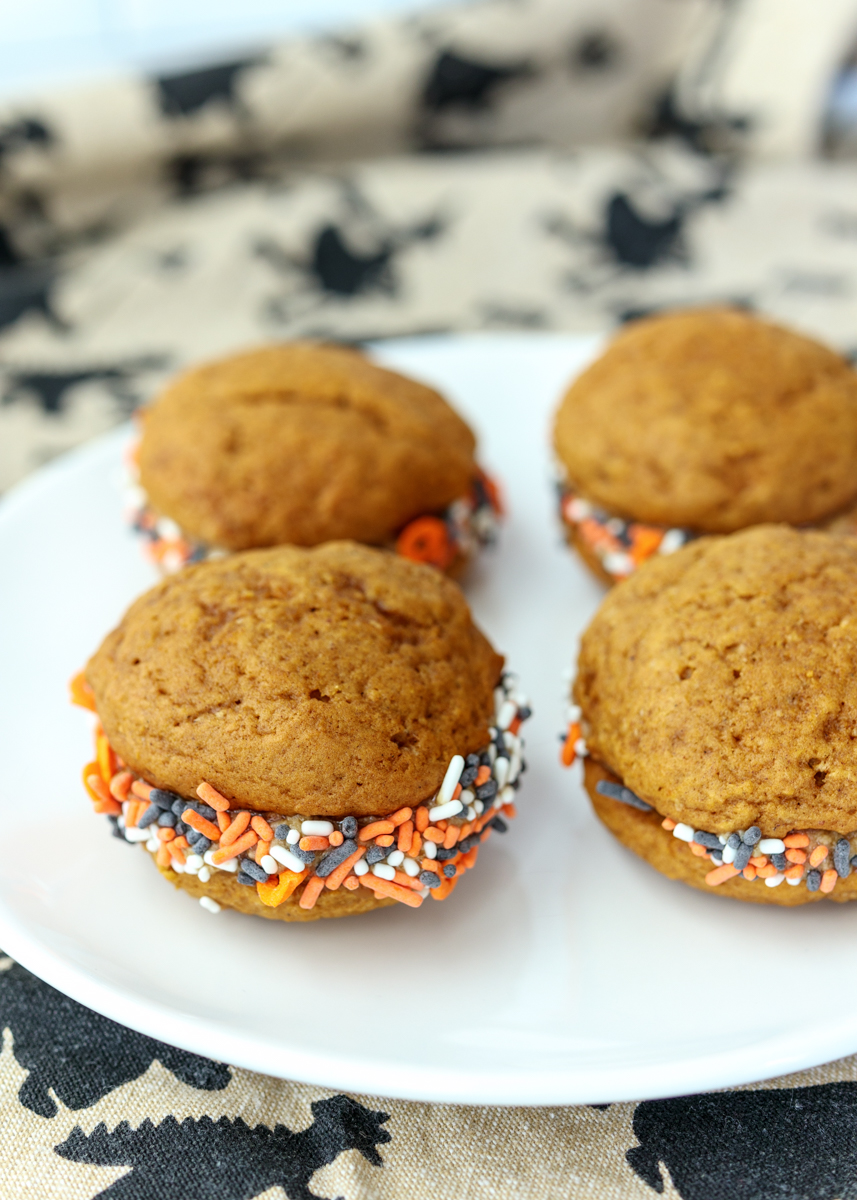 Happy October! I know it's been October since Tuesday and I've already posted since then, but now that I'm sharing a pumpkin recipe with you all it feels more official. I'm super unique and love pumpkin recipes in the fall. Especially baked goods because the smell that fills up the kitchen is amazing.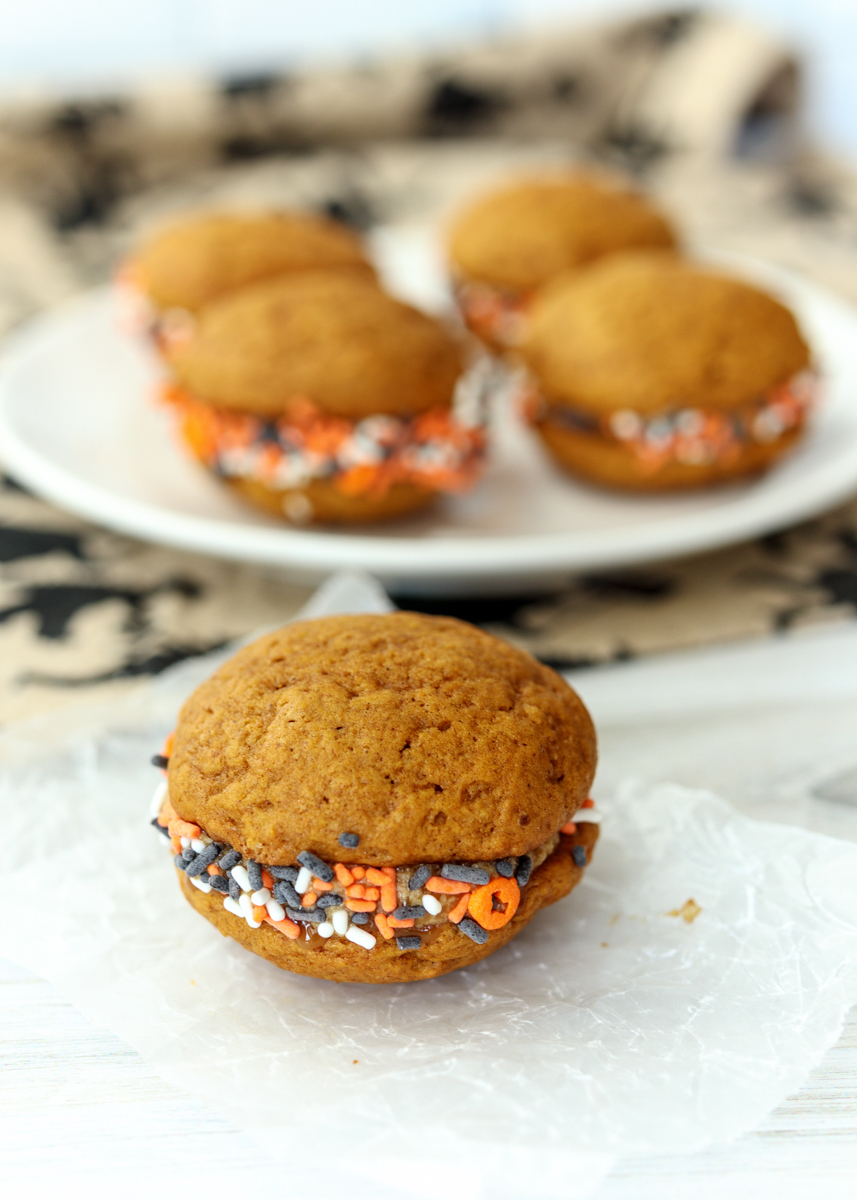 Food Network Magazine stayed true to the season and made their October cookies these Pumpkin Spice Latte Whoopie Pies. I've made whoopie pies in the past, but they turned out a little dense so I was curious to see how their pumpkin spice version would stack up.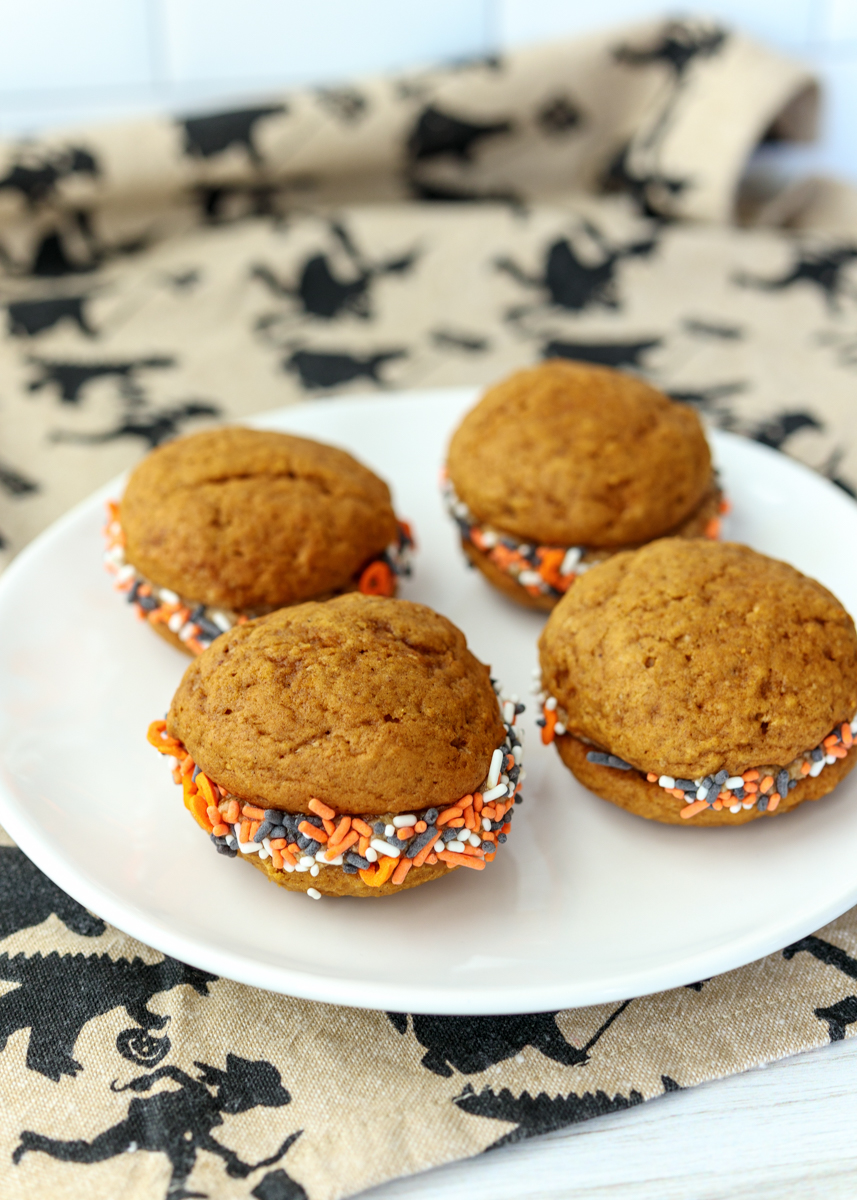 First of all, I love that the cookies for these whoopie pies are so cute and little! Especially because once you sandwich two together with some filling it ends up being quite a lot so they really are the perfect size.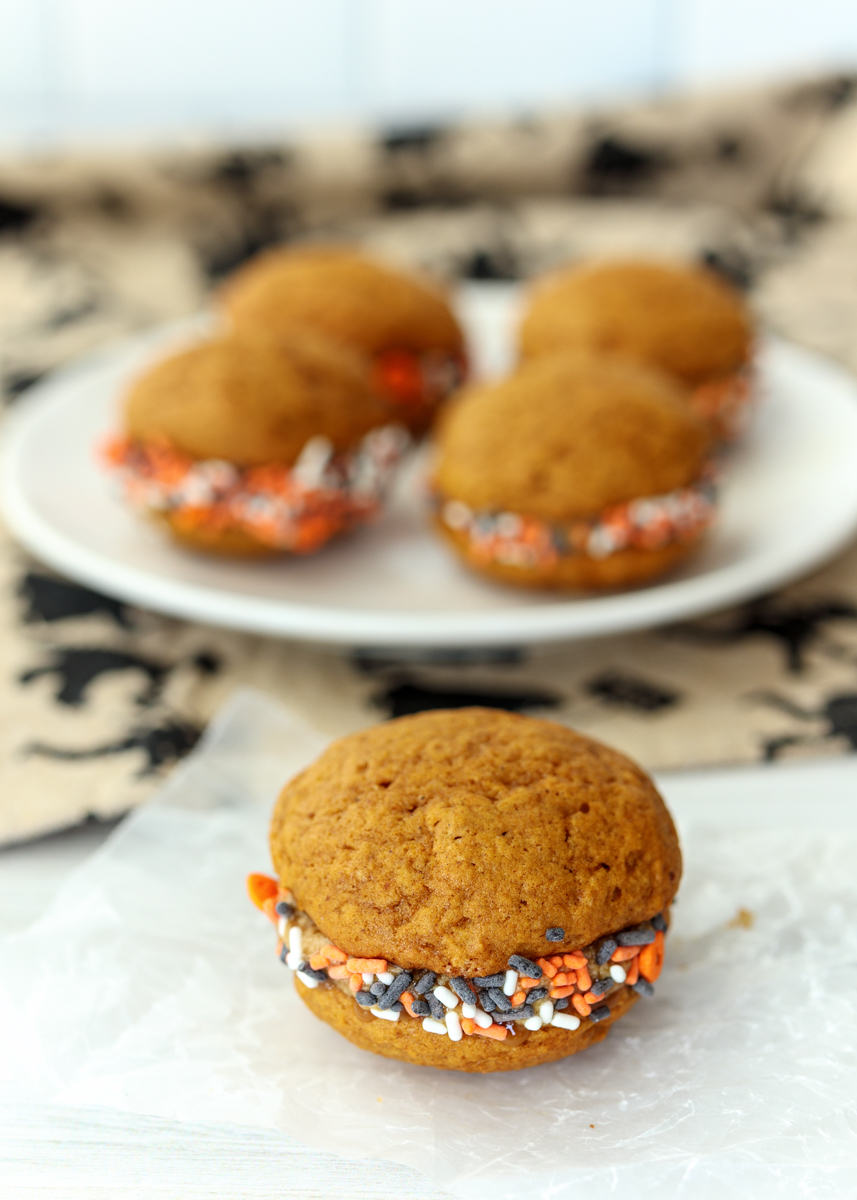 Second, they are moist, definitely not dense and packed with pumpkin spice goodness! I ate one on its own while it was still warm and it was so good. Kind of like a little pumpkin cake in a cookie shape.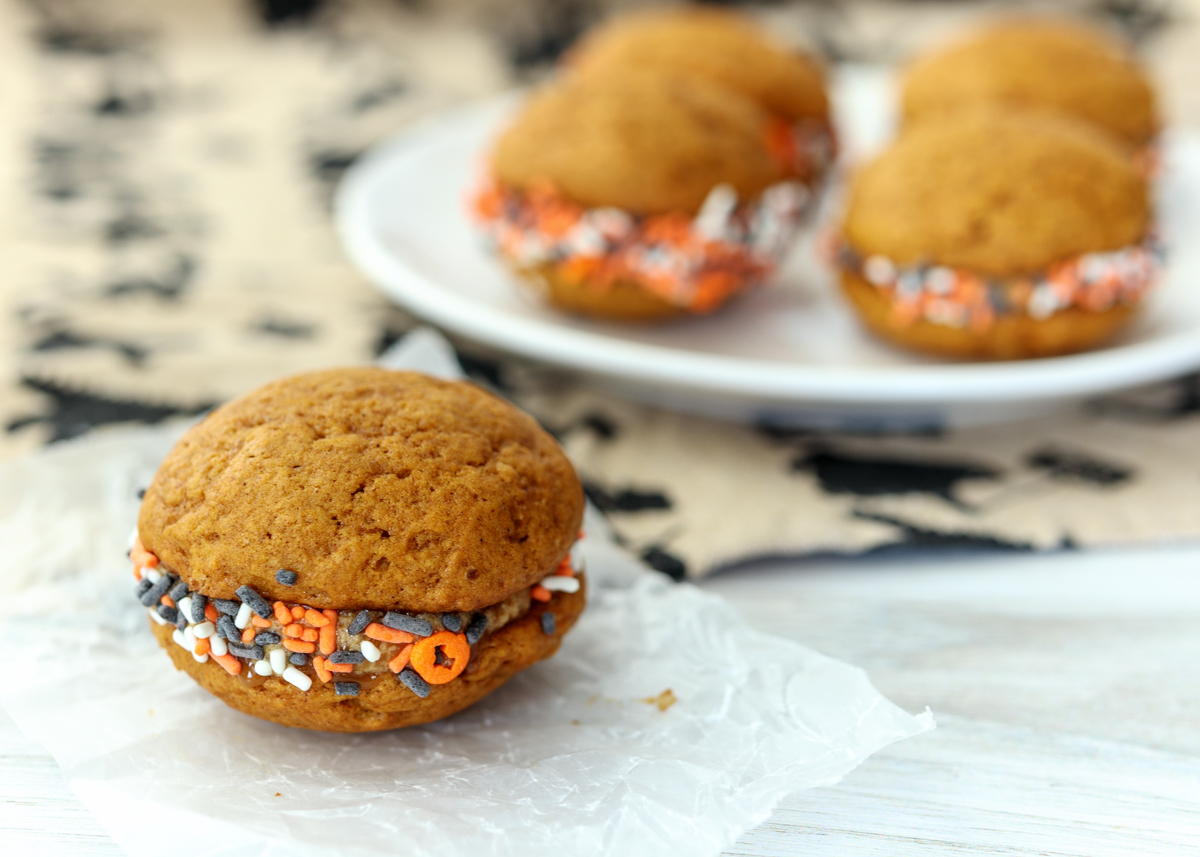 The filling is a coffee buttercream, which is a delicious combination with the pumpkin flavoring. Don't forget the fun fall sprinkles to roll them in!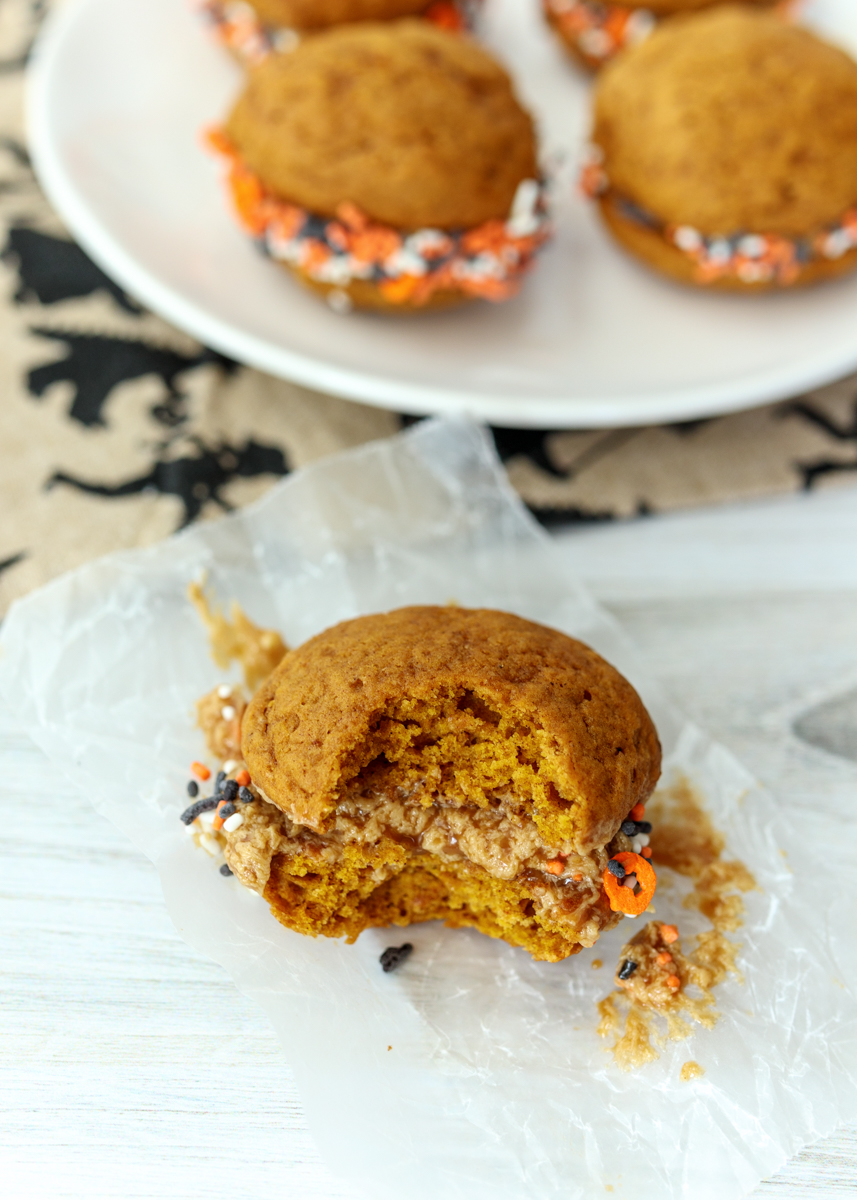 Pumpkin Spice Latte Whoopie Pies
Yield:
15-16 2" whoopie pies
Ingredients
for the cookies
2 cups all-purpose flour
1 tablespoon pumpkin pie spice
1 teaspoon baking powder
½ teaspoon baking soda
½ teaspoon salt
6 tablespoons unsalted butter, at room temperature
¾ cup granulated sugar
½ cup brown sugar
½ teaspoon vanilla extract
1 large egg, at room temperature
1 cup pure pumpkin puree
for the filling
2 tablespoons milk
2 teaspoons instant coffee granules
12 tablespoons unsalted butter (1½ sticks), at room temperature
2 cups confectioners' sugar
¼ teaspoon salt
Fall sprinkles or nonpareils, for decorating
Directions
for the cookies
Preheat oven to 375 degrees F, making sure to position oven racks in the upper and lower thirds positions. Line 2 baking sheets with parchment paper and set aside.
In a medium bowl, sift together the flour, pumpkin pie spice, baking powder, baking soda and salt.
In the bowl of a stand mixer or in the large bowl with a hand mixer, beat the butter, granulated sugar, brown sugar and vanilla on medium-high speed for 5 minutes, or until pale and fluffy. Add the egg, beat until combined. Add the pumpkin puree and beat on low speed until combined, scraping the sides of the bowl as needed. Add the flour mixture and beat on low until just combined.
Scoop 1½ tablespoon mounds of batter onto the prepared baking sheets, about 2 inches apart. Use damp fingers to shape them into rounds. Alternatively, use a piping bag fitted with a ½-inch round tip to pipe 1½-inch rounds of batter. Bake for 14-16 minutes, switching the pans halfway through baking. They are done when they're golden and the tops spring back with lightly pressed. Let the cookies cool for 5 minutes on the baking sheet set on a wire cooling rack then transfer to a wire cooling rack to cool completely. Let the baking sheets cool slightly then repeat with the remaining batter.
for the filling
Combine the milk and instant coffee in a small bowl until the coffee dissolves.
In the bowl of a stand mixer or in a large bowl with a hand mixer, beat the butter, confectioners' sugar and salt on low speed until combined. Increase the speed to medium-high and beat for 3 minutes, or until smooth. Add the milk mixture then beat on medium-low until smooth, about 1 minute, scraping the sides of the bowl as needed. Refrigerate for 20 minutes, or until slightly firm.
When the cookies are cool and the filling is slightly firm, sandwich about 1 tablespoon of filling between 2 cookies. Roll the edges in sprinkles. If the filling is too soft, refrigerate the whoopie pies for 30 minutes, but let sit at room temperature before serving.
 Recipe adapted from January/February 2019 issue of Food Network Magazine
.
Some of the links above are affiliate links, which means I may receive a small commission for my referral. This does not affect the retail cost of the item. Thank you for supporting Lemon & Mocha!