Peanut Butter and Jelly Thumbprint Cookies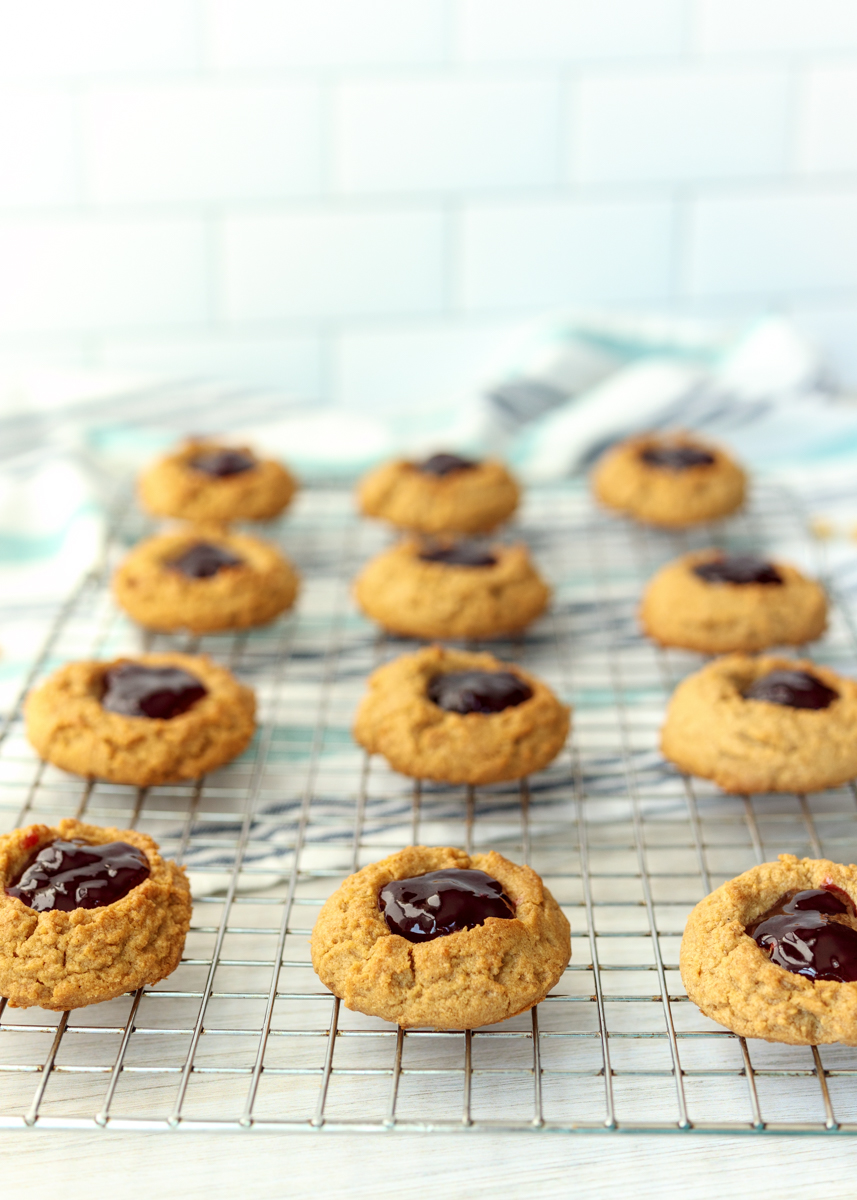 Can you believe we're already nine months into the Food Network Magazine's Calendar of Cookies? Food Network Magazine definitely likes the September baked treat to be peanut butter and jelly themed, as seen with last year's Peanut Butter and Jelly Muffins, and I am not mad about it at all. In fact I'm thrilled about it because I love a classic peanut butter and jelly sandwich. Also, I was a huge fan of the Peanut Butter and Jelly Muffins so I couldn't wait to try their cookie rendition.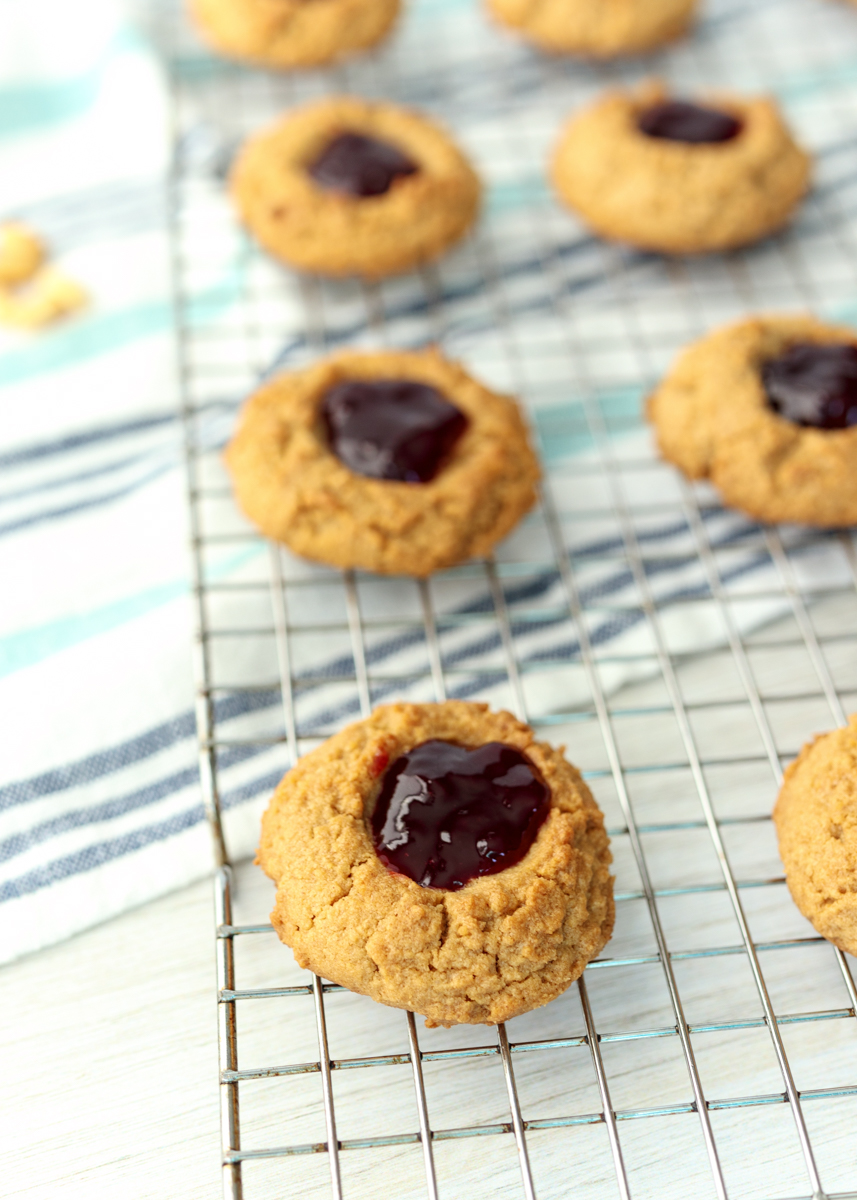 I did deviate a bit from the original recipe, but I think you will thank me for it because I seriously shortened the prep and fussiness time while still staying true to the exact flavors of the recipe. So, today for you I have Peanut Butter and Jelly Thumbprint Cookies. The original recipe involved rolling the dough out into rectangles and baking little sandwich cookies with the jam in between, but I figured thumbprint cookies are a true classic for a reason.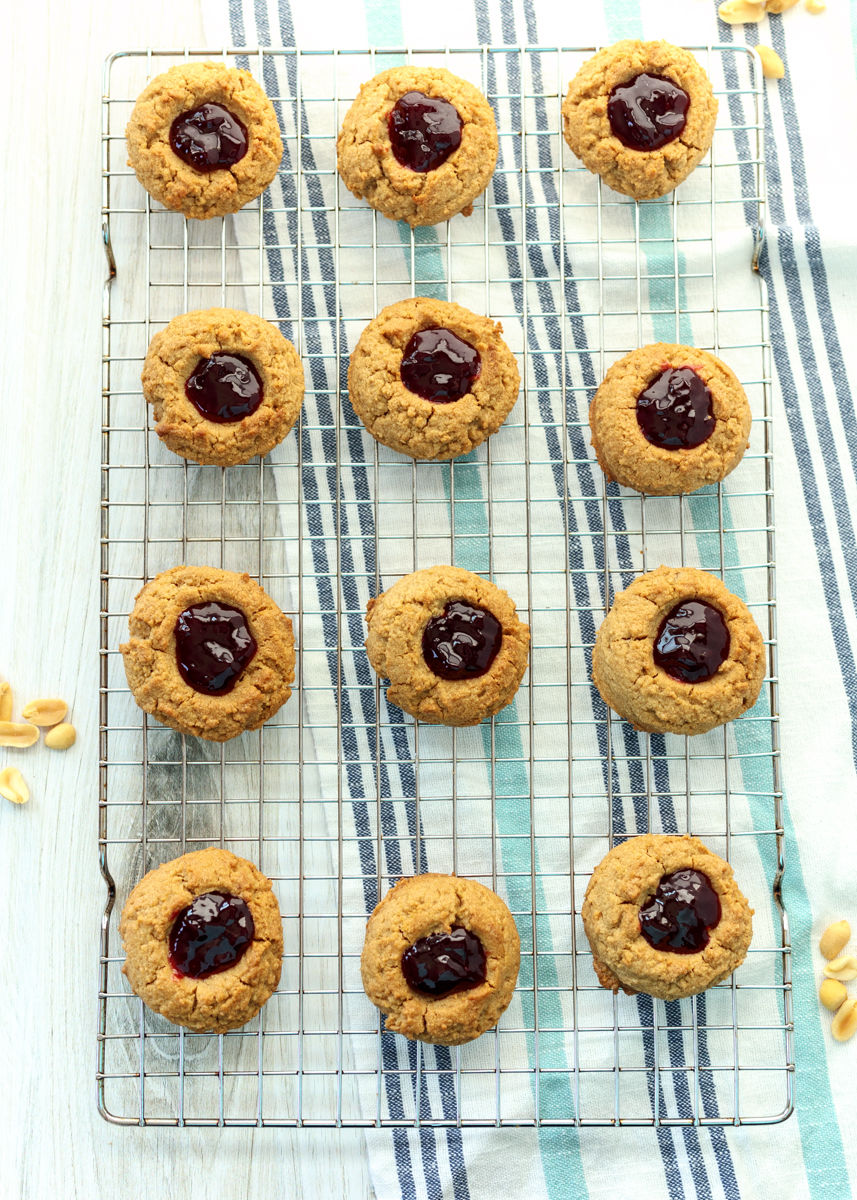 They are simple to make, it's okay if they don't look perfect and, most importantly, they are easy to eat. I didn't change anything about the peanut butter dough from the recipe and I'm so glad because it makes the most perfect crumbly peanut butter cookies that are the ultimate vessel for that dollop of jelly.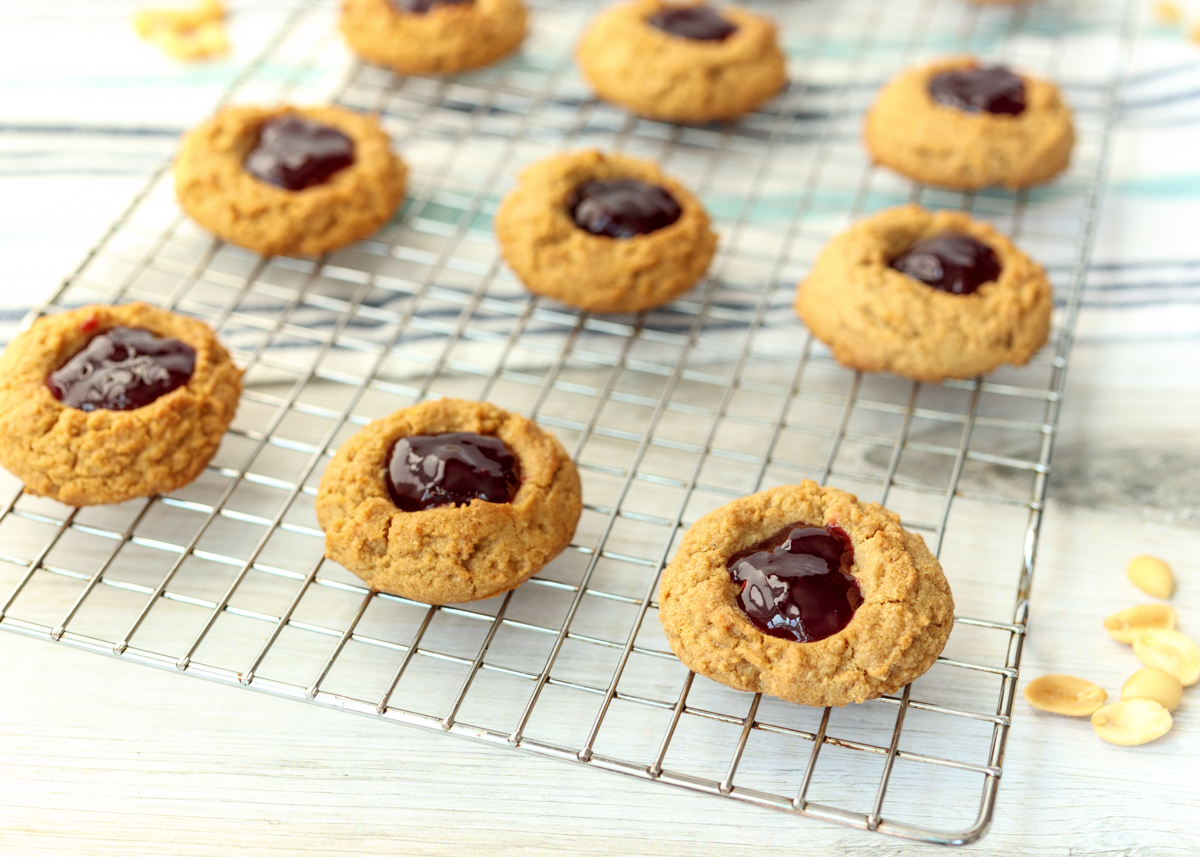 They also taste delicious on their own, which I know both by sneaking one or two right from the oven and because I froze a bunch of these cookies without the jam and was too lazy to fill them before munching away on them. Similar to the Peanut Butter and Jelly Muffins recipe, there's a little whole wheat flour mixed into the dough so the cookies really give you that peanut butter and jelly sandwich nostalgia.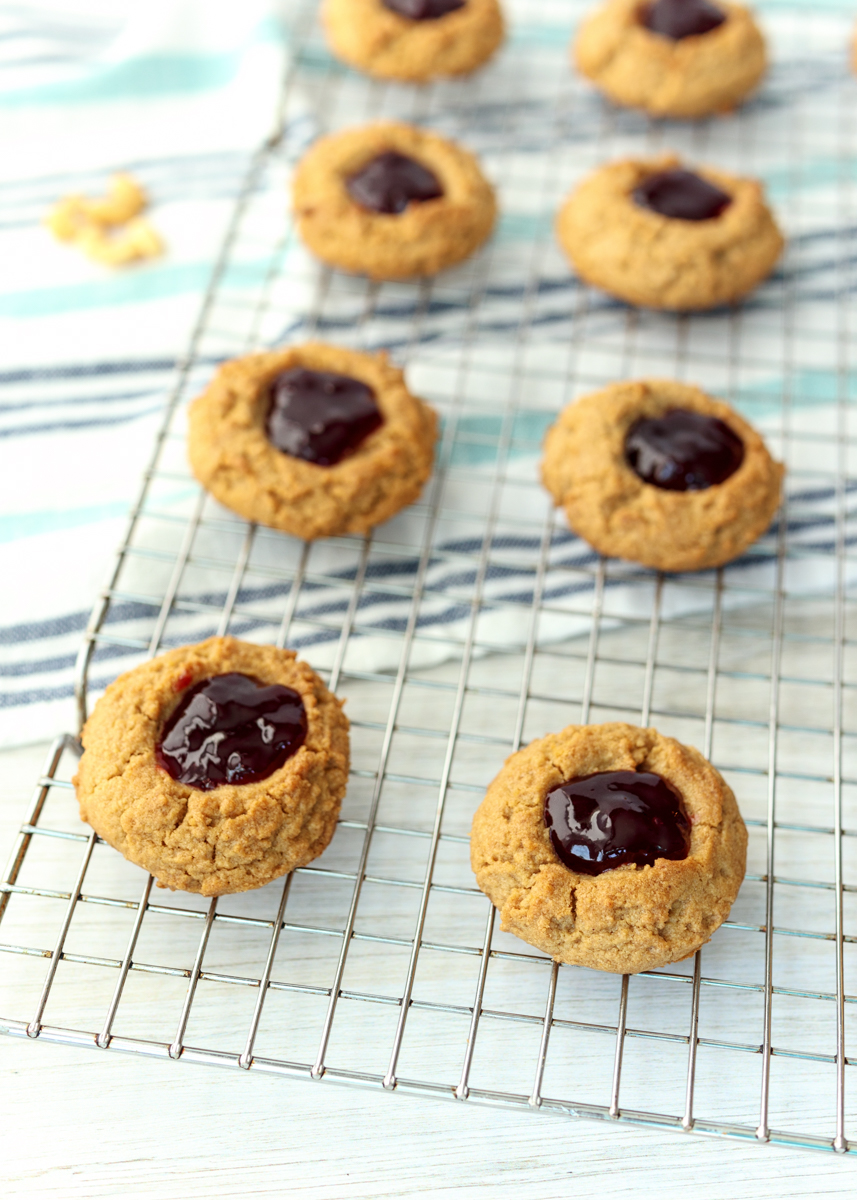 You can use any jelly you prefer to fill these Peanut Butter and Jelly Thumbprint Cookies. The original recipe calls for grape, but I've used raspberry, triple berry and apricot so far and they've all been delicious. Side note: apparently we have a lot of jelly flavors in our fridge! If you are a peanut butter and jelly fan I know you will love these cookies! Okay, only three more months of Food Network Magazine monthly cookies left! Stay tuned!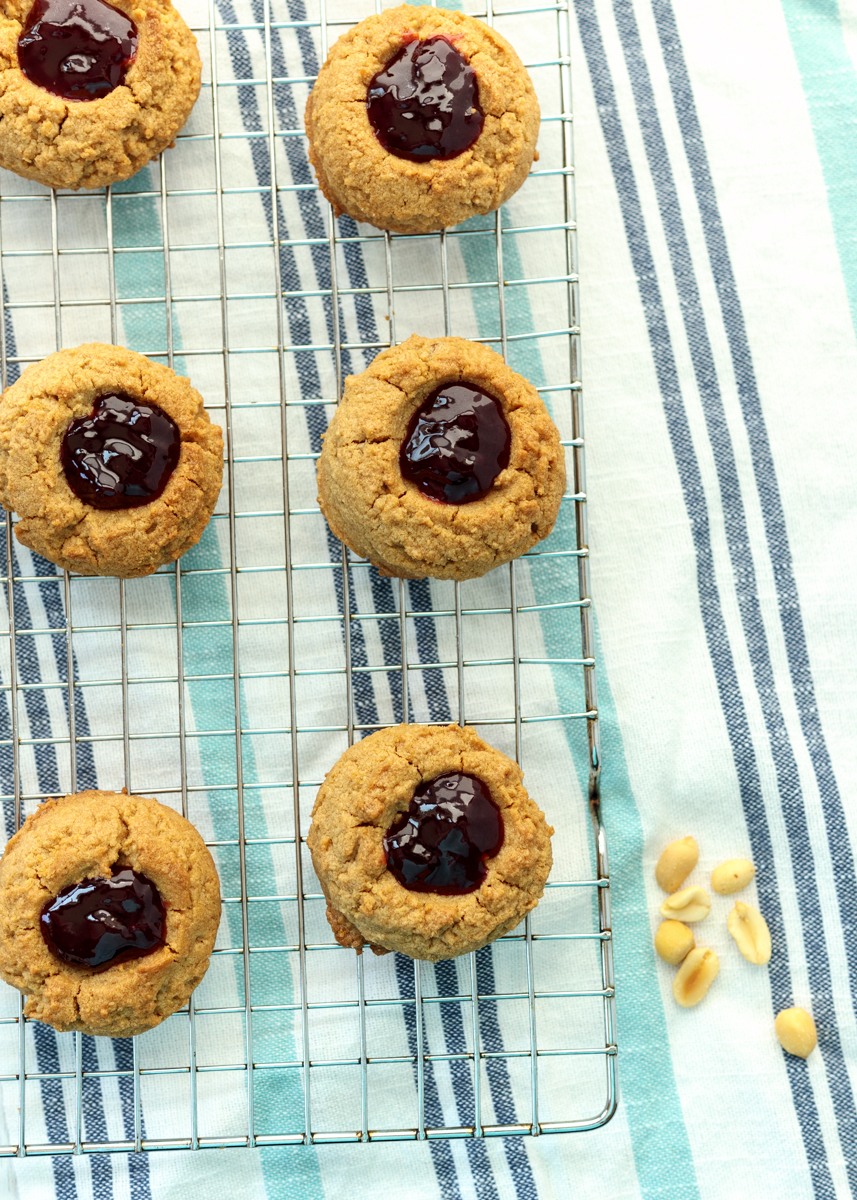 Peanut Butter and Jelly Thumbprint Cookies
Ingredients
1 cup all-purpose flour
½ cup whole wheat flour
½ teaspoon baking powder
½ teaspoon salt
½ cup unsalted butter (1 stick), room temperature
½ cup granulated sugar
½ cup brown sugar
1 teaspoon vanilla extract
1 large egg
1½ cups smooth peanut butter (not natural)
⅔ cup raspberry, strawberry or other jelly of choice
Directions
Preheat oven to 375 degrees. Line 2 baking sheets with parchment paper and set aside.
In a medium bowl, sift together the all-purpose flour, whole wheat flour, baking powder and salt.
In the bowl of a stand mixer or in a large bowl with a hand mixer beat the butter, granulated sugar, brown sugar and vanilla on medium-high speed until fluffy, about 5 minutes. Add the egg and beat until combined. Add the peanut butter and beat until combined. Add the flour mixture then beat on low until just combined.
Use a medium cookie scoop to scoop out 30 balls of cookie dough between the 2 prepared baking sheets. Use your thumb or the handle of a wooden spoon to press a small indent into each cookie ball. Bake for 12-13 minutes. The edges of the cookie should be browned. Let side on the pan for 3 minutes then use the handle of the wooden spoon to re-make the indents in the center of each cookie. Transfer the cookies to a wire cooling rack to cool completely. Once cooled, add 1 teaspoon of jelly into each indent.
 Recipe adapted from January/February 2019 issue of Food Network Magazine
.
Some of the links above are affiliate links, which means I may receive a small commission for my referral. This does not affect the retail cost of the item. Thank you for supporting Lemon & Mocha!