Chicken and Spinach Enchiladas Verde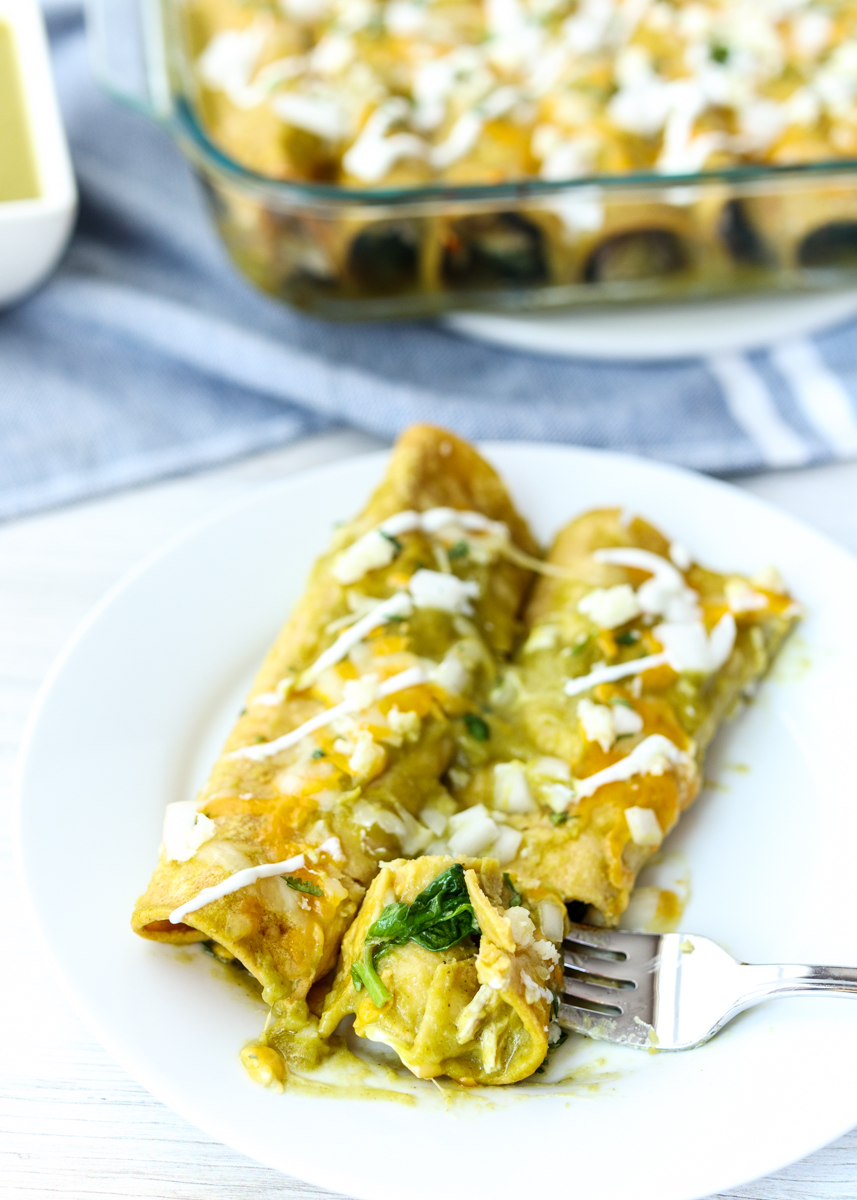 I'm so glad I experimented with another recipe from my Pati's Mexican Table cookbook. This Chicken and Spinach Enchiladas Verde dish was so crave-worthy and will certainly be a new regular at our house. I've been thoroughly impressed by every recipe I've made from this book and I'm excited to keep cooking more and more recipes from it. Do you have a cookbook at home that just nails it every time for you?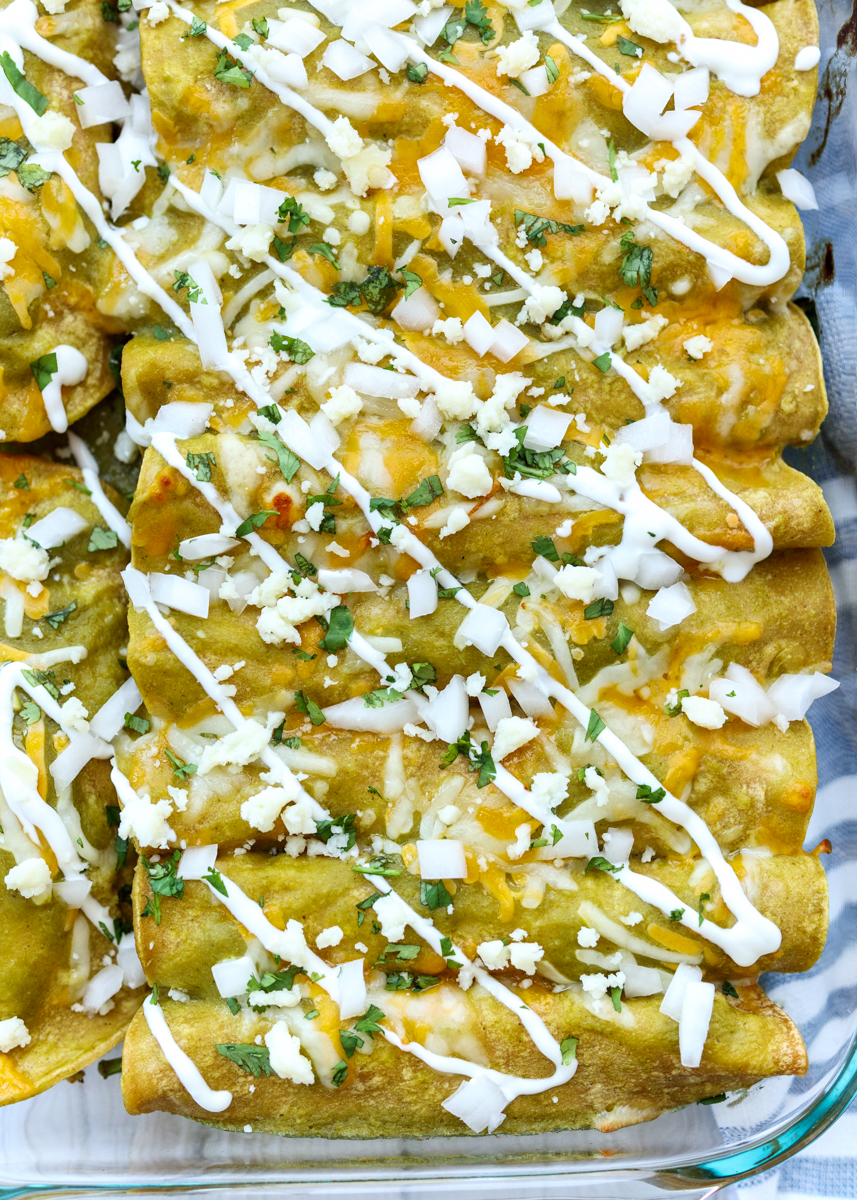 I did make a few changes to the original recipe by including spinach, since I love to sneak in green veggies whenever I can, and by adding some shredded colby jack cheese.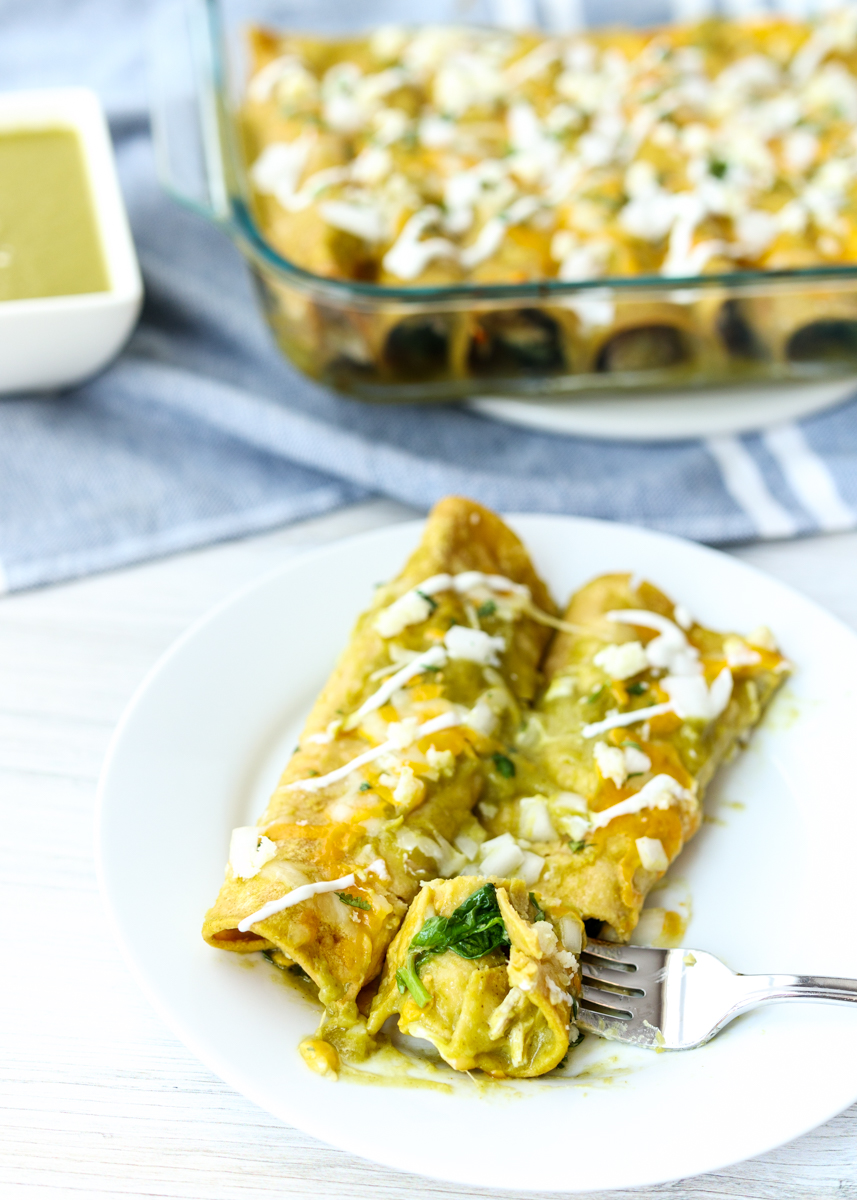 Normally when I think of enchiladas I picture a saucy, gooey dish loaded with melted cheese. Not that there's anything wrong with that once in a while, but for a typical dinner I'm not looking to eat something quite so rich. There's something about these Chicken and Spinach Enchiladas Verde that is lighter and more refined, while still having all the qualities of a comfort food dish you just want to dive into.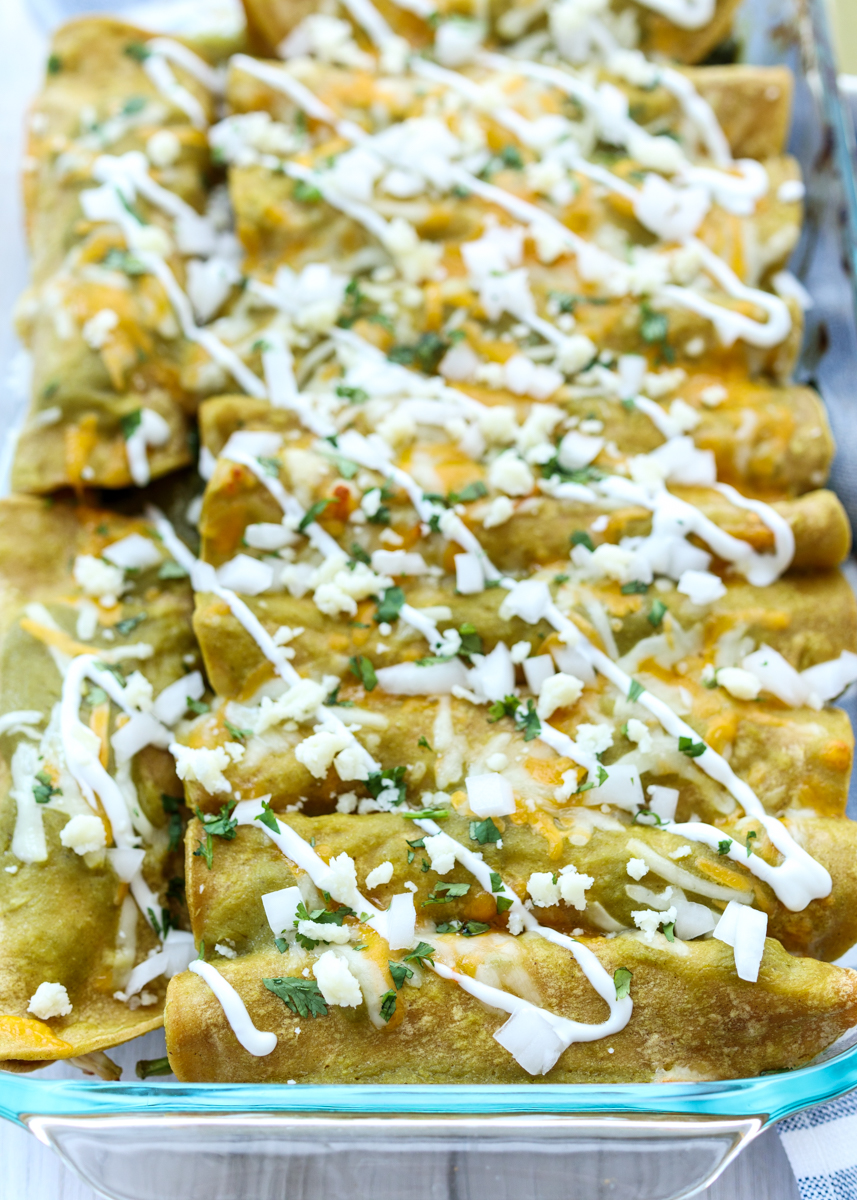 The key is that the tortillas get fully submerged into the warm Salsa Verde before being stuffed with the chicken and spinach mixture so that when you roll them up you know every bite will have the flavor of the Salsa Verde. This helps give the enchiladas that fork-tenderness so that there isn't a single dry bite to be had.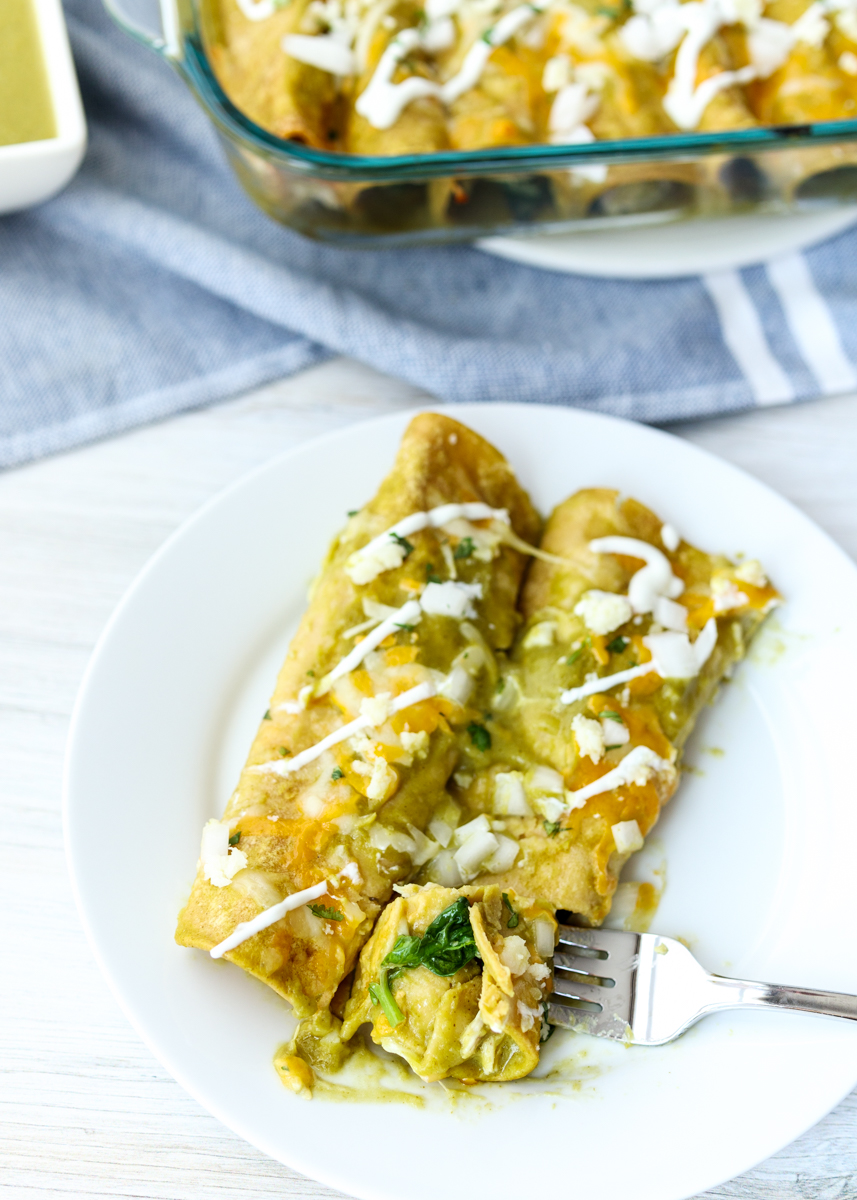 I added that layer of melted colby jack cheese on top because even if I didn't want the enchiladas weighed down by cheese I still wanted a hint of gooeyness. The mildness of that cheese also pairs really well with the saltiness from the crumbly cotija cheese that gets sprinkled on top after the enchiladas come out of the oven. These Chicken and Spinach Enchiladas Verde are homey enough to be comforting in the cold of winter, while being light enough to eat with a nice glass of white wine in the summer so I'm looking forward to enjoying this dish all year long!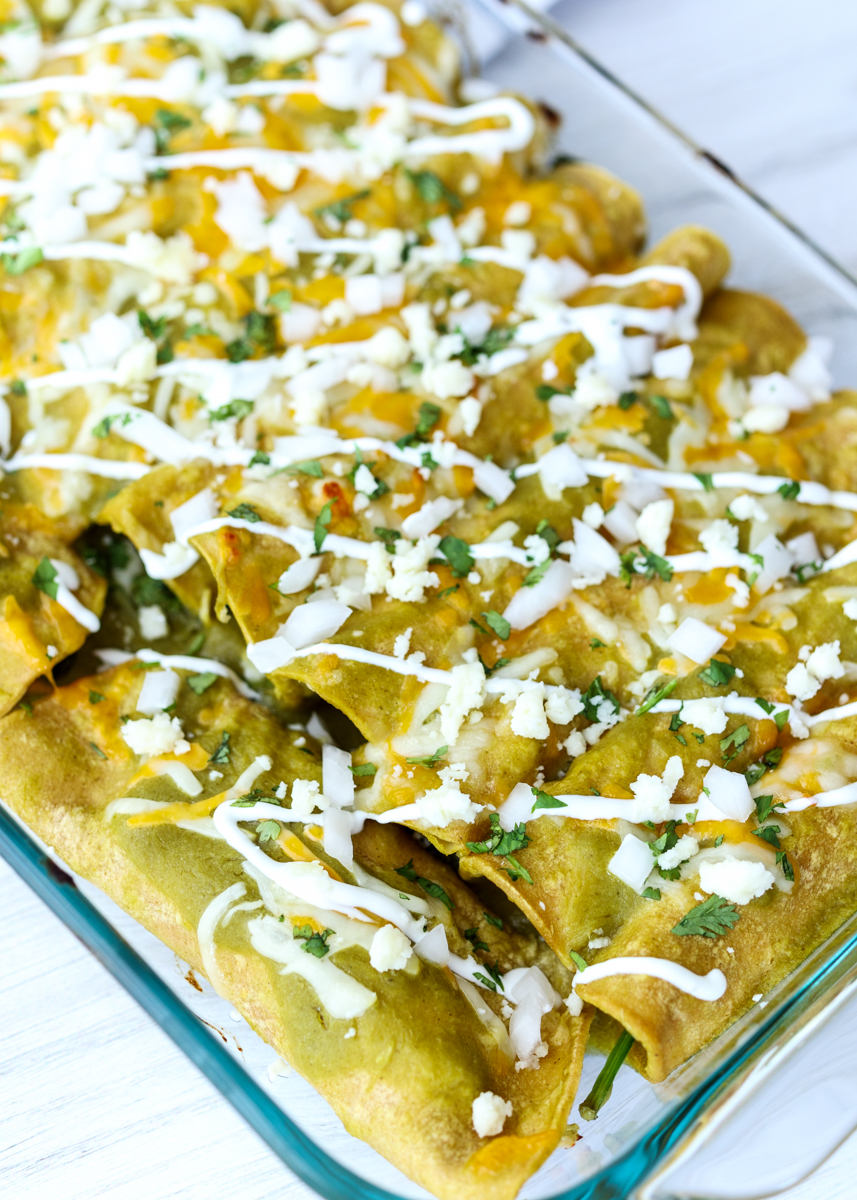 Chicken and Spinach Enchiladas Verde
Ingredients
2 batches salsa verde, about 4 cups
12 6-inch corn tortillas
2 cups shredded chicken
3 ounces baby spinach leaves
1½ cups shredded colby jack cheese, divided
Sour cream, for topping
Crumbled cotija cheese, for topping
Chopped white onion, for topping
Chopped cilantro, for topping
Directions
Preheat the oven to 375 degrees F.
Heat the salsa in a medium saucepan over medium-low heat; once warm reduce to the lowest setting to keep warm until ready to use.
Lightly toast the tortillas. Heat a nonstick skillet over medium heat and add a tortilla. Heat the tortillas, one at a time, for 30 seconds per side in the skillet. Remove with tongs to a plate when done toasting both sides of the tortilla and just stack them on top of each other on the plate until you're done toasting all the tortillas.
Remove the salsa from the heat. Use tongs to dip a tortilla into the salsa so it's completely coated then place on a plate. Add a handful of spinach leaves, 2-3 tablespoons of shredded chicken and 1 tablespoon of colby jack cheese. Tightly roll the tortilla up (no need to tuck in the sides) then place seam side down in a 9-inch by 13-inch baking dish. Repeat for the remaining tortillas until they're all tucked into the baking dish. Top the enchiladas with the remaining salsa then sprinkle with the remaining ½ cup of shredded colby jack.
Cover with aluminum foil and bake for 15 minutes. Remove the aluminum foil and bake for 5 more minutes, or until the cheese on top is melted. Take the enchiladas out of the oven and top with a drizzle of sour cream, the crumbled cotija cheese, chopped white onion and cilantro before serving.
Salsa Verde
Ingredients
1 pound tomatillos, husks removed and rinsed
1 clove garlic
1-2 jalapeños, see note
⅓ cup roughly chopped white onion
1 cup cilantro leaves (can include top parts of stems)
1 teaspoon salt
3 tablespoons vegetable oil
Directions
Add the tomatillos, garlic and jalapeño to a medium saucepan and then cover with water. Bring to a boil then reduce to low and simmer covered for 10 minutes. The tomatillos should become pale green and should be soft, but not falling apart.
Use a slotted spoon to transfer the tomatillos, garlic and jalapeño to a high-speed blender or food processor. Add the onion, cilantro and salt then puree until smooth.
Heat the vegetable oil in a medium saucepan over medium heat. Once hot, add the salsa and cook until thickened slightly, about 6-8 minutes, stirring occasionally. Serve warm or refrigerate for later and serve cold or at room temperature.
Notes
If you don't want your salsa spicy only use 1 jalapeño and remove all the seeds and pith before putting in the blender. If you like it spicy try 1 jalapeño with the seeds and pith and if you want it even more spicy you could add a second jalapeño.
Recipe slightly adapted from

Pati's Mexican Table

.
Some of the links above are affiliate links, which means I may receive a small commission for my referral. This does not affect the retail cost of the item. Thank you for supporting Lemon & Mocha!