Pumpkin Spice Latte Whoopie Pies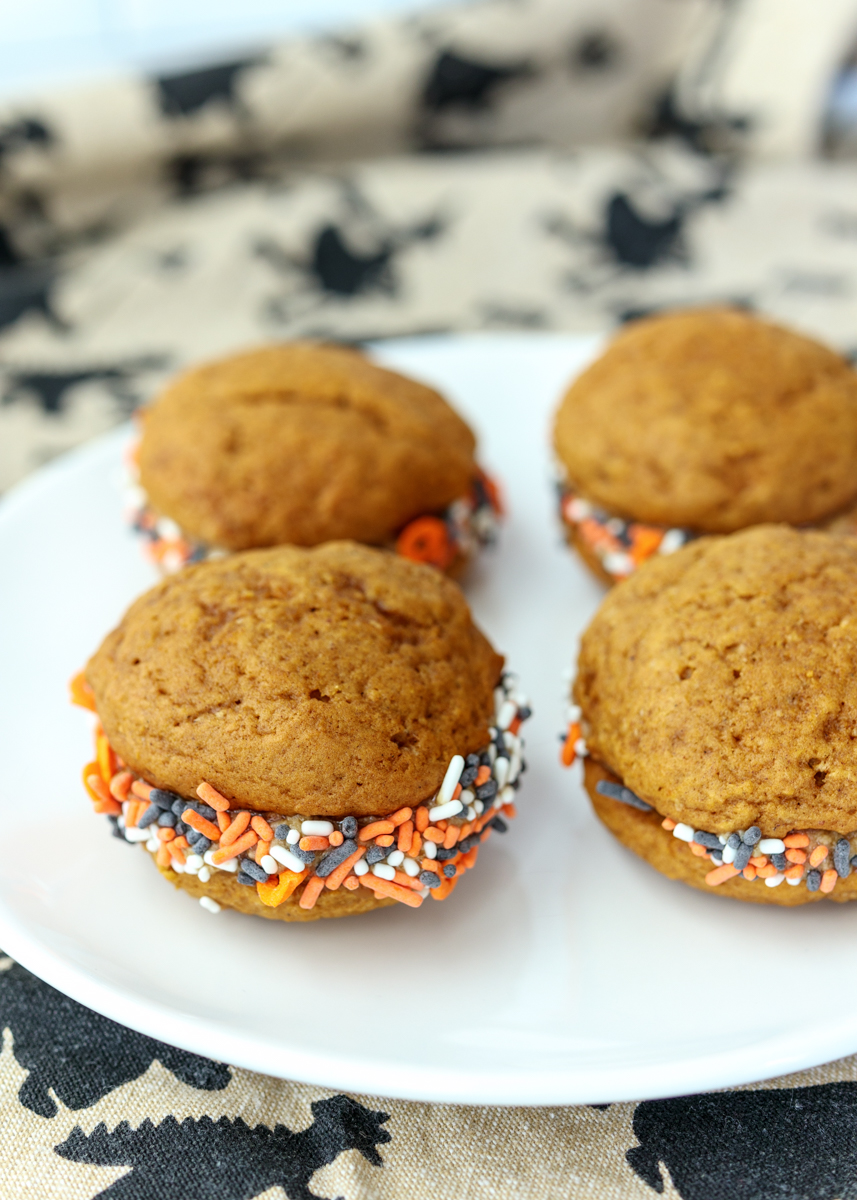 Yield:
15-16 2" whoopie pies
2 cups all-purpose flour
1 tablespoon pumpkin pie spice
1 teaspoon baking powder
½ teaspoon baking soda
½ teaspoon salt
6 tablespoons unsalted butter, at room temperature
¾ cup granulated sugar
½ cup brown sugar
½ teaspoon vanilla extract
1 large egg, at room temperature
1 cup pure pumpkin puree
2 tablespoons milk
2 teaspoons instant coffee granules
12 tablespoons unsalted butter (1½ sticks), at room temperature
2 cups confectioners' sugar
¼ teaspoon salt
Fall sprinkles or nonpareils, for decorating
Preheat oven to 375 degrees F, making sure to position oven racks in the upper and lower thirds positions. Line 2 baking sheets with parchment paper and set aside.
In a medium bowl, sift together the flour, pumpkin pie spice, baking powder, baking soda and salt.
In the bowl of a stand mixer or in the large bowl with a hand mixer, beat the butter, granulated sugar, brown sugar and vanilla on medium-high speed for 5 minutes, or until pale and fluffy. Add the egg, beat until combined. Add the pumpkin puree and beat on low speed until combined, scraping the sides of the bowl as needed. Add the flour mixture and beat on low until just combined.
Scoop 1½ tablespoon mounds of batter onto the prepared baking sheets, about 2 inches apart. Use damp fingers to shape them into rounds. Alternatively, use a piping bag fitted with a ½-inch round tip to pipe 1½-inch rounds of batter. Bake for 14-16 minutes, switching the pans halfway through baking. They are done when they're golden and the tops spring back with lightly pressed. Let the cookies cool for 5 minutes on the baking sheet set on a wire cooling rack then transfer to a wire cooling rack to cool completely. Let the baking sheets cool slightly then repeat with the remaining batter.
Combine the milk and instant coffee in a small bowl until the coffee dissolves.
In the bowl of a stand mixer or in a large bowl with a hand mixer, beat the butter, confectioners' sugar and salt on low speed until combined. Increase the speed to medium-high and beat for 3 minutes, or until smooth. Add the milk mixture then beat on medium-low until smooth, about 1 minute, scraping the sides of the bowl as needed. Refrigerate for 20 minutes, or until slightly firm.
When the cookies are cool and the filling is slightly firm, sandwich about 1 tablespoon of filling between 2 cookies. Roll the edges in sprinkles. If the filling is too soft, refrigerate the whoopie pies for 30 minutes, but let sit at room temperature before serving.
Recipe by
Lemon & Mocha
at http://www.lemonandmocha.com/2019/10/04/pumpkin-spice-latte-whoopie-pies/