Baked Apple Cider Donuts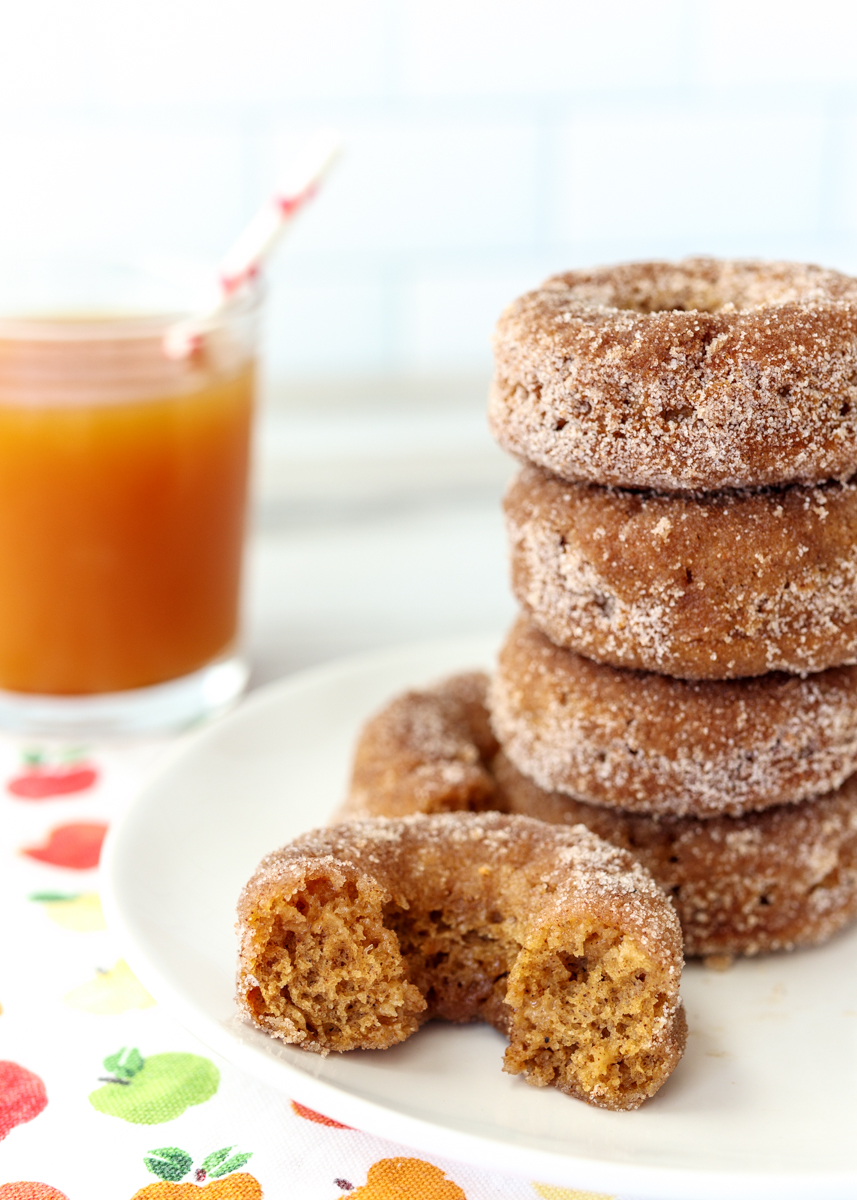 September is here! To try to get myself excited for the end of summer I'm diving right into fall recipes. Don't get me wrong – I love fall. Here in New England the changing leaves are beautiful and there's plenty of fun fall activities. I love all the celebrations: Halloween, Thanksgiving, my anniversary and my birthday. Of course you can't forget all the delicious fall flavors coupled with cozy blankets and cool nights.
But these last few years I've started this shift where summer is starting to tie fall as my favorite season. Maybe it's because I'm cold all the time and I can appreciate the summer heat more since I'm much better at avoiding getting sunburned these days. It's hard to beat the long days as well, especially since I'm a morning person and highly unproductive once the sun goes down. Yet here we are in September so I'm trying to amp myself up with a week dedicated to one of fall's classic flavors: apple.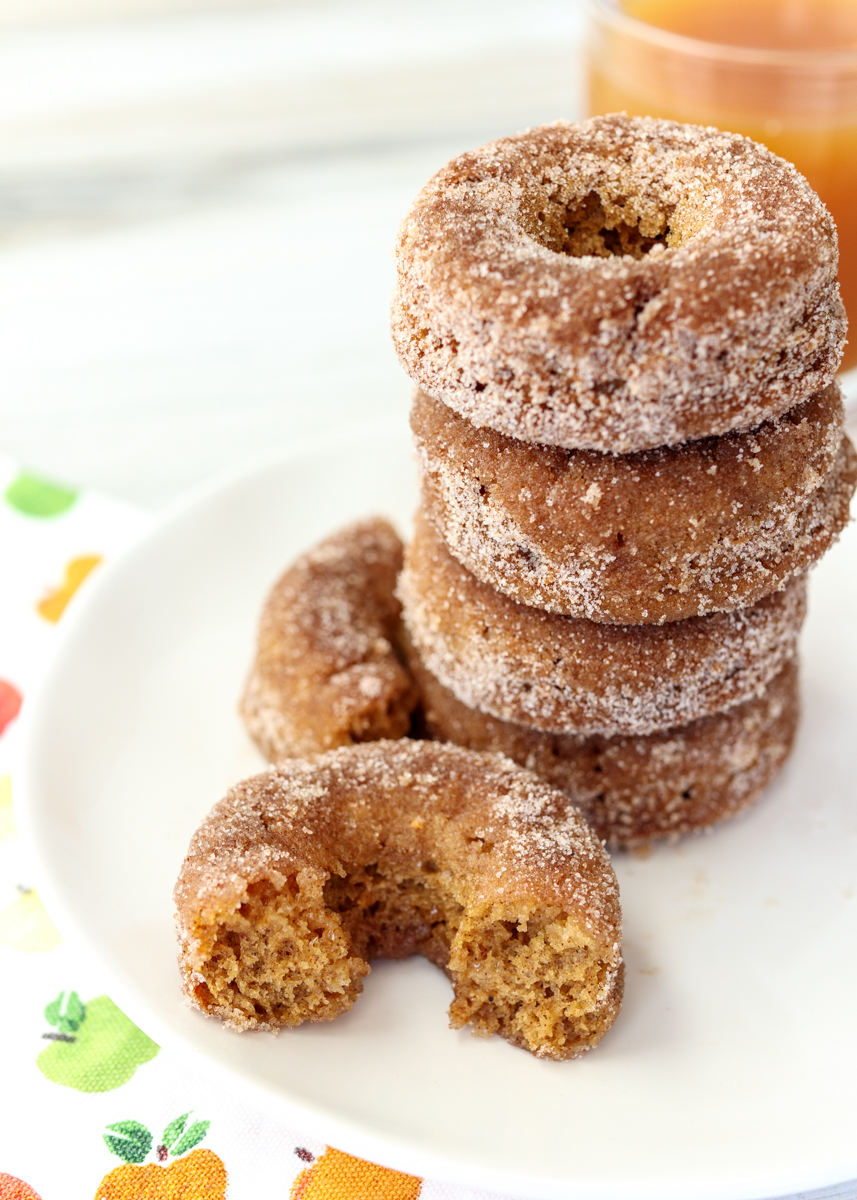 Apples are synonymous with fall, with plenty thanks to apple picking being a quintessential fall activity. The best treat while apple picking is a hot apple cider donut caked in cinnamon-sugar. Their sugary spiced scent has you drooling before you even have one in your hands.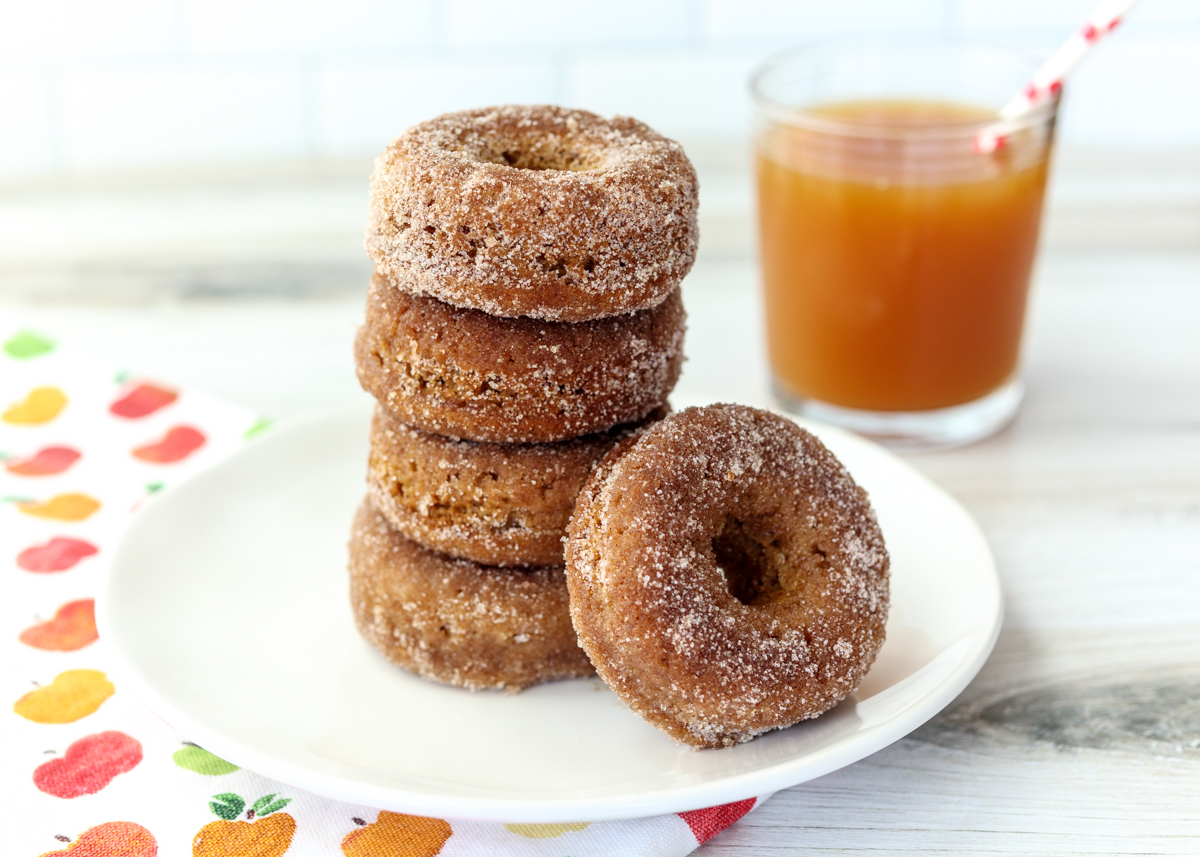 Today we're recreating that deliciousness with these Baked Apple Cider Donuts. It had been too long since I used my silicone donut pans and I was excited to break them out for another baked donut treat. The key to getting that perfect apple cider flavor in these donuts is that we're using apple cider concentrate that we've made by reducing apple cider down on the stove-top. We're also adding plenty of cinnamon, nutmeg and other apple pie spices to get that rich spiced flavor.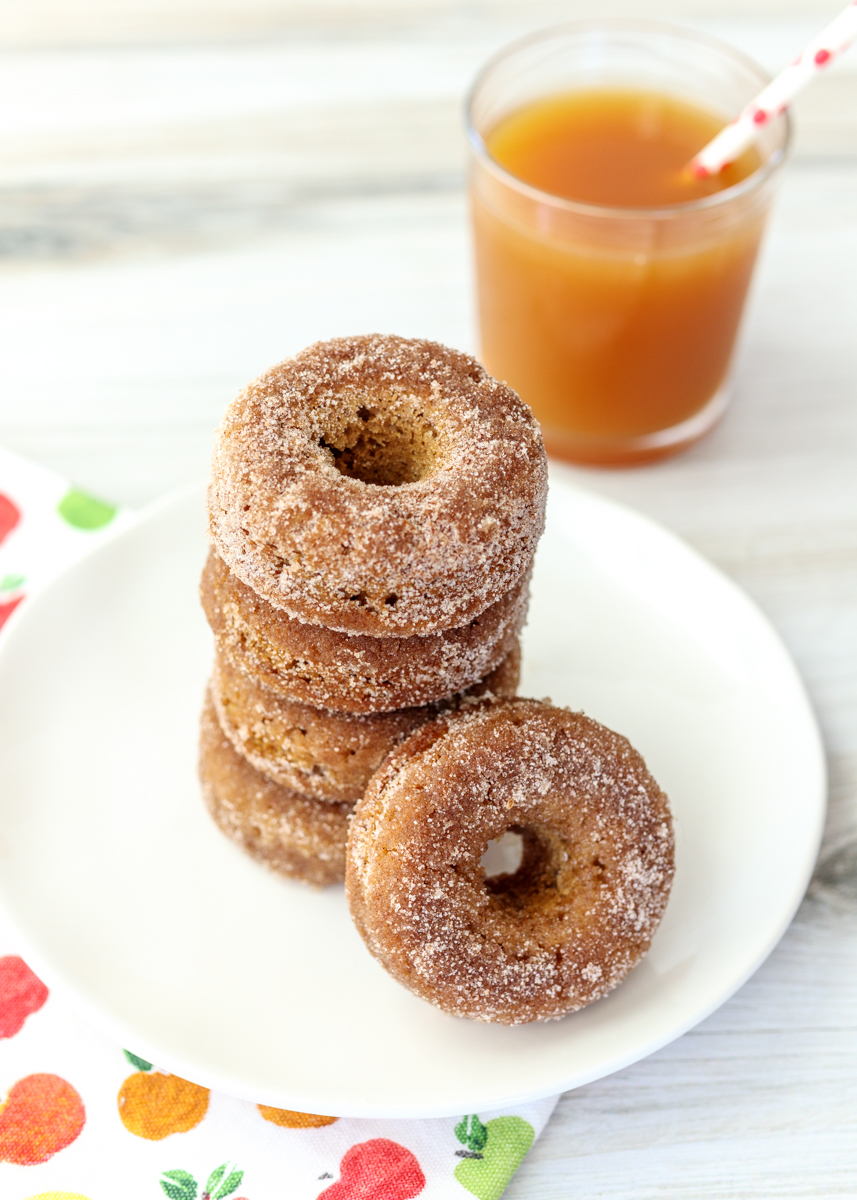 If you don't have a donut pan you can bake these up in a sprayed mini muffin pan at the same temperature in the recipe below for about nine minutes. I hope you enjoy this tasty fall treat!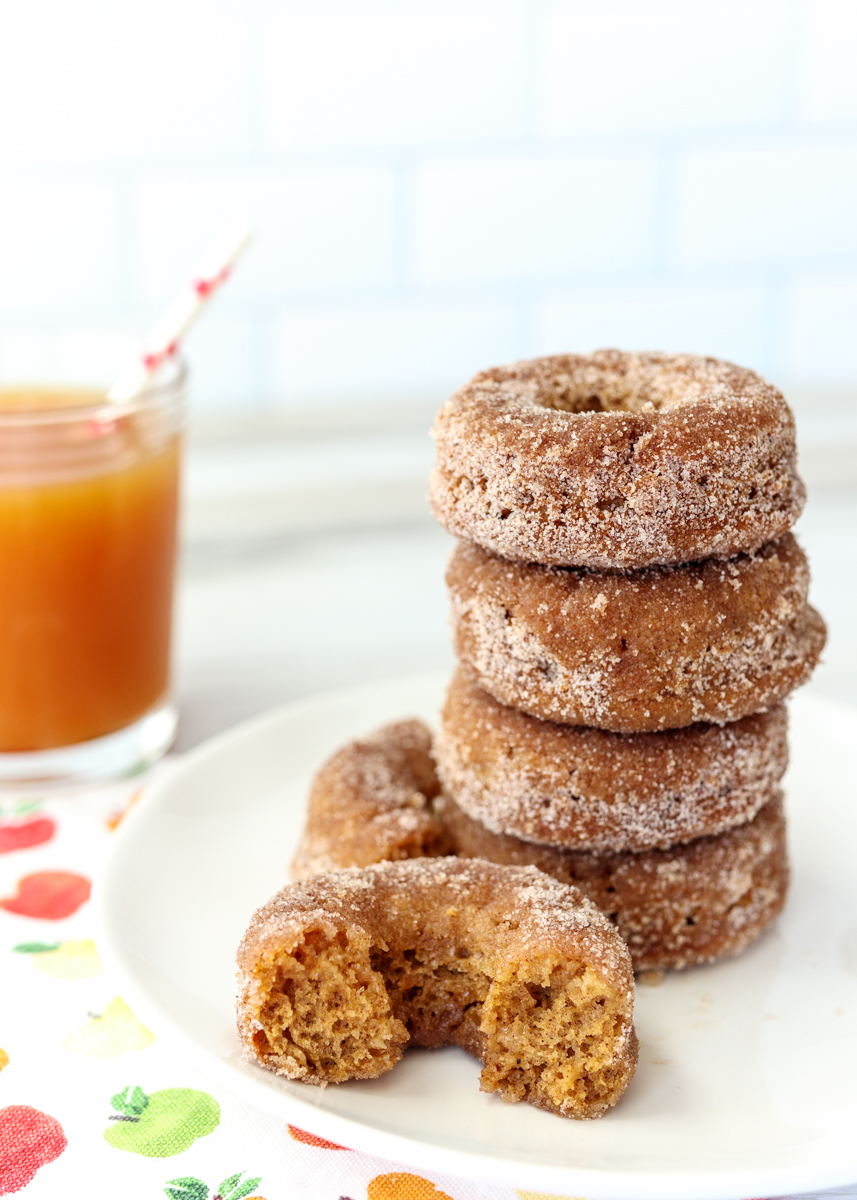 Baked Apple Cider Donuts
Ingredients
for the donuts
1¾ cups apple cider, see first instruction
2 cups all-purpose flour
1 teaspoon baking soda
¾ teaspoon baking powder
1½ teaspoons ground cinnamon
¼ teaspoon ground nutmeg
⅛ teaspoon ground cardamom or allspice
⅛ teaspoon ground cloves
¼ teaspoon salt
2 tablespoons unsalted butter, melted
1 egg, room temperature
½ cup granulated sugar
½ cup brown sugar
½ cup milk, room temperature
1 teaspoon vanilla extract
for the sugar topping
4 tablespoons unsalted butter, melted
1 cup granulated sugar
1¼ teaspoons ground cinnamon
¼ teaspoon ground nutmeg
⅛ teaspoon ground cardamom or allspice
Directions
for the donuts
Reduce the apple cider. Heat in a saucepan over medium-low heat for about 30 minutes, or until it has reduced to ½ cup plus 2 tablespoons. It can take a while so be patient; you most likely aren't doing anything wrong and it just needs to reduce longer. The apple cider will not get thicker, it will just reduce down to less liquid and also get a little darker. Let cool for 10 minutes before using in the recipe.
Preheat oven to 350 degrees F. Spray donut pan with nonstick cooking spray and set aside.
Whisk together the flour, baking soda, baking powder, spices and salt in a large mixing bowl.
Whisk together the melted butter, egg, sugar, brown sugar, milk and vanilla in a medium mixing bowl. Pour the butter mixture into the flour mixture and whisk until combined. Add ½ cup of the reduced apple cider and whisk. Carefully pour the batter into the prepared donut pan so that the cavities are filled halfway up. I use Wilton batter spoons; you could also pipe from a piping bag. Bake for 12-14 minutes. The tops of the donuts should be browned and they should spring back lightly when you press them. Cool in the pan for 2-4 minutes then remove to a wire cooling rack to cool completely.
for the sugar topping
Place the melted butter and the remaining 2 tablespoons of reduced apple cider in one bowl large enough to dip one donut at a time. In another bowl combine the sugar and spices. Dunk the donut in the melted butter mixture (being sure not to oversaturate) and then dip in the cinnamon-sugar mixture to coat completely. Repeat for the remaining donuts. Donuts will taste best fresh, but can also be eaten at room temperature for 2 days.
Recipe slightly adapted from

Sally's Baking Addiction

.
Some of the links above are affiliate links, which means I may receive a small commission for my referral if you purchase something. This does not affect the retail cost of the item. Thank you for supporting Lemon & Mocha!