Chocolate Covered Caramel Apple Cupcakes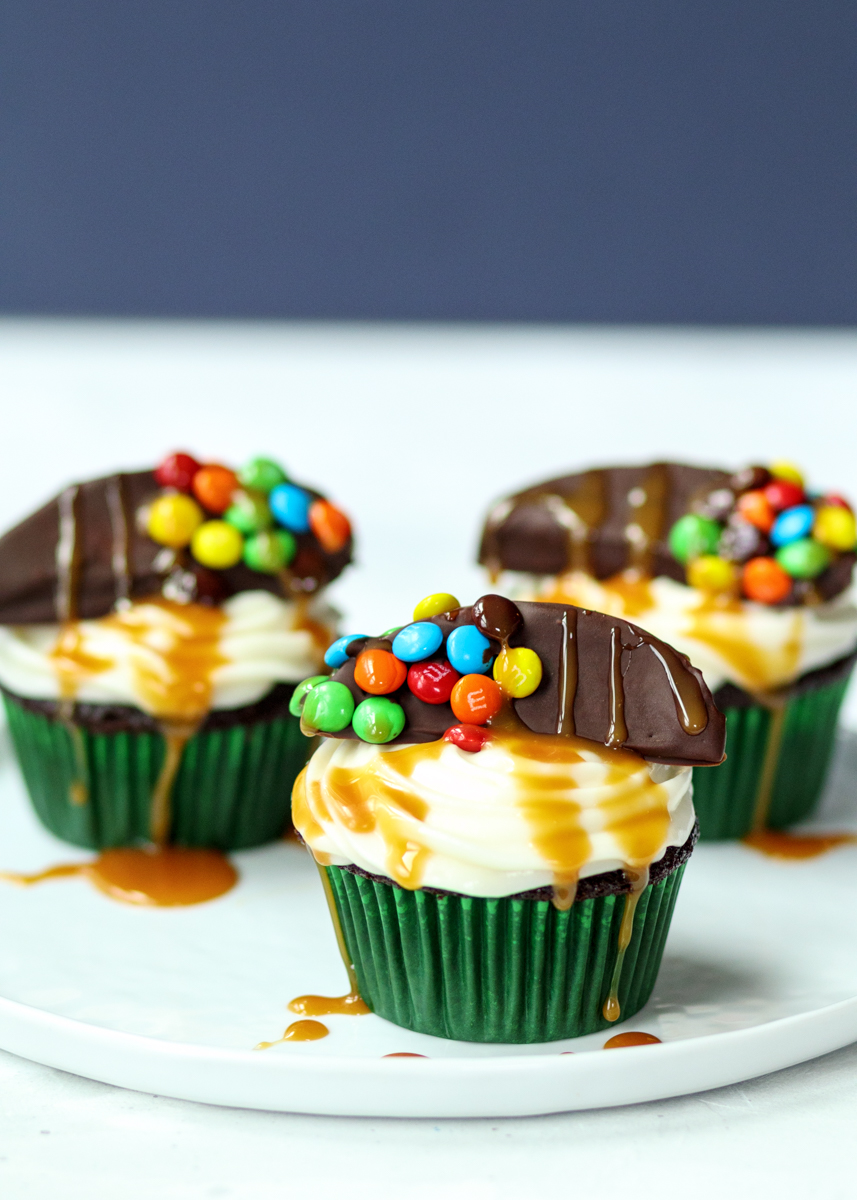 We're celebrating the start of apple picking season here on Lemon & Mocha all week and I saved the best for last. Why is it the best? Because it is heavy on the chocolate and anything involving chocolate immediately jumps to the top of the list for me. Especially when there's chocolate covered apples, too.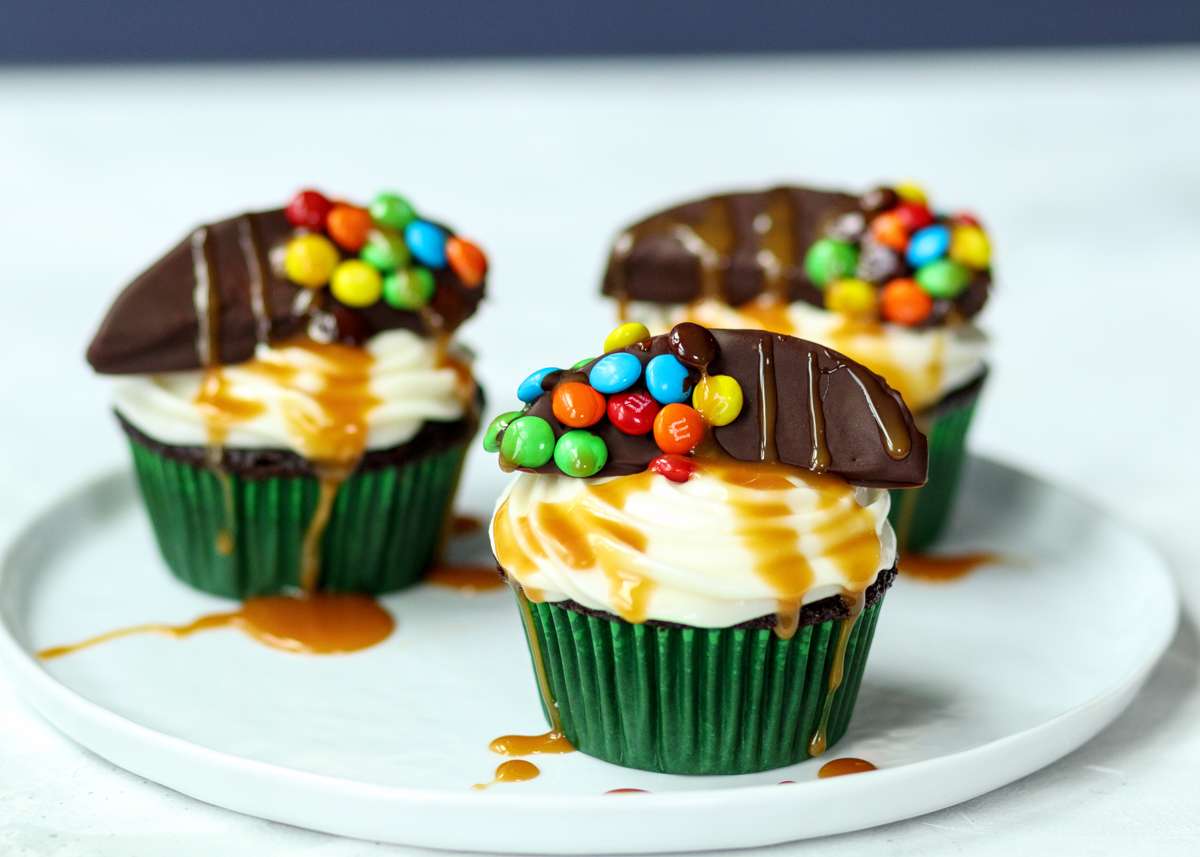 If you haven't had chocolate covered apples before then you are seriously missing out, but you could remedy that this weekend by making these over-the-top Chocolate Covered Caramel Apple Cupcakes. The base of these cupcakes is my Perfect Chocolate Cupcakes. They are fluffy, moist and rich with chocolate flavor.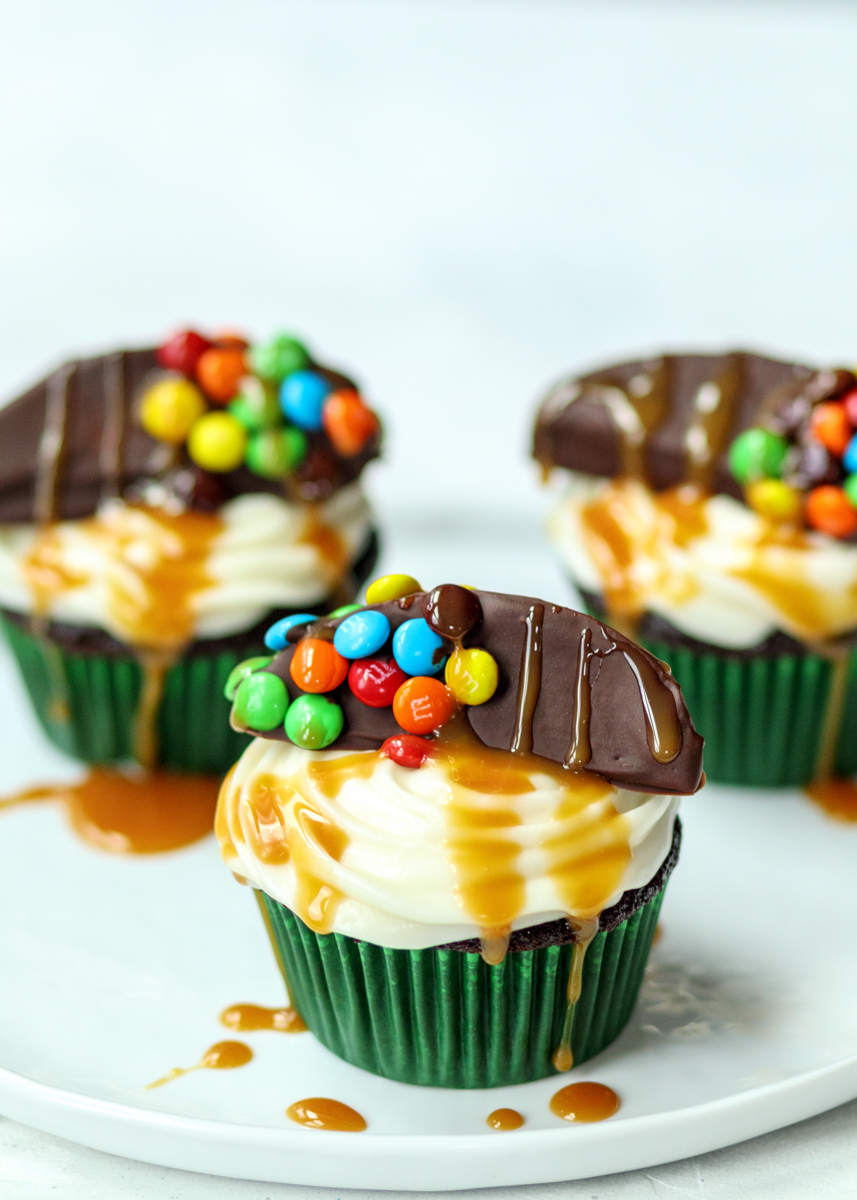 On top we have an apple cider cream cheese frosting. We're using the same technique from Tuesday's Baked Apple Cider Donuts of reducing down apple cider to get a concentrated spiced apple flavor. This apple cider reduction is whipped into the cream cheese frosting.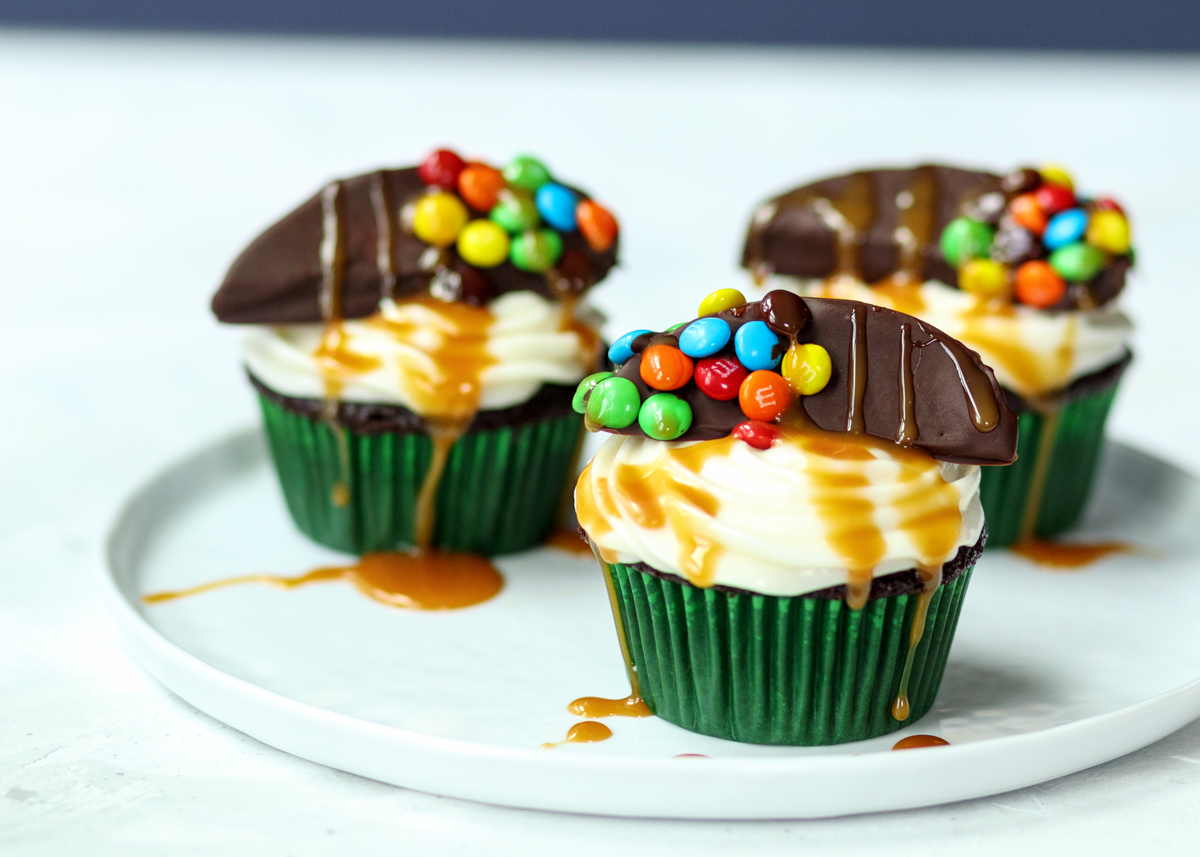 Next, we have chocolate covered apple wedges. I decorated mine with mini M&M's because the more chocolate the better and I love the pop of color they add to the cupcakes. You can use any of your favorite candy apple toppings, such as toffee, nuts or even Oreos. Or you could just drizzle with some melted white chocolate or melted peanut butter chips – yum! Finally, I added a generous drizzle of salted caramel sauce. You could make your own or you could buy your favorite brand and drizzle away.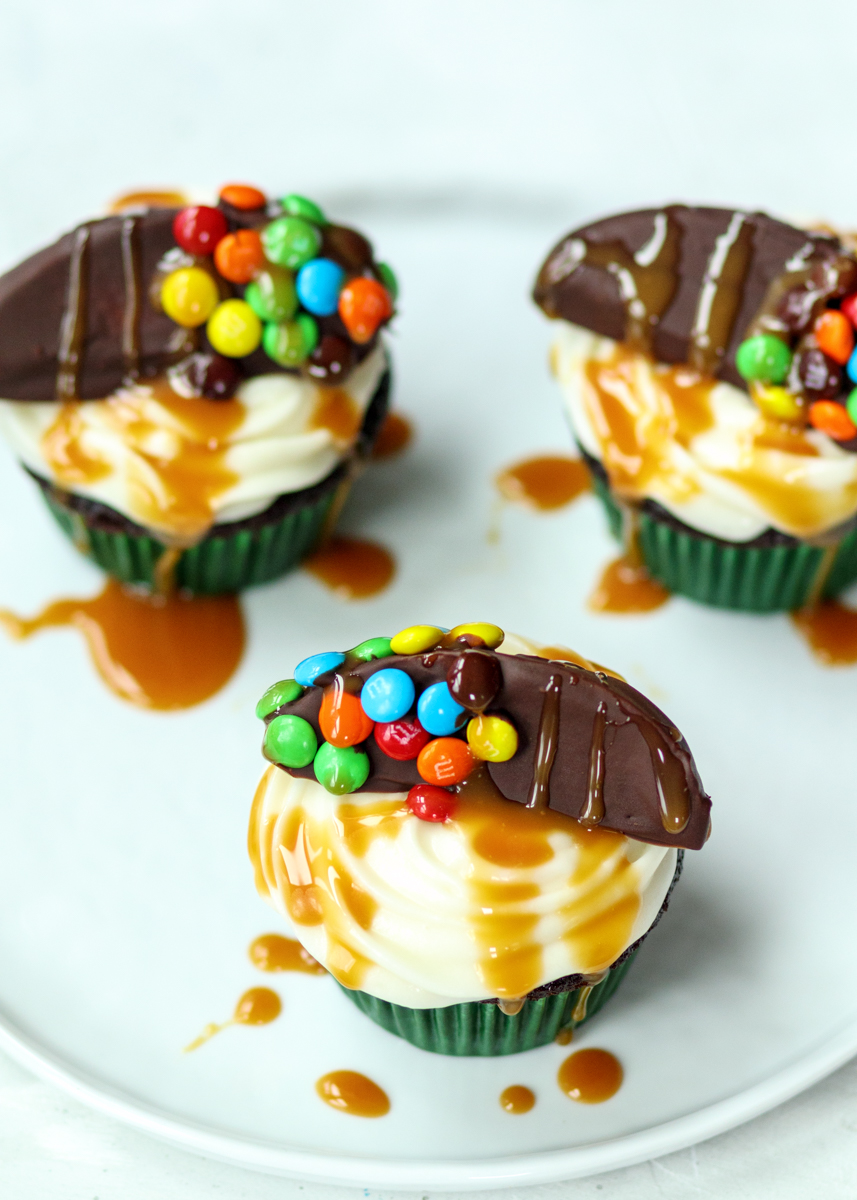 I made these cupcakes last year for a fun girls weekend where we did all the fall things, including apple picking of course. They were a big hit and I'm getting so hungry looking at the photos that I think I will definitely have to make them again this fall! Enjoy, friends, and have a great weekend!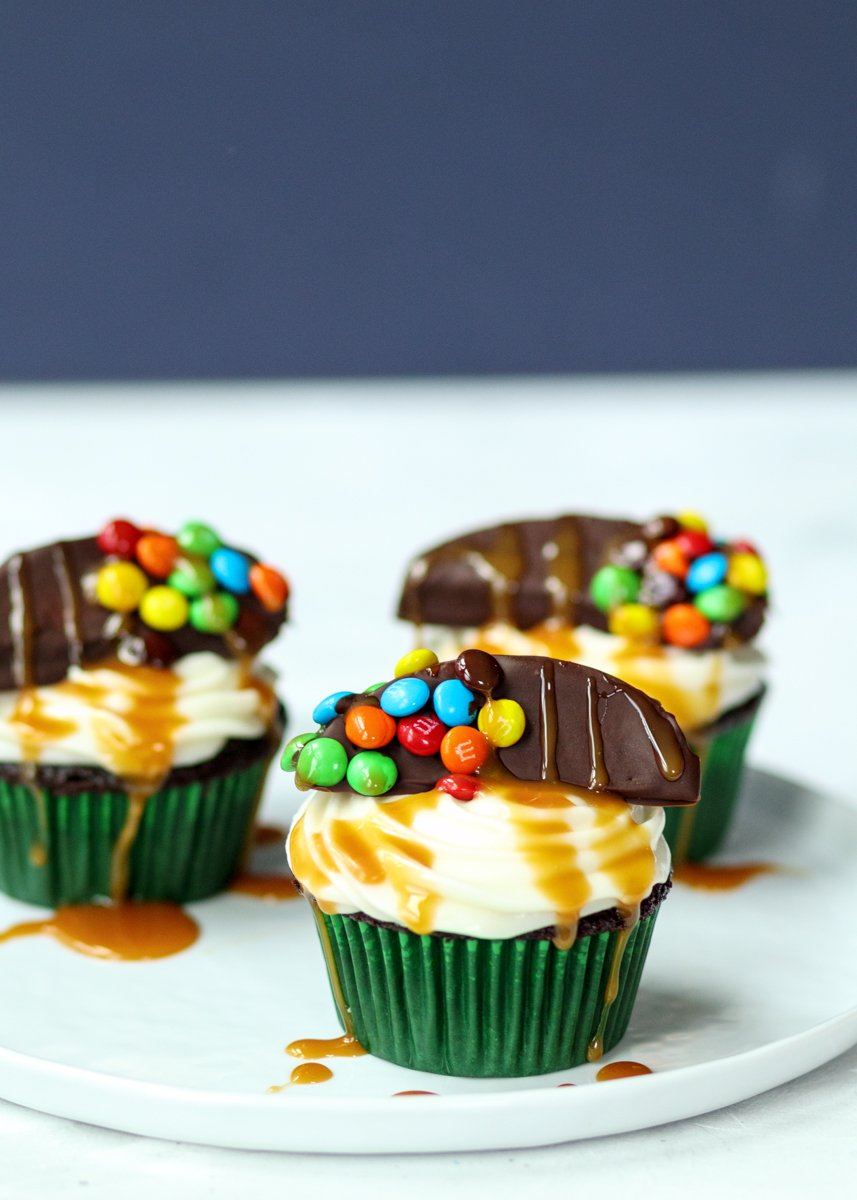 Chocolate Covered Caramel Apple Cupcakes
Ingredients
for the cupcakes
2 cups sugar
1¾ cups all-purpose flour
¾ cup unsweetened cocoa powder
1½ teaspoon baking powder
1 teaspoon baking soda
1 teaspoon salt
2 large eggs
1 cup buttermilk, see note
¼ cup butter, melted
¼ cup vegetable oil
1 tablespoon vanilla extract
1 cup hot coffee, see note
for the frosting
¾ cup apple cider
12 ounces cream cheese, room temperature (use block cream cheese)
12 tablespoons unsalted butter, room temperature
6 cups powdered sugar, sifted, plus more as needed
1 teaspoon vanilla extract
¼ teaspoon salt
for topping
2 apples, cored and cut into wedges (a total of 24 wedges)
1⅓ cups semisweet chocolate chips
2 tablespoons coconut oil
Mini M&Ms or other preferred topping
Salted caramel topping, such as Smucker's brand
Directions
for the cupcakes
Preheat the oven to 350 degrees and line 2 cupcake pans with paper liners and set aside.
In a large mixing bowl or in the bowl of a stand mixer, sift together the sugar, flour, cocoa powder, baking powder, baking soda and salt.
In a medium mixing bowl, whisk together the eggs, buttermilk, melted butter, vegetable oil and vanilla extract. Pour the liquid ingredients into the dry ingredients and mix together until smooth.
Pour the hot coffee into the batter and stir until combined. The batter will be extremely liquidy. Divide the batter between the 24 cupcake liners, filling them slightly more than half full. Bake for 18-20 minutes, or until a toothpick inserted in the center comes back mostly clean. Alternatively, they are done when you gently press your finger on the center of a cupcake and it lightly springs back. I find mine to be done at exactly 19 minutes.
Let cool in the pan for a couple minutes then remove to a wire cooling rack to cool completely before frosting.
for the frosting
Simmer the apple cider in a small saucepan over low heat until it has reduced to ¼ cup. It will not thicken, but it will get darker. This may take anywhere from 10 to 20 minutes. Once reduced let cool completely.
Beat the cream cheese and the butter in the bowl of a stand mixer fitting with a whisk attachment or in a large bowl with a hand mixer on medium-high speed until smooth and fluffy, about 5 minutes. Add the powdered sugar and slowly beat until combined, increasing speed as it combines. Add the vanilla extract, salt and reduced apple cider and beat to combine. If the frosting isn't firm enough to pipe after adding the apple cider add more powdered sugar until the desired stiffness is reached.
for topping
Line a baking sheet that will fit in your fridge with wax paper and set aside.
In a liquid measuring cup or other narrow, tall microwave-safe bowl, heat the chocolate chips and the coconut oil for 30 seconds. Stir, then continue heating in 15 second intervals, stirring after each, until melted and smooth. Use a fork to help you completely dip an apple wedge into the melted chocolate. Place on the prepared baking sheet then sprinkle with the mini M&Ms or other topping. Repeat for the remaining apple wedges. If you need to reheat your chocolate, do it at 15 second intervals. Place the apple wedges in the fridge and let set until firm, about 30 minutes.
To decorate the cooled cupcakes, pipe the apple cider cream cheese onto the cupcakes. Top with a chocolate covered apple wedge and then a drizzle of the salted caramel topping. If you aren't serving right away, wait to top the cupcakes with the apple wedges and caramel sauce. Frosted cupcakes need to stay refrigerated because it's a cream cheese frosting.
Notes
To make your own buttermilk: pour 1 tablespoon of lemon juice or vinegar in a liquid measuring cup. Pour milk, any fat percentage, into the measuring cup until you have 1 cup. Let sit for 5 minutes before using.
If you don't want to use coffee you can use hot water, but the flavor of the chocolate won't be as pronounced. You can use decaffeinated coffee if you prefer.
The cupcakes, unfrosted, freeze very well if you want to make them ahead of time.